How the young New York Knicks were benefited or disadvantaged by the team's 2018-2019 season, a year devoted entirely to player development.

The New York Knicks ended Sunday's game on a 13-1 run, capped off by a game-saving block from Mario Hezonja to defeat LeBron James and the Los Angeles Lakers. And that's not even the weirdest thing to happen this year.
At 14-57, New York is the NBA's worst team by a fair margin. For the team's young core, this year has provided a window for growth. But which players took advantage?
Here's a look at the emerging winners and losers of the New York Knicks 2018-19 season.
Frank Ntilikina - Loser
New York's 2017 draft selection needed a huge second-year campaign. In his rookie season, Frank Ntilikina flashed defensive prowess but an unwillingness to shoot the ball.
As of Sunday, he's missed 22 consecutive games with a lingering ankle issue. And in the 41 games he did play, Ntilikina averaged just 5.9 points and 2.8 assists per night.
His sophomore season has been underwhelming, to say the least, and with New York entering a pivotal summer, his time left with the team has been put upon an hourglass.
Will they trade him this summer? Even if the Knicks whiff on both Kevin Durant and Kyrie Irving in free agency, they already acquired Dennis Smith Jr. at the February trade deadline.
He's the point guard most would argue New York was supposed to draft when ex-President Phil Jackson opted to take Frank instead.
All signs point to the end of Ntilikina's Knicks tenure, and unless he makes it back for the final stretch, we'll consider his 2018-2019 season a setback—or a loss, in this case.
Damyean Dotson - Winner
Damyean Dotson, a second-year shooting guard, has easily been the Knicks' highest beneficiary of this season.
He's taken full advantage of the free-for-all nature of a tanking year and really worked toward becoming a more complete player.
Dotson is averaging 10.8 points on the season but has really made a push in the last month.
In March, over a span of nine games, he's scoring 16.5 points a night (on 40 percent shooting from deep!). Dotson has gone from spot-up sniper to a guy who can take it to the rack with ease.
With the team looking to compete next year, he's played himself into New York's future. Dotson will have a role on this team beyond this season, no matter how the summer shakes out.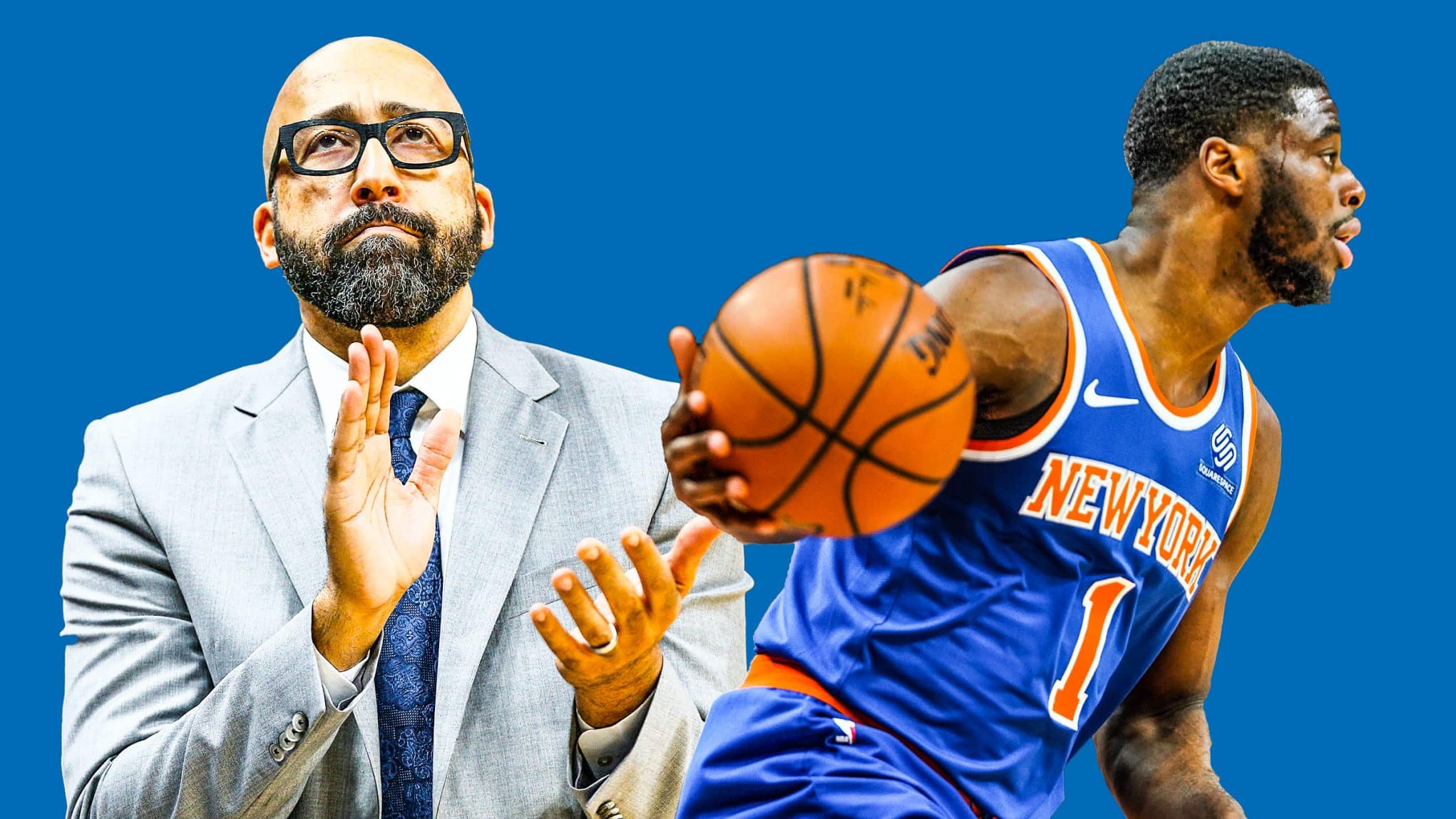 Emmanuel Mudiay - Winner
Look, fans aren't going to like this. And they sure as hell don't like watching Emmanuel Mudiay lead the Knicks' tank at point guard.
But he's played himself back into the market, and when New York inevitably cuts him this summer (he's an RFA), he'll be signed somewhere into at least a backup role.
Coach David Fizdale guaranteed Mudiay playing time and the opportunity to improve. He's delivered on that promise, which, as I've noted before, is a win-win situation for New York.
Mudiay has played 51 games this year and is averaging 14.5 points on 46 percent shooting from the floor. He's had some really impressive performances, including his outing in New York's latest win over the Los Angeles Lakers:
Mudiay scored 28 points on just 11 shots.
Say what you want about the kid, but he's done enough this year to keep his NBA dream alive. And any year you secure the bag is a good year. Just ask former Knicks great Carmelo Anthony.
Kristaps Porzingis - Loser
Look. This isn't easy to write, trust me. But it's not lost on me that Kristaps Porzingis may have played himself out of a situation designed for him to succeed.
His being traded wasn't New York's decision. I mean obviously, it was, ultimately. But he sealed his own fate with a trade demand ahead of the deadline.
The Knicks were no doubt going to pay him a lucrative salary in the summer, and he would have been the face of the team going forward.
Even with the potential arrival of Durant or Irving, Porzingis is the homegrown star. It would have still been his team. Now in Dallas, he has to work his way out of the shadow of Rookie of the Year candidate Luka Doncic.
Hey, maybe Porzingis will come back just as strong as he left us, a starting talent and Defensive Player of the Year dark horse.
But what if he doesn't? The Knicks are the only team that was willing to go all in despite his health. New York will always be remembered as his first home, and he'll have to answer questions about his impatience with the team's direction for the rest of his career.
So for now, Porzingis' situation isn't labeled as a win. But definitely check with me again in 12 months.
Kevin Knox - Both?
New York's 2019 lottery selection has had an up and down rookie year. After flashing some major potential in the Las Vegas Summer League, Kevin Knox hit the rookie wall hard in January.
Still, he managed to average double-digit points (12.3) in year one, and he did drop a career-high 31 in a loss against Philadelphia:
The former 9th-overall pick has displayed potential to be a great scorer and rebounder one day. He'll be a key part of whatever is next for the Knicks. This season hasn't changed that.
However, some might say Knox has disappointed. While the state of the team assisted others like Doston with their development, it's paid as a detriment to Knox's growth.
Not to mention New York's ever-changing point guard dilemma. Knox has had to play with four different point guards, and that's never optimal for a young guy who can't find his shot.
But who knows, maybe hitting such a strong slump this season means he can only go up from here. We'll check back after his first full summer with an NBA training staff.
[membership level="0"]
---
This team has managed to impress for once in a year designed for them to disappoint. That starts and ends with the development of this young core.
It's been a year full of individual wins, but it's time to get back to winning just as much as a ball club.
Whether that means Zion Williamson, Kevin Durant, or Kyrie Irving, next season has to be a return to success for the New York Knicks.