The St. John's Red Storm are in a must-win for their NCAA Tournament chances Wednesday when they face DePaul in the Big East Tournament.

Three weeks ago, no one would have expected that the St. John's Red Storm would be playing in the first round of the Big East Tournament. Not only is that the case as they face DePaul on Wednesday night (9:30 p.m ET, FS1), but their NCAA Tournament hopes are on the line as well.
After a three-game losing streak to end the regular season, St. John's is in virtually a must-win situation. A win would make them feel a little more secure about their big dance hopes and they would get the opportunity to face Marquette for a third time on Thursday. However, a loss could likely put them in the NIT depending upon how the rest of the bubble teams do this week.
This year, the Blue Demons have won both games against the Red Storm and in rather convincing fashion. On Jan. 12, DePaul defeated St. John's 79-71 at Carnesecca Arena in a game where Shamorie Ponds did not play due to injury. Then, in Chicago, DePaul scored 59 points in the second half of a 92-83 victory on March 3.
While DePaul did finish last in the Big East, they showed a lot of improvement this season. Dave Leitao's squad improved their win total by four from a year ago and they won seven games in the Big East. That is the most conference games they have won since the 2006-07 season.
In this matchup, points in the paint are going to be the stat to keep a close eye on. St. John's does lack a lot of size inside and DePaul took advantage of that in the two matchups. They scored a combined 62 points and won the rebounding battle 80-59.
Forward Femi Olujobi is one player that has played his best against St. John's for DePaul this year. The senior transfer who grew up in Long Island shot 19-for-29 from the floor in those two matchups and combined for 50 points. Plus, he had 18 rebounds, which included a double-double on March 3.
The problem for St. John's is that without a lot of size besides Marvin Clark II and Sedee Keita, don't be surprised if you see a lot of double teaming in the paint. If that is the case, then DePaul is going to kick it out to Max Strus for some open shots from the perimeter.
Strus had a career day last Sunday when he had 43 points and was 6-for-10 from three-point range. This season, the senior shot 37.2 percent from downtown and averaged 19 points per game. He has scored in double figures in every game since Dec. 8, so he is the definition of consistency.
With Strus' shot-making ability, that is going to put a lot of pressure on Justin Simon to try to contain him. Simon was named Big East Defensive Player of the Year on Monday. To do that, he has to stay out of foul trouble unlike in the second matchup with DePaul when he picked up his fourth foul early in the second half.
Foul trouble is common for the Red Storm, but Simon is one of those players they can ill afford to lose because of his defense and the success that he has driving to the basket on offense. In the Xavier game, Chris Mullin left Simon in the game midway through the second half with four fouls. Expect the same Wednesday if that happens again.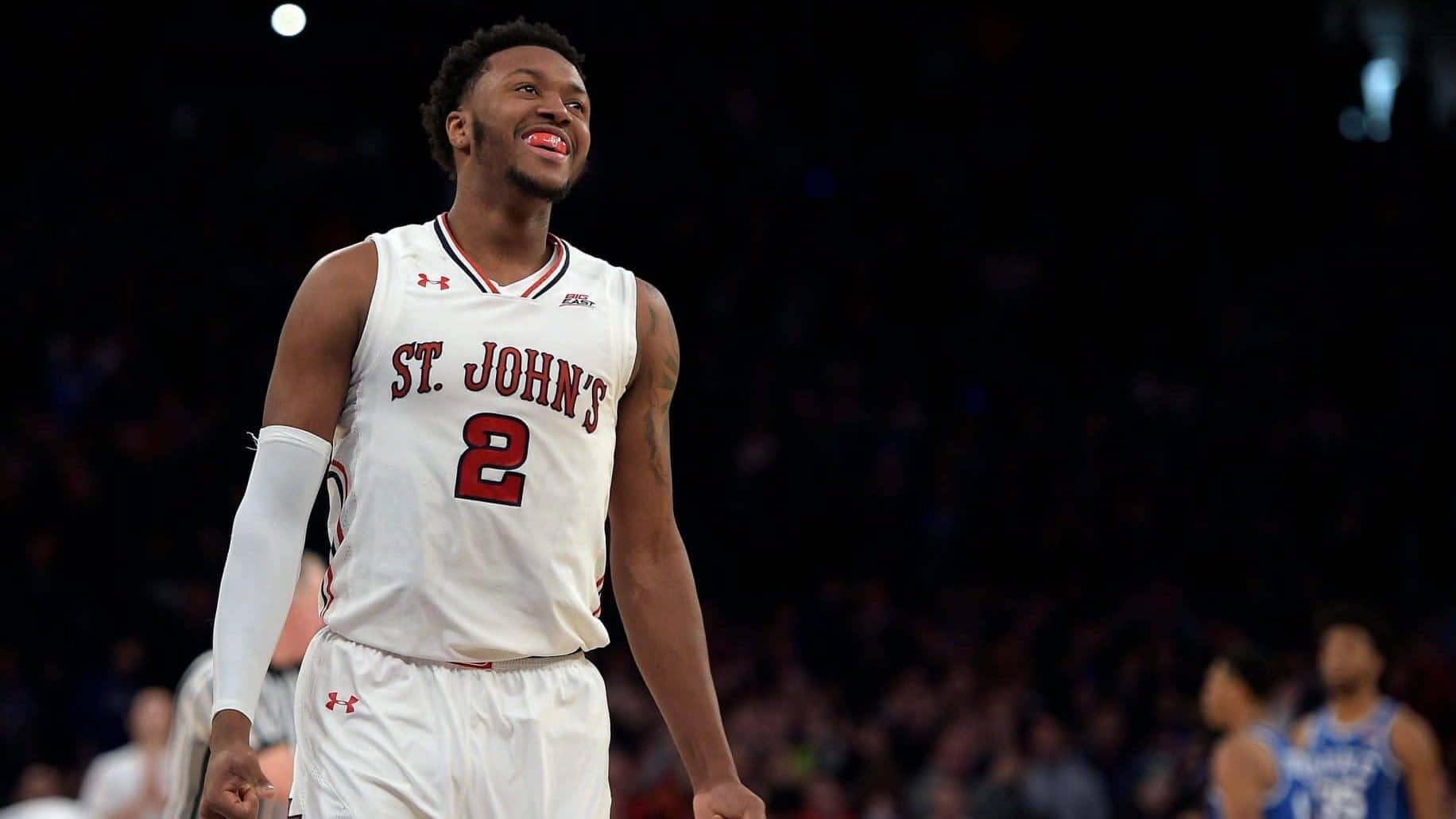 Now, Ponds should be able to have a successful game when you consider he had 29 points in the last matchup on just 15 shots. If he can have a fast start, that could bring the crowd into the game and give the team some confidence similar to what happened against Seton Hall on Feb. 23.
In terms of X-Factors for this game, Mustapha Heron is that player for St. John's. Heron was expected to be the number two player behind Ponds this season, but LJ Figueroa has taken over that role.
Heron hasn't had double-digit shot attempts in his last four games, but a lot of that can be contributed to the tendinitis he has been battling. His role is key because if DePaul decides to go more zone he can hit that mid-range shot in the middle of the zone.
As for DePaul, senior guard Eli Cain only had two points on March 3 and the Blue Demons still put up 92 points. It is tough to expect that he will have another game like that. Since that game, he is 15-for-28 from the floor in the last two games for a combined 43 points against Georgetown and Creighton.
The big question in this game is whether or not St. John's can play a consistent game for 40 minutes. Yes, it is tough to beat a team three times in one year, but if DePaul follows the same blueprint, it is up to Mullin and his staff to make the adjustments especially on the defensive end.
For the prediction, I went with DePaul in our Big East preview and I am sticking with it with a final score of 83-77. To me, it is more of a prove it game for the Red Storm. In a must-win game, will they rise to the occasion and play like they did against Marquette, Villanova, and Seton Hall or will their problems continue? We are about to find out.