Brodie Van Wagenen and the New York Mets calmly sitting on Jacob deGrom signals scary reactivity over prideful proactivity.

Great opportunity has vanished. Once enjoying a full house, the NL New York baseball organization is now holding an ace and a jack while hoping for the perfect river.
Proactivity has been traded for reactivity concerning, arguably, the best starting pitcher in the National League.
During the MLB campaign of 2018, Jacob deGrom came of NL Cy Young age. The Metropolitans homegrown product pitched like a maniac. Never has he put forth such baseball silliness (1.70 ERA, 0.912 WHIP, 260 strikeouts in 217 innings pitched).
It was a pitching year for the ages during a lost team season. Decisions were suddenly thrust unto an entire organization—much quicker than anybody wanted to witness.
Was it worth accepting a king's random for the righty while the iron remained hot? Additionally, throw Noah Syndergaard's name into the pot. Considering baseball's new tried and tested strategy leaning towards the younger, everyday positionally-built club, either deGrom or Syndergaard could have jumpstarted a new era.
Of course, the New York Mets did nothing. Of course, again, instead of traveling down the road to longer-term health via the smart, youthful road headed towards longevity, the Wilpons picked out young Brodie Van Wagenen with the task of a quick fix. In comes Robinson Cano, Jed Lowrie, Jeurys Familia, and other older veterans.
DeGrom remains, and now, just a day after Van Wagenen appeared on WFAN with Mike Francesa, is roaring loudly.
Per ESPN, deGrom's camp has officially and publicly set an Opening Day deadline regarding the monster contract he's so deservingly after. If no agreement occurs prior to the Mets first 2018 regular-season game, there will be no discussions during the season.
In other words, the next time the Mets can talk to their ace pitcher will be when he's swimming in a hot stove on the yearly eve of 2020 free agency.
When pressed on the deGrom issue by Francesa, the young executive stuck by his guns. He maintained that dialogue remains open while deGrom knows the Mets want him.
"There's no reason for a distraction to carry into the regular season, and we'll continue to have dialogue over the course of this spring and see where those discussions lead," Van Wagenen said. "But the last thing either side wants to do is have this be a distraction once the season starts."
It makes sense for the Mets to force deGrom to do it again. Or, at the very least, attempt to match his mind-boggling numbers prior to making his long-term dreams come true.
The further he travels to actual free agency, the less it makes sense.
Value is now fleeting. A season ago, deGrom's max value reached epic levels (with an extra year of service moving forward). The return could have yielded multiple pieces needed to fill out a youthful everyday lineup.
Let's assume deGrom pitches to his 2015 NL All-Star form this coming season (2.54 ERA, 0.979 WHIP, 205 strikeouts in 191 innings pitched). Everybody within the organization would take it in a heartbeat. Yet what would a mega-deal return look like this particular deadline while he's close to entering his final full season? Certainly not as much as compared to 2018's return on value.
On one end of the spectrum, the man is a homegrown talent deserving of "forever a Met" status. This is a prevailing thought among Mets fandom. Never should he stray from Queens. He debuted in 2014 to a thunderous arrival and hasn't looked back, twice qualifying as an All-Star and once as the league's best pitcher.
Despite the feel-good narrative, it isn't the Mets fault the six-year service rule per free agency exists.
Jacob deGrom will be 31 years old in June. Putting aside the nonsense that he didn't deserve to wait to this age for free-market maneuverability, the organization has a right to do what's correct moving forward. Signing a 31-year-old starter in today's painfully distraught pitching land turns out disastrous results. Signing a 32-year-old thrower (during the 2020 offseason) makes even less sense. It's best to trade him for a busload or sign him now to get that long-term deal ticking.
Could deGrom field unusual, spectacular results into his 30s? Of course. But the odds aren't with him.
Just take a quick glimpse at the winning organizations major-league-wide. The powerhouses over the last decade or so—Chicago Cubs, Houston Astros, San Francisco Giants, Boston Red Sox, New York Yankees, Cleveland Indians, Kansas City Royals—get it done by way of youth around the diamond and in the outfield. Very little investment is placed in the starting rotation. Instead, the core is built around positional youth while ensuring bullpen dominance.
It's common sense during an era that rewards starters for lasting just five innings.
What about the Mets run in 2015? Thank Daniel Murphy. Without his heroics, the all-or-nothing power lineup wouldn't have lasted through the NLDS.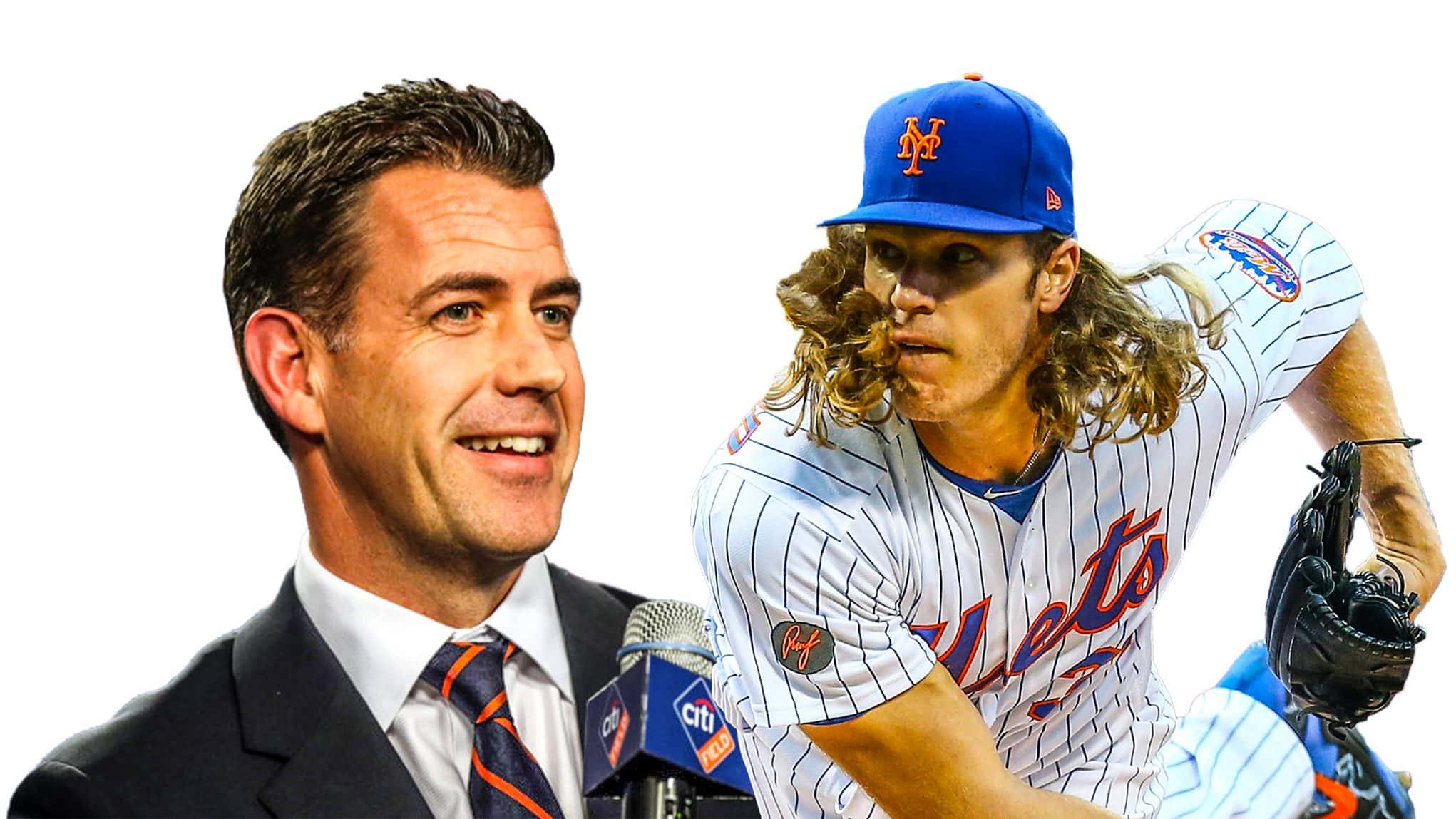 Whether you're one who's firmly on board with the "win now" mentality or not doesn't matter. It is important Van Wagenen addressed the bullpen. It is important that he ditched the all-or-nothing bloop and a blast mentality that showcased station-to-station runners and very little flexibility. It is critical that he's still, incorrectly, playing the stud rotation game.
In Boston, there's Chris Sale and not much else (save for a miraculous David Price postseason nobody saw coming). In Chicago, there was Jake Arrieta and Jon Lester. In Houston, there's Dallas Keuchel and a Justin Verlander prayer. In Cleveland, I suppose Corey Kluber counts. In San Francisco, there was one horse carrying the entire starting staff. In Kansas City, there was virtually nobody.
Rather, young studs such as Mookie Betts, Carlos Correa, George Springer, Jose Altuve, Eric Hosmer, Buster Posey, Francisco Lindor, and others represented the core of championship clubs. Even the Yankees with one lone homegrown starter (Luis Severino) won 100 games a season ago. Aaron Judge, Gary Sanchez, and a host of positional talent are thriving examples to the new baseball formula.
DeGrom was that ticket to a proven nucleus.
The strategy was obvious. Trade deGrom at his highest value last summer at the deadline. Or, sign him to a long-term deal while trading Syndergaard. Or, at the very least, sign him during the offseason while praying both stay healthy moving forward.
Now, the reactionary Mets head into Port St. Lucie with gray clouds following them around at every turn. There is no trade market and the reigning Cy Young award-winner is on his walk year with far less value to gobble up in return.
What do they do? Sign him now, prior to Opening Day and hope it works out? Do they let him prove it again yet risk losing him for nothing? Do they trade him for far less value than he would have garnered a season ago?
They've painted themselves into the smallest of corners.
Based on age, the clear choice was deGrom. Now, based on situation, Syndergaard yields the highest return. Interestingly enough, I fall into the category of Mets optimism. I believe 2019 will shock many naysayers in the baseball world. The bullpen is better. The lineup is extraordinarily underrated and balanced.
Unfortunately, I also believe a golden opportunity was missed in accordance with building a perennial winner for years to come. Despite possibly surprising this season, I don't think they're equipped for the long-haul. Only Amed Rosario, Michael Conforto, and Peter Alonso true breakouts can change that.
Hysterically enough, this isn't on Brodie Van Wagenen. While the front office was a mess during the second-half of 2018, Brodie was making bold claims (that now hurt him as an exec) as deGrom's agent.
It matters not. The organization as a whole has brought us all to this very moment.
The time for Jacob deGrom proactivity has officially passed by the New York Mets.