Major League Baseball and the MLB Players Association have been discussing a number of potential rule changes, including adding the designated hitter to the National League.

Hallelujah, hallelujah, our prayers to the baseball gods have finally been answered.
According to Jeff Passan of ESPN, Major League Baseball is considering a number of exceptional rule changes, the most important of which is the introduction of the designated hitter to the National League.
Finally.
At last, the MLB is trying to fix one of the most outdated rules in modern sports. The league is finally addressing the fact that making pitchers hit in today's game is wildly detrimental to the sport.
How many times have we seen a potentially big inning killed by a nearly automatic out by the pitcher? Maybe hurlers were athletic enough to hit in the early days of baseball when the third arm out of the bullpen wasn't paid enough to quit his side gig as a plumber.
Those guys weren't dotting 98 on the black with ungodly breaking stuff. They are now.
The game can't be played that way anymore because of the specialization it requires to hit major league pitching in the 21st century.
Sure, pitchers hitting bombs is a lot of fun. I'll never forget the excitement that was Bartolo Colon's first and only career home run in 2016.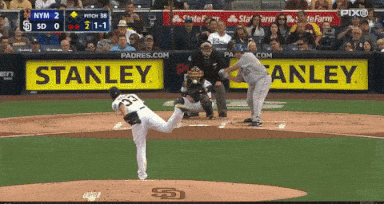 But it's fun because it isn't supposed to happen.
Pitchers are expected to step up to the plate and either get out or make an absolute fool of themselves. They're a complete waste of a lineup spot and it's absolutely preposterous that baseball has refused to introduce the DH into the National League for as long as it has.
It's time for baseball to stop being stubborn and add another capable hitter to National League lineups. The last thing in the world I want to see is Masahiro Tanaka taking at-bats in important interleague road games. That's how good pitchers get hurt for literally no reason.
It's time for the universal designated hitter.