The New York Knicks have traded franchise star Kristaps Porzingis. Is there a silver lining within this dangerous game?

January 31, 2019 will mark the day that Knicks fans' collective heads exploded while they were at work. Adrian Wojnarowski of ESPN reported that the Knicks had shocked the NBA by trading star forward Kristaps Porzingis to the Dallas Mavericks.
New York has agreed with Dallas on trade that includes Kristaps Porzingis, Courtney Lee, Tim Hardaway Jr., for Wesley Matthews, Dennis Smith Jr. and DeAndre Jordan, league sources tell ESPN. Players and agents are being notified of particulars. Deal may include more draft assets.

— Adrian Wojnarowski (@wojespn) January 31, 2019
The trade brings with it questions about the Knicks relationship with Porzingis and, furthermore, the organization's ability to build a sustained culture. Additionally, the trade throws a huge wrench into the Knicks long-stated plans and proclamations of building a team from the ground up.
If you're an optimist, the good news is that the Knicks are inching closer towards cap space with room for two max contracts. It's no secret that the 2019 free agent class has the potential to change the fortunes of a franchise with names like Kevin Durant, Kawhi Leonard, Kyrie Irving, and Klay Thompson.
But in the same breath, what does this mean for player development? And was the risk worth the possibility that the Knicks may strike out in free-agency as they did in 2010 when they had dreams of LeBron James, yet settled for Amare' Stoudemire and his paper mache knees?
Knicks Player Development
The Knicks entered this season with Porzingis (on the shelf), Kevin Knox, Mitchell Robinson, and Allonzo Trier as part of an impressive, yet unproven young core. Midway through the season, the three rookies, at different points during the year, impressed with their unique skills sets.
Let's not forget that the Knicks, with their current record, have a 14 percent chance of landing the first overall pick in this summer's draft. Renouncing the bird rights to all of their free-agents and waiving Lance Thomas would have cleared a path towards a max contract player to add to Porzingis.
With the trade, the Knicks have essentially placed all their eggs in the fickle basket that is free agency. Their hopes and dreams will rest on the allure and mystique of Madison Square Garden, New York City and the possibility of two-max contract superstars teaming up together to win in the big apple.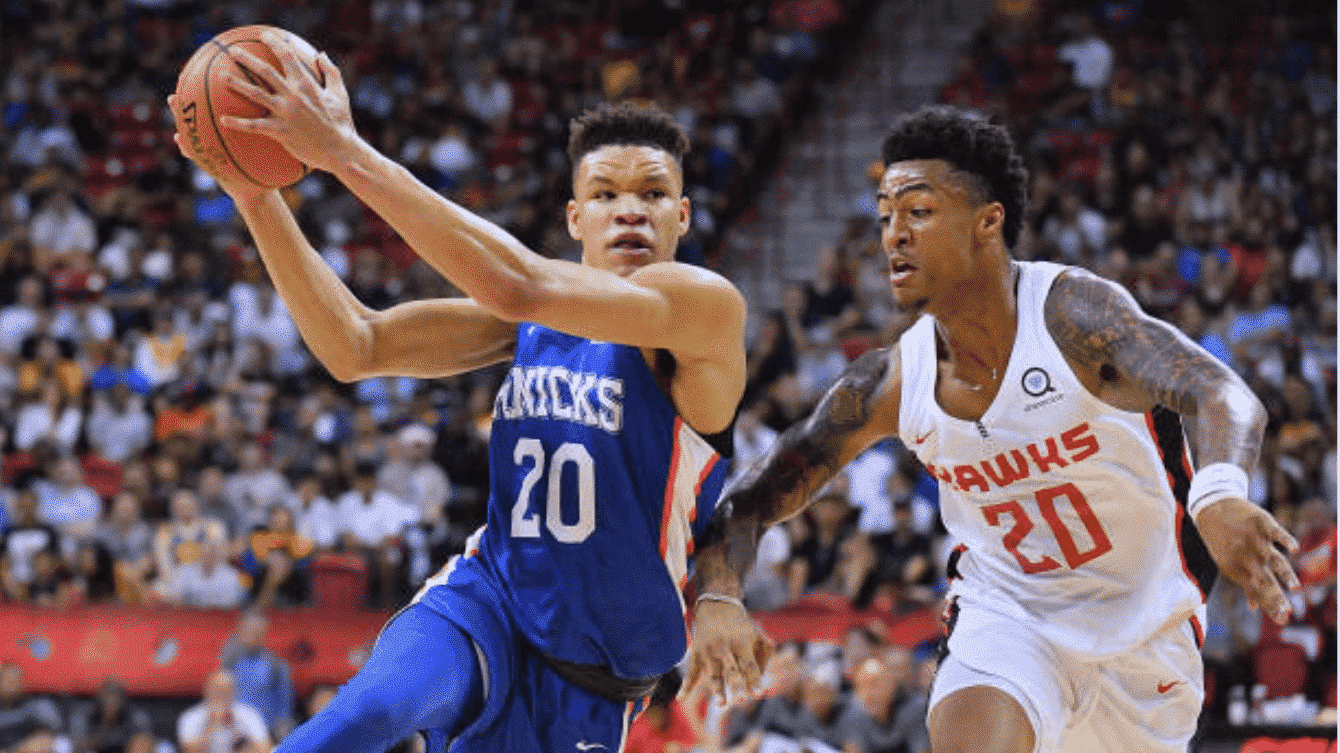 But what about player development? Coach David Fizdale often waxed poetic about his "kids" and their eventual development from a caterpillar to a butterfly. They were supposed to be given time to take their lumps. But if the Knicks do bring in superstars, how will this affect Knox, Trier, and Robinson?
You might not care as long as we have Kevin Durant and Kyrie Irving, but this trade places an immense amount of pressure for our young players to grow up quick. Jayson Tatum took a step back this year when Kyrie Irving and Al Horford came back from injury. Knox's growth may also be stunted if the Knicks bring in players that are taking 20-25 shots per game.
Ultimately, once you're in a win now mode, growth and development become afterthoughts, and the Knicks young assets may become expendable.
A huge roll of the dice
When the Knicks stretched Joakim Noah, they already made it clear that their priority to sign free-agents would be during the summer of 2019. The Porzingis trade places an even greater emphasis to sign a superstar from that class.
If the Knicks had to move from KP after his trade request, is it possible that they could have found a better deal, or at least waited until the summer? Generally, you bargain from a position of strength when teams can compete with each other in order to produce the best package.
Now there's nothing wrong with clearing cap space and securing two first round picks, one which is top-ten protected, yet losing your franchise star, on his rookie deal, for a package that is centered around Dennis Smith Jr. isn't the most inspiring transaction.
At this point, unless the Knicks have some Gordon Gecko insider information, the Summer of 2019 might as well look like a roulette table in Atlantic City. You'll hear all about the connections between Kevin Durant and assistant coach Royal Ivey, as well as Kyrie Irving and his New Jersey roots.
However, earlier this month, I wrote about the historical trends of top tier free agents and where they sign in an effort to give some context with what the Knicks are hoping to do this summer. It's worth noting,
"Furthermore, since 2008, only two players with at least one All-NBA selection have signed long-term deals with a team that failed to win more than 30 games in the previous season. That list includes Amar'e Stoudemire and Baron Davis. That's it. Translation: It's really really rare for great players to go to bad teams."
This certainly doesn't paint a nice picture for the Knicks but if they can somehow pull off the miracle, Steve Mills and Scott Perry will never pay for another meal in this town.
In the end, this deal can't be evaluated until July, when the Knicks have a chance to sign at least one, and hopefully two max-contract players. If they strike out and settle for Kemba Walker and Tobias Harris, this team will be mired in mediocrity with a ceiling of 45-50 wins tops and no chance of challenging Toronto, Boston, Milwaukee, or Philadelphia.
But the silver lining lies within Mills, Perry, and Fizdale, who have effectively placed themselves as the interim faces of the franchise. Their abilities to recruit the NBA's elite to a team that currently has 10 wins will largely determine the direction of the franchise for the next five years. The clock has started and the ball is in their court.