Though the New York Knicks should indeed be in the market for Anthony Davis, completing a trade for him should not be a priority.
Let me make one thing perfectly clear. I do not want the New York Knicks to trade for Anthony Davis. I would rather get a tandem root canal from Freddy Krueger and Pinhead than mortgage the future for a superstar again. After all, some of us fans are still smarting from the Carmelo Anthony trade and its aftermath.
That being said, to say the Knicks shouldn't inquire on Davis is silly. The former first overall pick made headlines this week when his agent, Rich Paul, announced his client would not sign a contract extension with the New Orleans Pelicans. Subsequently, Davis asked to be traded. One of the premier players in the NBA could be available, and the Knicks have the pieces to make a deal.
Moreover, Marc Stein of the New York Times has already reported the Knicks are intent on being "a factor" in Davis trade talks, but not until May. Similarly, per ESPN's Adrian Wojnarowski, the Pelicans are reportedly in "no rush" to trade their star player.
Even though it is likely that the Knicks' strongest offer for Anthony Davis would come in May once their draft position is known, one source with knowledge of the team's thinking confirms that the Knicks are intent on making themselves a factor in the Davis Sweepstakes

— Marc Stein (@TheSteinLine) January 29, 2019
That being said, despite my personal feelings, pragmatism states the Knicks should at least discuss a deal with New Orleans. Think of this as the basketball equivalent of the New York Yankees trading for Giancarlo Stanton a year ago. They didn't necessarily need him, but one of the best players in the game was available via trade, and potentially at a discount at that.
This is a different situation. Anthony Davis is available, but certainly not at a discount. The Pelicans will want a significant return from any trade partner.
Thus, though the Knicks should inquire on Davis, they should not by any means prioritize him.
Talented, but flawed
Anthony Davis is a great player. Let's get that out of the way right now. He's a former No. 1 pick, won a national title with Kentucky, and can average 20 points and 10 rebounds per game in his sleep. The Knicks haven't had a player put up those numbers since David Lee averaged 20.2 points and 11.7 rebounds in 2009-10. In adding Davis, the team would have a unique talent who goes against today's grain of the scoring guard being king.
Of course, nobody's perfect and Anthony Davis is no exception. Sure, he has averaged 24 points and 10.6 rebounds for his career along with 2.4 blocks, but injuries have been a problem. He has only played in over 70 games twice. Currently, he's sitting out with a sprained finger which has kept him off the court for over a week.
And that's just one injury. For someone six weeks out from his 26th birthday, Davis' injury history reads like Doug Heffernan's Super Bowl grocery list. It's longer than it should be. Behold:
2012-13: Missed a combined 18 games with a concussion, plus ankle, shoulder, and knee injuries.
2013-14: Missed a combined 15 games with a broken hand, plus ankle and back injuries.
2014-15: Missed a combined 14 games with chest and shoulder injuries.
2015-16: Missed a combined 21 games with left knee and shoulder injuries.
Granted, Davis later said his shoulder had bothered him since his rookie year, and he went on to play in 75 games each of the next two seasons. Still, the figures don't lie. Davis is injury-prone and that's going to be a factor in any trade talks regardless of his talent.
The Knicks' approach
That all being said, should the Knicks still reach out to New Orleans about trading for Anthony Davis? Of course they should! One of the best players in the NBA is about to be available, and GM Scott Perry would be cheating himself if he didn't at least check in.
However, Perry has to be smart in any and all negotiations. New Orleans is unlikely to accept Davis for Kristaps Porzingis straight up, despite how great a deal that is. Davis is everything the Knicks hope KP can become at his peak, so that deal makes sense talent-wise.
Except New Orleans will want more. On top of Porzingis, they'll surely want some other players, with electrifyingly dynamic rookie Kevin Knox being one of them. The Pelicans will also probably want at least one first-round pick. The Knicks are currently the NBA's worst team at 10-40. Do they really want to risk losing what could be the first overall pick in this summer's draft for a player who, though talented, doesn't guarantee a title?
What to do
That factor above defines how Perry should pursue Anthony Davis. The first overall pick in the NBA draft is a real possibility and the Knicks could use it to draft another franchise cornerstone as the rebuild continues.
That said, per Spotrac, Davis will earn just north of $27 million next season, the last one before he can opt out and become a free agent. Keep in mind, were it not for his recent trade demand, he could sign a $240 million "supermax" extension with New Orleans. One way or another, the man is going to get paid.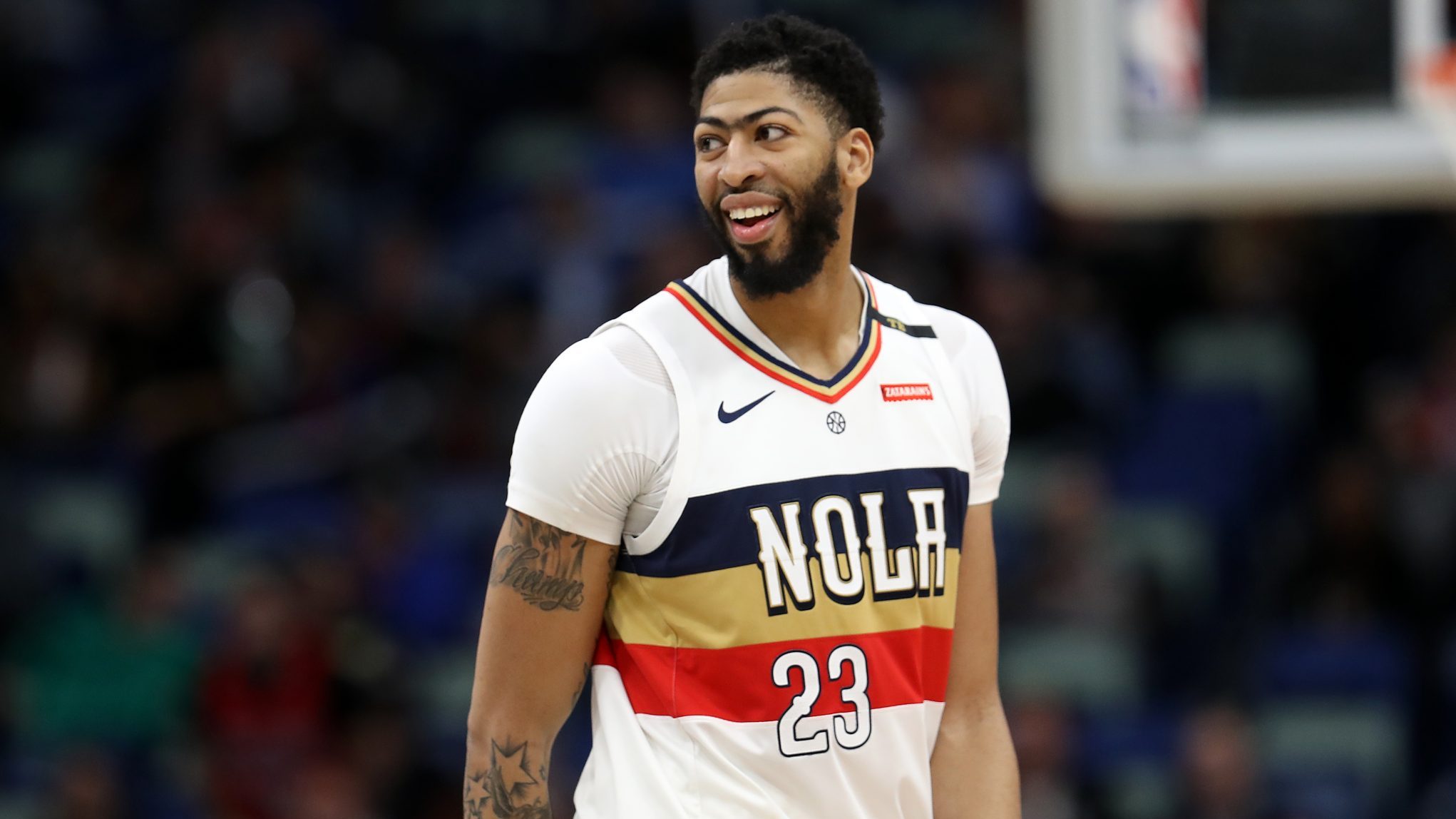 This means Perry must make one thing perfectly clear before players exchanged are even discussed. If Anthony Davis gets traded to the New York Knicks, he must sign a long-term extension first. It isn't fair for the Knicks to give up Kristaps Porzingis, Knox, and other assets for a superstar player, only for him to depart after a year.
Not only that but seeing as how Davis has gone public with wanting to leave New Orleans anyway, the Pelicans aren't exactly in a position to make demands. This means the Knicks may be able to acquire Davis at the slightest discount.
Final thoughts
That all being said, the best thing the Knicks' front office can do is take a wait-and-see approach with Anthony Davis. The team is young and competitive despite its losing record and doesn't desperately need a big name. Moreover, fans deserve to see how well this group can play with a healthy Porzingis, who is still recovering from ACL surgery.
And despite the risks, the Knicks would immediately become a better team with Anthony Davis. He's not even 26 and already has a 26.9 career VORP or 72.6 WAR by baseball standards. That's almost unheard of and is a testament to how great and unique a talent he is.
Except, high-end trade targets cost a lot and the Knicks have a strong young group already. A returning Porzingis, despite his own injury issues, would also make things better. Adding Davis really only makes sense if an extension is agreed upon first, and he may want to test the market regardless.
This all comes back to the original point. The New York Knicks should indeed check in on Anthony Davis. Prioritizing him over a high draft pick or a free agent like Kevin Durant, however, is the wrong idea.