Eli Manning cries too much and Brodie Van Wagenen is a shill for the Wilpons. This and more in the inaugural bad takes breakdown.

The bad takes breakdown is here to rank some of the worst takes of the week, delivered by fans, writers, radio personalities, and everybody else. Bad takes will always be a part of sports, so why not have some fun in actually having fun at the expense of these bad-take artists?
4: BVW A Wilpon Puppet
We must demand better! Dont accept this!The writing on the wall is set for 2019 and its unacceptable, It is not finished product. This is not a competing team that was promised to the Fan's.Another one of Jeff Wilpons puppets @GMBVW,telling us what we want to hear #MetsFansUnited

— #MetsFansUnited (@MetsFansUnited1) January 2, 2019
Holy overreaction, Batman! This is a steaming take from a very angry fan of the New York Mets. The Wilpons have been a constant source of agony for fans for years, and with good reason. They are cheap, pass blame to everybody but themselves, and are generally some of the worst owners in sports.
But the issue with this take is that the Mets are not a non-competitive team. They have, arguably, the best rotation in baseball, led by Cy Young Award winner Jacob deGrom.
The bullpen should be much improved, led by young stud Edwin Diaz and the re-signed Jeurys Familia. Plus, the team is reportedly looking to add another reliever or two.
Wilson Ramos has been an incredibly effective player at a very shallow position and has caught some really good pitchers. Robinson Cano should give the Mets .300 hitting with 15-20 home runs at second base.
Peter Alonso and Jeff McNeil will be looking to tear it up in their first full seasons in the blue and orange. Amed Rosario looked as good as advertised in the second half of the season. And those Brandon Nimmo and Michael Conforto guys are pretty good.
Keon Broxton is a risk given his 2018 season, but the team gave up next to nothing for a player who has recorded a 20/20 season as recently as 2017. It hasn't been a perfect offseason, but the team has made steps in the right direction.
The desire to see the Mets get somebody like Bryce Harper or Manny Machado is understandable, but the Mets have had a good offseason. They're a competitive team. In the words of Aaron Rodgers, R-E-L-A-X.
3: Mets OF Is Bad
I get it. Being on the radio requires you to come up with out-there takes in order to stay relevant and get listeners. Any attention is good attention. But that doesn't mean we aren't going to call out ridiculous takes when we see them.
Radio producer Brian Monzo came up with a take brutal even for talk radio. Monzo tweeted about the Keon Broxton deal, saying that it's a good deal if you have a good outfield. No problem with that statement. It's perfectly true. But the second part of what he said is just flat-out incorrect.
Keon Broxton is a nice addition to a team with good starting OF'ers, which the Mets are not, at this time. You're showing signs of defeat if you applauding this move without question what is next.

— Brian Monzo (@BMonzoRadio) January 5, 2019
Bashing on the Mets is fun, but Monzo seems to have forgotten about Michael Conforto and Brandon Nimmo, both of whom are pretty good and former first-round picks. Conforto has a career OBP of .349 with a slugging percentage of .476, which is really good.
He was an All-Star in 2017 and had a great second half in 2018 after he was fully recovered from offseason shoulder surgery. Nimmo is known mostly for smiling all the time, but he was excellent as well.
Nimmo had the fourth-best OBP in the MLB in 2018, behind only Mike Trout, Mookie Betts, and Joey Votto. That's pretty good company to be in, trailing only the two best hitters in baseball and a guy who walks so often fans of his own team get annoyed with him (which doesn't really make much sense).
He also had the 17th-best OPS in the league, which is quality enough to start on any major league team. He only had 47 RBI, but much of that stemmed from being the leadoff hitter (which depresses RBI numbers) and playing on a team that struggled to get runners on base.
It's fair to knock the Mets for being a team that doesn't spend a ton while playing in New York. But saying the Mets have a bad outfield is ignoring 66 percent of said outfield.
2: Basic Barkley
New York Giants running back Saquon Barkley has been the subject of debate among fans all season. Some (like me) feel that he is a generational talent that the team couldn't pass up on at number two. Others feel that drafting a quarterback to eventually replace Eli Manning was the correct move when drafting second.
However, one thing that has been universally accepted is that Barkley is an amazing talent. The record-setting rookie didn't miss a beat entering the NFL. The debate has been primarily about positional value. However, Instagram user assassinpool disagrees.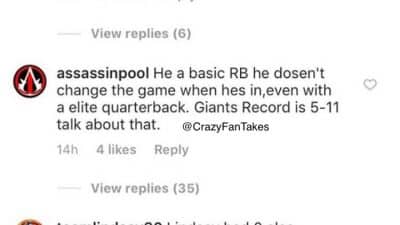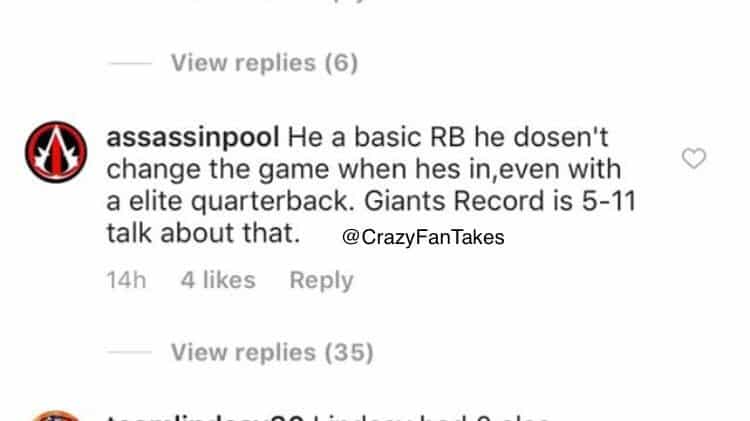 That's right folks, the third rookie ever to hit 2,000 yards from scrimmage is a basic running back. The guy with nine plays of 40-plus yards as a rookie doesn't change the game when he's on the field.
Never mind that he was running on a 5-11 team that struggled to generate a passing attack, or that he was running behind a line that couldn't even block this fan for this bad take. He's a basic running back who doesn't change the game.
We've all seen some bad takes come from fans, but this one is pretty brutal. Most weeks it would take the cake as the worst take of the week, but there's one that's even worse. Read on if you dare.
1: Crybaby Eli
Eli Manning has always been known as a very stoic player. Throughout his career, he's shown an amazing ability to shrug off the past and focus on the next play. His ability to compartmentalize and focus is what's allowed him to lead 37 game-winning drives.
He's also been able to stay on an even footing off the field. In addition to laughing off a potential controversy with Odell Beckham Jr., he's dealt with questions about whether he could still play at a high level for the last two seasons while playing behind a terrible offensive line, never once placing blame for the team's struggles on anybody else.
However, despite the stoic attitude that he is known for, "When he doesn't get his way, he kicks and screams," according to Gary Myers of The Athletic (subscription required). Myers gives two examples of this perceived behavior: his draft situation and the Geno Smith start.
The Smith situation involved Manning telling Ben McAdoo that it wasn't fair to Smith to only give him half of a game to keep a consecutive-games streak alive for Manning.
He felt, rightly, that continuing the streak for the sake of continuing the streak was selfish and would harm the organization. To describe that situation as anything other than Manning electing to do what he felt was right to set Smith up to succeed is simply wrong.
[membership level="0"]
The draft situation involved Manning saying before the draft that he would not sign with the San Diego Chargers if they selected him first overall. The drama ended with the Giants drafting Philip Rivers fourth and sending him to San Diego for Manning.
While what Manning did is unusual, to describe it as kicking and screaming shows a severe lack of understanding regarding what the NFL Draft is. The draft puts players in a position where they get zero say in where they will spend the first four to seven seasons of their career (thanks to franchise tag rules).
As a player, the choices available to you are essentially, sign with the team that happens to select you or refuse to sign and re-enter the draft the next season. Manning was willing to sit out a season and enter the draft again to land in a better situation. There is absolutely nothing wrong with that.
He felt that San Diego was a bad situation, and he was willing to use his leverage to land in a better one. That's one of the perks of being a top prospect. It's not significantly different than Le'Veon Bell refusing to sign his franchise tag this season, which Myers took no issue with while singing his praises as somebody the Jets should target.
By claiming Manning kicks and screams when he doesn't get what he wants, Myers ignores all of the background information surrounding the situations he pointed out. That makes this the worst take of the week.
Feel free to tell us in the comments section about any putrid takes you've seen, or tweet us @EliteSportsNY.
Follow Billy on TWITTER