The New York Knicks trading center Enes Kanter isn't as good an idea as it may seem on the surface.
The honeymoon between the New York Knicks and center Enes Kanter appears over.
The last few days have provided the usual drama to which fans of the team have grown accustomed. Per Marc Berman of the New York Post, Kanter was none too pleased about recently losing his starting job to Luke Kornet. He didn't demand a trade outright but stopped short of saying he wanted to stay with the Knicks.
ESPN reported this morning Kanter took a meeting with GM Scott Perry and discussed his dwindling minutes. Kanter again denied asking for a trade, stating instead his anger and frustration stemmed from New York's recent losing streak.
And yet, from a money standpoint, trading Kanter might not be the worst idea. He is a free agent this summer and earning $18.6 million this year, so moving him should be a breeze, right?
Sorry to burst your bubble, folks, but that's not the case. Kanter's numbers are solid, but to say he is an elite trade chip just isn't true.
Not only that but if the Knicks were to trade Kanter this season, it could actually do them more harm than good.
By the numbers
Enes Kanter has appeared in each of the Knicks' 38 games this season, starting 23. He is shooting 54.3 percent from the field and averaging 14.4 points and 10.6 rebounds per game. On the whole, that's not terrible. The numbers aren't quite worth $18.6 million for the year, but the Knicks took that risk when Kanter opted in and wasn't traded. He posted a career-high 11 boards per game playing for Jeff Hornacek last year. Surely, his major breakout was coming?
Sorry, folks. Realistically speaking, Kanter has probably peaked. Keep in mind, he debuted at 19 in 2011 and turns 27 in May. If he ever averages more than 15 points and 10 rebounds in a season the rest of the way, it would be a shock.
And those are just the bare bones numbers! The wild and wonderful world of basketball analytics shows Kanter isn't as strong a center as he seems. His Value over Replacement Player, or VORP, stands at 1.6 for his career. -2.0 is considered the benchmark for replacement level, so Kanter is arguably not a terrible player, and nobody is saying he is.
To put that number in greater context, a 1.6 VORP in the NBA translates to about a 4.3 WAR in MLB. By baseball standards, a 4.3 WAR in a season implies a player who is above average to very good, but not great. Now, consider it has taken Kanter seven-and-a-half seasons to reach that mark for his career. That's very telling, and not at all encouraging.
A limited trade market
Now, let's talk about where the Knicks would send Kanter. The usual route in dealing an expiring contract is to send it to a contender and hope to get a draft pick back. There's just one problem. Of all the teams that would make the playoffs if the season ended today, all are pretty set in the frontcourt.
Seriously, folks. Go look at the current NBA playoff teams and see. Sure, Eastern Conference teams like the Charlotte Hornets and Miami Heat could use some help in the paint, but that's the next problem. Why would the Knicks trade Kanter to a fellow East team? For all Perry knows, Kanter could wind up raking in his new home and get a max contract. The numbers don't tell this story, but what if he suddenly starts playing an elite level? It's unlikely, but still not a risk worth taking.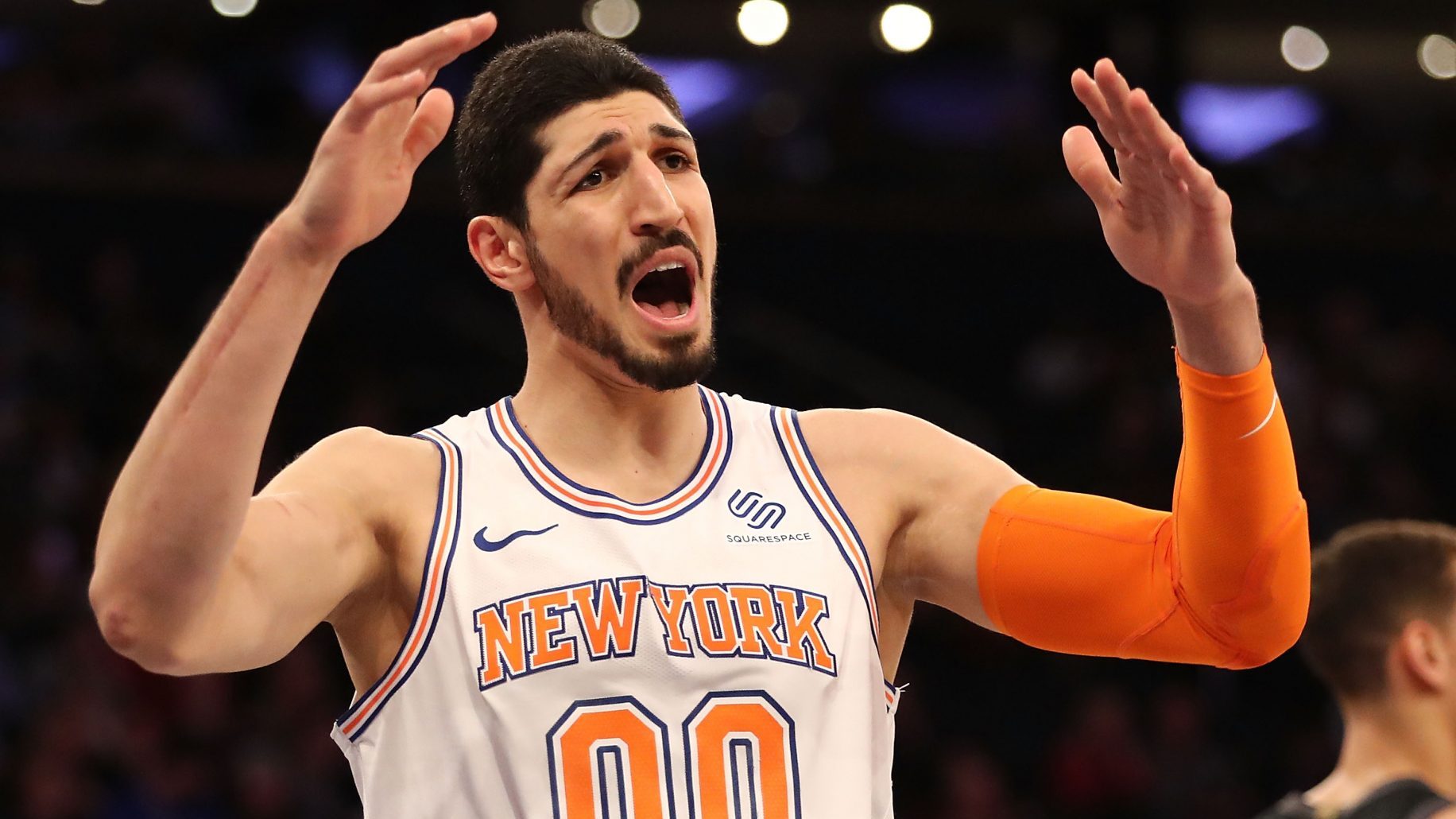 That means Enes Kanter's best bet in terms of his trade market is the Western Conference. That is, that would be the case if any of the eight playoff teams out west needed the help. The Los Angeles Clippers could theoretically use him, but that brings the conversation back to the analytics. Kanter may provide a small boost on offense, but he'll be a terrible liability defensively.
That means no team in its right mind would give up more than a second-round pick for Kanter. In the Knicks' case, that's just not a deal worth making.
What to do?
There's really only one thing the Knicks can do in regards to Enes Kanter. They can gut it out the rest of this rebuilding season, wait for his contract to expire, and hope for the best.
And what is the best? Well, that would be hoping one team overpays Kanter with something close to a max deal. Following that, Perry can hope the only way to make a deal happen is via a sign-and-trade. The return won't be pretty, but that's really the best the Knicks can hope for.
Look, I get it. I'm a long-suffering Knicks fan myself and know how brutal these kinds of seasons are. Losing streaks just keep piling up to the point where the coach shuffles the lineup six ways to Sunday just to get one measly win. That means some players who were once starters get relegated to the bench.
Remember when the Knicks won just 17 games four years ago? An ungodly 19 different players made a start for New York that season. In 2005-06, Larry Brown's sole year at the helm, that number was 16. Under David Fizdale this year, 14 different players have made starts. It just happens during losing seasons.
It's a cruel reality, fans, but it's one we have to accept. Rick Sanchez isn't coming out of a random portal to tell us about an alternate world where Enes Kanter's trade market is better.
The best thing the Knicks can do regarding a potential Kanter trade is simple. Don't trade him and let him walk in free agency.
After all, better to get the potential cap relief later than get next to nothing now.