The start of the New York Yankees' 2019 season is just 86 days away, and fans have plenty to get excited about.

The New York Yankees' 2017 season was an unexpected treat. The 2018 campaign ended in a humiliating ALDS loss to the Boston Red Sox. Now we've just stepped into 2019, and I'm already expecting a champagne-soaked ending.
A possible World Series victory is the main reason to be excited for the year of baseball ahead, but it's not the only one.
The Bombers are packed with youngsters who can take huge steps forward next season. They also have elder statesman CC Sabathia on the cusp of a few personal milestones.
The MLB is pretty dead right now, as everyone waits for Manny Machado and Bryce Harper to ink their megadeals. Don't let the slow news cycles get you down, though.
Here are 19 reasons to get psyched for 2019.
1. Spring training battles
There won't be a ton of spots open in the spring, but a few players need to have strong showings to make the opening day roster. There could be spots at second base and in the bullpen, but first base is the most interesting place to watch.
Luke Voit stole Greg Bird's job at the end of 2018, but the Yankees—who seem to be completely ignoring free-agent Bryce Harper—need some lefty power. That means Bird will get another chance to fly.
2. There could be a full year of Luke Voit bombs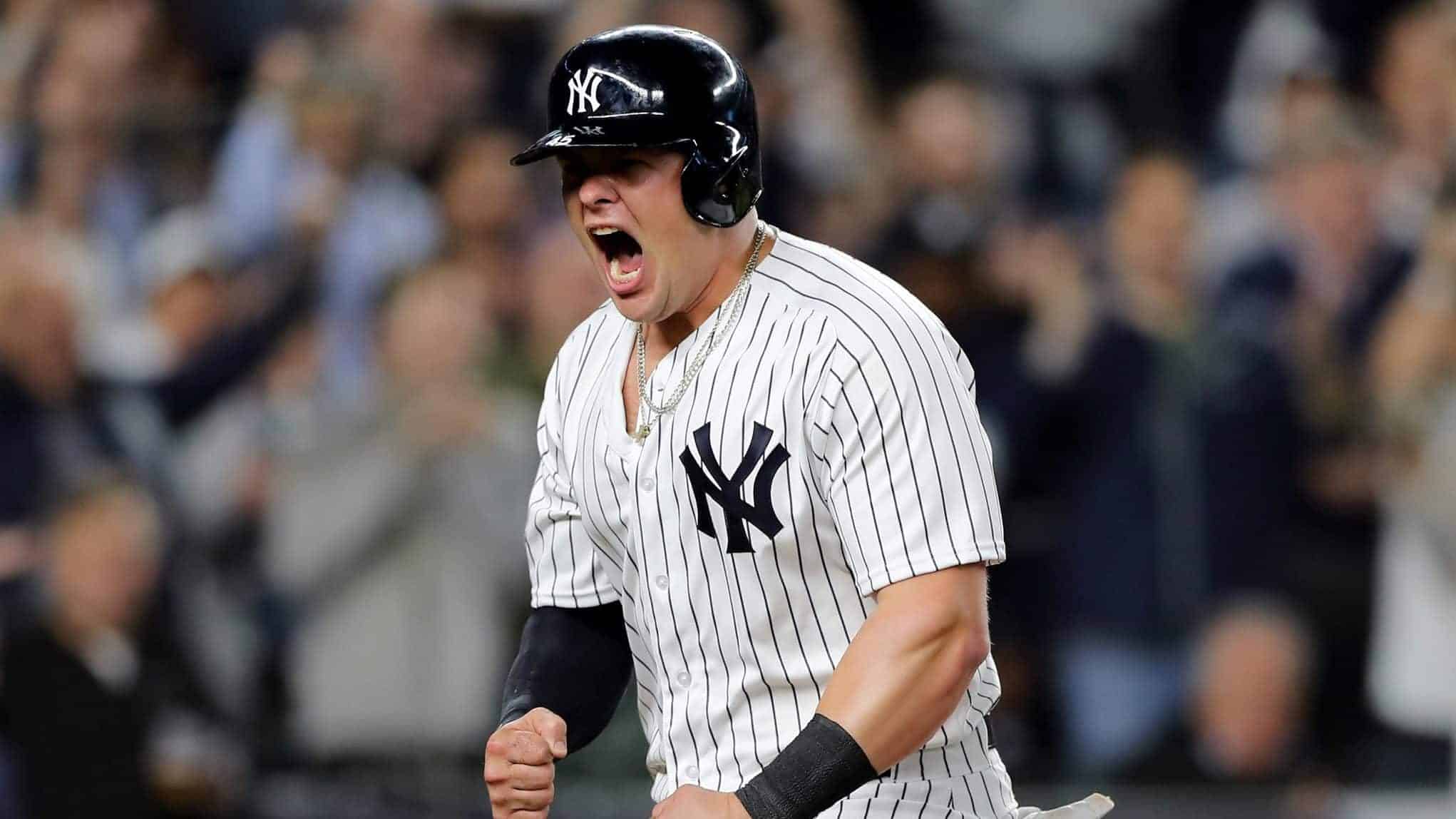 Unless Bird really goes off in spring, his best shot is a platoon situation with Voit. That means there's a chance we'll get to see what a full year of production looks like from the man who inspires "Luuuuuuuke" chants in the Bronx.
Why is that exciting? Well, in roughly one-third of a season in 2018, Voit blasted 15 home runs and put up 36 RBI. The projections from that sample are 45 bombs and 108 RBI.
3. The Yankees open the season at home
Opening day for the Yankees is March 28, at 1:05 pm (ET). Businesses and schools throughout New York State will close early so everyone can watch the game. (Okay, I'm kidding about that last part, but it's not a bad idea.)
They'll take on the Baltimore Orioles and then the Detroit Tigers in back-to-back three-game sets at Yankee Stadium before hitting the road.
4. A good chance for a good start
The Bombers play 23 of their first 29 games against teams who finished below .500 in 2018. Four of those teams lost 98 or more games, including Baltimore, losers of 115 games.
That may not seem exciting, but it does make for a great way to start off hot and work out the bugs left over from spring training. Also, games against Boston and Houston are mixed in to provide some early tests and keep things interesting.
5. London baseball
On June 29 and 30, the Yankees will take on the Boston Red Sox in London. If you're wondering how our friends across the pond will receive America's pastime, don't worry. Alex Rodriguez, in all of his great wisdom, has declared it a match made in heaven.
6. A chance for revenge on the Red Sox
Gleyber Torres was still breathing heavy from running out his ALDS-ending grounder when I started plotting the Yankees' revenge on the evil Red Sox. Not that I have any impact on the field, but I imagine regular season drubbings and a division title for the Bombers should do the trick.
If the Red Sox grab the Wild Card, I hope they meet the Yankees in the ALDS. A sweep would be best for my nerves, but a comeback from two games down would be even sweeter.
7. The Yankees could break the HR record again
Tally the career-high HR totals of Giancarlo Stanton, Aaron Judge, and Gary Sanchez, and you get 144. If those three can reach that number, the rest of the team only needs to hit 124 home runs to break the record the Bombers set last year with 267.
If Harper or Machado finds his way to the Bronx, the squad could be looking at a 300-HR season.
8. New players
Speaking of Harper and Machado, watching new players is another reason to get pumped for 2019. Right now the only notable new Yankee is James Paxton, but Machado's free-agency decision is expected this month, and the Yankees will probably at least add a bullpen piece.
Even if Paxton is the only one to watch when the season starts, he offers plenty of reasons to get excited.  For example, his career highs in innings (160.1) strikeouts (208) and K/9 (11.7) in 2018 all represent huge strides forward and indicate he will step into his prime in 2019. Also, you never know when he'll call an eagle down from the sky.
9. Year two of Stanton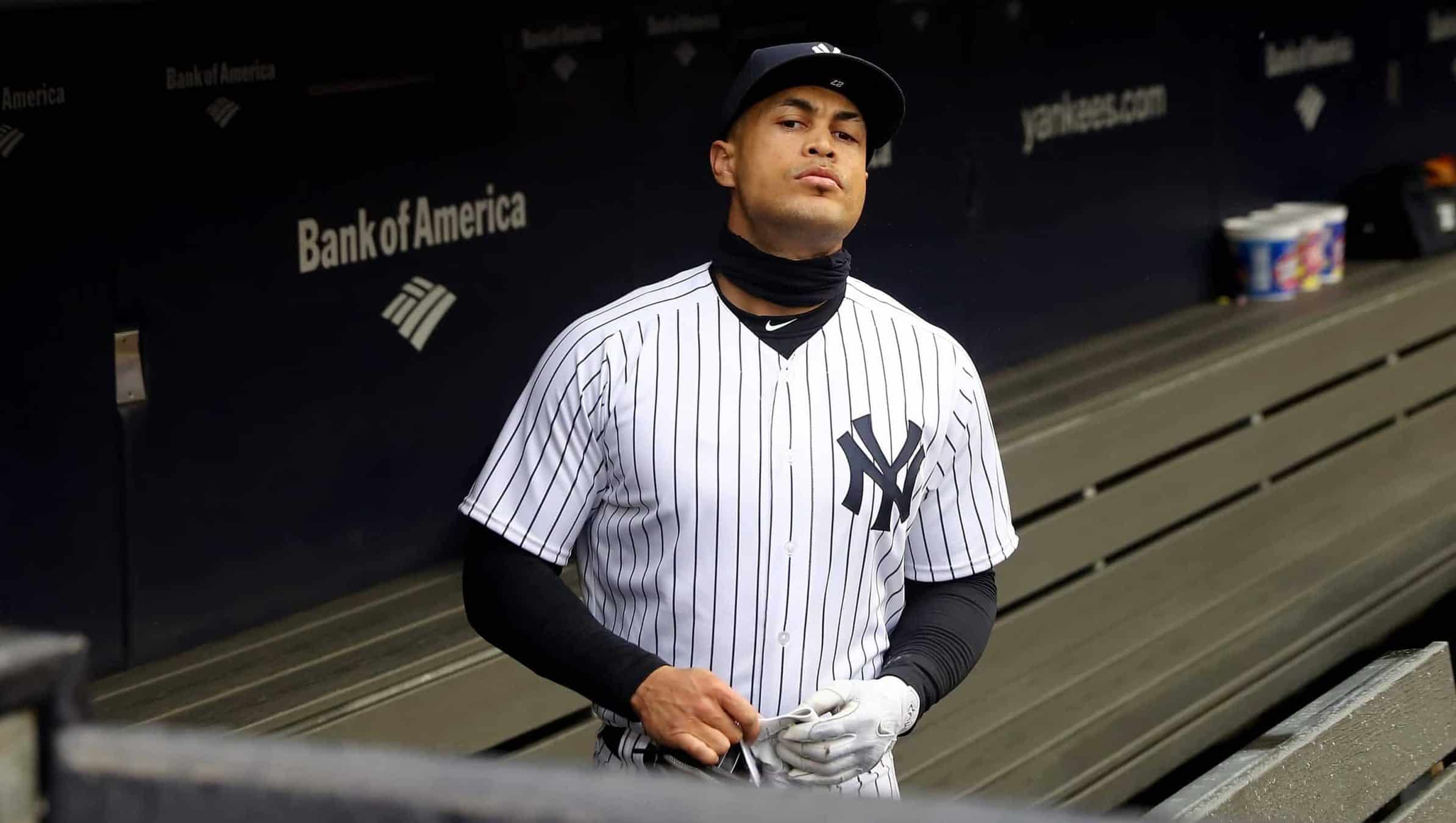 Stanton had a good season in 2018, bashing 38 HR and driving in 100 runs. The problem is that he fell way short of his 2017 numbers (59 HR, 132 RBI). Also, he set a new career high with 211 strikeouts and ran off an ice-cold streak at a crucial point of the season.
He did switch leagues last season, which likely played a role in his decreased output. It will be interesting to see if he can put up massive numbers in his second time around the American League.
10. Healthy Aaron Judge and Gary Sanchez
The Judge missed 50 games in 2018. If he can stay healthy in 2019, Yankees fans can root for another 50-HR season. I'll even dare to dream of the Bombers' first 60-HR season since Roger Maris hit 61 in 1961.
The Kraken also missed a bunch of time, only playing in 89 games in 2018. He needs to stay healthy and prove that he's not a .186 hitter. Plus, there's always the possibility that he puts together a crazy hot streak, like he did in 2016.
11. CC Sabathia's 250th win
CC Sabathia is super close to a couple of career milestones in 2019. The first is his 250th win. He's at 246 right now, and he shouldn't have a problem getting to 250 before the All-Star break.
Sabathia can also grab the 10th spot on the Yankees all-time wins list in 2019. He needs just three wins to pass the great Allie Reynolds.
12. CC Sabathia's 3,000th K
Another milestone that Sabathia should get to early in the season is his 3,000th strikeout. The hefty lefty has 2,986 heading into 2019.
In 2018 Sabathia averaged 4.8 strikeouts per start. If he can keep that up next season, he'll only need three games to reach 3,000. Assuming Sabathia is the fifth starter, and that the Yankees don't skip his rotation spot with early-season days off, Sabathia should pitch his third and fourth games in the Bronx.
13. Judge's 100th home run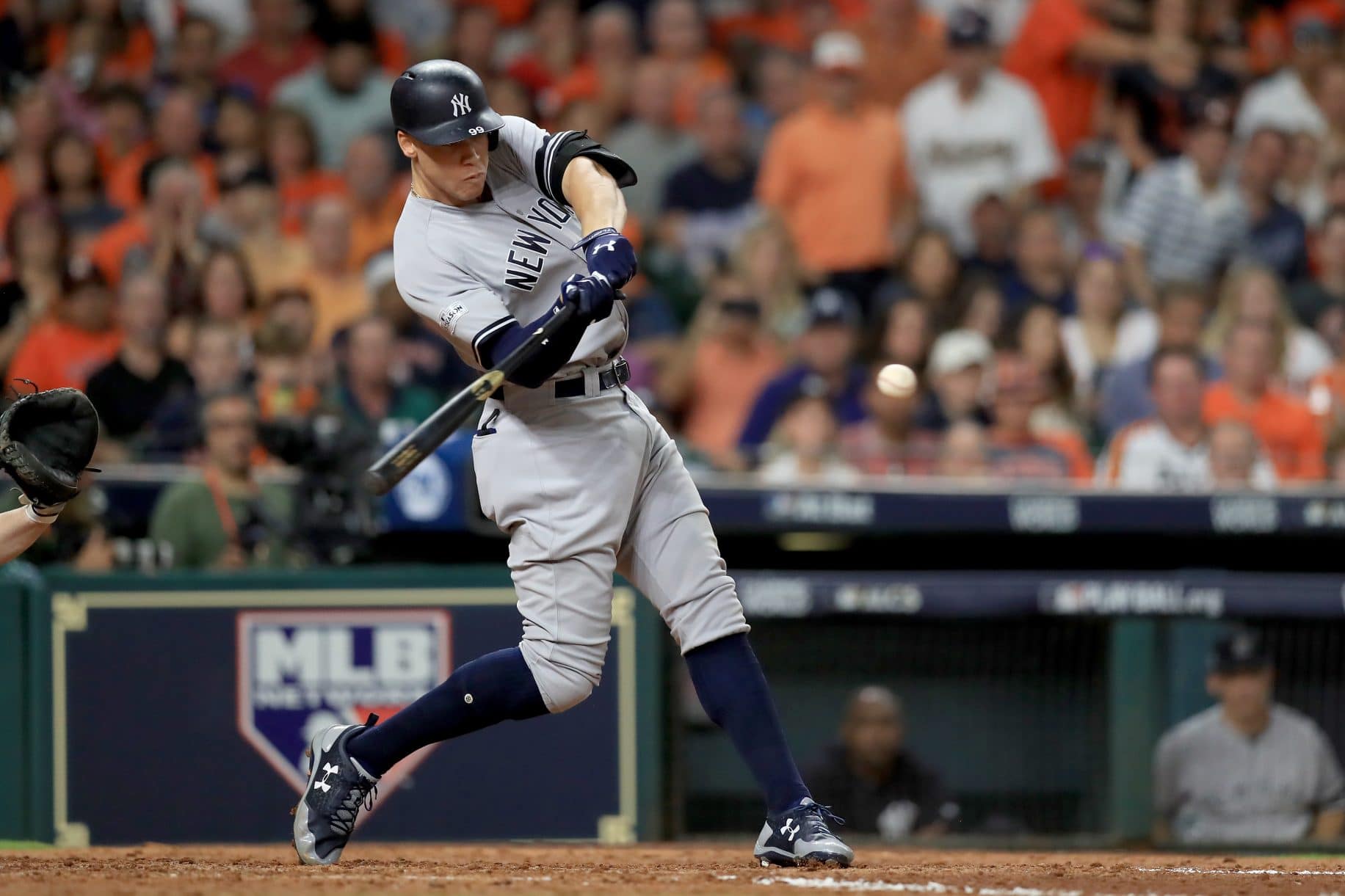 Sabathia isn't the only Yankees player who can reach a career milestone in 2019. Judge is just 17 bombs away from 100 in his young career.
If he hadn't taken a fastball off his wrist in 2018, he likely would have reached the century mark late in the season. If he can do it within the next 30 games, he'll be the fastest player in history to his first 100 homers, in terms of games played (Ryan Howard did it in 325 games; Judge has played 294), per Baseball-Reference.
14. Sanchez's 100th home run
It's going to be a bit harder for Sanchez to reach 100 dingers in 2019, but it's extremely doable. He's got 71 right now.
In case you failed math class, that means he needs 29 home runs to get to 100. He hit 20 in 53 games in 2016, so I wouldn't bet against him getting into triple digits in 2019.
[membership level="0"]
15. Andujar's doubles could turn into homers
Miguel Andujar was an XBH machine in his 2018 rookie season. He mashed a Yankees rookie-record 47 doubles. If he can progress as a hitter, Andujar could turn some of those doubles into home runs.
He hit 27 bombs last season, so just a few extra and he could be an annual 30-plus homer threat. Some have compared him to Manny Machado, who hit just 14 dingers in his first full season but paired them with 51 doubles. Machado hit 37 homers in 2018, and his lowest total in the last four seasons is 33.
16. Andujar is working on his defense with Adrian Beltre
Andujar was a beast on offense all year, but his defense still needs work. That's probably one reason the Yankees are shopping him this offseason. Don't worry, though, Andujar fans. Five-time Gold Glover Adrian Beltre is here to save the day:
Miguel Andújar got a call this offseason from someone interested in helping him work on his defense. It was Adrián Beltré, his childhood hero, and someone who knows his way around the bag: https://t.co/7R6VqKN8Gh

— Lindsey Adler (@lindseyadler) December 18, 2018
17. Didi's Tweets
A new season means fresh Tweets from Didi Gregorius following wins. He may miss most of 2019 as he recovers from his offseason elbow surgery, but I'd be shocked if he didn't continue the tradition anyway. He'll be able to add a few new emojis to his roster, too. I have some suggestions:
James Paxton: Pancakes with maple syrup (an eagle is too obvious).
Hanser Alberto: Anything with bubbles.
If Manny Machado signs: A snail or a cup of tea.
18. The 2019 trade deadline
Brian Cashman still isn't done dealing this offseason, but it's never too early to start thinking about the mid-season trade deadline. I have one player at the top of my Christmas-in-July list.
Trevor Bauer is one of the best pitchers in the game, and his eccentric obsession with getting better is something I'd love to see in the Bronx. Cleveland has been testing the market for him, but he hasn't moved yet. If he's available in July, Brian Cashman should empty the farm system to get him. If not, he can always sign Bauer to a one-year contract in 2021:
Trevor Bauer says he's never signing a long-term deal. Only one-year contracts.

Why? Turns out he made a bet with a friend: If he ever signs a multi-year deal, the friend gets to shoot him in the nuts with a paintball gun from 10 feet away.

Full podcast: https://t.co/hvN9x1gPKo pic.twitter.com/9l3z7PHLGz

— Jeff Passan (@JeffPassan) July 6, 2018
19. No Sonny Gray
Last but most definitely not least, Sonny Gray should be wearing another team's uniform in 2019. Brian Cashman said as much back in October, and Gray has generated plenty of trade interest since then.
The Yankees won't miss the 4.90 ERA and 1.5 WHIP he generated in 2018. Even if he regains his ace-like form with another team, there's no reason to second-guess the move; Pickles just couldn't dill—I mean deal—with the pressure in the Bronx.