Zion Williamson has swept the nation six months ahead of the NBA Draft, but should the New York Knicks be paying attention?
Any true-blue basketball fan follows college hoops as well as the NBA. This means they should know all about Zion Williamson. The five-star recruit and McDonald's All-American from Spartanburg, South Carolina has been dominating for the Duke Blue Devils. He is averaging 19.8 points and 9.4 rebounds while showing zero signs of slowing down.
Now, enter the New York Knicks and their 9-26 record. They're going to be a lottery team come the NBA Draft on June 20. They may even land the first overall pick. Now combine that with the possibility of landing Kevin Durant as a free agent. Long-suffering Knicks fans are likely salivating the way Garfield does when he sees lasagna.
And what if the Knicks not only landed the first pick in the draft but also picked Williamson? New York fans would actually (for once) cheer at the selection. The marketing and endorsement opportunities would be infinite.
There's no doubt Zion Williamson would be an overnight sensation in New York.
But does Williamson himself fit what the Knicks are trying to do? Let's take a much too early look at the tape and find the answer!
Pros
One can't watch Zion Williamson and not notice his size. He's only 6'7″, but ESPN lists his weight at a strong and dominant 285 pounds. For context, LeBron James is listed as 6'8″, 250, and is considered one of the NBA's strongest athletes.
Now, consider Williamson will have a year of college ball on his resumé when he enters the NBA. James, meanwhile, made the jump right from high school. Not to water down the 14-time All-Star and four-time MVP's accomplishments, but what if he played a year of college ball? That's a level of scary athleticism Williamson himself could have, and even then we'd only be scratching the surface.
That's because like James, Williamson seems like someone who can do it all. He's also averaging 2.1 steals per game and shooting an astounding 65.2 percent from the field. Though only 6'7″, he plays with the strength of a seven-footer. He is drawn to rebounds like a moth to the flame; pepperoni and pizza; Fozzie Bear and bad jokes. Given the NBA has become so scoring-centric, Williamson's blue-collar approach would be a breath of fresh air.
That said, let's combine Williamson's game with Knicks coach David Fizdale's emphasis on interior defense, plus New York's long history as a defense-firs team. Now, consider NBADraft.net lists his player comparison as a mix of Charles Barkley and Blake Griffin.
I don't know about you, folks, but when I watch Williamson play, and then imagine him in a Knicks uniform, I don't think of the Round Mound of Rebound.
I see Charles Oakley 2.0.
Cons
And, like any NBA Draft prospect, Zion Williamson comes with red flags. Actually, he comes with a few.
First, as great as he is at getting his hands dirty in the paint and above the rim, Williamson has little to no mid-range game. Sure, he can hit the occasional three, but it seems most of his points come via either layup or thunderous dunk. He'll need to develop a jump shot or halfcourt game to keep up in the NBA.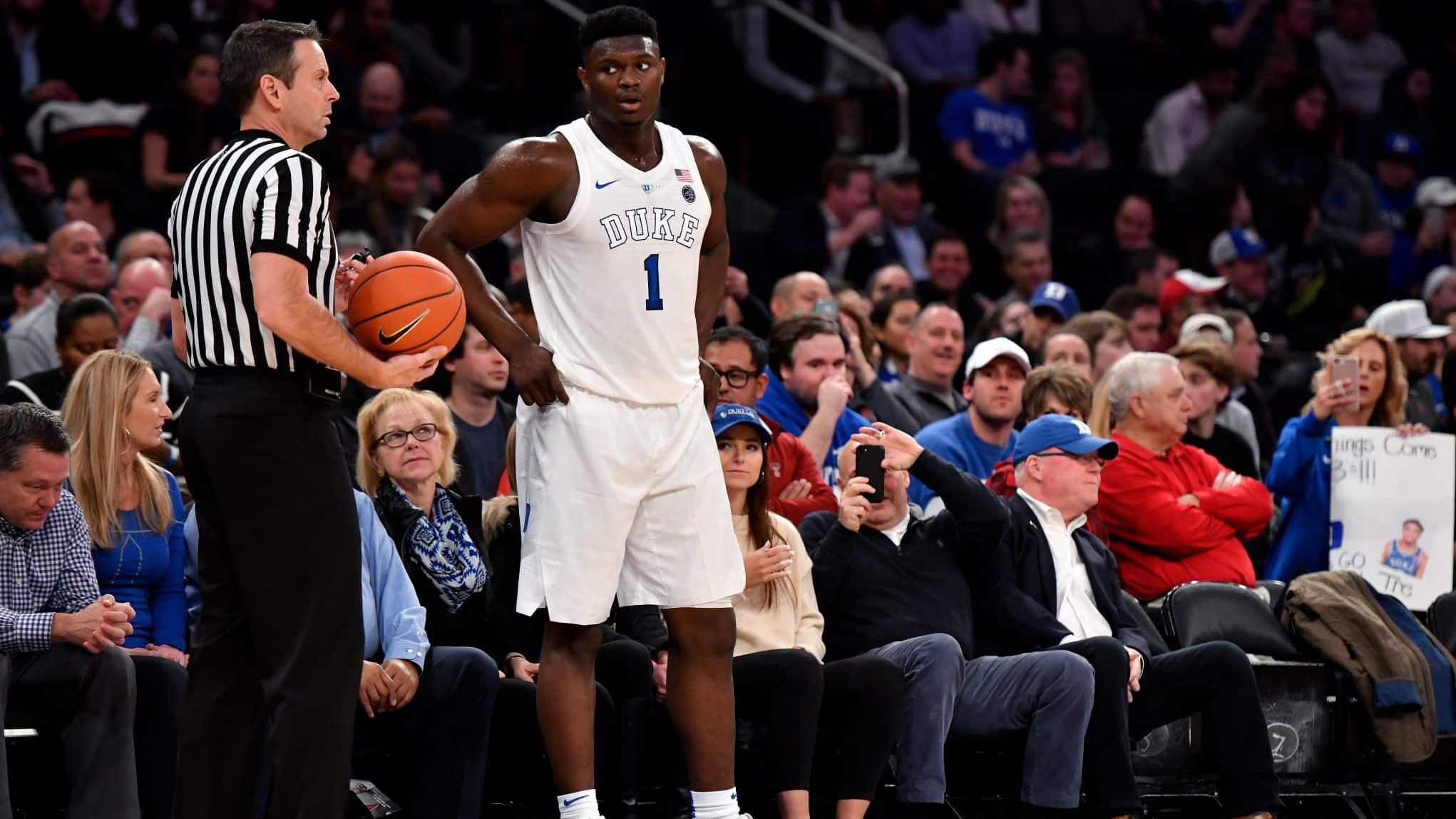 What's more concerning, however, is Williamson's size. Great as he looks, he's still only 6'6″. Teams may hesitate to stick someone of his build at power forward, no matter how strong.
This is where Williamson's potential fit with the Knicks gets tricky. Power forward will be occupied once Kristaps Porzingis returns from a torn ACL. Unless the team lets Enes Kanter walk in free agency, KP won't be moving to center. There is also Mitchell Robinson to consider.
This means Williamson would likely be asked to be a tough defensive wing, and we haven't even covered the possibility of a Durant signing. If that comes true, cut to Williamson having trouble getting playing time in the Big Apple. Not only that but what about Kevin Knox and his high ceiling?
One way or another, there is no clear fit for Zion Williamson and the Knicks, at least with the current roster in place.
Final thoughts
The good news for the Knicks is if Zion Williamson is available come their turn in the draft, they could still use him. Noah Vonleh is a free agent at season's end, so Williamson could provide valuable interior defense off the bench. He still has some kinks to work out in his game, so playing as a reserve could actually benefit him early on if New York drafted him.
[membership level="0"]
But in the long run, unless major roster moves are made, Zion Williamson is not a realistic fit with the Knicks. Unless Porzingis is allowed to walk as a restricted free agent, and there's nothing to suggest he will be, there would be nowhere to put Williamson early on except the bench. That would be a crying shame, as Williamson would need to get significant playing time to be an impact player.
Maybe GM Scott Perry will change his tune on KP, or maybe Knox, but he shouldn't. The Knicks, despite their record, are still playing competitive basketball. This is already a very young team, so adding a seasoned veteran is the next step.
That means as talented as Zion Williamson is, the New York Knicks aren't the best team with whom he could start his NBA journey. Fans who want him will be disappointed, but it's ultimately the right move.