'Tis the season to remember some of the memorable gifts the New York Yankees have given their fans over the years.

December 25 is nearly here, and that means you've probably been tired of hearing Christmas music for about a month now. Well, I'm here to pile on, but with a pleasant New York Yankees twist.
On the first day of Christmas 2017, the New York Yankees gave to us Giancarlo Stanton. This year, to save fans from tears after signing only J.A. Happ, the Bombers might throw a Manny Machado-shaped present under the tree.
Whether or not these acquisitions are good gifts is debatable. After all, Stanton came with a giant bill, 211 strikeouts and a sadly symmetrical .222/.222/.222 ALDS slash line; Machado is incredibly talented, but batteries are not included with him.
The gift Yankees fans really want to open is a 28th championship, but unless you have a time machine to go back and a banana peel to plant in front of Red Sox third baseman Eduardo Nunez, that's not happening.
But now is not the time to spiral. Don't let pinstripe pessimism ruin your holiday season. Instead, spike your eggnog extra hard, sit back, and let's go through 12 days of New York Yankees Christmas.
On the first day of Christmas, the Yankees gave to us a rivalry since 1918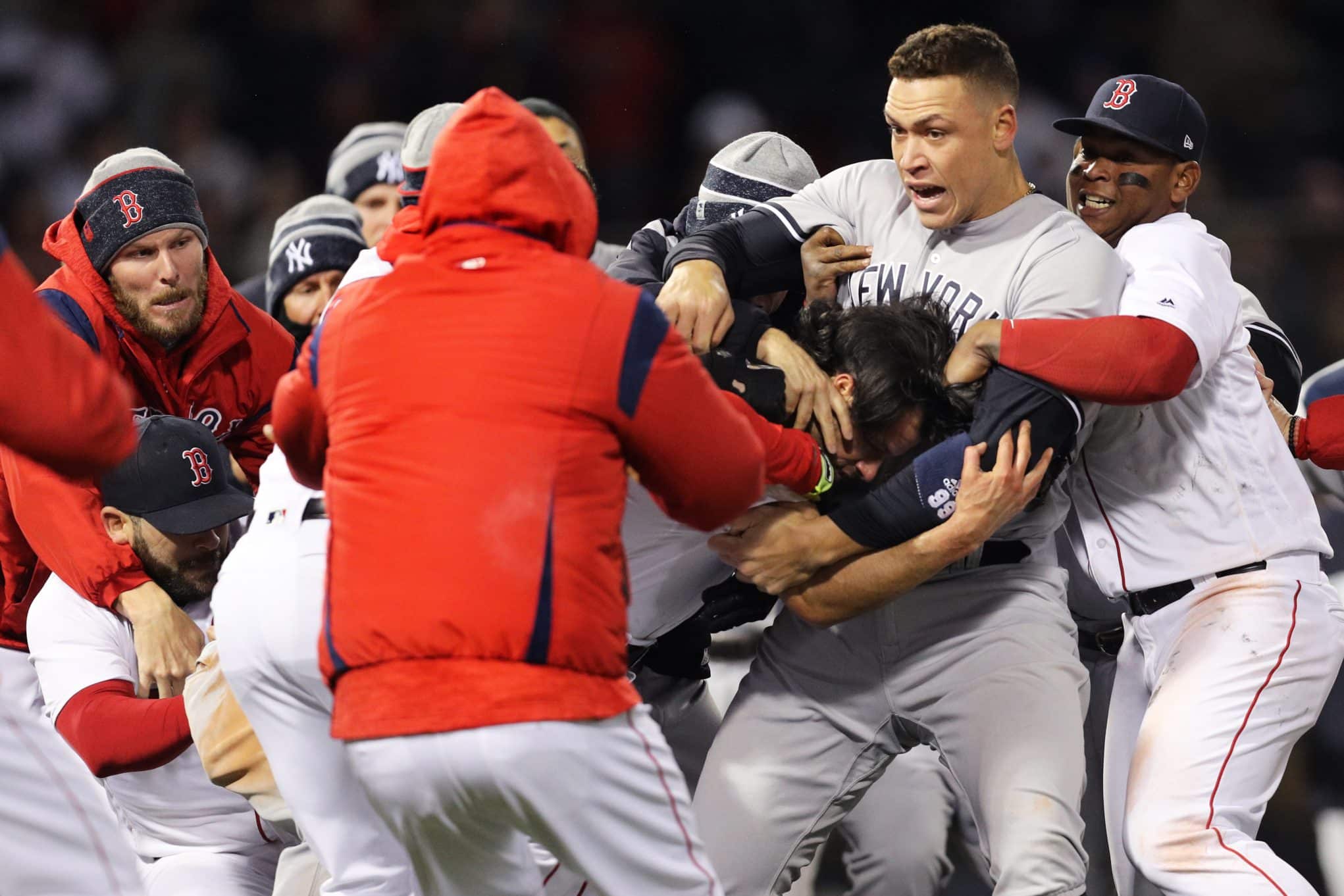 Everyone knows the story. The Red Sox won the World Series in 1918, traded Babe Ruth to the Bombers, and then went 86 glorious years without another title.
The Curse of the Bambino was sadly lifted in 2004 when Boston finally won again, but the rivalry is still as strong as ever. I'd go so far as to say that if you haven't dreamed of a 0-162 Red Sox season, you might not be a true Yankees fan.
On the second day of Christmas, the Yankees gave to us two home run kings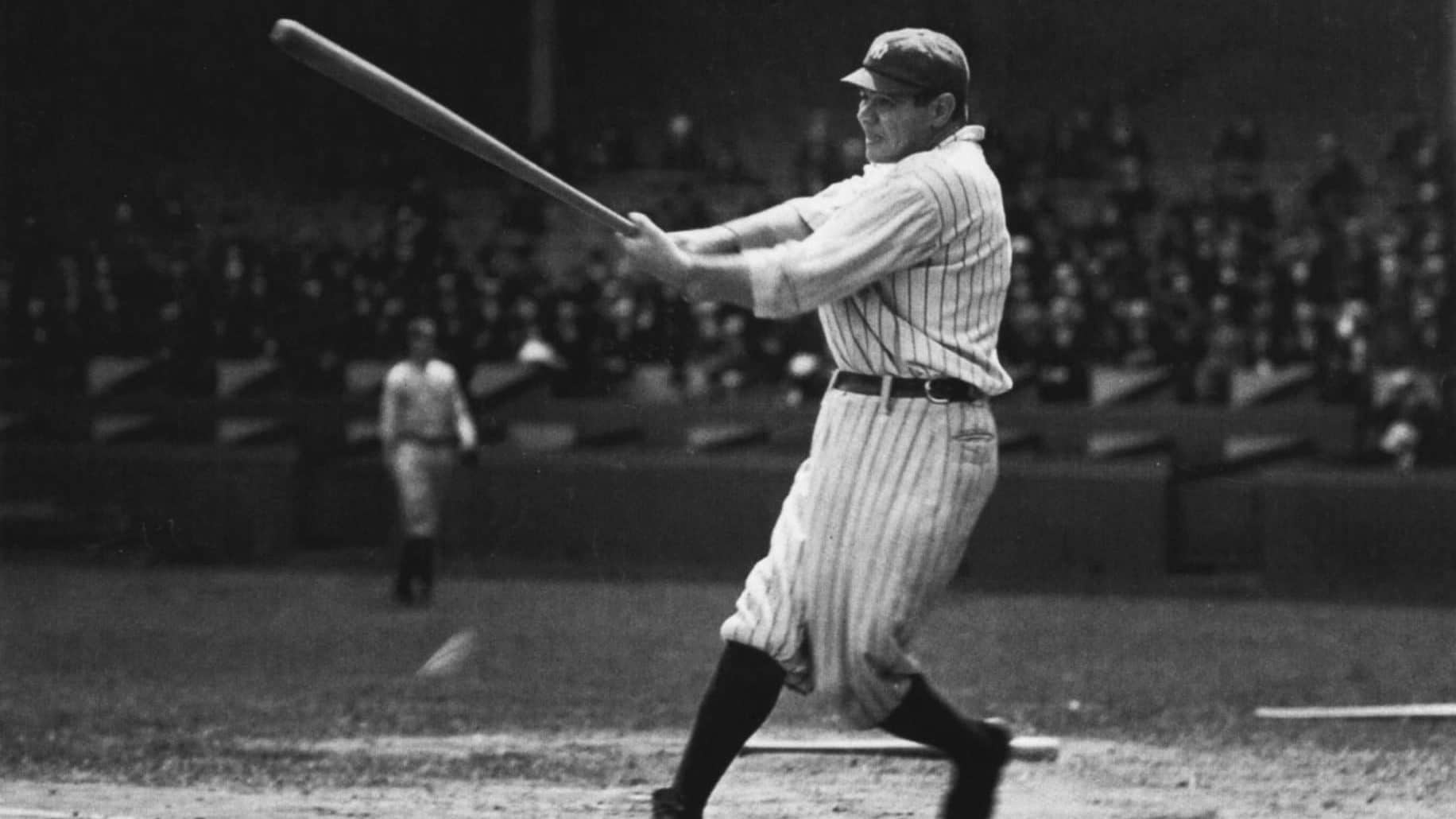 That Babe Ruth guy the Red Sox gave to the Yankees turned out to be quite the power hitter. His record of 60 home runs in 1927 stood for 33 years. Then, another Bronx Bomber, Roger Maris, came along and broke Ruth's record when he hit 61 dingers in 1961.
Of course, the home run record has since fallen, first to Mark McGwire and most recently to Barry Bonds. But they had a little help from a dirty little Christmas elf named HGH.
On the third day of Christmas, the Yankees gave to us three perfect games
Don Larsen tossed the first perfect game for the Yankees in Game 5 of the 1956 World Series. It's the only perfect game ever thrown in a playoff contest.
Then, of course, David Wells and David Cone threw perfect games in back-to-back years. Wells pitched his against the Minnesota Twins in 1998, and Cone did it against the Montreal Expos in 1999.
All three of the Bombers' perfect games came at Yankee Stadium. Mike Mussina came within one out of what would have been a perfect perfect game at Fenway Park against the Red Sox in 2001, a memory that haunts me to this day.
On the fourth day of Christmas, the Yankees gave to us four straight Reggie Jackson home run swings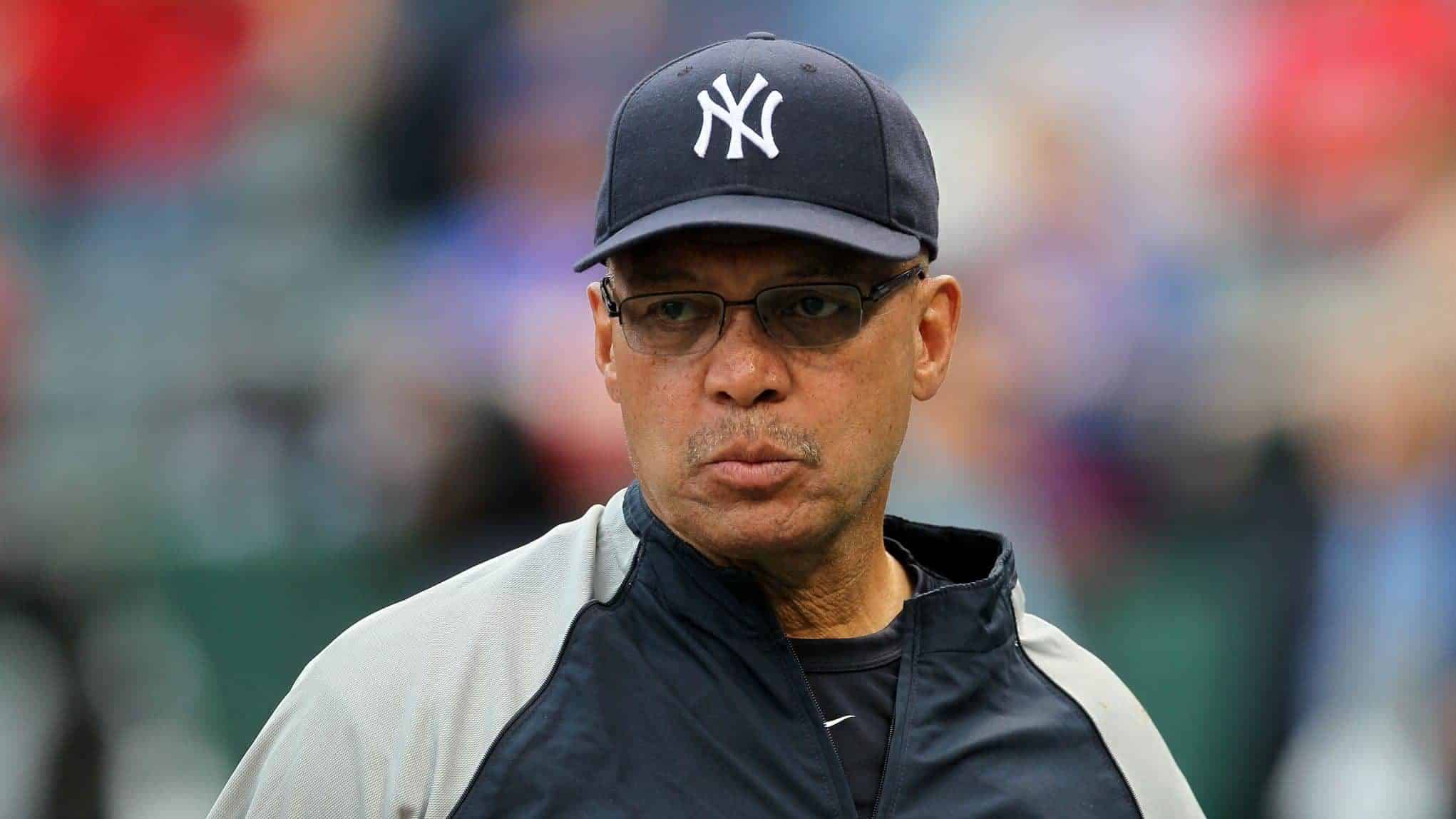 Pretty much every baseball fan knows about Reggie Jackson's three-homer performance in Game 6 of the 1977 World Series. But what makes the feat really stand out is how he did it with three consecutive swings.
Jackson had also homered in his final at-bat in Game 5. Although he walked his first time up in Game 6, he did so without swinging. Four straight Jackson swings produced four bombs and a new nickname for Mr. October.
On the fifth day of Christmas, the Yankees gave to us five Baby Bombers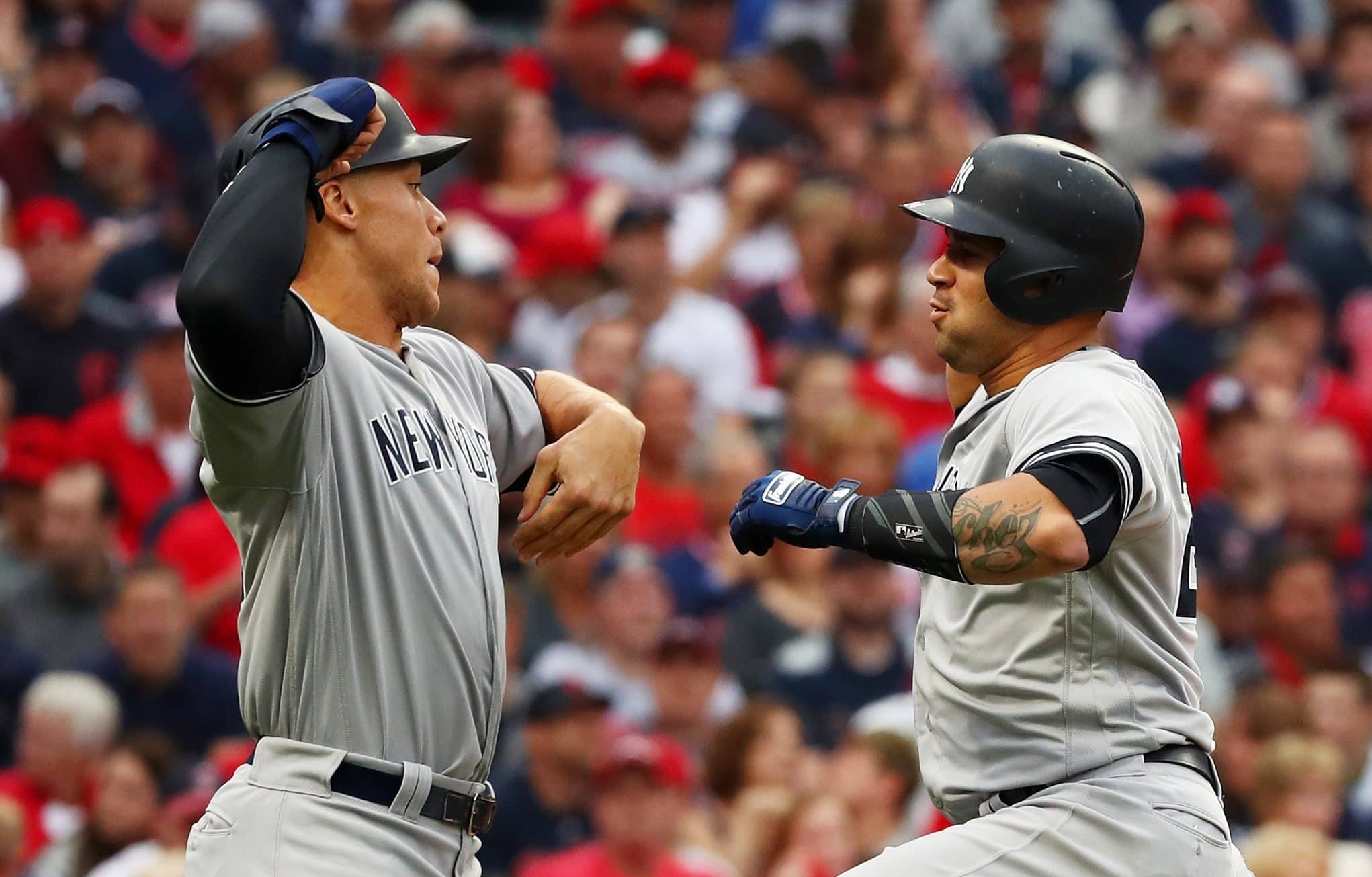 The Yankees haven't won the World Series since 2009, but they used that downtime to build a farm system that has yielded awesome talent in the last few years. They're now known as the Baby Bombers, thanks to five main youngsters.
Gary Sanchez first burst onto the scene as a 23-year-old in 2016, almost winning the coveted Rookie of the Year award with his jaw-dropping performance over two months. Aaron Judge and Luis Severino quickly followed, with Judge blasting 52 homers and Sevy pitching to a 2.98 ERA in 2017. The latest additions to the Baby Bombers are Miguel Andujar and Gleyber Torres who finished second and third, respectively, in the 2018 ROY voting.
Next up is Clint Frazier.
On the sixth day of Christmas, the Yankees gave to us six 300-homer hitters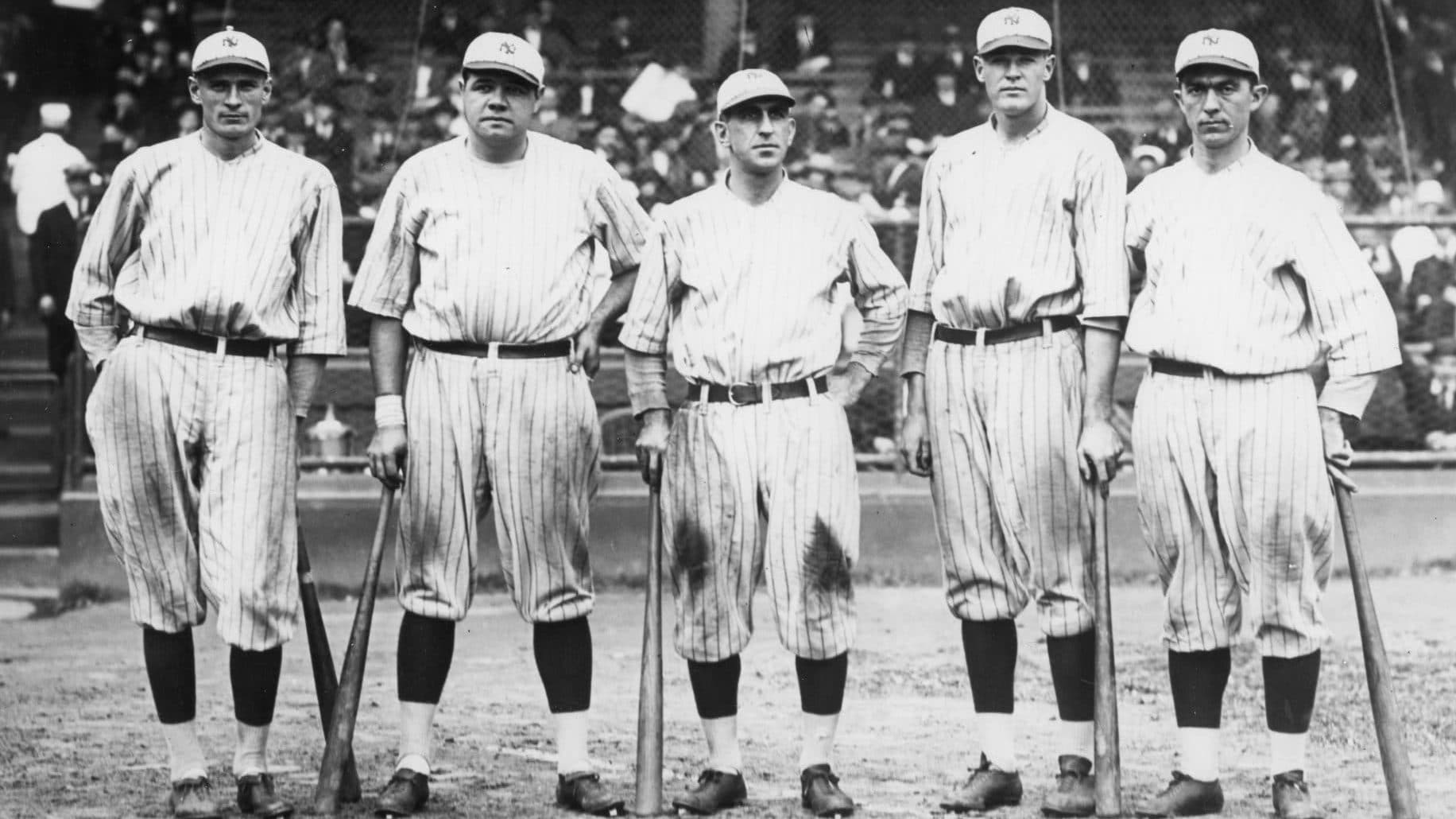 Six players have notched 300 or more home runs with the New York Yankees, more than any other team in the MLB. The Red Sox and the Braves each have five, and the Cubs, Tigers, and Giants all have four.
Here's the Yankees' list:
Babe Ruth (659)
Mickey Mantle (536)
Lou Gehrig (493)
Joe DiMaggio (361)
Yogi Berra (358)
Alex Rodriguez (351*)
I'd be remiss if I didn't note that A-Rod is an illegitimate member of this group due to his HGH use. However, the fact that he bumps the Yankees over the Red Sox in this category is enough to leave him in.
On the seventh day of Christmas, the Yankees gave to us seven years of Hideki Matsui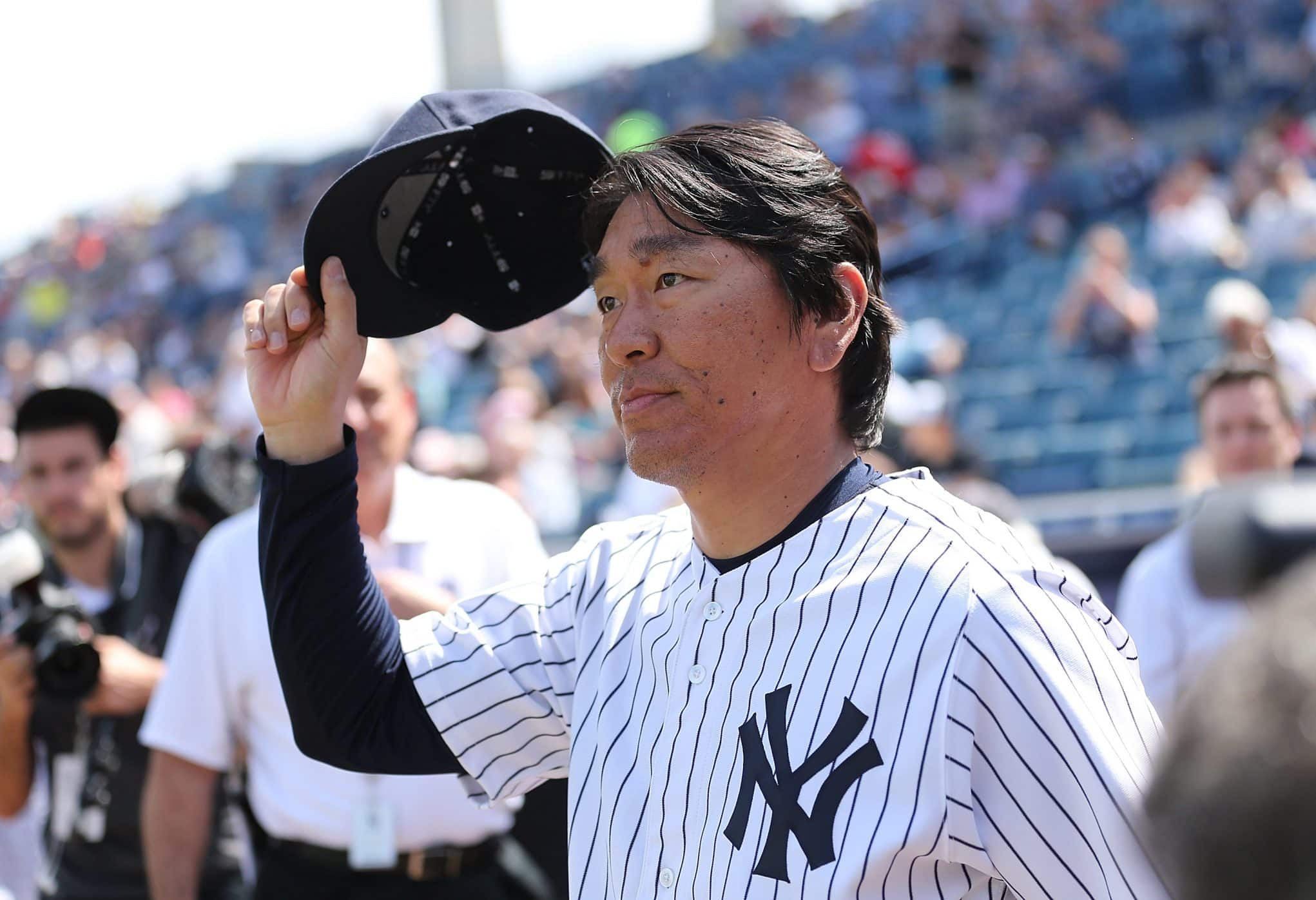 Hideki Matsui was a legend who earned the nickname Godzilla in the Japanese league, and he was no less a monster for the Bombers. He never hit below .274 while in pinstripes, and he drove in at least 100 RBI in all but one full season in the Bronx.
He was as clutch as they come, too. In 56 playoff games, Matsui slashed .312/.391/.541. In 2009 he earned World Series MVP honors by posting a .615 average and three home runs against Philadelphia.
On the eighth day of Christmas, the Yankees gave to us eight decades with at least one ring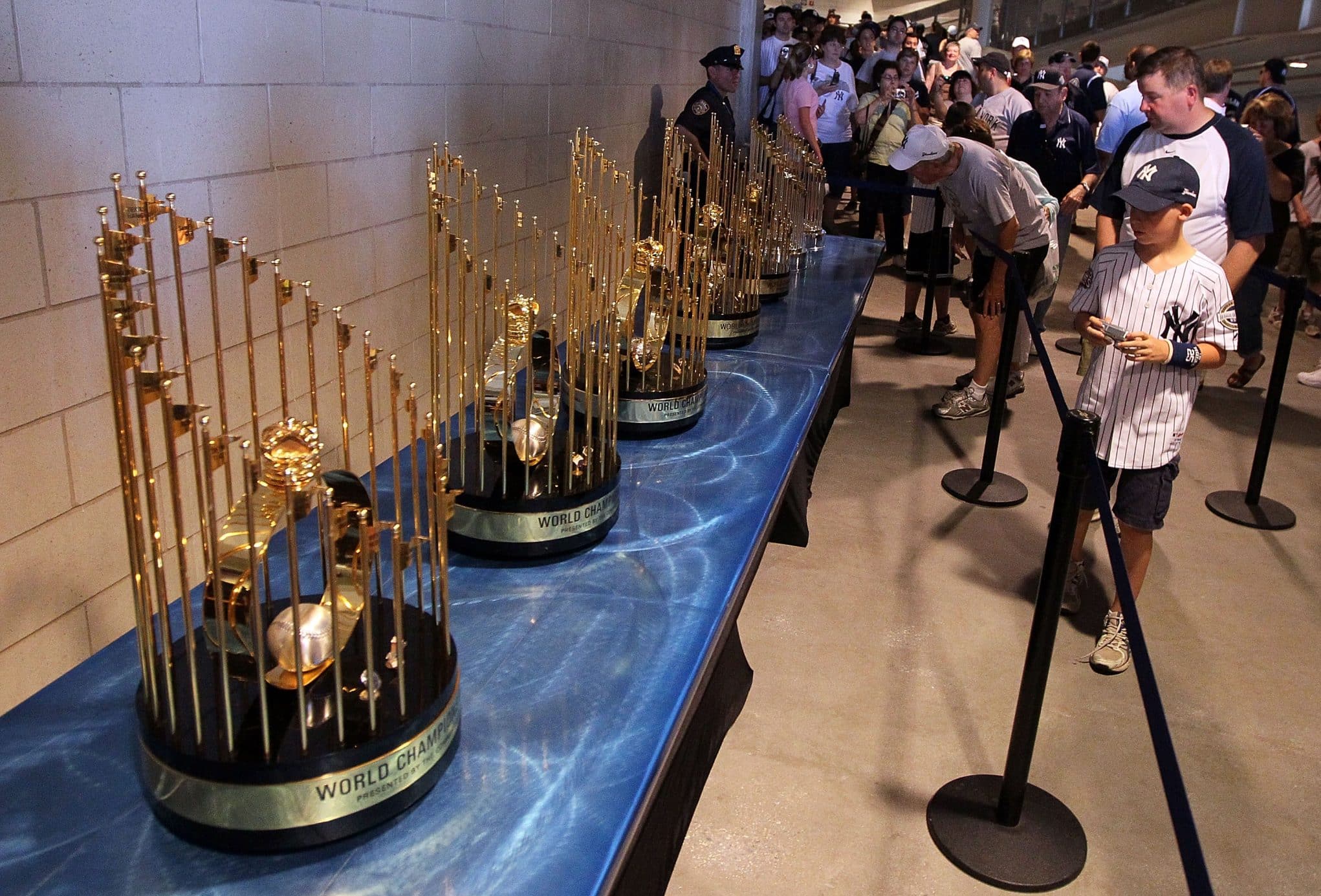 Since the song isn't called "The 27 Days of Christmas," I don't get to feature the Yankees' massive collection of championship hardware. I will note, however, that New York has given its fans at least one ring in eight of their 11 decades of existence.
They've brought home the Commissioner's Trophy in all but three of the 20th century's decades (1900s, 1910s, 1980s), and they've snagged them in each of the first two decades of the 21st century.
Although they're in danger of missing out on the 2010s, eight out of 12 decades isn't too shabby either.
[membership level="0"]
On the ninth day of Christmas, the Yankees gave to us nine 50-homer seasons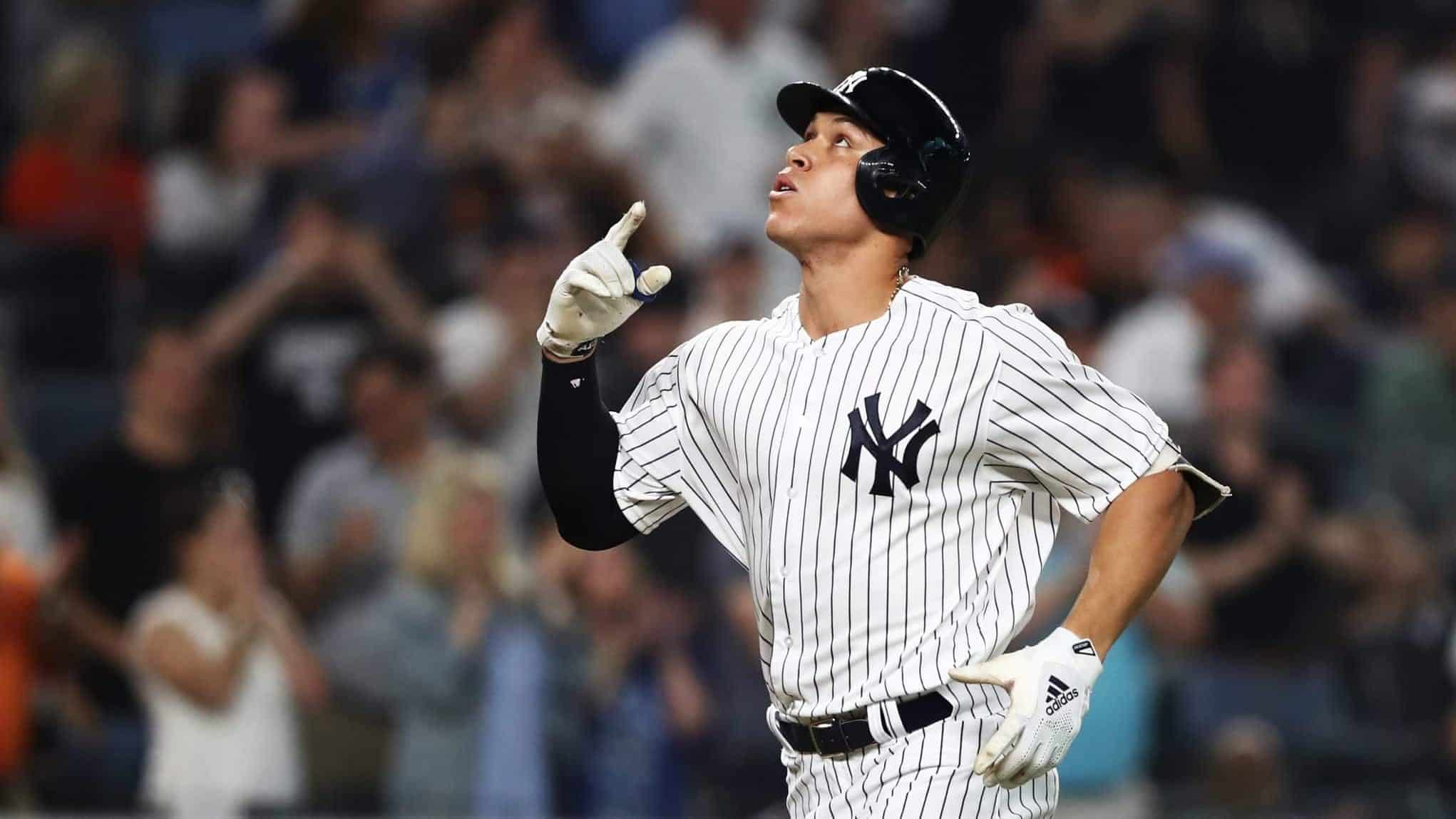 When Aaron Judge bashed 52 homers to set the all-time rookie record in 2017, it was also the ninth time a Yankee compiled a 50-HR campaign. Only five Bombers have accomplished this feat.
Babe Ruth did it four times, Mickey Mantle two, and Roger Maris, Alex Rodriguez, and Aaron Judge each one. The Yankees have a pretty good shot at adding to that list soon with Judge and Giancarlo Stanton in the lineup for years to come.
(Bonus: The Yankees won nine straight division titles from 1998 to 2006).
On the tenth day of Christmas, the Yankees gave to us ten switch-hit homer games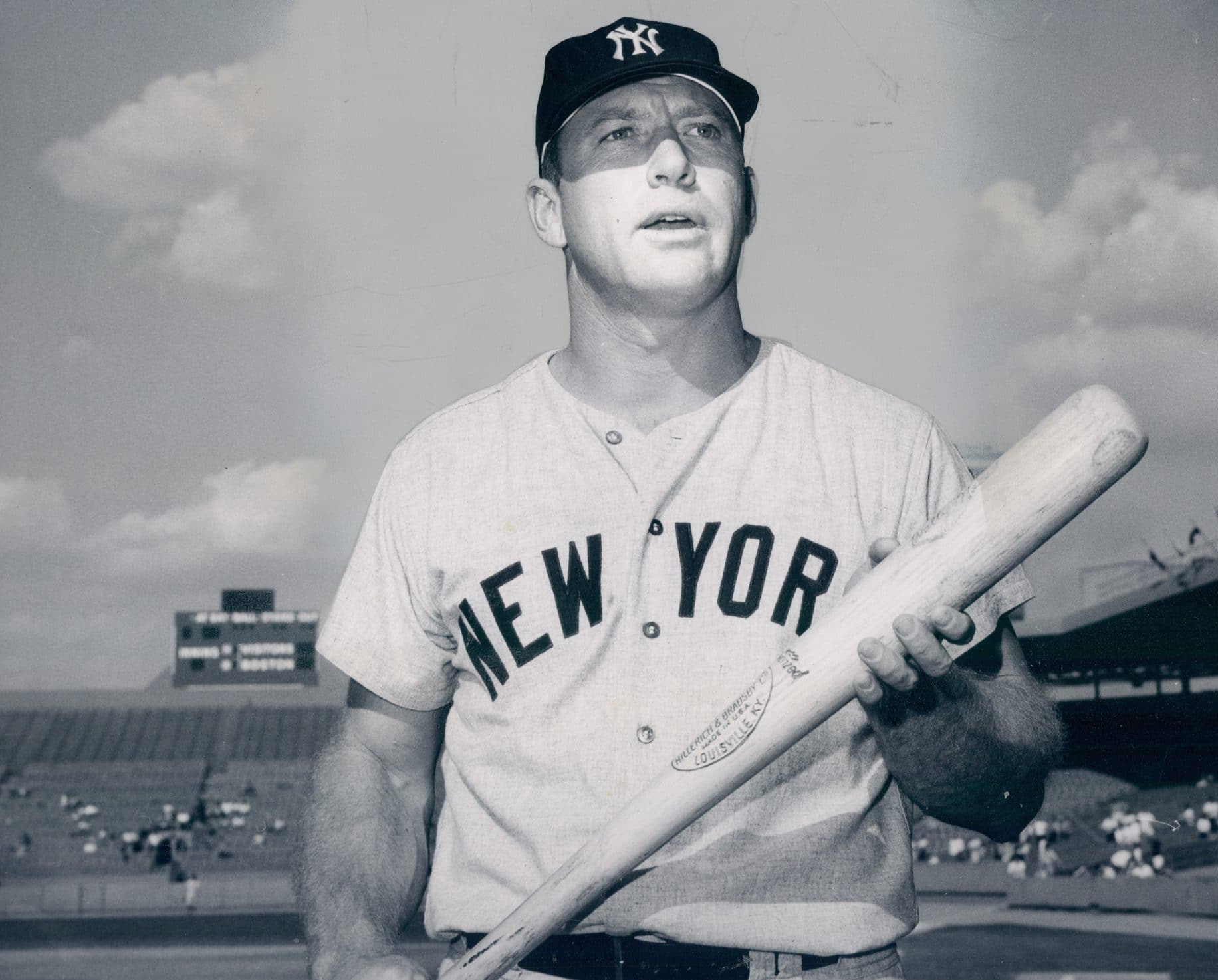 This gift comes from two players: Mickey Mantle and Bernie Williams. Although other players have hit home runs from both sides of the plate in the same game more times than either Mantle or Williams, each of these Yankees has a claim to fame with this stat.
Mark Teixeira and Nick Swisher each have 14 such games, the most in MLB history. But Mantle's 10 all came with the same team, and that's something no one else has accomplished, per Baseball Almanac. The closest is Teixeira who did it nine times with the Yankees.
Since the record only includes regular season games, Bernie only gets credited for eight games with homers from both sides. He's the only player in history to do it twice in the postseason, though, which makes his even more special than Mantle's.
On the eleventh day of Christmas, the Yankees gave to us eleven Pedro Martinez losses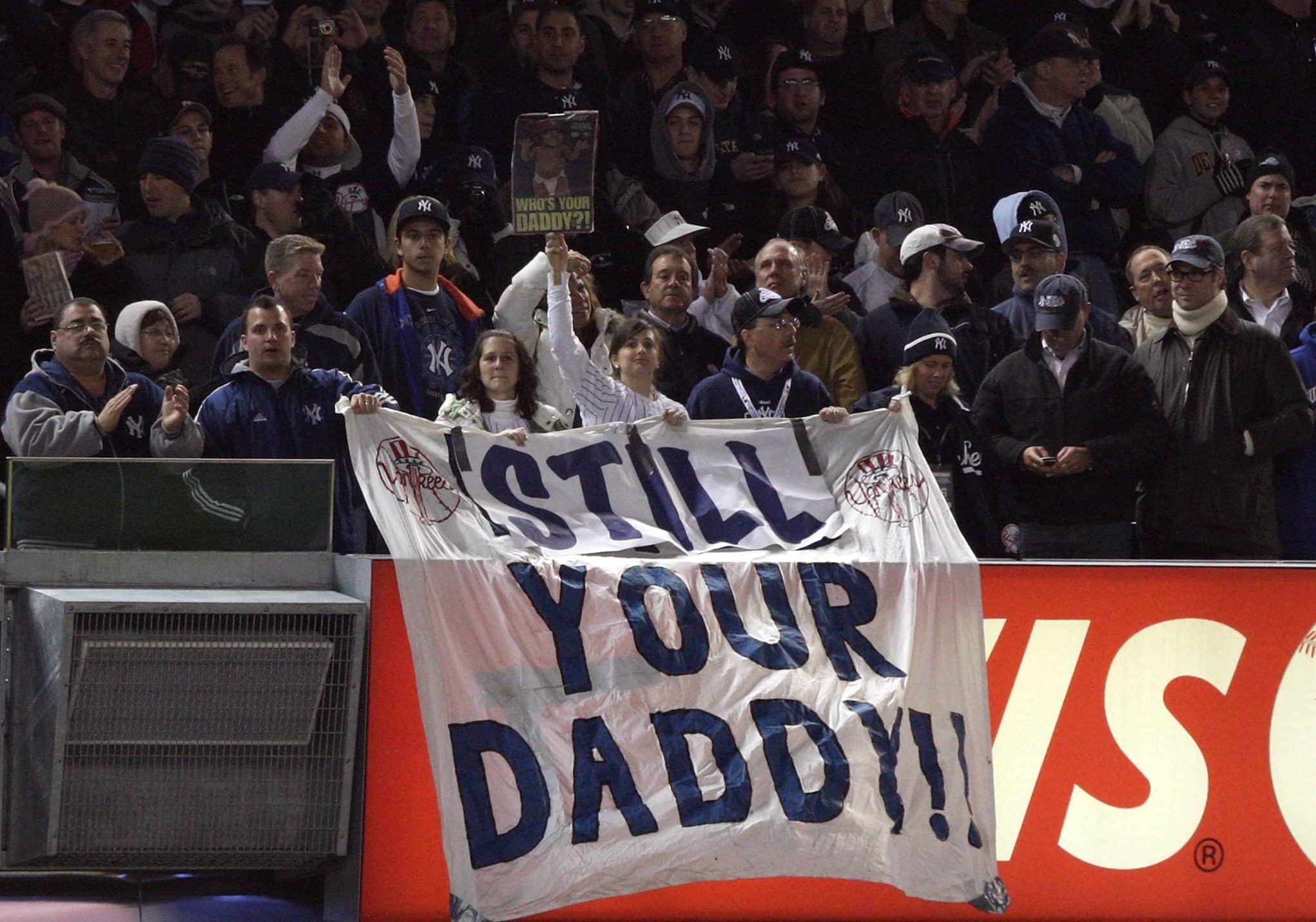 When I was growing up, the Yankees-Red Sox rivalry featured one especially frustrating villain: Pedro Martinez. Sure, David Ortiz hit a lot of devastating home runs against New York, but nothing was scarier than Martinez effortlessly mowing down the lineup, throwing beanballs whenever he felt like it.
He struck out 17 Yankees in one 1999 start, and I'll never get the image of him grabbing Don Zimmer by the head out of my own noggin. Still, the Yankees played Pedro fairly well overall.
At one point, Martinez even said the Bombers were his daddy, something fans never let him forget:
Pedro was 11-11 in his regular season career against the Bombers. It gets even better in the postseason, where he was just 1-4 versus his rivals.
On the twelfth day of Christmas, the Yankees gave to us 12 walk-off homers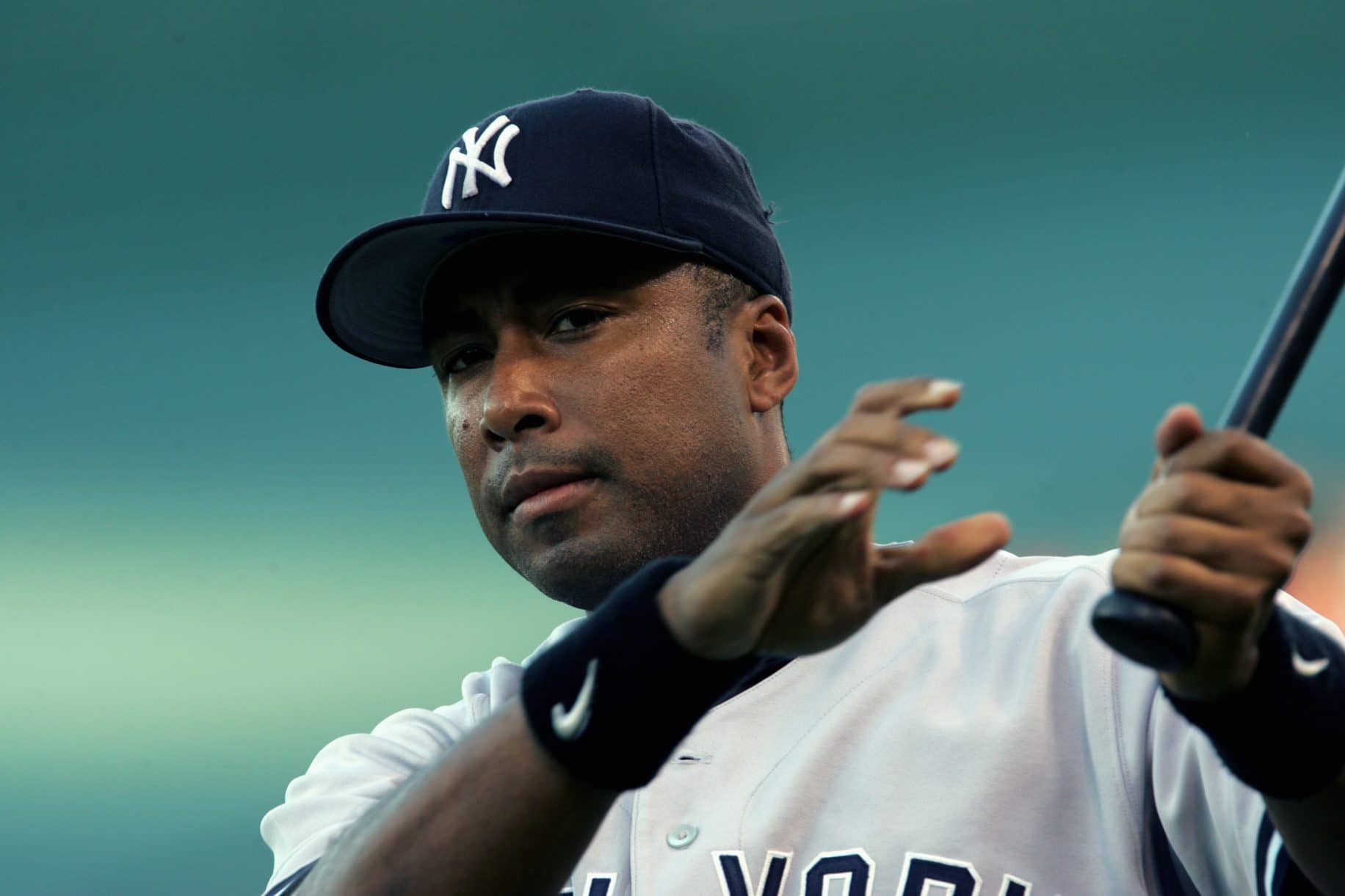 Per YankeeNumbers.com, the Bronx Bombers have 12 postseason walk-off homers in their illustrious history. The first one came off the bat of Tommy Henrich in Game 1 of the 1949 World Series. The most recent was Raul Ibanez's shot in Game 3 of the 2012 ALDS.
Bernie Williams is the only Yankee to end two postseason games with a homer. Also worth noting is that the great Mariano Rivera picked up the win in seven of the 12 walk-off games.
(Bonus: The Yankees set a record in 2018 with 12 players who posted double-digit home run totals).