Did New York Mets GM Brodie Van Wagenen make the right choice to improve at catcher by signing Wilson Ramos over Yasmani Grandal?

The New York Mets really need a catcher.
Simply put, the platoon of Travis d'Arnaud and Kevin Plawecki is not going to cut it anymore (not that it ever did).
On Sunday the Mets signed Wilson Ramos to a two-year, $19 million contract, a potential resolution to their backstop issues. According to SNY's Andy Martino, the deal is pending a physical and could be worth as much as $27.5 million if the Amazins exercise a team option for the 2021 season.
From a value standpoint, it looks like the Amazins landed a bargain in the 31-year-old catcher. Steamer projects that Ramos will post 2.8 WAR in 2018. Given their valuation of a win is around $9-10 million, the Ramos contract could actually pay for itself in 2018 alone.
The addition of Ramos is an immediate upgrade over any other catcher in the Mets organization. But should Brodie Van Wagenen and company have given it more time and waited out the catching market further?
On the J.T. Realmuto front, the short answer is no. Yes, as Joel Sherman of the New York Post writes, Realmuto is worth the haul Miami is asking for him. However, the Mets are not in a position to gut their organization any further to bring in a player like Realmuto.
The farm system is already hurting after jettisoning two top-five prospects in Justin Dunn and Jarred Kelenic in the trade for Robinson Cano.
After Realmuto, Yasmani Grandal ranks as the next best choice on the market. Fangraphs ranks Grandal as the eighth best free agent of 2019, while Ramos lands at number seventeen.
As much as it pains me to say, I was actually in favor of the Mets going for Grandal, so let's explore the downside of going after him first.
I had the privilege of watching the entire 2018 postseason with a friend who can only be described as a lifelong Dodgers fan. That meant a lot of time and energy focused on Los Angeles. The one thing that stuck out to us the most, is the lack of intangibles Grandal demonstrated.
Grandal disappeared on the big stage. In 14 playoff games, the 30-year-old managed a meager 4 hits in 31 at-bats. At one point, we took to calling him a "sleeper agent," alluding to the fact that his poor performance was part of a secret agenda to help Atlanta, Milwaukee, and/or Boston.
There are also two caveats that come with agreeing to a deal with Grandal.  The Cuban backstop rejected a qualifying offer from the Dodgers earlier this offseason and therefore will cost whoever signs him a draft pick.
The second issue is that MLB Trade Rumors predicts Grandal will land a deal somewhere in the four-year, $64 million range. Any player past the age of 30 is a depreciating asset, and it's not unreasonable to think that Grandal would become dead weight in the back end of a deal like that.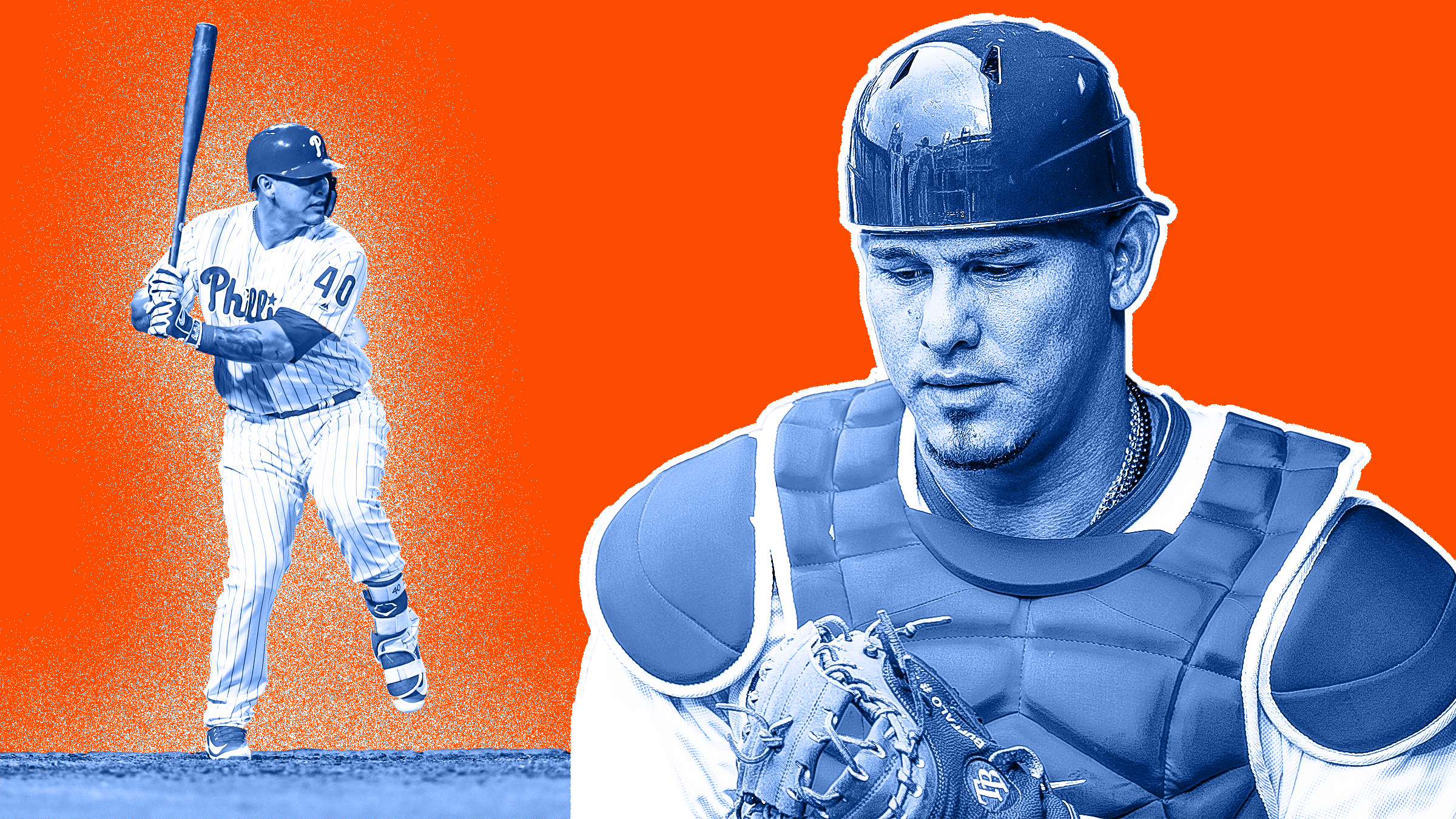 Pushing all of that aside, Grandal has been one of the best, if not the best, pitch framers in baseball over the last four seasons. Baseball Prospectus, the gold source of pitch framing data, has Grandal leading the major leagues in 2018 with 15.7 framing runs.
In 2017 he ranked fourth with 26.2 framing runs. One year prior, he placed second with 28.0. In 2015, he was also the league leader with 26.2. From 2015-18, Ramos has finished 23rd, 10th, 38th, and 48th respectively in that same category.
While Baseball Prospectus is the authority on pitch framing data, it's extremely hard to attribute one pitch properly between pitcher, catcher, umpire, and batter. Think about it with respect to player value in basketball or hockey—how do you distribute the effect on a goal to everybody involved in the play?
"The stability of the stat is a little bit wonky," said Prospect Live's Lance Brozdowski. "We assume it stabilizes, but the differential between average and good framers is so small that its subject to a lot of year-to-year variability."
It's important to note that pitch framing data is inherently wacky, but it cannot be understated how important framing pitches is to catching. Successfully framing pitches steals runs back for a team over the course of a season.
In short, creating more strike calls for pitchers has a cascading effect that can lead to shorter at-bats, quicker innings, and lower pitch counts among other effects. Grandal actually received a vote for NL MVP from Travis Sawchik in 2016, with the rationale being heavily based on how pitch framing contributed to his overall value.
[membership level="0"]
The rub with Ramos is his inability to stay healthy. In nine major league seasons, he's averaged just over 84 games played per year. Last season, he managed a total of 111 games split between the Tampa Bay Rays and Philadelphia Phillies.
Grandal has not only averaged 104 games played over his career but also appeared in 140 in 2018 (154 if you count the postseason).
Still, Ramos posted a respectable 2.4 WAR last season and notched a career high on-base percentage of .358. If by some miracle you could keep Ramos on the field for the duration of the season, his 162-game averages suggest he could be a .270 batting average, 20 HR, 90 RBI player (according to Baseball Reference).

This is where Ramos has an edge. Grandal has demonstrated more consistency over his career, with a wRC+ that has never dipped below league average. However, Ramos has a higher peak and, if he can stay healthy, has the chance to outproduce Grandal (note that Grandal's 144 wRC+ in 2012 was a product of a smaller sample size).
The problem is that the injury bug always finds Ramos, and at 32 years of age, staying healthy is only going to get harder.
The Mets needed to upgrade at catcher, and Ramos is a definitive improvement over any other backstop currently in the organization. However, bargain hunting cannot be a reason to have passed on Grandal. Even with the additional financial burden, Grandal's stability, youth, and framing ability make him a better fit.
Additional research for this article provided by Lance Brozdowski.