Kevin Knox is showing growth recently and the New York Knicks should continue to push him to focus on three simple, yet effective shots.

Wednesday night's loss to the Cleveland Cavaliers proved a few things. First off, it proved that the New York Knicks are not poised for a surprise run at a playoff spot in the Eastern Conference. More importantly, Wednesday's loss proved that Kevin Knox is trending in the right direction. Now is the time for the Knicks to let Knox spread his wings offensively.
Knox was one of the lone bright spots on Wednesday night and he's starting to look much more comfortable on the court. You may not know that from his shooting percentages this season. He's currently shooting 35.8 percent from the field. His effective field goal percentage comes in at 43 percent, but it's important to keep everything in context. His paltry shooting numbers shouldn't be surprising, but most of all, they shouldn't be concerning.
Over his last six games, Knox is averaging 16.2 points, 7.2 rebounds, and 2.0 assists per game. In his first 16 games, Knox was averaging 7.5 points, 2.8 rebounds, and 0.4 assists per game.
Over the last six games, Knox is shooting 40.4 percent from the field and 38.9 percent from three-point range. Across his first 16 games, those percentages were 32.5 and 32.7 respectively.
But his percentages should not be the focus of his rookie campaign. Rather, how he develops a complete shot profile is far more intriguing. There are three simple shots for Knox to focus on this season. Knox is already a strong three-point shooter, but his ability to finish at the rim needs some work. And of course, every star player needs a signature move. Knox has one potentially deadly shot that looks like an early favorite of his.
Catch-And-Shoot Three
Coming out of the University of Kentucky, Knox was known for his sky-high offensive ceiling. There were many aspects of his game that still needed developing, but his catch-and-shoot ability was the most polished aspect of his game.
So far, so good.
Knox is shooting 35.2 percent from deep on the season. The league average is 35.1 percent right now, but as stated earlier, Knox is shooting much better from deep over his last six games.
The rookie has only taken a handful of pull-up threes this season so Knox's offensive repertoire features a steady diet of catch-and-shoot threes. That makes perfect sense considering it's the part of his offensive game that was most NBA-ready when he was drafted. A whopping 36.6 percent of his field goal attempts come on catch-and-shoot three-pointers. Furthermore, he's shooting 38 percent on those shots—an excellent number, especially for a 19-year-old.
At the very least, Knox can develop into a consistent floor spacer. Teams can't leave him open or they risk a wide-open three-pointer for a consistent shooter.
Finishing At The Rim
The three-pointer is en vogue around the league, but there is still no better shot than a layup at the rim. I am a fervent supporter of attacking the basket. It doesn't matter what type of player I'm dissecting, I tend to believe that most players can and should attack the basket more.
For Knox, he hasn't shot well at the rim this season. He struggles to finish and he's often putting up awkward shots at the rim or struggling to finish through contact. His shot chart proves that much.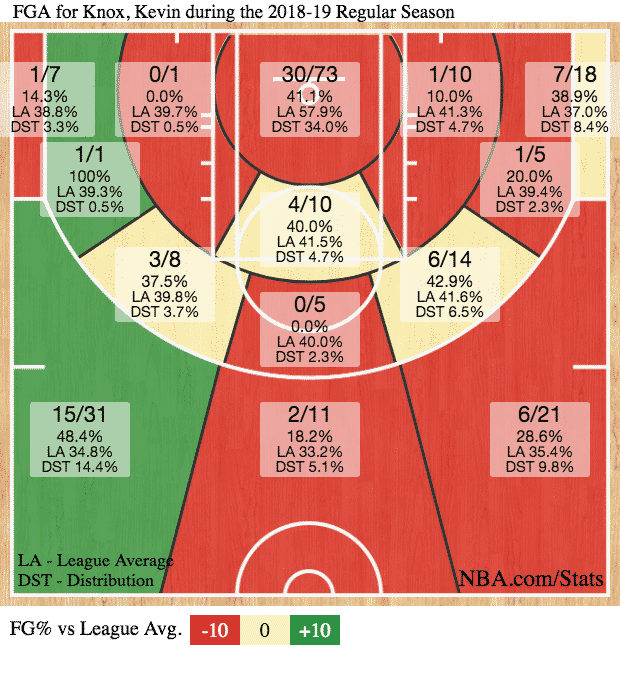 Knox's shooting percentage at the rim is well below league average, but this shouldn't be concerning. He's making it a point to attack the basket, he's just having trouble finishing. That will take time to develop. Did we mention that Knox is still 19?
Most of his shooting woes at the rim can be summed up by his youth and his developing body. As Knox grows into his body and adds muscle to his frame, he'll have a much easier time finishing through contact and improving his percentages at the rim.
At 6-foot-9, he has the size and athleticism to become a terrifying slasher—now he just needs the reps. He can take the ball coast to coast or take a dribble handoff straight to the rim. Finishing is an issue, but he's shown signs of potential.
This is the second part of Knox's offensive game that he must develop and it's something that he is bound to improve. Once he figures out how to convert his drives into consistent buckets, he's going to be a scary matchup.
That will come with time and maturity.
Signature Move? Use The Floater
Three-pointers and finishing at the rim will help Knox develop into a very good offensive player. But in order to become a game-changing figure on offense, Knox needs to develop that signature move.
As someone who grows frustrated watching players attempt pull-ups, fadeaways, and floaters, this pains me to say, but Kevin Knox's floater could be the weapon that helps him become a transcendent offensive talent. Much of the time, Knox's floater comes just below the foul line and amongst the traffic of the paint.
He's showing a penchant for the floater in the lane. His length makes it an impossible shot to block and if it becomes a dangerous weapon, it will open up cleaner looks at the rim.
We already know he can shoot the three and it's fair to expect his percentages at the rim to improve over time. But Knox needs that signature move that defenses will have an impossible time defending. His floater could become an unguardable shot with his combination of size and skill.
In Closing
There's no need to keep close tabs on Knox's shooting percentages this year. The 2018-19 season is all about developing the young talent and Knox is at the top of the list of priorities. He needs to be taking 10 shots per game at the very least—somewhere around 15 per night is preferable.
Knox is already a capable three-point shooter, he has all the size and skill to develop into a strong finisher at the rim, and he's working on that signature floater to take his offensive game to the next level.
Developing Knox is simple on paper, but in reality, player development is far from easy. It's not a straight line path to stardom. That being said, as long as the Knicks allow Knox the offensive freedom to develop, he can turn into the best version of himself.