The Washington Wizards are off to a rocky start. Can the New York Knicks swoop in and snag stud Bradley Beal?

The Washington Wizards decided to go all in this summer, signing John Wall to a supermax extension worth $170 million. Now, sitting at the bottom of the Eastern Conference, there's more doubt than ever about their future. Washington is 8-13 through the first quarter of the NBA year, and Wall's ceiling has become apparent sooner than expected.
As one of the teams long hindered by LeBron James' presence in the East, it's to the disappointment of many that they're not thriving in his absence.
There's been lots of speculation about what's next for the Wizards, including the likelihood of a "blow it up" option. Adrian Wojnarowski of ESPN reported as recently as last week that Washington had made multiple players available for trade:
"As the Washington Wizards' season spirals, the franchise is making every player on its roster — including All-Star guards John Wall and Bradley Beal — available to discuss in trade scenarios.."
Should Wizards' general manager Ernie Grunfield decide a trade is the best moving forward, the New York Knicks should mull over taking action. With eyes set on a future in contending for a championship, it makes more sense than not to pursue a trade with Washington.
State of the Knicks
After LeBron James decided to take his talents elsewhere to the West this summer, all eyes turned to Kevin Durant, expected to join the free agency pool in 2019.
As was the case with James, Durant is being linked (although not as firmly) to the New York Knicks. That being said, the current state of the team wouldn't even earn the front office a coffee date with the former Finals MVP; let alone a free agency meeting.
New York is currently 7-16, sitting at 12th in the Eastern Conference. Frank Ntilikina has yet to find his stride offensively, and Kevin Knox isn't quite the player who provided highlights nightly in the Summer League.
Not to mention franchise cornerstone Kristaps Porzingis, whose return to the court has no timetable. Until he returns, New York is going to have to work on priming themselves as a top free agency destination.
Even if that means a big splash trade, which hasn't been the style under president Steve Mills and general manager Scott Perry. But Washington will soon grow desperate, and they have plenty of pieces that could help to entice a top free agent.
Potential Trade
For Washington to pull off a trade, it would likely require a framework similar to the Jimmy Butler-Philadelphia deal. In exchange for a frustrated star, the 76ers sent off three-and-d prospect Robert Covington and versatile big man Dario Saric. The only difference between Minnesota and Washington's dilemma is leverage. Butler will be a free agent in July, barring a contract extension with the 76ers.
Both John Wall and shooting guard Bradley Beal are under contract for the immediate future, so teams can trade with confidence that neither player is going anywhere soon.
Cue New York, who's got one of the league's better 3-and-D shooting guards in Courtney Lee, and a prime top draft pick come June of 2019.
While Lee has yet to play this season, he finished last season shooting a 40.6 percent clip from behind-the-arc. At half the salary of Beal, he'd be considered one of few appropriate replacements. Understandably, Knicks fans would like to avoid trading off a potential future lottery pick. But take a look at the selections from a recent year.
They haven't necessarily panned out as quickly as expected. Ntilikina is showing no more (if not less) offensively than last season. Most of Knox's minutes don't come until crunch time.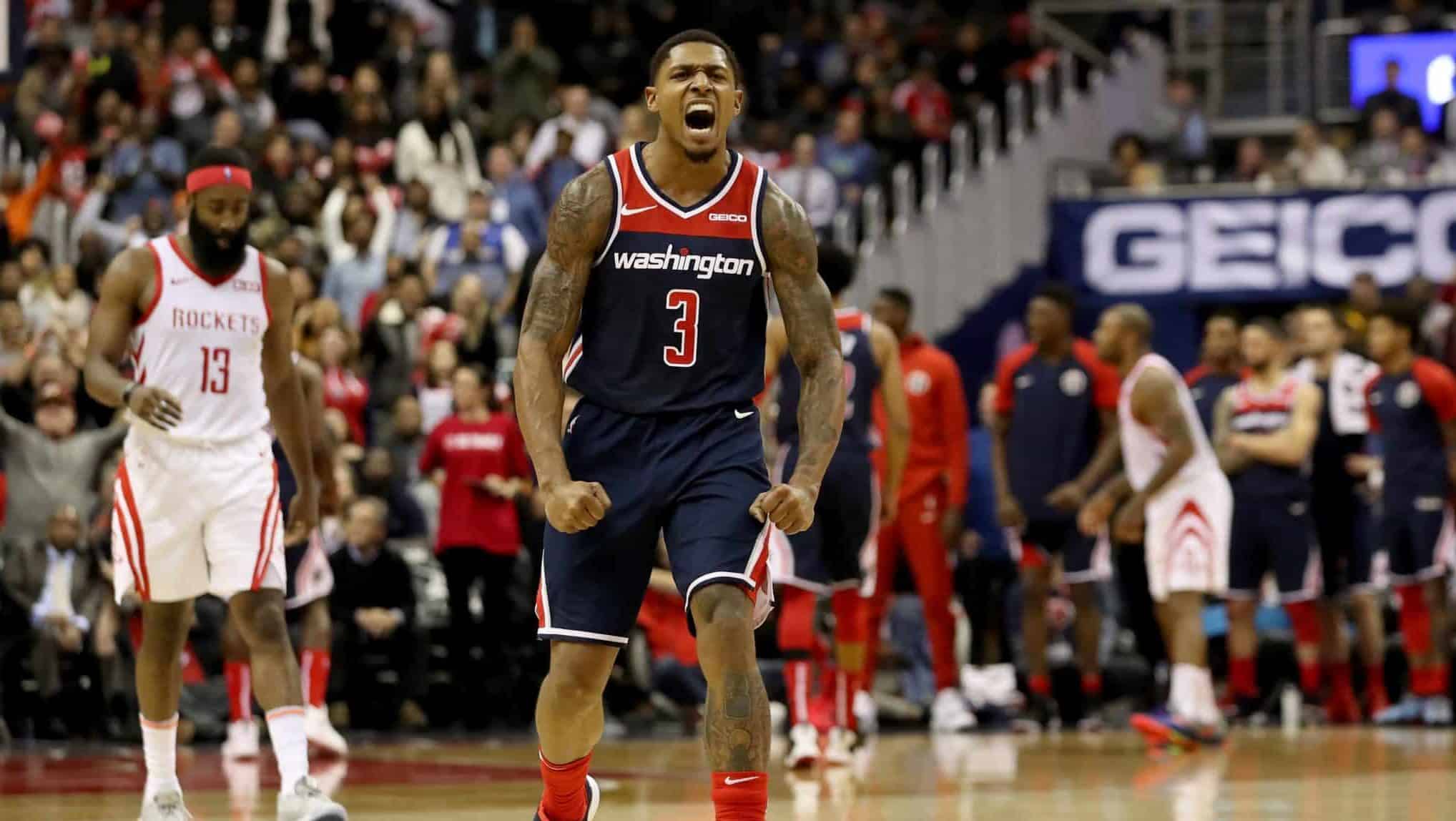 All the while Porzingis, soon to enter restricted free agency, is watching from the sidelines. Not to say that time is running out for any of these lottery picks, but it makes sense for New York to at least explore the return on this year's pick.
Knicks acquire: Bradley Beal
Wizards acquire: Courtney Lee, 2019 NBA 1st Round Pick
To match salary the Knicks could offer veteran defender Lance Thomas and Ron Baker's expiring deal. Both are impertinent to the future and seemingly expendable for the cause.
There isn't much to love about this deal from Washington's perspective. Lee and Thomas will both provide a boost defensively, as they both can guard multiple positions.
In a relatively thin draft class, the Knicks' draft pick has potential, but not promise. For New York, Beal is an offensive juggernaut and also averaging a career-high 1.2 blocks per game.
His $25-plus million salary isn't team-friendly by any means, but the Knicks have other movable contracts (see Tim Hardaway Jr., Enes Kanter's expiring deal).
This gives them a shot at a top free agent, and even if that fails, makes playoffs an even larger likelihood come next season. If New York doesn't make any moves and fails to lure Durant, they'll be stuck waiting for the next star to align and choose New York as home.
In Conclusion
For Madison Square Garden to once again host basketball in the postseason, it'll take more than pursuing Kevin Durant alone.
Even for a talent of his caliber, a supporting cast is necessary to bring home a championship. The New York Knicks can find that in Bradley Beal, not in Courtney Lee or next year's draft choice.