As hard as it might be, trading starting pitcher Noah Syndergaard represents the New York Mets big-money ticket to future glory.

J
acob deGrom, Noah Syndergaard, Steven Matz, and Zack Wheeler. The feeling around returning to glory with these familiar faces making up baseball's, arguably, most talented rotation remains a cozy one. It's the tune the majority of New York Mets are singing during this all-too-important hot stove season.
After all, it's pitching that wins championships. Right?
No. At least, not anymore.
This isn't your father's Major League Baseball. Never has the starting pitcher been more devalued than today.
The Mets ticket to future glory lies in trading the man we all know as Thor.
For those who love the big righty who stirs everybody up into a frenzy on Twitter, it's a tough thing to hear. It flat-out sucks, actually.
In acquiring Syndergaard for R.A. Dickey and a bag of balls in 2012, the organization fleeced the Toronto Blue Jays. He wasn't even the headliner of the trade heading to Flushing. That designation belonged to catcher Travis d'Arnaud. Today, it doesn't matter. Syndergaard has pitched his way into the heart of Mets fandom.
Named an NL All-Star in 2016, the mythological creature has put up tremendous numbers when on the bump. His 2.93 ERA and 1.132 WHIP to go along with a cool 573 strikeouts in 518.1 innings pitched places him within a region of ace status (if not for the deGrominator).
The rosiness stops once understanding opportunity. It suddenly halts when realizing the landscape of today's game is a scary proposition for any pitcher.
Syndergaard's never pitched 200 innings in any of his four big-league seasons. His high of 183.2 during his All-Star campaign remains Mount Everest. Innings numbers of 154.1 a year ago and 30.1 during an injury-ravaged 2016 campaign have severely hurt his ballclub.
This is when the story becomes critical.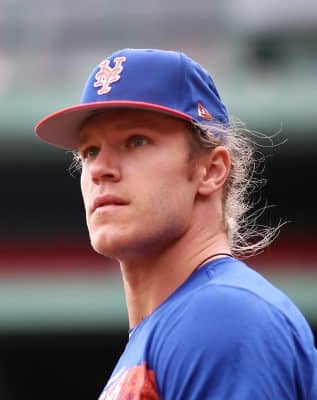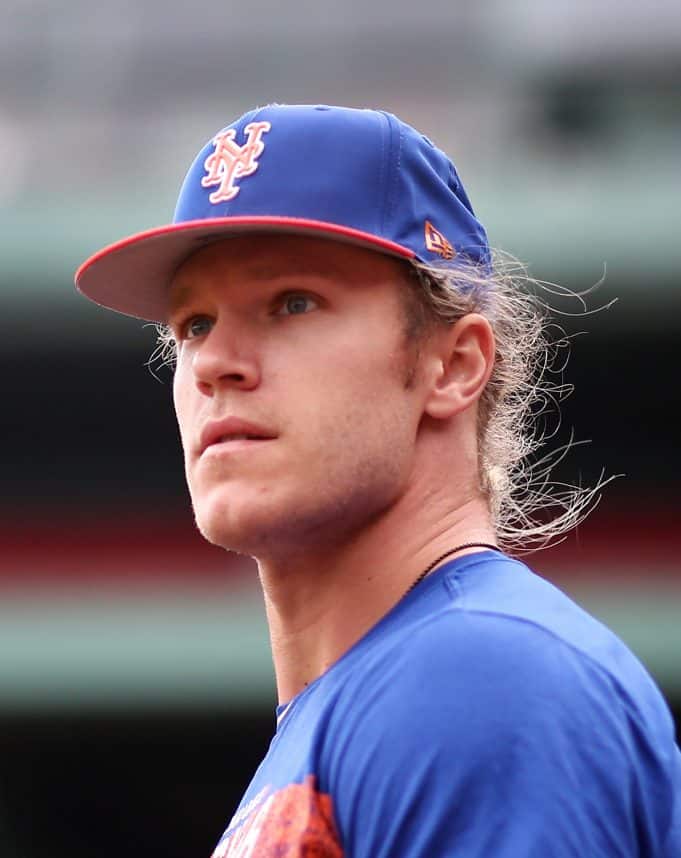 Look around baseball. What do you see? Certainly not pitching dominating. The teams that blaze across the finish line are usually stacked with young positional players who act as cornerstones of each's franchise.
Think Chicago Cubs. Did Theo Epstein build around starting pitching? Absolutely not. He got lucky with Jake Arrieta and signed veterans Jon Lester and John Lackey. It was Kris Bryant, Anthony Rizzo, and a host of other homegrown talents who snapped the most depressing streak in baseball (post-1918).
Think Houston Astros. Jeff Luhnow's strategy had very little to do with growing a rotation that'd have 29 ballclubs drooling uncontrollably. Dallas Keuchel remains the team's sole homegrown horse. Justin Verlander simply fell into their laps. The core of Jose Altuve, George Springer, and Carlos Correa were (and remain) the real meat of the organization.
Think Kanas City Royals, Los Angeles Dodgers, and Boston Red Sox. The team that made quick work of the Metsies during the fall of 2015 didn't bring any starting pitching to the party. It was a stacked bullpen meshed with a fresh timely-hitting lineup that got it done. The Dodgers, well … money helps cover all ills. But again, they employ just one legit starter.
The Sox used hot pitching this past fall, but Chris Sale and David Price were bought. Nathan Eovaldi was hidden gold at the end of the rainbow. Mookie Betts, Xander Bogaerts, and J.D. Martinez acted as the nucleus. Again, other than Martinez, a championship team filled with young everyday legs.
If Noah Syndergaard found his way out of town, deGrom, Matz, and Wheeler would be more than enough at the position—especially with how healthy the ace always keeps himself. The rest of the rotation is simply about good quality innings with a host of folks.
Jon Heyman of Fancred broke the story first, suggesting the Mets were, indeed, shopping Thor. He also recently reported that a half-dozen teams are in on the idea.
hear at least half-dozen teams are believed to be real players for Noah Syndergaard. mets are seriously considering deals for him if they could fill multiple holes with real impact. will be one of the big winter meetings storylines.

— Jon Heyman (@JonHeyman) November 21, 2018
He's a hot commodity, for good reason. In a new-age game that witnesses pitchers drop quicker than flies, everybody will scramble for a possible ace pitcher. But when the opportunity is there to receive a king's ransom for a non-guaranteed player (due to health concerns), emotions must be set aside.
If I had my druthers, it would have been deGrom who'd see the unfortunate door. His Cy Young season far and away trumps his career average and at 30-years of age, rolling with the younger ace would be the avenue to take. That just won't happen. It's clear the Mets have already chosen their guy.
Imagine a world in which Amed Rosario, Michael Conforto, and Jeff McNeil come equipped with another stud positional player who plays every day. We'll hold off on naming names at the moment. Just think about a possible stud in centerfield or at third base.
Of course, it all depends on the return. That much is certain. Trading Syndergaard for the sake of taking a positional-player route is counterproductive. Trading Syndergaard for equal or greater return while taking the positional-player route is finding a place within MLB's current youthful era.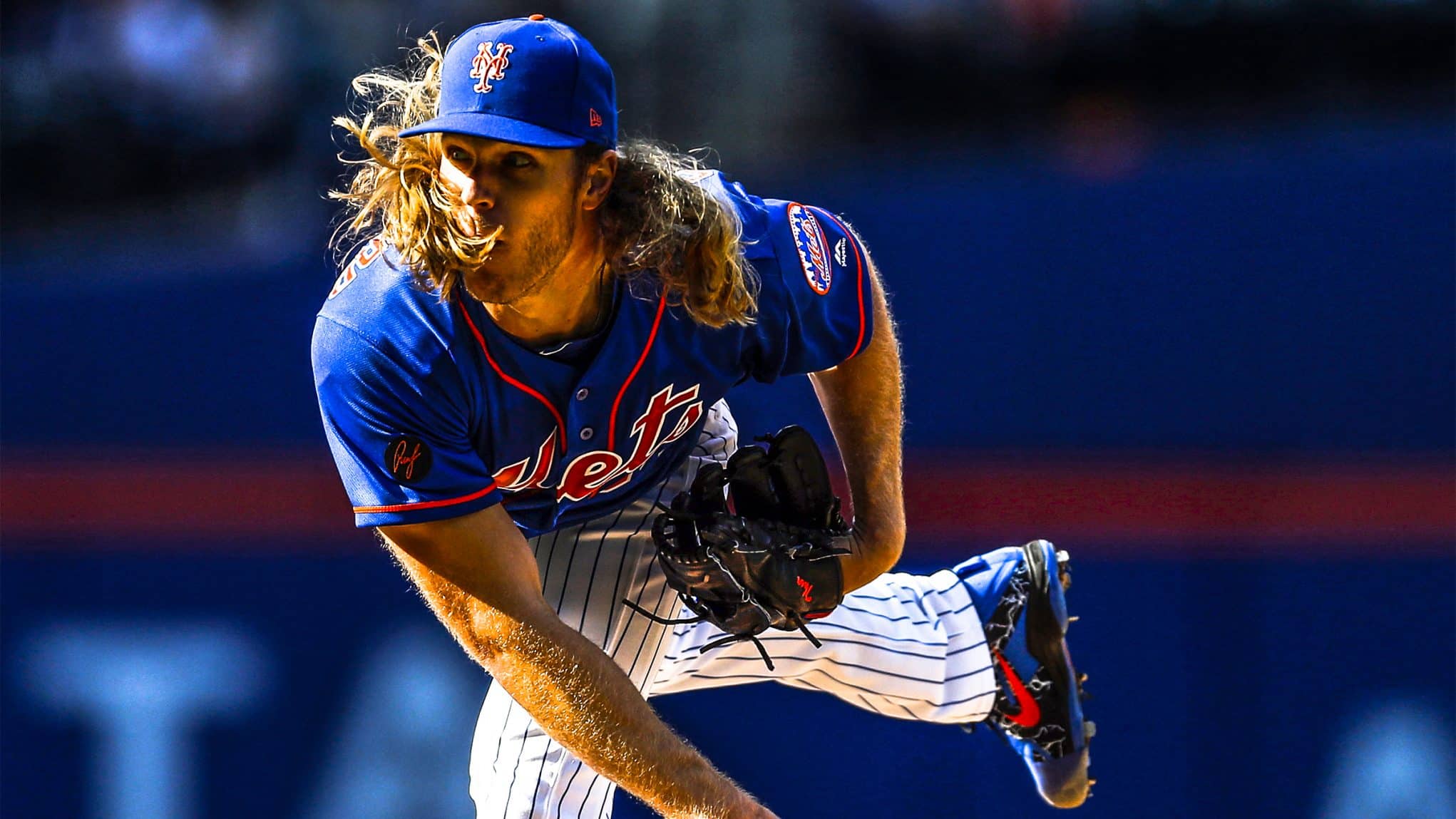 How did 2015 happen, the detractors ask? Daniel Murphy happened.
Without Murphy, the stud rotational method doesn't come to fruition. Murphy single-handedly produced the offensive numbers an entire lineup needed during one magical October. Not to mention all four (with Matt Harvey and without Zack Wheeler) throwers remained healthy.
How's that health been as of late?
It's simply too risky to take the loaded starting rotation path in today's landscape. It's become a younger man's game loaded with guys who the fans can see every time they head to the ballpark (as opposed to once every five days). No doubt pitching is still critical. It's just critical in a different manner. Starters have never been this devalued in the areas of health and game-longevity. This isn't 1984 anymore, a time in which pitchers could completely dominate a game from start to finish. Pitching six innings is a mini-miracle these days.
As previously mentioned, it's tough. This man has won over the hearts of an entire city. He's not only an on-the-field favorite, but he's everything you also crave off-the-field.
In this business, however, tough oftentimes equals greatness. Placing emotions aside and pulling the trigger on the right move is what separates the men from the boys. A baseball club loaded with young positional studs and a stacked bullpen with an ace and a crop of innings eaters is what wins in today's game.
Trading away Noah Syndergaard may represent the toughest decision of Brodie Van Wagenen's New York Mets career. If he pulls the trigger while setting aside emotions, it may just turn out to be the best move a long, successful reign.
The answer is easy when viewing the current state of baseball objectively. Trading everybody's favorite New York superhero is an opportunity too great to pass up.