Brian Cashman and the New York Yankees have checked in on Nathan Eovaldi, but a reunion should not be in the cards.
One of the more underrated names in this offseason's free agent market is right-hander Nathan Eovaldi. The hard-throwing Texan missed 2017 recovering from Tommy John surgery but returned this year. In a season split between the Tampa Bay Rays and World Series champion Boston Red Sox, Eovaldi went 6-7 with a 3.81 ERA in 21 starts.
Now, he's a free agent and has no qualifying offer attached. This means whichever team signs him will not have to surrender a draft pick, making him all the more attractive a target.
Well, the pitching-needy New York Yankees could be interested. Per Rob Bradford of WEEI, a number of teams are interested in the new and improved Eovaldi, and he speculates the Bronx Bombers would at least "kick the tires" on a potential reunion.
No disrespect to Eovaldi, but rejoining the Yankees isn't the best idea. Sure, he's improved as a pitcher, but he won't exactly gel well with pitching coach Larry Rothschild.
Eovaldi was a great redemption story of 2018 but if he opts to don the pinstripes again, it may not end well.
The Gray comparison
Nathan Eovaldi first came to New York from the Miami Marlins before the 2015 season, with the Yankees sending Martin Prado and David Phelps to Florida. He had a reputation as someone with great velocity, but who was too reliant on his fastball and slider. For context, Eovaldi gave up an NL-leading 223 hits in 199.2 innings in 2014. He also threw his fastball 62.9 percent of the time, per Fangraphs, followed by his slider at 24.7 percent.
Now, consider Eovaldi's average career use of his fastball coming into 2015 was almost 67 percent. There was a two out of three chance that, as a hitter, one would see that very pitch. Looking up "predictability" in the dictionary would mean seeing his picture.
Well, that all changed his first season in pinstripes. Rothschild worked with Eovaldi on developing a changeup, which he threw a career-high 20.4 percent of the time. His fastball use, meanwhile, dropped to 47.9 percent. Eovaldi still posted a 4.20 ERA but went 14-3 in 27 starts before being shut down with elbow trouble. Despite that, he led the American League in win percentage and his career appeared on the upswing.
2016, on the other hand, went in the opposite direction. Eovaldi's fastball use didn't change, but he abandoned the changeup for a splitter. He threw that pitch 22.9 percent of the time despite barely using it ever in his career. I covered this very change over the summer when Eovaldi was being shopped by the Rays. Rothschild found a good formula in 2015, so why change things up the following year?
The Gray comparison
Nathan Eovaldi should not return to the Yankees because, as we have already seen, he and Rothschild clearly did not work well together. At least not consistently. The worst part is this is not the first time Rothschild has tried to remake a pitcher who didn't need to be overly changed.
Let's shift the conversation to Sonny Gray, who pitched so poorly (11-9, 4.90 ERA) in 2018 he's all but certainly getting traded. The Yankees acquired him from the Oakland Athletics at the 2017 trade deadline and he went 4-7 with a 3.72 ERA. That's not terrible, and Gray threw his fastball 55.1 percent of the time.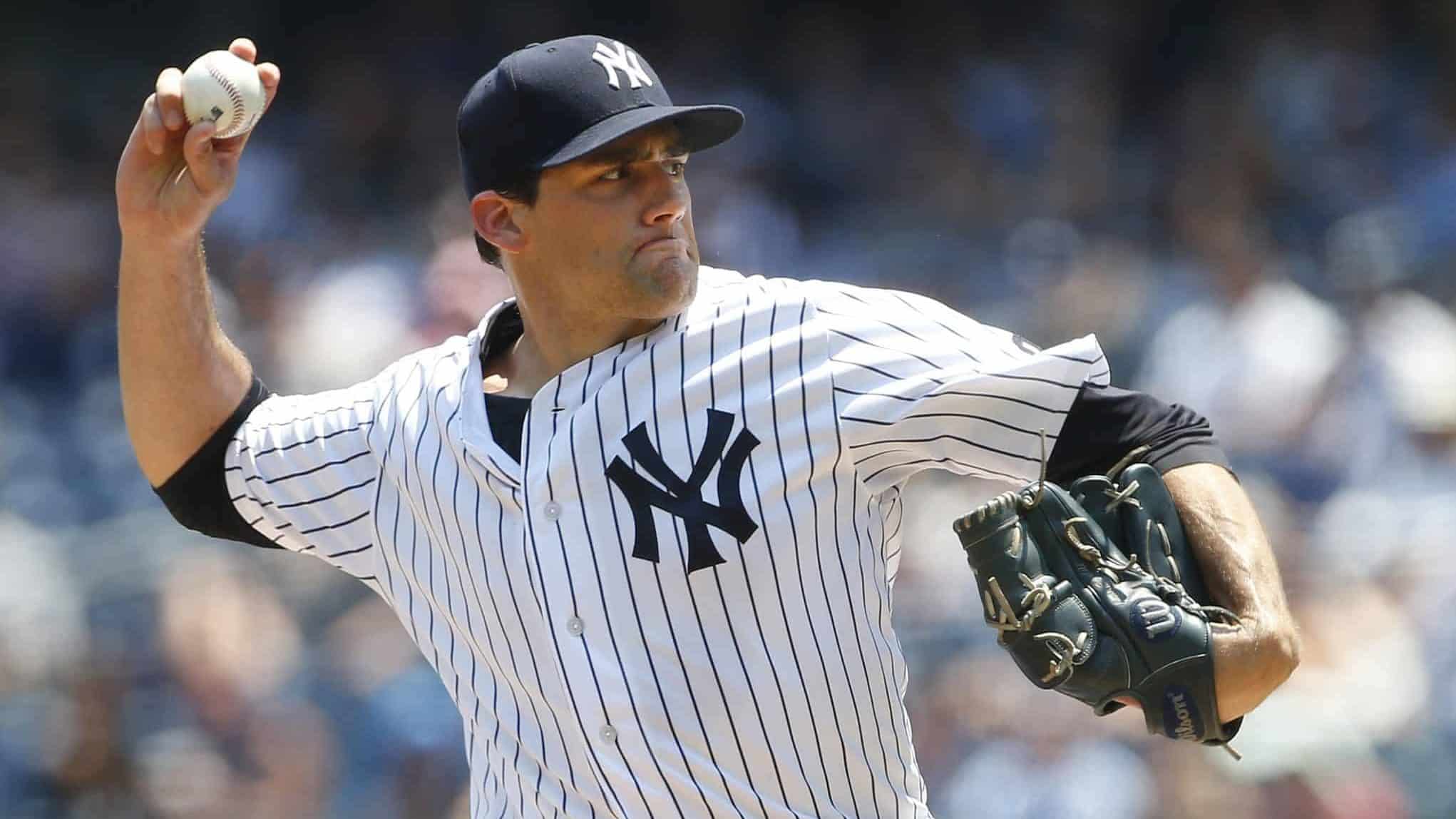 Fast forward to 2018, and Gray's fastball use dipped to 35.1 percent while his curveball constituted 22.8 percent of his pitches, up from 13.9 in 2017. However, there is an anomaly in Gray's 2018 pitch selection. Per Fangraphs, he threw a cutter 20.4 percent of the time. Why is that weird? Well, Gray had thrown that pitch a combined six percent of the time in 2015 and 2016. Why would Rothschild suddenly insist on him throwing a pitch he barely used, let alone mastered?
A complete mismatch
Gray's struggles in New York combined with Nathan Eovaldi's second season with the Yankees tell the story. Eovaldi and Rothschild go together worse than peanut butter and mayonnaise; oil and water; Carmelo Anthony and intelligent shot selection.
Look, I get it. Baseball is evolving to where the fastball isn't the alpha pitch anymore in favor of breaking balls. In the hard-hitting AL East, that approach makes sense. Increased breaking pitch use makes pitchers more unpredictable, which challenges the hitters and makes baseball better as a whole.
Now, consider Eovaldi's rebirth in 2018. A big reason for his success was developing a cutter. He threw it 32 percent of the time compared to fastball use of 39.8 percent. The man has clearly found a pitching repertoire that works for him, and in the AL East to boot.
By returning to the Yankees and Rothschild, all of that great work risks becoming undone.
With all the strong pitching available on the market, New York would be wise to shift focus away from Eovaldi. Given past history, it can only turn out badly.