With the trade deadline looming, the New York Yankees could turn to a familiar face on Tampa Bay Rays starter Nathan Eovaldi.
The New York Yankees should prioritize adding a starter at the July 31 trade deadline, namely Nathan Eovaldi. The 28-year-old right-hander has had a great bounce-back season for the Tampa Bay Rays, going 3-4 with a 4.59 ERA.
Those numbers certainly aren't the prettiest, but Eovaldi also missed 2017 recovering from Tommy John surgery. Considering he just returned at the end of May, he has done quite well. Yes, his ERA is high, but that can be blamed on giving up eight earned runs in his last start. Before then, he had a respectable mark of 3.35.
Moreover, the Yankees know Eovaldi well from the two seasons he spent with them in 2015 and 2016. With GM Brian Cashman under pressure to improve the rotation, he would be wise to inquire on the hard-throwing righty now.
A Familiar Face
The Yankees first acquired Eovaldi from the Miami Marlins in December 2014. That deal also netted the team Garrett Jones and current rookie starter Domingo German, with David Phelps and Martin Prado heading to the Marlins. Eovaldi had a reputation as a hard-thrower who could handle being a starter but had an issue with walks. His career BB/9 heading into New York was 2.9, and that was a legitimate concern.
Eovaldi was far from perfect his first season in pinstripes, posting BB/9 of 2.9 and a 1.45 WHIP, but 2015 was also the young Texan's breakout season. Taking advantage of a newly-learned changeup and also a splitter, Eovaldi went 14-3 with a 4.20 ERA. He was shut down in September with elbow inflammation, but Eovaldi still finished the year leading all American League starters in winning percentage.
Not only that, but Eovaldi also went 2-0 against the Boston Red Sox that season. That alone was enough to endear him to some fans.
Eovaldi fell back to Earth in 2016, going 9-8 with a 4.76 ERA. His BB/9 remained the same, though he did lower his WHIP to 1.30 and was giving up less than a hit per inning. That proved all for naught that summer as Eovaldi was diagnosed with torn tendons and ligaments in his elbow and underwent Tommy John surgery.
The Yankees released him at season's end and he was then signed by the Rays. It was a one-year deal with an option for 2018, and here we are today.
The New Nathan Eovaldi
Whatever adjustments Nathan Eovaldi learned during his recovery from surgery are working. His last bad start aside, his K/9 are at 7.94, well above his career mark of 6.65. His groundball rate (GB%) sits at a respectable 49%.
All the more impressive is Eovaldi has increased his soft contact allowed, highly important in an era where launch angle is emphasized. His soft contact allowed currently sits at 22.6%, well above his career mark of 17.8%. Eovaldi's soft contact allowed with the Yankees in 2015 was 21.2%, so it's not as though the pressure of Yankee Stadium got to him.
Not only that, but Eovaldi knows New York pitching coach Larry Rothschild from his brief time in pinstripes. A rapport already exists and he had a fine first season with the Yankees, so there would be little to no adjustment period.
Most important of all, in 2018, Eovaldi has cut down his walks. His BB/9 are down to 1.41 and he has allowed just eight walks in 51 innings this year. On top of that, hitters are swinging at 36.2% of his pitches that wind up out of the strike zone. That's a career-high.
Eovaldi still has some question marks, but the difference between him three years ago and today is noticeable. The Yankees need to seriously consider adding him.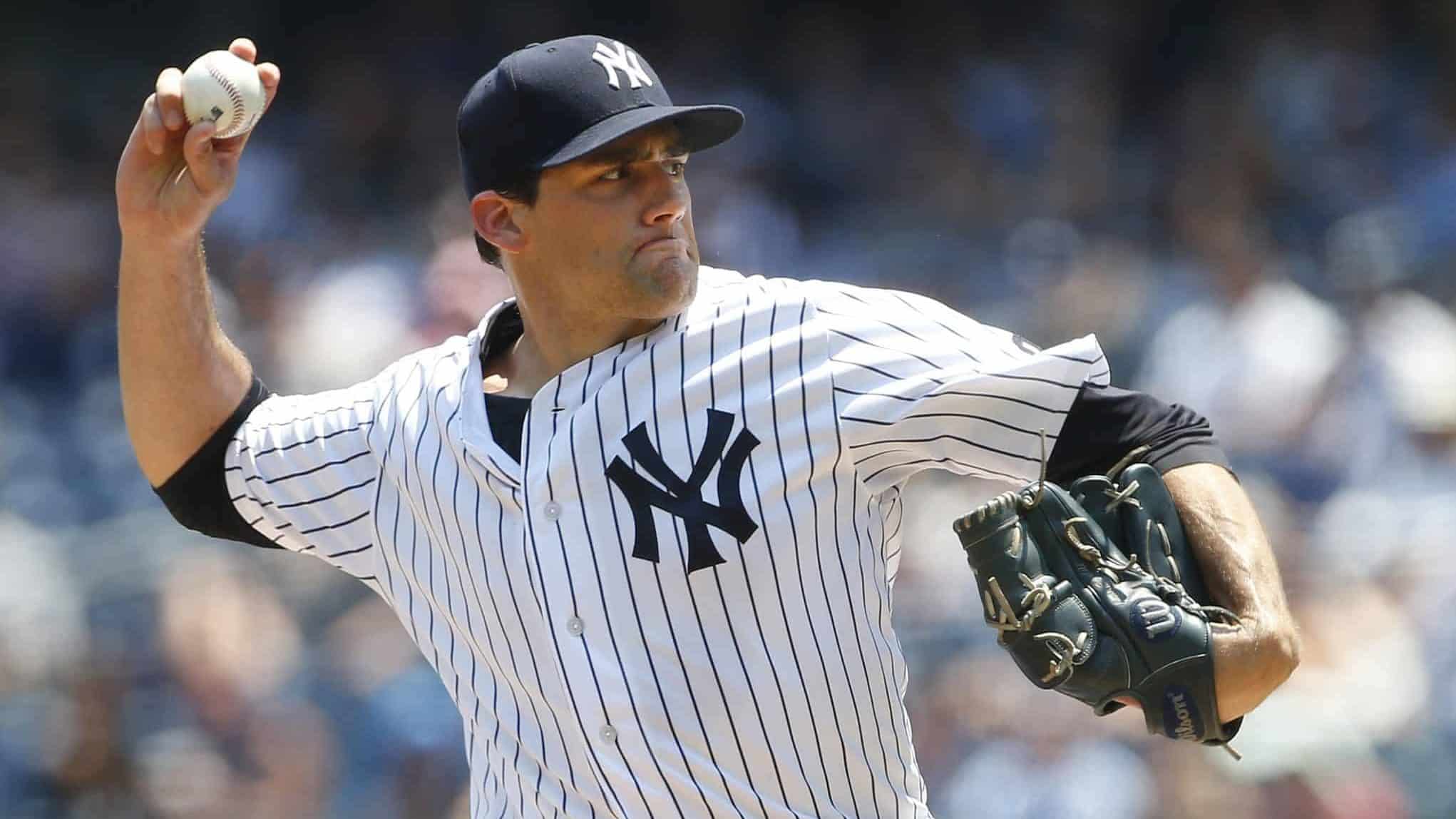 A potential trade
But what would it take to bring Nathan Eovaldi back to The Bronx? From a practical standpoint, not much. He is only earning $2 million this season and will be a free agent this winter. That doesn't give the Rays much leverage in trade talks.
That said, Cashman could easily approach Rays front office team Matthew Silverman and Erik Neander with a low-level pitching prospect in exchange for Eovaldi. Or whoever suits Tampa Bay's fancy. At the absolute most, the Yankees should send Chance Adams or maybe Giovanny Gallegos if Tampa Bay insists on an MLB-ready arm.
One thing is certain. The Yankees would do well to add a starter ahead of the playoffs and Eovaldi fits the bill. Cole Hamels is too expensive and inconsistent. Matt Harvey has reinvented himself with the Cincinnati Reds but doesn't seem like a right fit for manager Aaron Boone's clubhouse.
That leaves Eovaldi, who has proven he can handle New York and has shown marked improvement this year. Put that kind of arm on a winning team, and New York's chances of a deep playoff run increase.
Nathan Eovaldi is a perfect fit for the Yankees' needs. Cashman, pull the trigger!