Following the Steelers' trashing of the Panthers on Thursday, let's take a stab at stacking up the NFL with just over nine weeks in the books.

32. Oakland Raiders (1-7, 4th AFC West)
The Raiders defense has allowed more points per drive (2.77) than any other team, and they have forced turnovers at the league's fourth-lowest frequency. Their -111 point differential is better than only the Bills.
31. Buffalo Bills (2-7, 4th AFC East)
Buffalo's impressive win in Minnesota is the only thing keeping them ahead of the Raiders and out of the basement for now. This team could easily lose out and go 2-14. Their -145 point differential is the worst in the league. The Bills are scoring a league-low 10.7 points per game, have scored a grand total of 18 offensive points over their last three games, and have gone six straight weeks without scoring more than one touchdown in a game. Their offense is the lowest scoring through nine games since the 2009 Raiders and Browns.
30. San Francisco 49ers (2-7, 4th AFC West)
Nick Mullens completed 16 of 22 passes for 262 yards, three touchdowns, and no interceptions in his debut. That culminated in a 151.9 passer rating – the best ever for a QB making his NFL debut (min. 20 passes).
29. Arizona Cardinals (2-6, 3rd AFC West)
The Cardinals have scored on 17.2 percent of their drives, the lowest rate in the league.
28. New York Giants (1-7, 4th NFC East)
The Giants have taken 28.9 sack yards per game on offense, the most in the league.
27. New York Jets (3-6, 3rd AFC East)
The Jets defense is third in fewest points allowed per drive and first in fewest yards allowed per drive, but their offense is in dire straits. They are 28th in points per drive, 31st in avoiding three-and-outs, 32nd in red zone offense, and have rewarded their defense with the third-worst starting field position.
26. Cleveland Browns (2-6-1, 4th AFC North)
The Browns offense scores on only 27.3 percent of its drives, third-worst in the league, but the Browns defense takes the ball away on 18.0 percent of its drives, third-best.
25. Detroit Lions (3-6, 4th AFC North)
Matthew Stafford is in line for his fourth career season with a passer rating above 90 and a losing record as a starter. It would tie the record currently held by Drew Brees.
24. Indianapolis Colts (3-6, 4th AFC South)
Luck's Colts offense has produced 23 passing touchdowns, fewer than only Patrick Mahomes' KC team. The Colts are seventh in scoring with 28.9 points per game.
23. Denver Broncos (3-6, 3rd AFC West)
The Broncos have suffered one-score losses to the Texans, Rams, and twice to the Chiefs. They lead the league in yards per rush at 5.2.
22. Jacksonville Jaguars (3-6, 3rd AFC South)
The Jaguars defense is being let down by an anemic offense. The Jags are seventh in red zone defense, 13th in third-down defense, second in fewest net yards per pass attempt allowed, 11th in sack rate, and 13th in fewest yards per rush allowed.
The offense scores only 1.40 points per drive, third-worst, and turns the ball over on 19.8 percent of drives, second-worst.
21. Tampa Bay Buccaneers (3-5, 4th AFC South)
Fitzpatrick, sixth among qualifiers in passer rating, has the Bucs at eighth in scoring. Tampa Bay is fourth in net yards per pass and second in passing touchdowns.
The problem is an absurdly terrible pass defense. The Buccaneers have allowed 22 touchdowns and recorded only one interception. The 124.3 passer rating they're allowing is the worst in NFL history.
20. Miami Dolphins (5-4, 2nd AFC East)
Miami's 5-0 record in one-score games is the primary reason they have a winning record. The team is playing way above its talent level — can they sustain that with Brock Osweiler and an injury-bugged, struggling Ryan Tannehill? He is currently 32nd of 34 qualifiers in ESPN's QBR and owns the fourth-highest interception rate among qualifiers.
19. Baltimore Ravens (4-5, 3rd AFC North)
The Ravens defense has allowed 5.3 net yards per pass attempt, tops in the league.
18. Tennessee Titans (4-4, 2nd AFC South)
The Titans have the league's best red zone defense by far, allowing only 7 TDs on 22 trips (31.8 percent).
17. Dallas Cowboys (3-5, 3rd NFC East)
The Cowboys are third3rd in scoring defense allowing only 18.9 points a game. Their run defense, tied for second in fewest yards allowed per rush at 3.6, is a big reason why.
16. Seattle Seahawks (4-4, 2nd NFC West)
Seattle's defense has allowed a 12 to 10 touchdown to interception ratio, fourth best in the league.
15. Washington Redskins (5-3, 1st NFC East, #4 seed NFC)
The Redskins are 3-0 in one-score games and are top-10 in fewest turnovers and takeaways, ranking them fourth in turnover differential.
14. Atlanta Falcons (4-4, 3rd NFC South)
Matt Ryan is leading the league with 335 passing yards per game. If he holds that number, it would be the third-best mark in NFL history, behind 2013 Peyton Manning and 2011 Drew Brees.
13. Green Bay Packers (3-4-1, 3rd NFC North)
Any team with Aaron Rodgers on it is a contender, but this time around, Rodgers is having a hard time lifting up a struggling supporting cast. He's got 15 touchdowns to just one interception but is outside of the top-10 in passer rating and yards per attempt.
Besides ranking fifth in rushing yards per attempt, the Packers are mediocre almost entirely across the board on both sides of the ball.
12. Cincinnati Bengals (5-3, 2nd AFC North, #6 seed AFC)
The Bengals are 30th in scoring defense and 32nd in third-down defense, but they make up for it with a 10th ranked scoring offense featuring the league's second-best red zone conversion rate at 77 percent.
11. Carolina Panthers (6-3, 2nd NFC South, #5 seed NFC)
The Panthers are 5-0 at home, scoring 30-plus in four of those games and winning by more than one score in a trio of them. They've averaged 31.6 points in those games. On the road, they're 1-3 averaging only 20.8 points per game.
10. Philadelphia Eagles (4-4, 2nd NFC East)
Carson Wentz is playing even better than he was last year. He's thrown 13 touchdowns, only two interceptions, and has completed 71 percent of his passes for a total of 298 yards per game and 7.9 yards per attempt. Altogether, he's got a 109.6 quarterback rating.
Over his past four games, Wentz has 10 touchdowns, one pick, and an absurd 120.0 quarterback rating.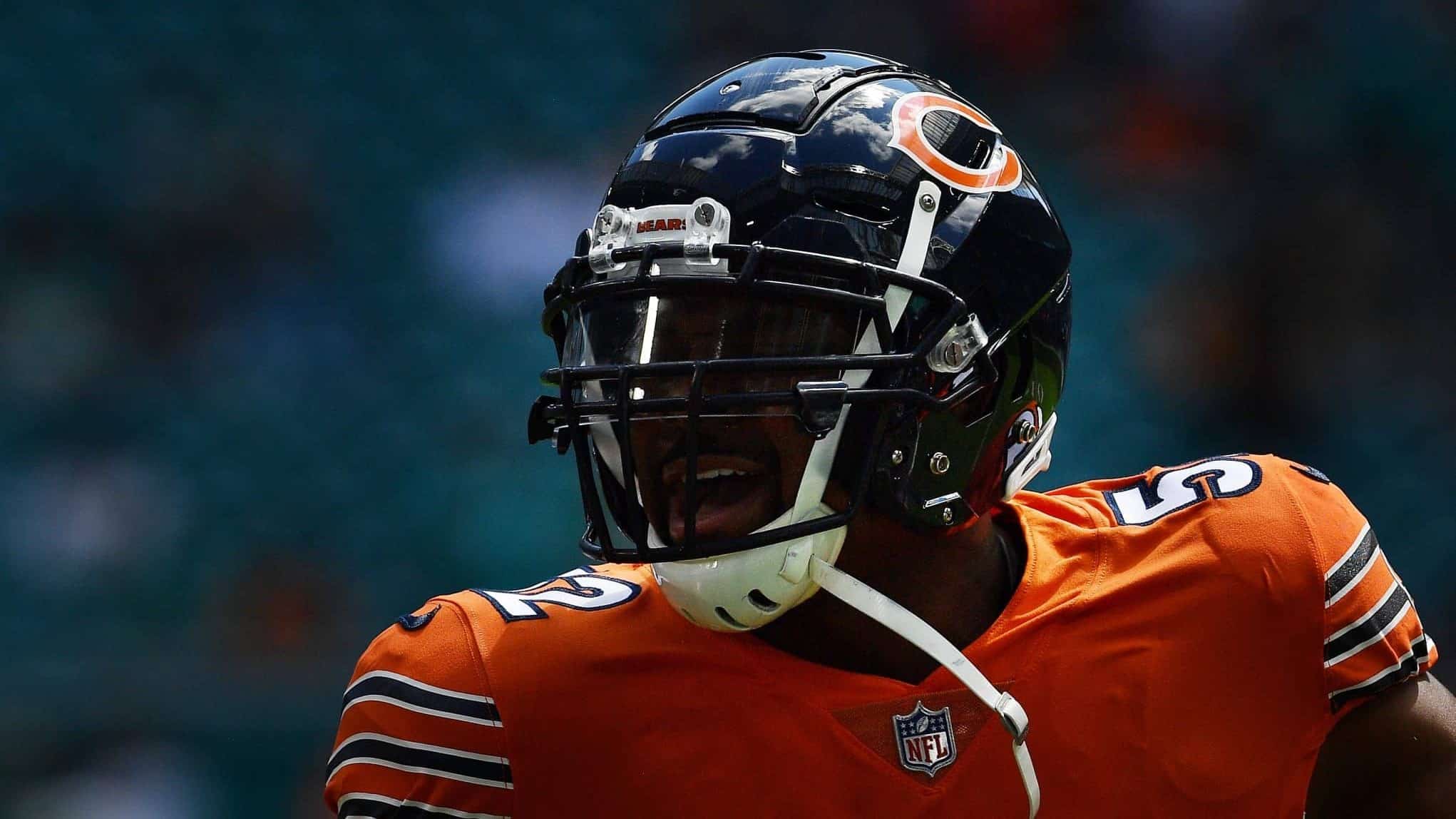 9. Chicago Bears (5-3, 1st NFC North, #3 seed NFC)
The Bears lead the league in "expected points added" (an approximation of total value) on defense, ranking first in EPA against the pass and third in EPA against the run. No team is allowing fewer points per drive.
8. Los Angeles Chargers (6-2, 2nd AFC West, #5 seed AFC)
No team turns the ball over less than the Chargers, who only give it away on 5.7 percent of drives. LA is third in net yards per pass attempt (8.4), second in yards per rush attempt (5.2), and second in total yards per play (7.0). Altogether, they're fifth in points per drive (2.51).
7. Minnesota Vikings (5-3-1, 2nd NFC North, #6 seed NFC)
The Vikings defense has thrived situationally, leading the league in third-down defense (25.7 percent) and ranking 2nd in red zone defense (39.4 percent).
6. Houston Texans (6-3, 1st AFC South, #4 seed AFC)
The Texans dominate the field position battle. Their offense starts with the best average field position in the league (own 32.1-yard line), while their defense starts with the second-best average field position in the league (opponent 24.8-yard line).
5. Pittsburgh Steelers (6-2-1, 1st AFC North, #3 seed AFC)
The 52 points scored by Pittsburgh against Carolina on Thursday night was the most they've ever scored at Heinz Field.
James Conner already has 10 rushing touchdowns — more than Le'Veon Bell has ever had in a regular season.
4. New England Patriots (7-2, 1st AFC East, #2 seed AFC)
The Pats are 5-0 at home scoring 35.4 points per game and with a point differential of +69. On the road, they're 2-2 scoring 23.3 points per game with a point differential of -1.
3. Kansas City Chiefs (8-1, 1st AFC West, #1 seed AFC)
The Chiefs are leading the league with 36.3 points per game. It's the sixth-best mark through nine games in NFL history. Three of the four Super Bowl Era teams to score that many points per game through nine weeks made it to the big game, and two of them won.
The four teams, from order of most points through nine games down: the 2013 Broncos (lost to Seahawks in Super Bowl), the 2007 Patriots (lost to Giants in Super), the 2000 Rams (lost Wild Card), and the 2009 Saints (won Super Bowl vs. Colts).
2. Los Angeles Rams (8-1, 1st NFC West, #1 seed NFC)
The Rams lead the league with an average of 8.73 net yards per pass attempt, which includes sack yardage.
That's the best mark in the Super Bowl Era, and the best in pro football history since the 1954 Rams.
1. New Orleans Saints (7-1, 1st NFC South, #2 seed NFC)
Drew Brees' Saints offense leads the NFL in TD/INT ratio (18:1) and completion percentage (76.2 percent) — both numbers would set all-time records if held throughout the year. In fact, the all-time team completion percentage record was set just one year ago, by the very same New Orleans Saints.