No one will confuse Mario Hezonja with a willing defender, but his offense has been almost equally as frustrating for the New York Knicks.

Mario Hezonja has been anything but "Super" this season. Despite a few moments of offensive excitement in a New York Knicks uniform, Hezonja's time on the court has been characterized by woeful defense, over-dribbling, and contested mid-range jumpers. Add in a fair amount of complaining to the refs and you have a very underwhelming start to the 2018-2019 season.
Hezonja, never lacking in confidence, is starting to look like a player whose bravado doesn't match his game. But remember, this was a man while playing at Barcelona, who was once asked about going to watch soccer legend Lionel Messi live. His response, "Let Messi come to see me."
Now far be it for me to knock a player for having irrational confidence, but Lionel Messi?? I mean the stones on this dude. Most players only make it to the NBA because they, in fact, do have that intense belief in themselves, even if others don't. Yet with Hezonja, you never quite get the feeling that his confidence is going to lead him to game-winning shots in the fourth quarter this century.
Fast forward to his fourth season in the NBA, Hezonja has made growth in some areas, but his weaknesses, some which have been present for years, as well as his lack of attention to detail, are monumental roadblocks for a former lottery pick who still has dreams of superstar glory.
Let's review some of Hezonja's lowlights from this young season thus far.
Two < Three
Per NBAstats.com Hezonja's shot selection looks a random sample from the 90s. Currently, the Croatian is shooting 59 percent of his shots from within the three-point line and he's converting 41 percent of those shots. Forty-one percent of his shots are coming from beyond the arc, but Hezonja's only converting a measly 25 percent of those shots.
Hezonja's 6-foot-8 frame and effortless shooting stroke may make you think that he's the perfect prototype for today's modern NBA game. As a matter of fact, back in 2015, Kevin O'Connor formerly of SBNation called Hezonja a "deadeye shooter", capable of shooting off the dribble and coming off various screens.
But thus far during the 2018-2019 season, Hezonja has not been able to find space to be a more efficient scorer. Per NBAstats.com, 47.7 percent of his two-point shots have come with at least one defender within zero to four feet of him. Overall, this season, Hezonja is shooting thirty-six percent from the floor and 25 percent from the three-point line.
If you love it, let it go
The Knicks, despite preaching ball movement, have given the partial green light to some of their iso-scorers like undrafted rookie Allonzo Trier. Hezonja, however, might not receive that same green light.
Through eight games Hezonja has developed a poor habit of holding onto the ball too long before shooting or making his move. When Hezonja holds onto the ball for two seconds or less, he's shooting 60 percent from the field. However, when he holds onto the ball for between two and six seconds, his field goal percentage drops to 46.4 percent.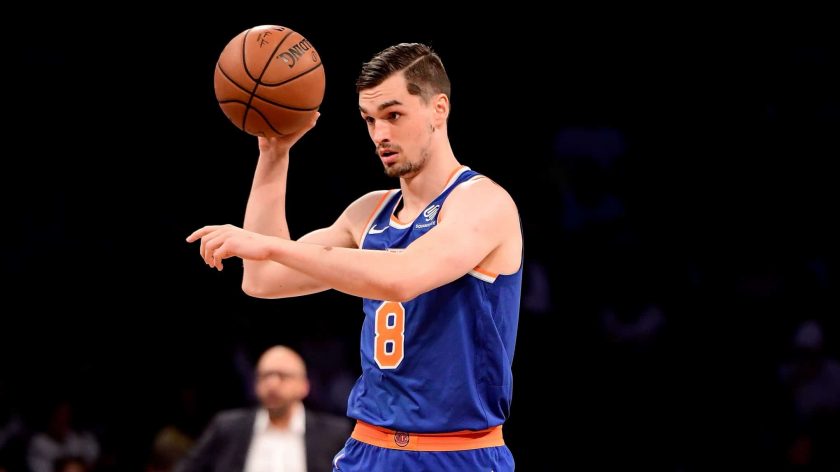 Hezonja's tendency to take contested two-point shots and dribble too much is particularly puzzling considering the Knicks, as an offense, have benefitted from movement and screen assists. The Knicks currently rank third in the NBA in screen assists per game at 9.2 per NBA.com. The problem appears to be, that Hezonja, is not moving well without the ball.
Watching Hezonja live, it almost feels like he expects the ball more, but doesn't do the little things to put himself in a good scoring position. Poor shot selection, over-dribbling, and holding onto the ball for too long are all negative factors that will keep Hezonja on the bench for more than he wants. His only saving grace is that the Knicks will likely struggle to produce offense for parts of the season, which means he'll certainly get his chances to prove himself again..
It's possible that David Fizdale can right the ship with Hezonja, but don't count on it. Players like Damyean Dotson, Noah Vonleh and Frank Ntilikina have emerged as key cogs in the rotation that impact the game on both ends of the floor. And with Courtney Lee returning from injury (hopefully sometime during this calendar year), playing time might just be scant for the former top-five draft pick.
The good news is that Fizdale's culture of "keep what you kill" means that if Hezonja is playing, it means that he earned those minutes. If he doesn't, my guess is that Lionel Messi won't be watching Hezonja anytime soon.