The New York Yankees took a solid risk in re-signing outfielder Brett Gardner to a one-year contract.
The New York Yankees are rolling the dice and bringing back outfielder Brett Gardner for 2019. The Yankees' PR team posted on Twitter the scrappy Gardner is returning on a one-year deal after the option on his previous deal had been declined.
For context, Gardner's last contract had a $12.5 million option for 2019 with a $2 million buyout. The Yankees bought out the option and then gave Gardner a new $7.5 million deal for next season.
The New York Yankees today announced that they have come to terms with OF Brett Gardner on a one-year contract for the 2019 season after declining the 2019 club option on his previous contract.

— Yankees PR Dept. (@YankeesPR) October 31, 2018
Gardner is a great clubhouse leader who can still put together great at-bats. New York, however, is still taking a risk. Gardner turned 35 in August and noticeably regressed at the plate.
As much as bringing him back could help the team, it could just as easily hurt.
A 2018 to forget
Brett Gardner hit .264 in 2017 and had 63 RBI while hitting a career-best 21 home runs. The power was unlike him, with his previous career-high a mere 17 in 2014. Still, as he entered what could be a contract year, it was expected he would play at a similar pace in 2018.
That never happened. Gardner's batting average dipped to .236 and he had just 12 home runs with 45 RBI. By the final month of the season, he was supplanted in the outfield by Andrew McCutchen. It may have just been an extreme regression, but Fangraphs tells a different story.
Looking at his hitting metrics, there were no major changes. His soft, medium and hard contact rates did not drastically dip or rise. His walk and strikeout rates were practically unchanged. He still put together solid at-bats, ranking fifth in the American League with 4.24 pitches per plate appearance.
But two numbers in particular present what may have ailed Gardner at the plate in 2018. His line drive rate (LD%) dipped to 17.9 percent from 22.3 percent and his groundball rate (GB%) rose to 48.7 percent from 44.5 percent. That sounds like one of two things happened. Either Brett Gardner ran head first into a season of bad luck or his bat speed is slowing down as he ages.
In this writer's humble opinion, it's the latter. Gardner's timing was off to the point where he just looked lost at the plate. I'm talking lost on the same level as Air Supply, except not in love. Sure, he got on base enough to score 95 runs, but the Yankees are still taking a risk in bringing him back.
Not only could his bat regress even more, but there's a greater question in play. If Gardner needs to be taken out of the lineup, who takes his place?
An uncertain outfield
The Yankees re-signing Brett Gardner all but confirms two things. The first is Andrew McCutchen is not coming back, as I discussed as a possibility in a recent piece. The second is one that may disappoint some fans, and that is Bryce Harper is not coming to the Bronx. Yes, his left-handed swing matches perfectly with Yankee Stadium's short porch, but he won't come cheap.
That, as of now, sets New York's 2019 outfield as follows: Gardner in left, Aaron Hicks in center, and Aaron Judge and Giancarlo Stanton switching off between right field and DH. In terms of the fourth outfielder, odds are that job will fall to Jacoby Ellsbury or Clint Frazier.
Now, let's ask the tough question even though it's way too early to do so. What happens if Gardner has another off year at the plate? Ellsbury missed all of 2018 with injuries, earned $21.1 million, and is set to earn that same amount in 2019 and 2020. Frazier has the talent to be a feisty outfielder in the same vein as Lenny Dykstra, but concussion symptoms dogged him in 2018. Head injuries are tricky, so his role in 2019 cannot be determined until Spring Training.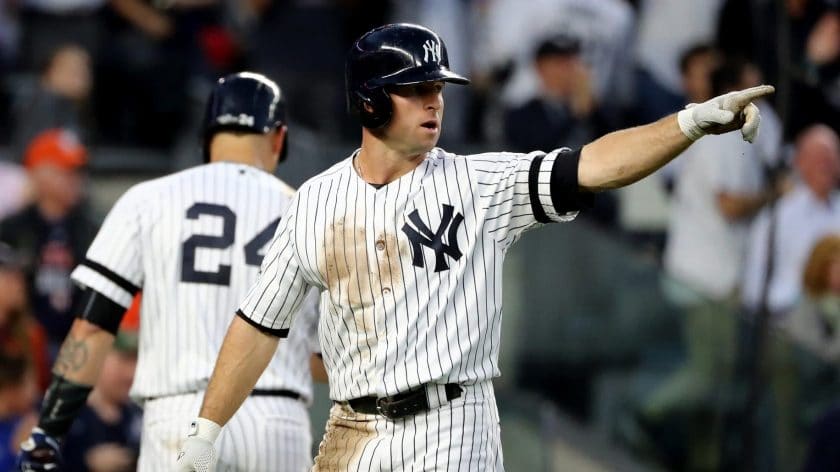 So, who steps in if Gardner struggles? Stanton saw some time in left field last season and posted an average 4.6 UZR, but also visibly struggled. Ellsbury and Frazier have their issues, so who does that leave? An inexperienced Tyler Wade? A top prospect in Estevan Florial who needs way more minor league seasoning?
It's a tough question and given the Yankees' outfield picture at the end of the season, they could be unprepared if Gardner has lost a step.
Final thoughts
All in all, as critical as some may be about this move, the Yankees probably made the right move in re-signing Brett Gardner. GM Brian Cashman's work the past few years has earned him the ultimate benefit of the doubt. From landing Stanton for practically nothing to trading Aroldis Chapman for Gleyber Torres, only to re-sign Chapman as a free agent that offseason, the man knows what he's doing.
Thus, there's clearly a high risk/reward factor with Gardner. Just like his teammate CC Sabathia, his intangibles make him valuable. He is a voice of leadership in the clubhouse. His 76.7 career UZR in left field makes him a strong defender. The way he works the count in at-bats is on a level that, at times, looks as though it cannot be taught.
Moreover, Cashman has probably already scouted the market for outfield depth. Who's to say he won't bring on someone like Cameron Maybin aboard for depth if Frazier isn't ready to come back?
The Yankees took a risk in retaining Brett Gardner. Given it was because the potential reward was too great to pass up, it was probably the right move.