The New York Yankees' decision on Andrew McCutchen has the potential to make or break their entire offseason.
Last month, I wrote a piece calling for the New York Yankees to re-sign outfielder Andrew McCutchen this offseason. Today, I want to revisit that stance. The former National League MVP was just fine during his month-plus as a Yankee, but can he help win a World Series?
That's a tough question. Moreover, what the Yankees decided to do about McCutchen could shape the rest of their offseason. Not only would keeping him set the outfield in stone, but his price could determine how New York addresses the pitching staff. The rotation needs help and should be the top priority this winter.
It may not seem that way but until the Yankees make a decision on McCutchen, everything else could be on hold.
The late-season trade
To understand how to address Andrew McCutchen's free agency, we must first return to how he arrived in New York. The Yankees acquired him from the San Francisco Giants on Aug. 31 for a pair of minor leaguers and stuck him in right field. This move made sense because Aaron Judge was still recovering from a broken wrist and the lineup sorely needed pop. McCutchen was able to provide just that.
McCutchen had a line of .255/.357/.415 in San Francisco and also had 15 home runs with 55 RBI. In New York, he put up similar numbers with a line of .253/.421/.471 along with five homers and 10 RBI. Those numbers aren't the best, but considering McCutchen's brief tenure, they're pretty serviceable. He provided exactly what the Yankees needed at the time.
He isn't getting any younger, having just turned 32, but Andrew McCutchen is far from washed up. His MVP-caliber seasons are probably behind him, but he can still be a big help.
Finding outfield room
The problem, however, is one the Yankees are both blessed and cursed to have. Helpful as Andrew McCutchen can be, the Yankees have a plethora of outfielders who can be impact players in 2019. Guys like Aaron Judge and Giancarlo Stanton aren't going anywhere, so we won't discuss them in this case.
The first player who comes to mind is none other than Brett Gardner, the longest-tenured Yankee. He has a $12.5 million option for next season and is a solid defensive outfielder. Not only that, but he is also a voice of leadership in the young clubhouse. Throw in his uncanny ability to grind out at-bats, and Gardner coming back for another year seems to make sense.
There's just one problem. Gardner hit an uninspiring .236 in 2018 with 12 home runs and 45 RBI. Looking at Fangraphs, there were no major changes in his soft, medium, and hard contact percentages, but his line drive rate dipped from 22.3 percent to 17.9 percent. Gardner also wasn't swinging at a higher number of pitches out of the strike zone, so one of two conclusions can be drawn. He either ran head first into bad luck this season, or he just lost his bat speed. He's 35, so it's certainly a possibility. Can the Yankees pick up his option and risk him further declining in 2019?
Prospects on the rise
Let us not also forget the Yankees have a pair of intriguing young outfield prospects in Clint Frazier and Estevan Florial. Frazier has proven he can hang on the big league level, but multiple concussion issues in 2018 have brought his durability into question. Frazier could also be a valuable chip if GM Brian Cashman looks to the trade market to add pitching.
Florial, however, presents interesting options. In the piece linked to at the start of this piece, I discussed the following scenario. Sign Andrew McCutchen to a short-term contract, maybe two or three years, and give Aaron Hicks a long-term extension. Then, after a year or so, find a buyer for McCutchen's movable deal, shift Hicks to left field, and put Florial in center if he develops as expected. This allows the Yankees to save cash in free agency while staying the course and lets them keep McCutchen while making it relatively easy to potentially trade him. From a money standpoint, it makes sense.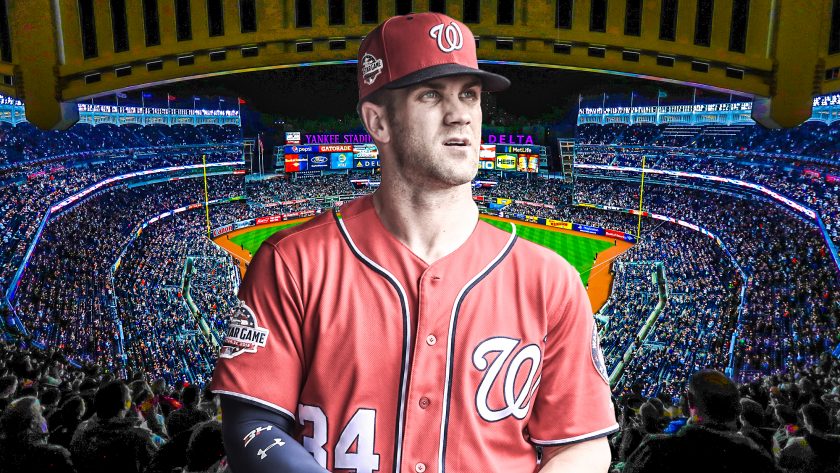 The Bryce Harper question
But what if the Yankees want to spend big this offseason? Owner and managing general partner Hal Steinbrenner has already said the Yankees would leave "no stone unturned" this offseason per Greg Joyce of the New York Post. That sounds like if Washington Nationals star and former MVP Bryce Harper is an option, he'll be strongly considered.
That may not be the best move for multiple reasons, namely Harper's inconsistencies at the plate throughout his career and the price tag attached. He's going to cost $300 million at an absolute minimum and the Yankees should not pursue any player who could hamstring the payroll in the future.
Thus, let's assume the Yankees are choosing between Brett Gardner and Andrew McCutchen to fill the hole in left field in 2019. Who gets the call?
The verdict
This is a really tough call because, for all of Brett Gardner's faults, Andrew McCutchen doesn't quite smell like a rose either. His strikeout rate jumped from 17.8 percent in 2017 to 21.3 percent this year. Bad luck could have been a factor since his hard contact rate went up to 43.4 percent from 35.2 percent last season, but declining skills must also be considered.
McCutchen is also a defensive liability. He had a UZR of -0.8 in 2018 and while that isn't the worst, it marked the fifth year in a row he posted a negative in the category. With Judge firmly entrenched in right field and a superior defender than Stanton in all aspects, McCutchen isn't going to be relegated to DH.
That said, after considering all sides of the argument, the best move the Yankees can do is sign McCutchen to no more than a two-year contract with an option for a third. He hasn't earned a $100 million payday despite being a former MVP, but is also a smarter option than Bryce Harper. That's strictly from a money standpoint.
Not only that, but McCutchen is a natural born leader with great energy. On a team that won 100 games and played most of the season without him, just imagine how positive an influence he could be for a full campaign.
There is a right way for the Yankees to bring back McCutchen and still have a successful offseason in free agency. It's really just a matter of picking an acceptable price tag and sticking to it, so here's hoping the front office takes that approach.