The New York Knicks are entering an important season and they hope this year can be a building block for the future.

The New York Knicks enter the 2018-19 season without the face of their franchise, however, there are reasons for fans to be excited. That is because the franchise is carrying less baggage than they have in years.
The roster spots previously filled with regrettable contracts and aging has-beens are instead being occupied by young players, many of whom were taken in the top-10 in drafts over the past few years.
The most notable name on the roster are: the aforementioned centerpiece, Kristaps Porzingis, whose timeline to return remains uncertain and could very well depend on the way the season pans out, last year's first-round pick Frank Ntilikina, and this year's first-round pick Kevin Knox.
Porzingis has yet to play for a competitive team and likely could be brought back sooner if this team overachieves and finds themselves playing competitive basketball, especially with a revamped lottery system designed to remove some of the race to the bottom the Knicks have been so bad at in the past.
Porzingis has already shown improvement in his three seasons in the NBA and seems to have limitless potential if he can manage to stay on the court. Last year he averaged 22.7 points, 6.6 rebounds, and 2.4 blocks, shooting nearly 44 percent and nearly 40 percent from three-point range. He is working his way back from an ACL tear.
Without Porzingis in the lineup to start the year, and according to the rumor mill and his own words, possibly for the entire season, the project that lies ahead is finding talent to pair with KP in order to start and build a foundation for the future.
Last year's eighth-overall Frank Ntilikina did not get much playing time or development under Jeff Hornacek, that was likely among the reasons he was fired. That being said, he has shown the potential to be an elite perimeter defender and despite lacking enough aggressiveness on the offensive end, he seems to have the tools to score efficiently if not at an elite level.
This year's ninth-overall pick, Kevin Knox, was a standout in summer league and started off the preseason strong, but has since had some struggles with scoring. For now, he has high-level athleticism and his early returns will be closely scrutinized by Knicks fans.
The remainder of the 15-man roster consists of youth, with only two players over the age of 26 in 30-year-old Lance Thomas and 33-year-old Courtney Lee. Both could become possible trade bait once the deadline approaches, with Lee being the more obvious candidate for a move.
Doubling down on last year's surprisingly successful Trey Burke signing, the Knicks have taken a flyer on several other high picks who had not managed to live up to the hype early in their career. Mario Hezonja, Noah Vonleh, and Emmanuel Mudiay were all drafted in the top-10 over the last five years and have struggled to meet the resulting expectations.
Hezonja and Vonleh could see lots of run with all of Porzingis' frontcourt minutes available. Mudiay will have to improve on a disappointing start to his Knicks career at the end of last season at a position where Ntilikina and Burke have more upside.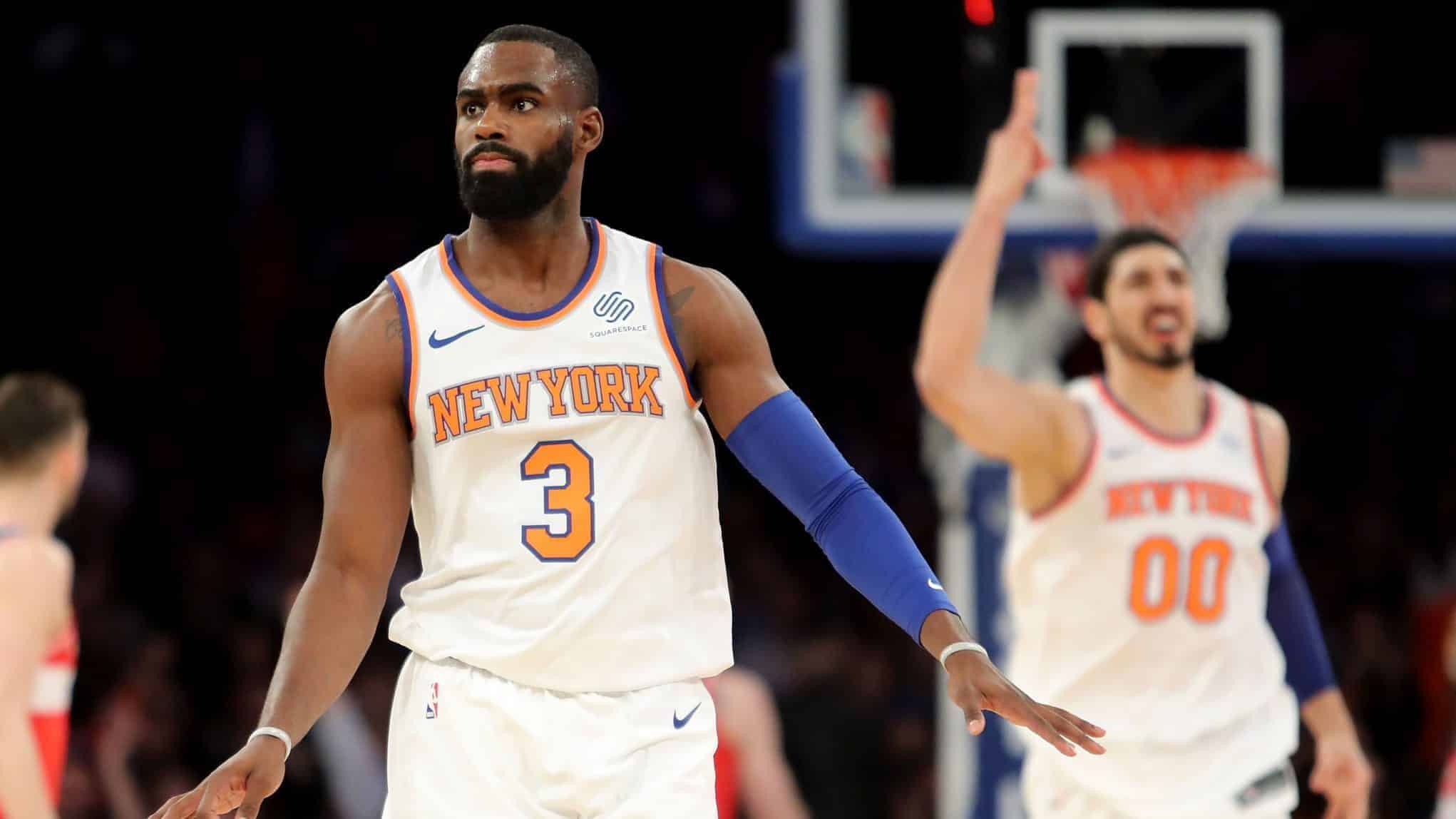 Enes Kanter and Tim Hardaway Jr. are the two highest-paid players on the team and will need to live up to that status in order to avoid being looked at as expendable in the name of a more complete restart. The Knicks already rid themselves of some all too typical badly placed money by cutting ties with Joakim Noah last week.
Also of note on the roster are second-round pick Mitchell Robinson who has provided highlight reel dunks and blocks throughout the preseason. His draft position and his strange gap year after he left Western Kentucky, owed as much to a bad reputation off the court as his undeniable ability on the court. If he turns out to be a success, it will go a long way towards establishing the front office's credibility.
The biggest story of the preseason was undrafted rookie Allonzo Trier, who captivated Knicks fans with double-figure scoring in three of five preseason games including a 25-point night on 67 percent shooting against the Brooklyn Nets. New head coach David Fizdale has already said that Trier will start the season in the NBA, rather than the G League. Fizdale is also reported to be fond of Ron Baker. The third-year guard is quickly becoming a reliable veteran off the bench who brings a change of pace and toughness.
Perhaps the biggest change this season is not on the roster, but sitting on the bench. David Fizdale has a successful coaching pedigree, coming up under Pat Riley in the Miami Heat organization, along with stints in Atlanta and with Golden State. In his only full season running a team, he brought the Memphis Grizzlies to the playoffs. Despite rumored bad blood with Marc Gasol that may have cost him the job in Memphis, he has a strong reputation around the league and was heralded as a good hire for an organization that would love to have long-term stability on the sidelines.
With Fizdale working the floor and Steve Mills and Scott Perry in the front office, the team has finally begun to say the right things, talking about building a foundation through developing young players rather than throwing money at older free agents and superstars who invariably turn them down for greener pastures. Whether they will follow through on righting the ship and the plan will be successful remains to be seen.
But for now, that may just represent hope that you are feeling, Knicks fans.