For the New York Islanders' Anders Lee, the road to the captaincy included trips to the hospital and the gridiron.

For most players, opening night is a mix of nerves and excitement. For New York Islanders forward Anders Lee, it is so much more.
On Thursday morning, during the Islanders' pre-game meeting, Lee was named the fifteenth captain in franchise history. Speaking to the media, Barry Trotz called it a "clear" decision. After months of talking to players, it was clear that Lee had earned the respect of his teammates, Trotz said.
John Tavares vacated the captaincy when he bolted to Toronto on July 1. For months, it was unclear if the position would remain unfilled or if Trotz would name a successor. On Thursday, he did. "These are the things you grow up kind of dreaming about," an exuberant Lee told the media. "I've always gone out there just to be who I am, work hard, be a good teammate, keep it light."
For Lee, this is just another step on a grueling climb to NHL stardom. The journey to the captaincy has included trips to the hospital and the press box, the cancer ward and the gridiron.
~~
On Apr. 8, 2016, the Islanders completed the season sweep of the Rangers for the first time in franchise history. But before they could celebrate, they received dire news: Lee had fractured his leg and was going to be out for the remainder of the season.
In the first period of the game, Johnny Boychuk launched a slap shot that clipped the bottom of Lee's leg. Boychuk is affectionately referred to as Johnny Rocket by the Long Island faithful, as his howitzer is believed to reach into the 90-100 mile-per-hour range with little effort. However, Boychuk's cannon and human flesh do not mix. In 2015, Boychuk hit Brendan Gallagher on the left hand with a slapshot. Images surfaced after the game of Gallagher's fingers. "It was pretty gross," Boychuk admitted.
Lee's injury couldn't have occurred at a worse time. The Rangers matchup took place just days before the Islanders' first-round series against the Florida Panthers. Instead of skating with his teammates, Lee had to watch from the press box.
Missing games is never fun, regardless of the circumstances. But considering what happened to Lee just a season earlier, this had to sting even more than usual.
~~
One year earlier, the Islanders were preparing for a first-round matchup with the Washington Capitals. Lee was just a rookie then, but he had scored 25 regular-season goals — an impressive feat for any skater, let alone a first-year guy. Lee was primed to contribute for the Islanders in a big way.
But in the penultimate games of the playoffs, Lee was curiously scratched by a defiant Jack Capuano. He was replaced by Colin McDonald, a journeyman winger who tallied just eight points in 18 games during the regular season. For Lee, sitting out games six and seven had to have been soul-crushing.
"For sure. I think so a little bit," Lee told Brian Compton of NHL.com when asked if being scratched had affected him. "I felt like I had a really good year." Lee says that this happened so long ago that it no longer bothers him. But considering that Lee gave it his absolute all on a nightly basis, being a healthy scratch in the playoffs had to have been a punch to the gut.
Luckily for the Islanders, this helped light a spark that is still there in 2018.
~~
In an alternate universe, it isn't difficult to envision Lee playing football on Sundays. "He's the kind of guy you would build a franchise around, 100 percent," Mike Rallis told Sports Illustrated's Alex Prewitt. "Just the way he carries himself, the way he works, the way he commits himself to the team and the game … When I watch Russell Wilson, I see a lot of similarities in the way [Anders] would scramble and use his athleticism."
Rallis was Lee's best receiver in high school. He now goes by the name Riddick Moss and is signed to World Wrestling Entertainment NXT. Many of Lee's high school teammates are also professional athletes. But none have enjoyed as much success — and have posed as many 'what if's' — as Lee.
When he was in high school, Lee led the football team to the Section 6AAAAA championship game. He was named the 2008 Minnesota Gatorade Football Player of the Year. He was a finalist for the North Star State's "Mr. Football" award. Lee had offers to play both football and hockey at Harvard, Minnesota and Denver.
While Lee ended up choosing hockey, he was still playing football during the 2008 NHL draft, his first year of eligibility. The Islanders actually called to ask him what his plans were for his senior year of high school. Lee responded that his football teammates were counting on him. He would have to continue to play.
The next year, Lee was still on the board in the sixth round of the NHL draft. The Islanders used pick no. 162 on the Edina, Minn. native. "Powerful, strong, really raw," former general manager Garth Snow told Prewitt. "The biggest question mark was his skating. We just felt there was enough character and drive to improve."
~~
Quarterbacks come in all shapes and sizes. Lee is 6-3, 231 lbs., which would make him one of the NFL's largest signal callers. It also makes him one of the largest skaters in the NHL.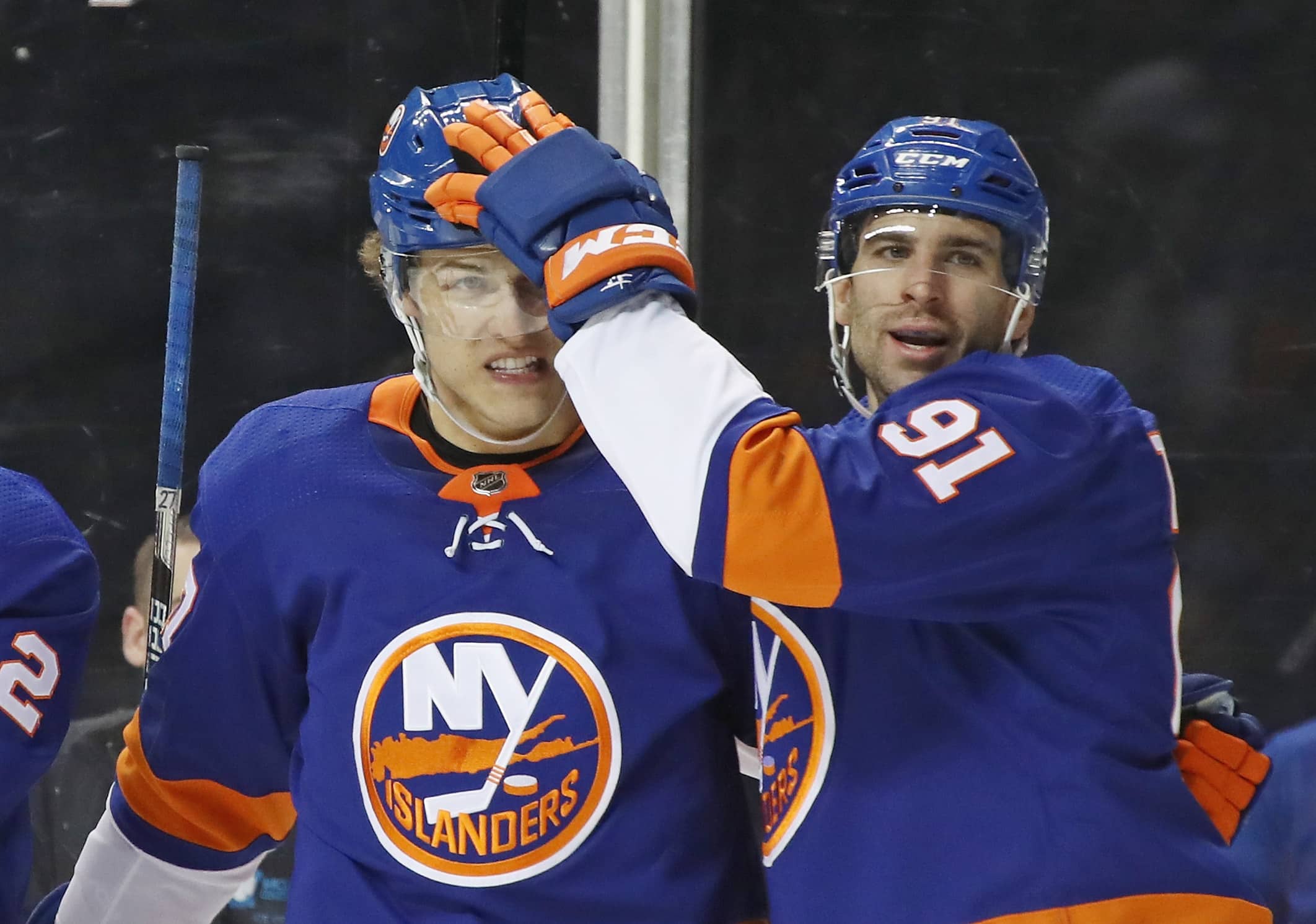 Lee uses his size and strength to win battles in front of the net and along the boards. He often plants himself in front of the net, where he is "punched, pushed, slashed (both legally and illegally) and generally treated like as a piñata on skates," to steal a term from the Associated Press.
Lee is a net-front player, which means that he attempts to alter the goaltender's sightlines and change the trajectory of the shot, according to Chris Boyle of MSG Network. He has used this to become one of the top goal scorers in the league. In 2017-18, Lee netted a career-high 40 goals and 22 assists.
Lee has been rewarded handsomely with significantly more ice time (from 15:43 in 2013-14 to 17:16 last season) and what figures to be a sizeable contract when he becomes an unrestricted free agent next summer.
~~
"Who is wise? One who learns from every man," Ben Zoma says in Ethics of the Fathers. Lee has made it a point to learn from everyone he has met on his journey — coaches, scouts, teammates, even cancer patients.
Fenov Pierre-Louis was the toughest person Lee ever met. Here's how Lee described him in a Players' Tribune article in March 2017:
"Fenov is 16 years old and has Stage IV neuroblastoma. In the seven years since he has been diagnosed, he has gone through multiple surgeries. He's gone through chemotherapy, immunotherapy and stem cell transplants. And he does it all with a smile on his face. So when I hear people refer to me as tough because I play hockey, I think of Fenov and kids like him.

I am not tough. I am just very lucky."
Fenov Pierre-Louis sadly passed on July 18, 2018, but the 17-year-old made a sizeable impact on Lee's life. "You came into my life, so many peoples (sic) lives, you changed them, you changed me. What was contagious wasn't your disease, it was your smile."
~~
For some, Lee's promotion to the captaincy was a big surprise. But when you consider his ascension to this position, it isn't that difficult to understand. "It was clear as day that Anders would be the fifteenth captain of the Islanders," Trotz says.
"I think he has a respectful thought-process about the whole thing. I know that modestly he should probably be very proud of the respect that his teammates give him.