The New York Knicks are taking flyers on Mario Hezonja and Noah Vonleh, but don't expect too much from these former lottery picks.
The future is bright for the New York Knicks. There finally looks like there is some homegrown talent on the roster and the newest crop of young Knicks like Kevin Knox, Mitchell Robinson, and Allonzo Trier are hoping to get their careers off on the right foot. But it's not always so easy to live up to expectations. Just ask Mario Hezonja and Noah Vonleh.
Both are former top-10 picks and both have yet to live up to the hype they entered the league with. But for certain guys who are talented enough have the benefit of second chances. Hezonja is joining the Knicks after three lukewarm seasons with the Orlando Magic. Vonleh comes to the Knicks a well-traveled man. He's made uninspiring stops in Charlotte, Portland, and most recently, Chicago.
But both players have the unique opportunity at redemption in New York. What can be expected of Hezonja and Vonleh? What's the best case scenario for each? But most of all, what can we realistically expect out of these two?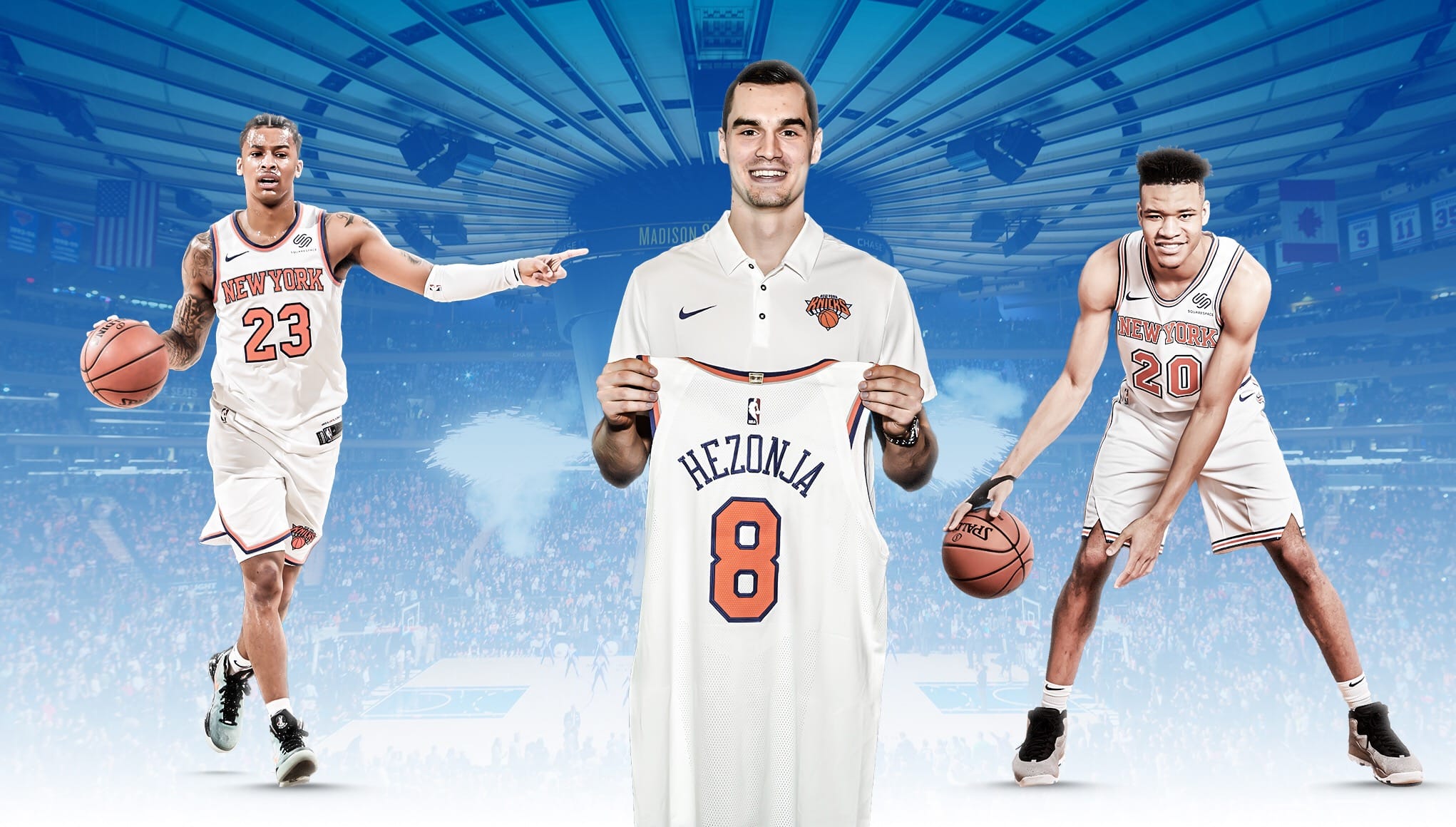 Mario Hezonja
Hezonja was the fifth overall pick in the 2015 draft — once spot behind New York's beloved Kristaps Porzingis. He's an athletic and versatile wing that plays primarily at small forward, but can also play the four in small ball type lineups. He had his best season with Orlando in 2017-18 and although his numbers don't jump off the page, he showed solid improvement.
Perhaps David Fizdale and his staff can unlock the talent hidden in Hezonja's 6-foot-8 frame. Hezonja is quite confident that he's heading for a career revival in New York. He told Stefan Bondy of the New York Daily News:
"There is no ceiling for me. And you know that. I know that but I'm not going to be rushing, I'm not going to be skipping steps. I'm not going to be thinking about it. It's going to come. I just have to go step-by-step. Practice-by-practice, game-by-game.
Hezonja sounds confident and prepared to finally live up to the lofty expectations that come when you're the fifth overall pick in the draft.
Best Case Scenario
The best case scenario for Mario Hezonja this season would be to force the Knicks to seriously consider bringing him back next season. He came to New York on a one year deal while passing up multi-year offers from other teams. If he plays so well that he forces the hand of Scott Perry and Steve Mills, then he'll have finally showcased the talent that warranted his top-five selection in the draft.
How can he do this? If he becomes an integral part of the starting unit and takes hold of the point-forward role that few guys in the league can truly do well. For his 6-foot-8 frame, Hezonja is a gifted and instinctual passer. Fizdale and his staff are trying to put Hezonja in more situations where he's a facilitator. This would take pressure off of Frank Ntilikina at the point guard position and would allow him to play off the ball at times. Hezonja has already mentioned this via Matt Schlosser of The Sports Daily:
"I'm talking [about] the point forward role: getting to the paint, facilitating for other guys, finding them, and being a leader. At the end of the day, help my teammates. I'm seeing situations where I can be really vocal here and help other guys, which I'm more than happy to do."
It's always difficult to put a number on these things, but if Hezonja is averaging around five assists per game, Knicks fans would be over the moon. He's never averaged more than 1.4 in a season.
But in a best-case scenario for Hezonja, he's starting, playing major minutes, and taking on a new role as a facilitator. Hezonja taking hold of the point forward role is the highest possible peak to expect.
Realistic Expectations
In all likelihood, Hezonja will have a better year than he's ever had before. A new — and seemingly stable — situation will do wonders for him. He looks to be on track for consistent minutes which is something that may have attributed to some of his struggles in Orlando. But don't expect a complete renaissance for Hezonja this season.
He'll likely play between 20 to 25 minutes per game while playing a little small forward and a little power forward in smaller lineups. He'll shuffle back and forth from the starting lineup to the second unit as he goes through peaks and valleys in his season. All in all, Hezonja will be a solid contributor on a very bad team.
The Knicks will think about bringing him back for another season, but Hezonja won't be high on their list of offseason priorities.
Noah Vonleh
Noah Vonleh could be exactly the kind of guy who David Fizdale is looking for. At his best, he's tough and rugged and pulls down rebounds against anybody. But he's been consistently inconsistent throughout his career. Sustaining any success and stringing together a consistent month of basketball is something that has always seemed to elude Vonleh.
It's usually not even worth it to predict the worst case scenario for a player, but in Vonleh's case, it could happen soon. If one of the Knicks two-way players or camp invitees impresses Fizdale to the point where they forced themselves onto the 15-man roster, Vonleh could be a training camp casualty. He's on a partially guaranteed contract so he would be easier to part ways with than a guy like Ron Baker.
But maybe that motivation is exactly what Vonleh needs? He's on his fourth team in five years and he is running out of chances before the league decides to move on. Perhaps this fuels him to have his best season yet.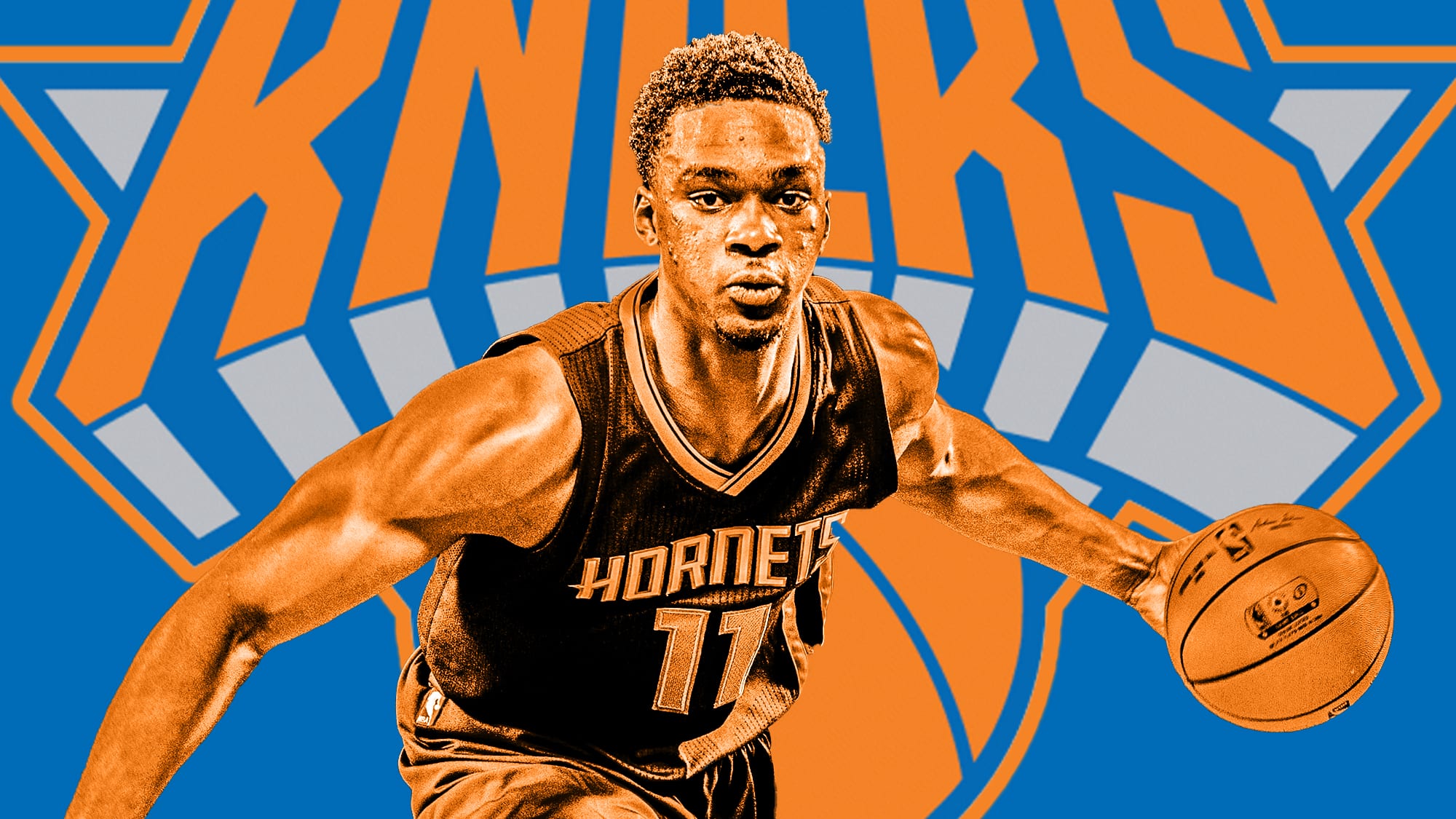 Best Case Scenario
Look to Vonleh's short stint with the Chicago Bulls — his most recent team. Sample sizes are small, but stay with me here. Vonleh averaged 13.1 points and 13.0 rebounds per 36 minutes in 21 games with Chicago. During a 10-game stretch, Vonleh averaged 9.2 points and 9.5 rebounds in about 25 minutes per game. Fizdale would pray to the Gods of length and athleticism every night if it meant Vonleh would average just under a double-double while giving the Knicks 25 minutes per night.
In this scenario, Vonleh would also stretch defenses by shooting around 35 percent from deep. If Vonleh is cleaning the glass and stretching the defense, he too could factor into the Knicks future plans. Would Enes Kanter become expendable? In this scenario, Vonleh would do pretty much everything Kanter does, but he can also shoot.
Realistic Expectations
It's not realistic to expect Vonleh to live up to his numbers with Chicago. It's a small sample size and time and time again, Vonleh has regressed to the mean after a hot stretch. In all likelihood, Vonleh will be the perfect bridge for Mitchell Robinson. Vonleh will feature in heavily on the second unit to start the season, but as Robinson finds his footing, he'll start to phase Vonleh out of the rotation.
Robinson is still a raw talent and he may not be ready for a full workload. Vonleh can help bridge the gap as Mitch Robinson slowly develops. Eventually, Robinson will be ready to take on a more prominent role, at which point Vonleh's minutes will take a dip.
He will have an opportunity to prove himself, but in the end, he won't play well enough to carve into Kanter's minutes or stave off a rapidly developing Robinson.