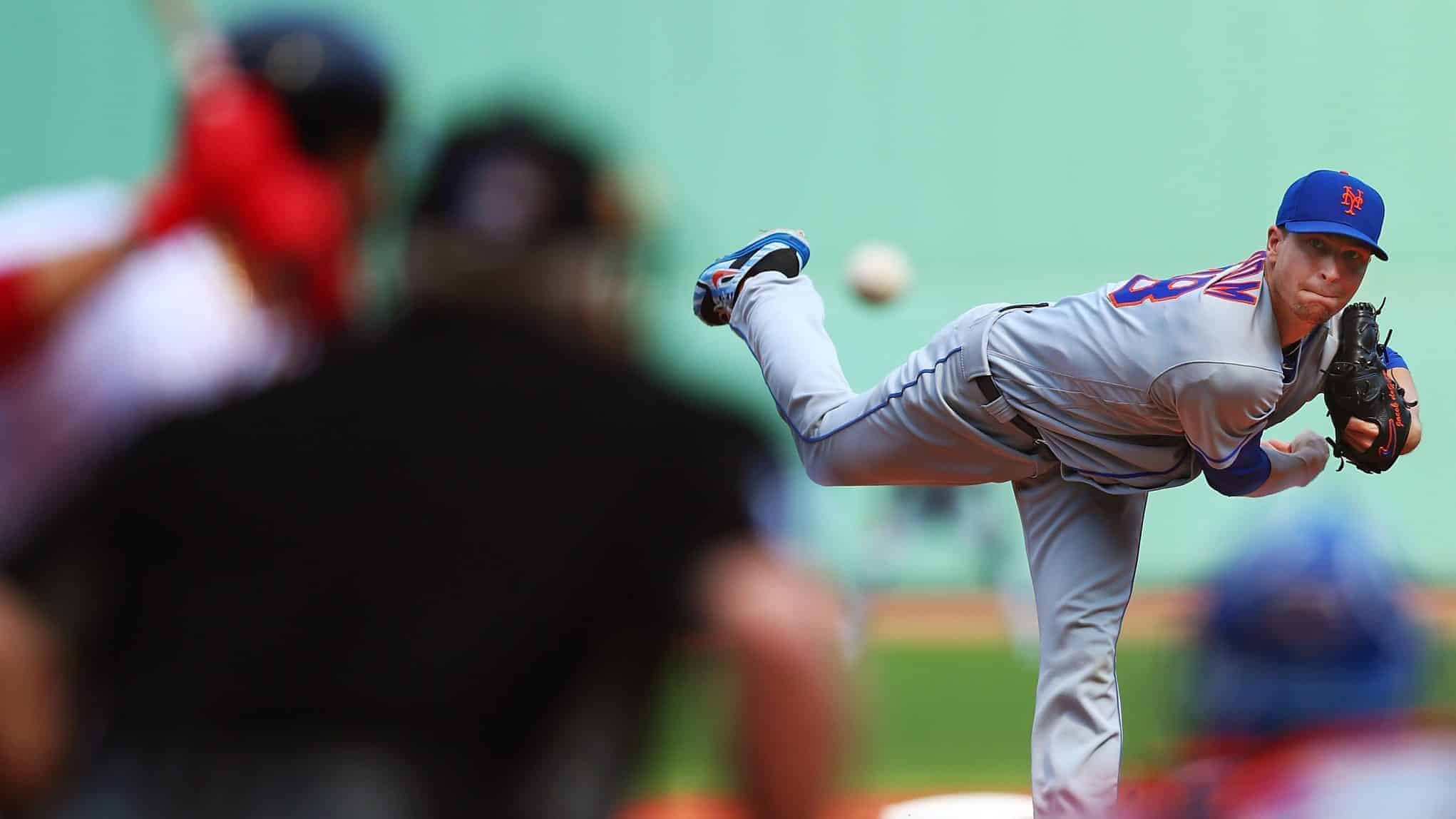 New York Mets ace Jacob deGrom recorded the 250th strikeout of his impressive yet frustrating season despite the team losing again.
Jacob deGrom has joined Tom Seaver and Dwight Gooden in New York Mets lore.
The Mets ace, in pursuit of the NL Cy Young award, recorded strikeout number 250 of the season, joining Seaver and Gooden as the only Mets to accomplish that feat. MLB's stat of the day Twitter account sent a video of his strikeouts against an impressive Boston Red Sox lineup.
.@JdeGrom19 joins Tom Seaver and @DocGooden16 as the only @Mets pitchers with 250+ K in a season. pic.twitter.com/eHTQNHkh4M

— MLB Stat of the Day (@MLBStatoftheDay) September 16, 2018
And, because of course, the Mets lost the game. At least deGrom didn't take the loss, as Seth Lugo gave up the go ahead runs. Still, deGrom's record is a criminal 8-9 on the season, despite a sparkling 1.78 ERA, which leads the National League by 0.64 entering play on September 17.
Any other year, deGrom would be a no-brainer for the Cy Young, his poor record could hurt him, as some voters could cast ballots for Aaron Nola or Max Scherzer instead. It's prompted some other prominent pitchers to publicly call for deGrom to win the Cy Young.
Additionally, deGrom recording his strikeouts against the Red Sox is huge, as they are one of the best teams at putting the ball in play. Only four teams have struck out less than Boston this season.
deGrom has been a very good pitcher for several years, but he's having a break-out year this season. In addition to ERA, he leads the league in ERA+, FIP, and HR/9. He doesn't have the strikeout numbers of Scherzer or the record of Nola, but he's kept runs off the board at an incredible rate, which is the most important aspect of pitching.
In a season full of disappointment and questions for the Mets and their fans, Jacob deGrom has been one of the few constant bright spots.
Follow Billy on TWITTER