The New York Yankees are sending mixed signals about Aaron Judge's progress in recovering from a fractured right wrist.
Don't panic yet, New York Yankees fans, but Aaron Judge is still reporting pain in his wrist.
This after what seemed like a week of steady progress, including a report that Judge's first swings since getting hurt were pain-free.
Now, Judge is walking that back. According the MLB.com's Bryan Hoch, Judge said on Sunday night that "the pain is not gone. It's still broken."
Despite the admission of discomfort from the All-Star right fielder, he and others close to the situation remain positive.
Manager Aaron Boone indicated that his slugger's return is moving right along.
"The fact that he continues to bounce back as we up the workload has been really encouraging," Boone said. "I think he's got a little extra pep in his step. I think he's excited about how he's really starting to feel. He continues to build momentum."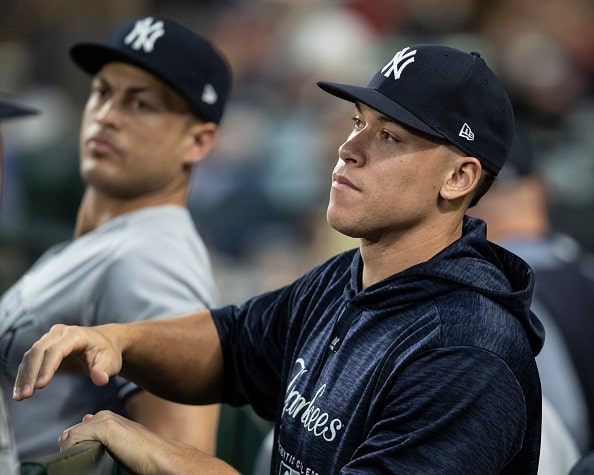 Judge also doesn't seem to think the setback will keep him off the field for too long.
"I'm confident with how my bat's feeling right now," Judge said after mentioning his continuing pain, per NJ.com's Brendan Kuty. "I was confident when it first happened that I'd be back into some meaningful games down the stretch here. I'm just excited to get closer. I know I'm getting one step closer every day to getting back on the field."
Hoch also reported that Judge is still on track to take full batting practice sometime during the Yankees' series with the Minnesota Twins this week.
The Yankees miss Judge's imposing presence in their lineup. In a disappointing loss on Sunday, the Yankees' outfield was a combined 1-for-11, as the team could only muster two runs in a 3-2 loss.
With huge question marks up and down the Yankees' pitching staff, the offense is going to have to pick up some slack in the playoffs. If Judge's return is delayed until the end of September, he may not even be capable of contributing in the postseason.
Okay, maybe it's time to panic just a little, regardless of what The Judge himself says.