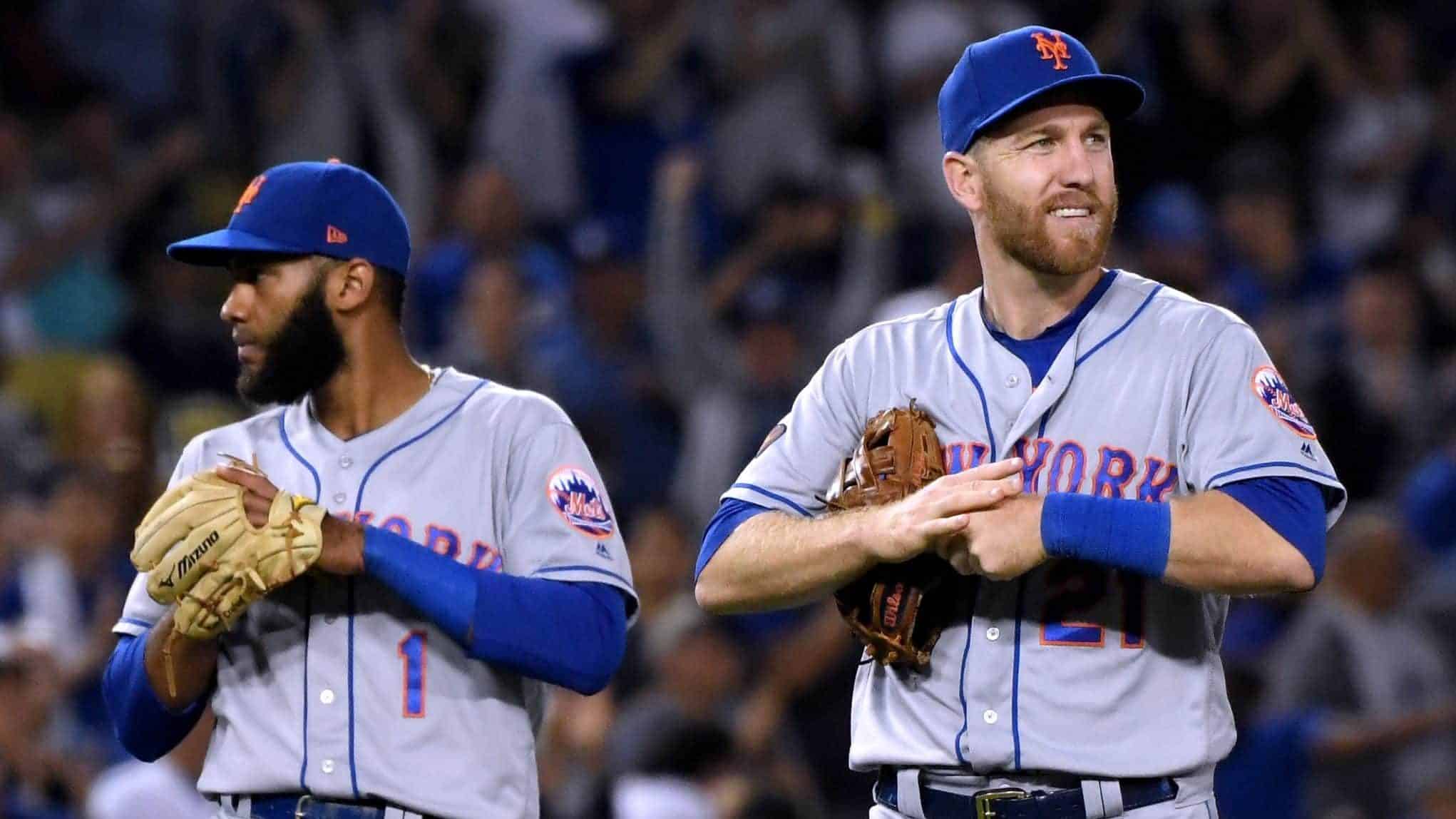 New York Mets Todd Frazier appeared to make a great catch on a foul ball Monday in Los Angeles. Instead, he made the play of the game fooling the Dodgers and the umpires.
The New York Mets need all the help they can get these days. If that means faking out the umpires in an apparent catch of a foul ball while diving into the stands, well then, so be it.
That is exactly what Mets third baseman Todd Frazier did on Monday in Los Angeles as the team faced the Dodgers.
In the bottom of the second inning with Alex Verdugo at the plate, a foul ball was hit down the third base line towards the stands. Frazier played the ball all the way and dove into the stands to make what looked like a fantastic catch to record the out.
.@SteveGelbs reveals the TRUTH behind the @FlavaFraz21 diving "catch" on Monday. Video don't lie! pic.twitter.com/P4a1gBQIXe

— SportsNet New York (@SNYtv) September 5, 2018
Steve Gelb of SNY reported on Tuesday that the catch was actually a slight of hand that fooled everyone including the third base umpire Mark Wegner.
As Frazier dove into the stands, he had the ball on the tip of his glove. The video shows Frazier falling over the top rail of the stands. He actually never made the catch of the batted ball but he had a ball in his glove when Wegner came over to see if he made the catch.
The ball Frazier had was a rubber baseball, not the game ball.
Looking at the video you can see the rubber ball resting on the lege of the railing. As Frazier lands, the rubber ball falls on the floor with him. As Frazier is still down the third base umpire indicates an out, at the same time a fan is holding the real ball. Frazier comes back on the field then tosses the rubber ball back into the stands before anyone else could question the play.
Later in the Mets dugout, Frazier is seen explaining to his teammates the dupe of the night.
The Mets went on to win the game 4-2.