One of the biggest stars at USA basketball camp, Tina Charles has kept her strong play up as she prepares to deliver another medal.
This September, the WNBA playoffs aren't the only spot to find intense hardwood action between the best players in the world.
The best American women's basketball players have descended upon Columbia, South Carolina to prepare for the FIBA Basketball Women's World Cup, set to held in Tenerife, Spain later this month. Among the most accomplished is Charles, the New York Liberty superstar is ready to go on another championship run.
The American women are the defending champions of the tournament, taking the gold medal in the 2014 edition in Turkey. Charles earned 10 points and a game-high eight rebounds in the gold medal game, a 77-64 triumph over Spain.
With her Liberty duties over for 2018, Charles joins several of her All-Star contemporaries in South Carolina, home of the defending NCAA women's national champions. Joining Charles is her head coach, Katie Smith, who is serving as the athlete representative for the USA Basketball Women's National Team Player Selection Committee.
Prior to Monday's debut practice, USA Women's National Team Director Carol Callan gathered the team to give some special recognition. First was her head coach Smith, who is set to be inducted into the Naismith Memorial Basketball Hall of Fame later this week. Part of Smith's accomplishments includes three Olympic gold medals and two World Cup titles donning the red, white, and blue jersey.
USA and South Carolina Dawn Staley was next, earning three Olympic golds and a World Cup bronze in American service. But Charles, much to her surprise, was called out by Callan, who acknowledged Charles' charitable endeavors. Headlined by Hopey's Heart Foundation, an organization named for her late aunt which helps supply defibrillators to public places in the local area, Charles is set to be honored in Springfield this week as well, as she will receive the Mannie Jackson Human Spirit Award, an award recognizing charitable efforts off the court.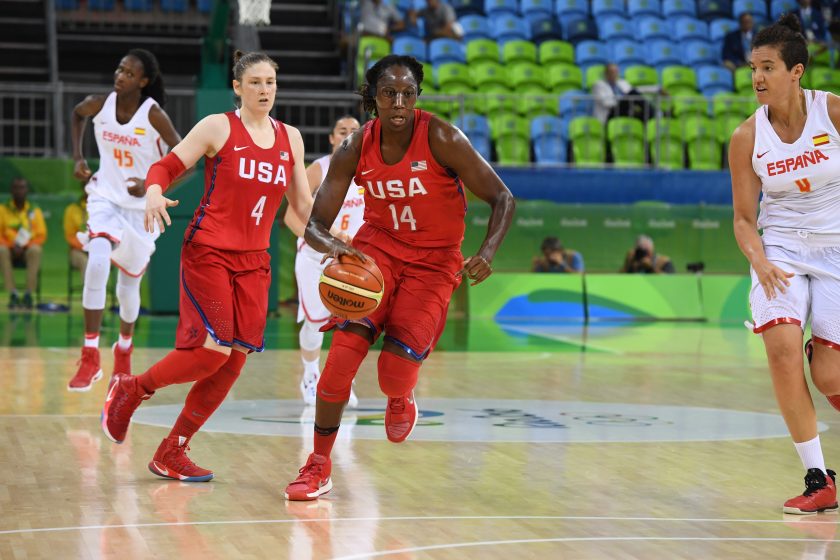 "I was very taken back by Miss Carol," said Charles in a Liberty team statement. "Miss Carol and I have always had a great relationship. She's known me since I was 15, so she's seen me when I was in my younger days. She sees me now when I'm older, and it's really great that she recognizes things that I do off the court and what really means the most to me in trying to maximize the platform that I'm on to try and inspire others."
The Americans will partake in an intrasquad scrimmage on Wednesday (7 p.m. ET, NBATV), before embarking on a brief exhibition tour that will take them to Bridgeport, CT and Washington DC. After another exhibition slate in France, the team will descend on Spain for the World Cup, partaking in Group D alongside China, Latvia, and Senegal, whom they will face in their opening game on September 22.
Follow Geoff Magliocchetti on TWITTER