Attention New York Mets fans: forget 25-4 and Mickey Callaway. The real disaster is Jacob deGrom still employed plus no deadline movement.
Twenty-five for the home team. Four reading as the number for the road team. Twenty-five to 4. This was the score of a season-defining blowout pertaining to the New York Mets who allowed the Washington Nationals to not only play host, but to firmly humiliate and thrash them to complete annihilation.
Steven Matz relented a cool seven runs in two-thirds of an inning. Jose Reyes pitched the eighth inning. It was the worst loss (by the numbers) in franchise history.
Even Ryan Zimmerman added his own hilarious flavor to the embarrassment.
Ryan Zimmerman faking a charging of the mound after getting hit by Jose Reyes's 54 MPH curveball lmao pic.twitter.com/kbQ0VOvFES

— fitz (@efitz11) August 1, 2018
It was one of 162 that shall never be forgotten yet on this day, it amazingly doesn't even rank as the most disturbing. The fact that Jacob deGrom and others remain Mets after the non-waiver trade deadline came and went is a downright travesty.
Forget 25-4. Forget Mickey Callaway. Forget the employment of Jose Reyes. All of this represents small potatoes when attempting to diagnose the entire situation. The idea that this organization, a personnel base that yearns for young positional talent more than any in the land, allowed such an opportunity to pass them by might account for the most unforgivable franchise decision since Bobby Bonilla's contract.
Zack Wheeler, Wilmer Flores, Devin Mesoraco and Jose Bautista were all rumored as trade chips. All remain employed by a 44-60 baseball club. How in the world is this possible? Each player could have brought extra talent to the equation yet the front office couldn't find any matches.
Jon Heyman of Fancred reported that the franchise didn't hear what they wanted to hear regarding Joey Bats and that the market was "nonexistent" for Mesoraco.
a trade for zack wheeler seems to be increasingly unlikely. mets not hearing what they want to hear. market limited for joey bats, nonexistent for mesoraco. #mets

— Jon Heyman (@JonHeyman) July 31, 2018
Mike Puma of the New York Post believes Wheeler will now stay while the other three vets may have a shot come the waiver-period deadline.
Trade deadline day. Wheeler is still here. Mesoraco, Bautista and Flores are available. Sounds more and more like Wheeler will stay and the others will be available for August waiver deals.

— Mike Puma (@NYPost_Mets) July 31, 2018
But forget the small pieces for now. The small veteran pieces represent the whip cream on top of the cake. Not budging on deGrom remains a critical misstep the likes only a few front offices can make.
This is not a championship 40-man roster.
Once the deadline passed and it became quite clear they'd be standing pat and looking to retool for 2019, two names on ESPN applauded the situation. One was Tim Kurkjian and the other Mark Teixeira. Both applauded the deal in the sense that three premium position players could be scooped up next offseason and if done, the team could actually enter 2019 as the NL East favorites.
What the two aren't quite understanding is that this game is no longer a veteran's contest. It's a young man's game in which injuries and wear-and-tear need to always be prioritized.
No baseball club can ever win a chip if the tagline of "if they remain healthy" is present. It never works. It especially never works with starting pitchers.
Cool. The Mets employ three-to-four stud pitchers in deGrom, Noah Syndergaard, Zack Wheeler and Steven Matz. They've employed all four of these guys for several years now. Have they ever once successfully taken over the NL?
No.
If they were that reliable, should they have, at least once over the last three seasons, torn up the league in nasty fashion?
Yes.
Fantasyland has grabbed a hold of a circus of a front office for the time being. There's no question that Sandy Alderson's cancer has created much damage. In not possessing that final boss voice, the Mets are being the eight-ball every step of the way. Perhaps that final voice was represented by Jeff Wilpon this time around. Perhaps he actually did the wrong thing via personnel building and listened to the fans as it concerned deGrom's future. After all, most of the fanbase has been dead set on keeping the fan favorite.
We don't know. We'll probably never know.
Think back two seasons ago and think the Bronx. Think about what Brian Cashman did when it obvious the New York Yankees had no shot in 2016. He didn't play it safe in the hopes of retooling the following season. He didn't listen to the fans. For the first time in a long time, ownership provided free reign to cut the veteran fat and stock up. They finally looked at the Houston Astros, Chicago Cubs and Kansas City Royals of the world and said, "OK, Brian … go for it."
He did. And he won. He finally got the Yanks out of their "veteran-but-solid team that could never win titles" form while transforming them into a young studly powerhouse version not seen since the 1990s. And he did it with far less ammo (Aroldis Chapman, Carlos Beltran, Tyler Clippard, Andrew Miller, Adam Warren) than the Mets had with deGrom.
Was the Yanks farm much more equipped to handle such a turnaround as opposed to the Mets farm now? Of course. But the idea isn't to compare farm talent levels. The idea is to start the process as quickly as possible once it's realized the current nucleus can't get it done.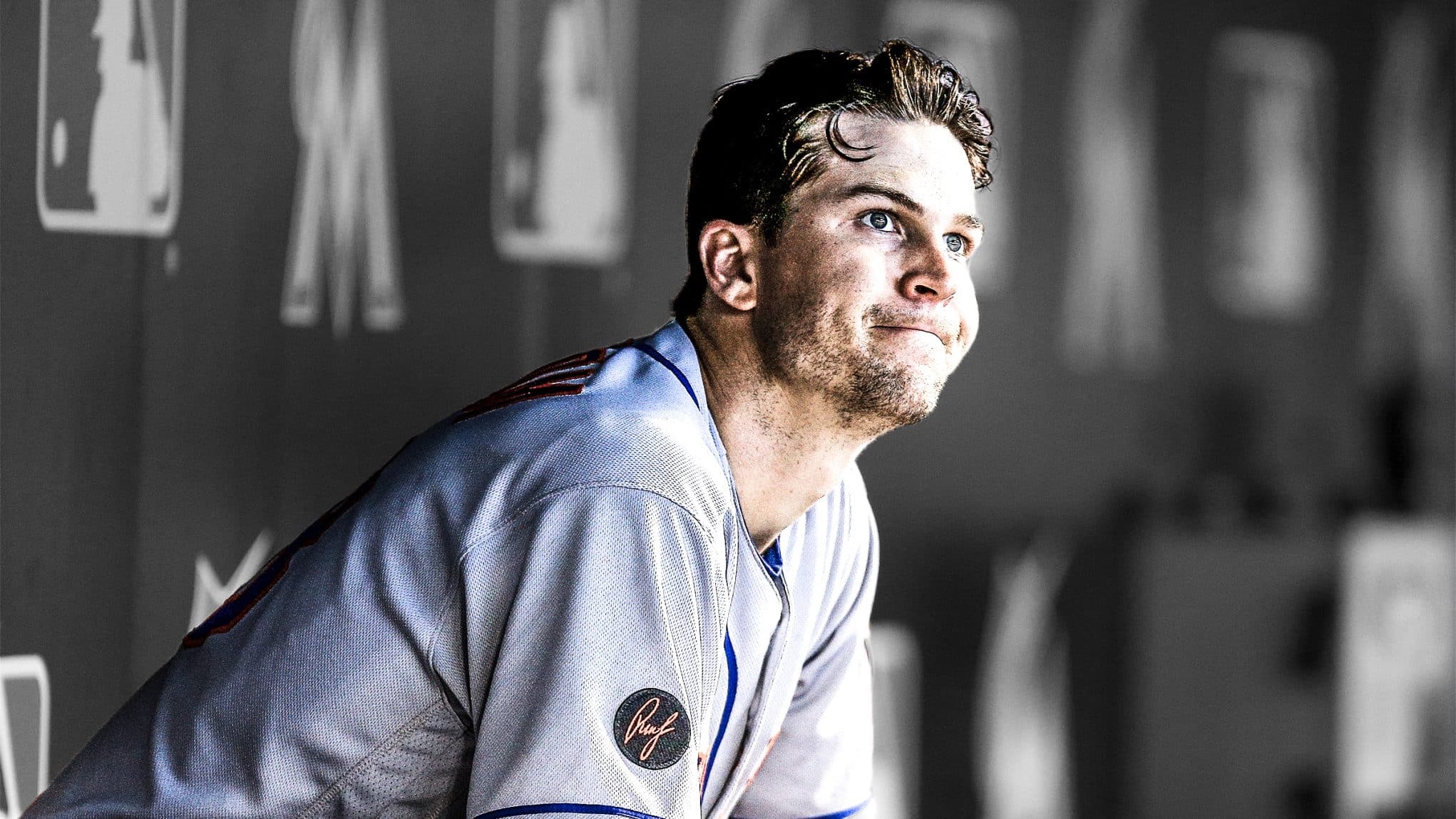 Due to age, proven injury issues and a thin farm system, deGrom's career-best statistics in 2018 equaled the perfect storm for the Mets to cash in. The man is 30-years-old folks. The man has already come out publicly with his team in announcing that he either wants that new long-term deal or to be traded. Now that he wasn't traded, all we can do is guess that the long-term deal will soon be in the works.
How exactly does that work for a 30-year-old pitcher?
Don't hate the smart front office that wants to trade a 30-year-old fan-favorite. Hate the rules. It's not the Mets fault baseball free agency is a rough system for the players—especially pitchers. These guys are just way too old by the time they hit free agency (in the majority of the cases). DeGrom is a tremendous pitcher, a Hall of Fame Met whose grittiness, especially during the Fall of 2015, will forever be cherished.
But the return he would have garnered was entirely too good to pass up. The man could have fetched a package that could change everything.
Even a Manny Machado-Mike Moustakas pairing on the Mets in 2019 won't get it done. Age in the field and injuries everywhere would be too overwhelming. We'd simply become overhyped with the thought of those two as the final piece before everybody gets hurt again. That's what happens with an older team.
Only a complete rebuild will get this thing righted the correct way.
Sure, you can call for Mickey Callaway's head and talk all night about how embarrassing 25-4 was. Just don't think either is a major factor in your team's overall vision.
With Jacob deGrom remaining in Queens, the New York Mets have missed a Brian Cashman-like golden opportunity to turn the franchise around. It's about time this franchise stops listening to the fans and starts to understand just how teams are winning World Series in today's game.
The young everyday positional gem is the new era of baseball and deGrom (and perhaps even Syndergaard) represented that golden ticket to a new future. Now, it's too late.