The Boston Red Sox sit atop the AL East, but for the New York Yankees, there are three keys that will help them overtake the division. 
The New York Yankees and Boston Red Sox are as close as you get to a heavyweight title fight.
No, not a Deontay Wilder and Anthony Joshua-matchup but a more similar bout to that of Joe Frazier and Muhammad Ali. Simply put, these two teams hate each other just as Ali and Frazier once did. The difference, however, is that the Yankees and Sox face off 19 times a season — and when that's the case, certain things will get messy.
As it stands the Yankees are five games back in the AL East but just three back in the loss column. They have played each other nine times with the Yanks winning five of those games.
There are obstacles each side have to take care of if they want to stay in contention down the stretch in September. The Red Sox tried to solve one of those problems by adding Nathan Eovaldi via trade with the Tampa Bay Rays on Wednesday. Prior to the move, the Yankees added a key bullpen arm, and arguably the best one available this trade season, in Zach Britton.
Following the Zach Britton deal, the Yankees, on Thursday pulled the trigger on J.A. Happ in exchange for Brandon Drury and New York's 20th ranked prospect, Billy McKinney. It was a deal bound to be made once the first starting pitcher was dealt. Clearly, both teams needed to make the appropriate moves to tighten up loose ends.
However, a huge blow to the face was delivered to the Yankees on Thursday when the news of Aaron Judge came down.
Judge, in the first inning of Thursday night's game, was hit by a pitch on the right wrist. He was taken to New York Presbyterian Hospital for an MRI, where he later found out he had a chip fracture. The injury, which will sideline him for at least three weeks, will be a major test to see how deep the Yankees' lineup actually is.
For the New York Yankees, winning the AL East crown is simple and here are three keys to avoiding the precarious Wild Card Game.
1. Starting Pitching
It's been a Yankees' calling card this season—starting pitching. While the Bombers have had good individual performances there was a clear need for another starter. On Thursday, Brian Cashman solved that problem with the addition of J.A. Happ. This season Happ has pitched to a 10-6 record with a 4.18 ERA in 114 innings pitched. The 35-year-old southpaw was arguably the strongest starter available and has some interesting numbers when it comes to pitching in the AL East.
The Red Sox made their move on Wednesday by answering the Yankees addition of Zach Britton with starting pitcher Nathan Eovaldi. Eovaldi, a former Yankee, was also on the radar for New York and their front office. With him off the market, and the Red Sox active, answering Boston's deal was a must for Cashman and company. Boston ranks fifth in all of baseball in terms of starting pitching ERA at 3.65 — while the Yankees sit tied for 14th with the Arizona Diamondbacks at 4.02.
There was a clear edge in what Boston had in their rotation compared to that of New York. Not by a lot, but statistically, they have proved to hold opponents to fewer runs per game. With Happ joining the Yankees, it makes for a perfect marriage based on the way he has pitched over the course of his career.
Since 2015, J.A. Happ's numbers against the Red Sox are that of a Cy Young-caliber pitcher. In just 10 starts he has a 1.78 ERA with 45 strikeouts to just 18 walks. During that stretch, the Sox have hit just .202 against him. This season, Happ is 0-1 versus Boston with a 0.84 ERA and 16 strikeouts in just two starts. This improves the Yankees' chances at securing the division in a big way.
The only downfall on Happ has been his woes in July. His last start was impressive against Baltimore but prior to that, he had given up 13 earned runs in three starts (he also gave up 5 unearned runs to Boston on July 12).
Starting pitching has been at the forefront of the conversation regarding the division all year. Boston's aforementioned ERA is part of what has propelled them to a lead in the division. The Bombers must pitch just as efficiently as Boston has this season or they will find themselves in the same deficit come September.
If Happ isn't enough, or injuries pop up, there are other options to see if this rotation can improve.
And it starts with Justus Sheffield or Chance Adams. The Yankees have had no problem with calling up young pitchers to round out the rotation.
Domingo German was called up from Triple-A after the injury to Jordan Montgomery and was sent down two months later because of his inability to control his fastball and changeup. Jonathan Loaisiga pitched to a 2-0 record and 3.00 ERA with 21 strikeouts after coming from Double-A Trenton, but he was shut down in early July with a shoulder issue.
The point is the Yankees have dipped into their farm system to make the starts on the mound when necessary, so what would hold them back from doing the same with Sheffield or Adams? Some have been effective and some haven't but it shouldn't make the Yanks reluctant to make the move if it makes sense.
CC Sabathia raves about Sheffield's mental approach and toughness. Take that and pile it with the fact he is also 4-5 with a 2.88 ERA between Trenton and Scranton/Wilkes-Barre already this season. His 99 strikeouts to 33 walks is a tremendous split and one certainly worthy of an MLB promotion. His only con stated by scouts and talent evaluators is that he isn't totally "finished off" yet per se.
Chance Adams, on the other hand, hasn't been as impressive as Sheffield — but definitely deserves his MLB debut sooner rather than later. With pitchers such as Loaisiga, German, and Cessa all getting their opportunities, Adams seems worthy and deserving of a spot on the Major League mound. He so far is 3-4 with a 4.89 ERA in Triple-A Scranton this season which isn't much to get excited about. Nonetheless, with his career 2.87 ERA and three years of service in the Minors, there may not be a lot more he can accomplish while being down in Triple-A.
The last option is more strategy then it is a choice of preference.
With Zach Britton now in the bullpen, is it enough to get the Yankees by? We have yet to find out but what it certainly does is make the game shorter. When playing the Red Sox, shortening the game is a major key due to the turnover in their lineup.
Having a pitcher like Sonny Gray on the mound may result in what we've seen take place in Tampa where the game becomes a bullpen day of mixing and matching relievers to get through the game. The difference being, the strength of the Yankees bullpen, which ranks tops in all of baseball.
Regardless, this is the first key to the Yankees taking the American League East crown. Pitching, pitching, pitching. It's been a thorn in the side for the Bombers but it will be the biggest x-factor in winning the division for this season.
2. Efficiency With Runners In Scoring Position
It's been a reoccurring issue for the Yankees almost all season: hitting with runners in scoring position. It is something Boston doesn't lack in their lineup compared to that of the Yankees. The Red Sox have hit .284/.370/.499 with RISP this season while the Yankees have hit a mere .249/.340/.432.
Furthermore, the Sox have 263 hits and 389 RBI with men in scoring position while the Yankees have hit significantly fewer in those categories with 208 hits and 328 RBI.
That fact must be added with the seismic shift that just took place in the Bombers' lineup as well.
Aaron Judge's .282 batting average and his 30 RBI with runners in scoring position will not be there in the near future. With their biggest bat on the shelf for three weeks at a minimum, it will once again fall on the shoulders of someone else in the Yankees' lineup. Replacing a force like that will be a major concern for New York. Giancarlo Stanton's time is clearly now, but there is another bat that needs to get back to the success he had before he got hurt.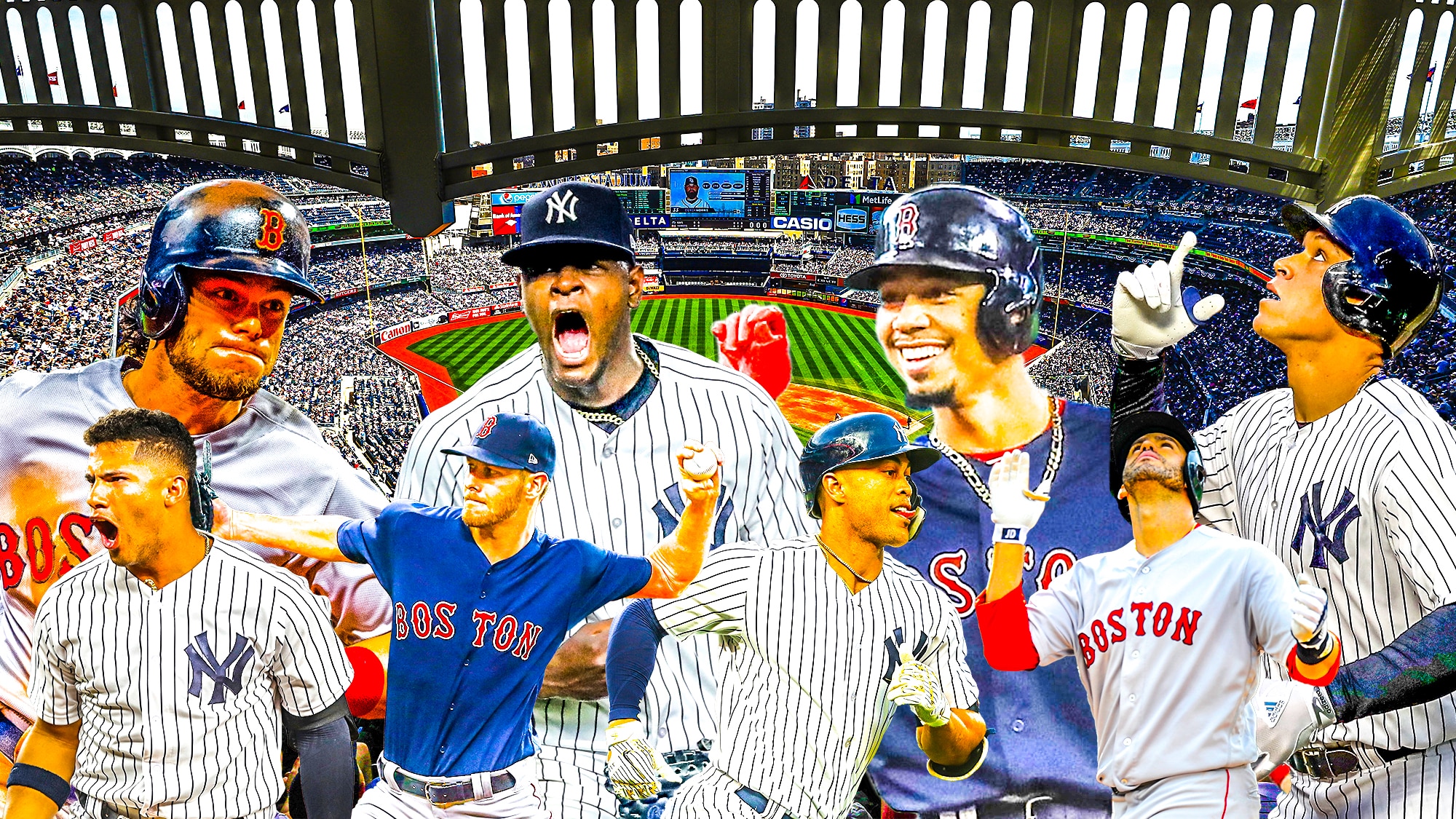 The starting lineup can rotate more fluidly with Gleyber Torres back in the lineup. Torres is just back from the DL so it will definitely take some time but Boston isn't waiting. It is why Boston leads the MLB with the most runs in baseball (556).
The Yankees have shown time and time again that they aren't efficient with runners on base. On a nightly basis in the box score, you will see the total "left on base" up around or over double digits. Including on Wednesday when they were again 0-for-4 with runners in scoring position and left eight men on base versus Tampa. That isn't the way you're going to win games let alone keep up with the pace Boston has set in the division.
There is no move the Yankees can make here except to just flat out improve. They are not in the market for a left-handed bat so no help is on the way. The Yankees must instead start helping themselves when runners are on base or they will find themselves in the same position they are when the season is over.
3. Simply Put, Beat Boston
When the Yankees play the top opponents in baseball they are lights out. Against teams above .500, the Yankees own the best record in all of baseball at 30-17. Against Boston this season they are 5-4 with 10 games left to play head-to-head. Those include a four-game series in Boston at the beginning of August and six more games (two series total) come September.
If the Yankees want to win the AL East, one thing is certain, they must take the series from the Red Sox when they play head-to-head. New York sits five games out which makes their games against Boston their best opportunity to make up ground in the standings. It's much easier to beat a team on the field than having to worry about watching the scoreboard.
The season series has been incredibly tight thus far. There have been blowouts, shootouts, and tight, low scoring affairs between the two.
Are we in store for a one-game playoff for the AL East crown?
Quite possibly, but if the Bombers don't take care of their in-house issues then they will be playing in the Wild Card Game in early October.
Aaron Boone has repeatedly spoken this season about taking care of their own business in regards to his team scoreboard watching Boston. The Yankees will have their shot against Boston 10 more times, and with a five and a half game lead, it means a ton.
There are three keys to the Yankees' chances at winning the AL East for the first time since 2012.
And just one team stands in their way.