The New York Mets got 2018 off to a great start, but it's gone downhill ever since. Is there any good news to share?
Outside of a hot start and an overall successful April, the past few months of baseball have been rather forgettable for the New York Mets.
After jumping out to a 12-2 record and actually holding down first place in the National League East, they're emerging from the All-Star break as a last-place squad. That's right — their 39-55 record is not only 13.5 games behind the behind the first-place Philadelphia Phillies, but it's also worse than the Miami Marlins.
You know, the team that appears to be in full tank mode after trading away all three parts of their star-studded outfield over the winter. That's not great, Bob.
With all of the losing that's happened over the past couple months, it's hard to find bright spots on this roster outside of guys like Brandon Nimmo and Jacob deGrom. That's what we're here for, though.
We set out on what looked like an impossible mission to find one encouraging statistic for each player from the first half. Outside of a handful of exceptions, these are players on the active roster. Hitters must have at least 50 plate appearances, and pitchers must have 25-plus innings of work.
And. Away. We. Go.
Brandon Nimmo's 139 wRC+ is among the 10 best outfielders in baseball with at least 200 plate appearances. He's also hit 68.4 percent of his career home runs this season.
Asdrubal Cabrera's 2.0 fWAR in 380 plate appearances (92 games played) is already higher than what he did in 2017 (1.3 fWAR in 540 plate appearances and 135 games played).
Jose Bautista posted a 4.3 percent line-drive rate through his first 60 plate appearances with the Atlanta Braves. That number is up at 24.7 percent in 160 plate appearances with New York. His overall 20.4 percent rate is on pace to be a single-season career high.
If Michael Conforto can maintain his 15.3 percent walk rate, it'd be the fourth consecutive season that number increases (8.8 percent, 10.3 percent, 13.0 percent from 2015-17).
Wilmer Flores' 5.9 percent swinging-strike rate is currently his lowest since 2014, and his 90.4 percent contact rate is on pace to be the highest it's ever been.
Devin Mesoraco has played in 62 games so far this season, accumulating 198 plate appearances in the process. Those numbers are already higher than anything he's done in a single season between 2015 and 2017.
Amed Rosario owned a 65.7 percent swing rate on strikes through June 30, but that number has been up at 77.6 percent since July 1.
Kevin Plawecki's current 15.5 percent soft-hit rate and 43.7 percent hard-hit rate are both on track to be career-high marks.
Dominic Smith posted a 50.4 percent ground-ball rate as a rookie in 2017. He's decreased that to 35.6 percent so far this year, with most of the difference going to his line-drive rate (16.0 percent to 26.7 percent).
Jose Reyes' 27.9 percent chase rate is the lowest it's been since 2009 (22.5 percent), while his 65.1 percent swing rate on strikes is the highest it's been since 2015 (69.9 percent).
(OK, that one was really hard.)
Yoenis Cespedes has been a well above-average hitter at Citi Field this year, with a 141 wRC+ in 67 plate appearances.
Jay Bruce, however, has been an above-average hitter on the road, evidenced by his 107 wRC+ in 115 plate appearances.
Todd Frazier's 8.3 percent swinging-strike rate is on pace to be a career-best mark, and only the second time it's been under 11.6 percent since debuting in 2011.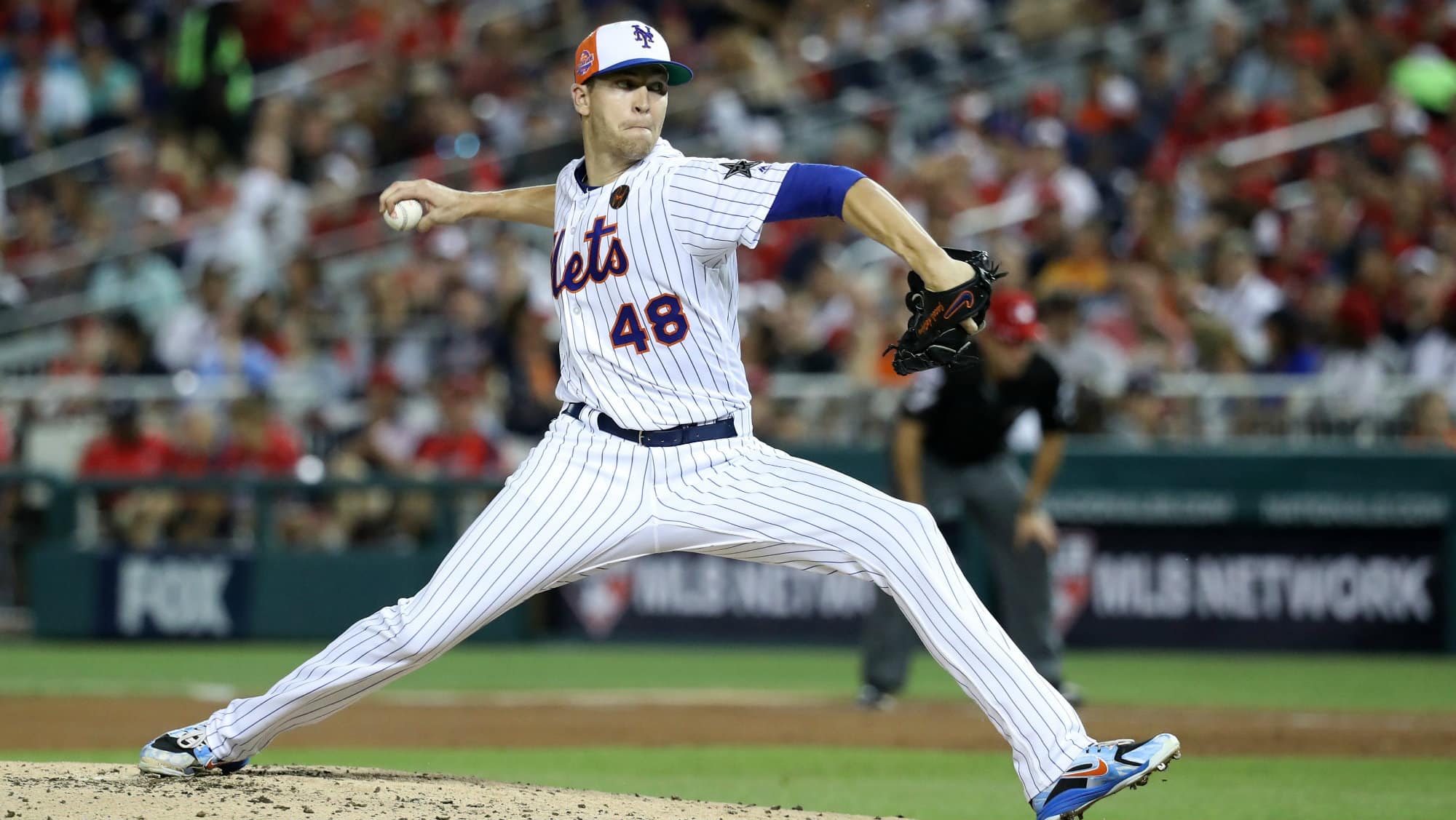 Jacob deGrom's 1.68 ERA is the lowest in baseball. Chris Sale is the closest to him (2.23), and Aaron Nola is the closest NL hurler (2.30).
(OK, that one was easy and fun.)
Steven Matz posted a 4.98 ERA through his first 21.2 innings this season. During the 74.1 frames that followed, his ERA has settled in at 2.91.
Noah Syndergaard's soft-hit rate allowed (25.9 percent) is higher than his hard-hit rate allowed (23.3 percent). If sustained throughout the year, those would be new career bests.
Zack Wheeler's average fastball velocity is 95.6 miles per hour, which would be the highest of his career. His average changeup velocity has also decreased to 87.6 mph.
Robert Gsellman's 79.0 percent contact rate allowed is on track to be a career-best mark, as is his 10.0 percent swinging-strike rate.
Jeurys Familia has increased his slider usage nearly 10 percentage points compared to last year. Opposing hitters own a -3 wRC+ with a 46.5 percent strikeout rate against it.
Anthony Swarzak's 64.4 percent first-pitch strike rate is right in line with what he did last year (65.4 percent). He owned a 2.33 ERA and was worth 2.2 fWAR in 2017.
(I know, I know, that was a huge stretch, but it's the best I could do.)
Jerry Blevins has limited right-handed hitters to a .268 wOBA so far this year. That number was up at .418 in 2017.
Seth Lugo is throwing his curveball at a career-high 31.7 percent clip, and opposing hitters have mustered just a 23 wRC+ against it (86 wRC+ in 2017).
Jason Vargas' 10.4 percent swinging-strike rate is on pace to be a single-season career high. It'd also be just the second time it's above 10.0 percent since making his big-league debut in 2005.
Mickey Callaway steered New York to a 9-1 start. This was not only the best start in franchise history, but he also became the third manager since 1900 to win that often through his first 10 games.
Some Stuff to Smile About After All
Look, there's no easy way to say this — the Mets have been playing so badly that it's rather difficult to watch them many nights. But even in the midst of a horrific season that's gone terribly wrong, there are some glimmers of hope for just about everyone.
I mean, if there can be something positive to say about guys like Reyes and Vargas, then it must be true, right?