After a rough three months, New York Mets shortstop Amed Rosario might be experiencing a breakthrough. Now he must keep it going. 
Major League Baseball has been spoiled in recent years when it comes to the shortstop position. Players like Francisco Lindor, Carlos Correa, and Corey Seager immediately let their presence be known upon making their respective debuts.
Those are typically the exceptions, though — not the rule.
That's probably partially why it's been frustrating for New York Mets fans to watch shortstop Amed Rosario mostly slog through the 2018 season. One could've hoped the 170 plate appearances he accumulated last season could've allowed him to hit the ground running this year, but not quite.
The 22-year-old former top prospect struggled throughout the spring and early parts of the summer…until now. Rosario has entered the All-Star break on what's likely the most productive two-week stretch of his abbreviated MLB career. But how sustainable is it?
A Flip Being Switched
Although it's taken a while for the swing adjustments Rosario has made to seemingly take effect, it's impossible to deny the results. Obviously, his sample size in July is much smaller than the rest of the season, but it also helps illustrate how big of a jump there has been.
The below table compares his walk rate (BB%), strikeout rate (K%), OPS, ISO, wOBA, and wRC+ from each month of the season thus far (July stats don't include Sunday's game).
| Month | PA | BB% | K% | OPS | ISO | wOBA | wRC+ |
| --- | --- | --- | --- | --- | --- | --- | --- |
| March/April | 87 | 4.6% | 25.3% | .607 | .088 | .268 | 69 |
| May | 97 | 2.1% | 16.5% | .725 | .160 | .308 | 96 |
| June | 81 | 7.4% | 24.7% | .595 | .095 | .261 | 64 |
| July | 38 | 10.5% | 13.2% | .897 | .273 | .348 | 122 |
There's still half a month to go before these comparisons will be apples-to-apples, but Rosario has looked like a different hitter since the calendar flipped to July.
Not Just a Swing Adjustment
Tim Britton of The Athletic wrote an interesting piece on the adjustments the Mets' young shortstop has made at the plate. One notable quote came from hitting coach Pat Roessler, who spoke to what this change is allowing Rosario to accomplish.
"He's just trying to keep his balance. Instead of coming off his back leg, he has a more solid base to hit from. That causes him not to jump, which allows him to see the ball longer, make better decisions and be in a stronger position to hit."
Everything referenced by Roessler is showing up in the numbers. This particular piece focuses on the drop in Rosario's chase rate — which desperately needed to happen. However, there should also be an equal amount of attention given to his swing rate on strikes.
Again, this includes uneven sample sizes, but it shows how much this number has jumped. Through June 30, Rosario was swinging at 65.4 percent of strikes, making contact at an 82.6 percent clip in that situation.
Since July 1, those numbers have increased to 77.8 percent and 90.5 percent, respectively. As a frame of reference, the league average swing rate on strikes in 2018 is 67.2 percent, while the contact rate on strikes is 85.5 percent.
Seeing the ball longer before actually swinging is enabling him to make better decisions, as Roessler mentioned. Getting himself in a stronger position to hit is also doing wonders for his quality of contact.
If the same time frame is used (through June 30 and since July 1), the results are just as drastic. To start the year, Rosario boasted a 21.2 percent soft-hit rate and 27.5 percent hard-hit rate. Those rates have improved to 17.2 percent and 34.5 percent, respectively, over the last two weeks.
Looking Ahead
There are plenty of good things to sift through when it comes to what Rosario has done recently. The next test, though, will be how he adjusts to the inevitable adjustments from opposing pitchers.
His 10.5 percent walk rate and 13.2 percent strikeout rate this month are fantastic, but there's likely be some regression coming — especially with a chase rate that still hovers around 40 percent and a swinging-strike rate above 13.0 percent. Staying disciplined and trusting his process will be critical following the All-Star break.
Which brings up another point — Rosario needs to play every single day.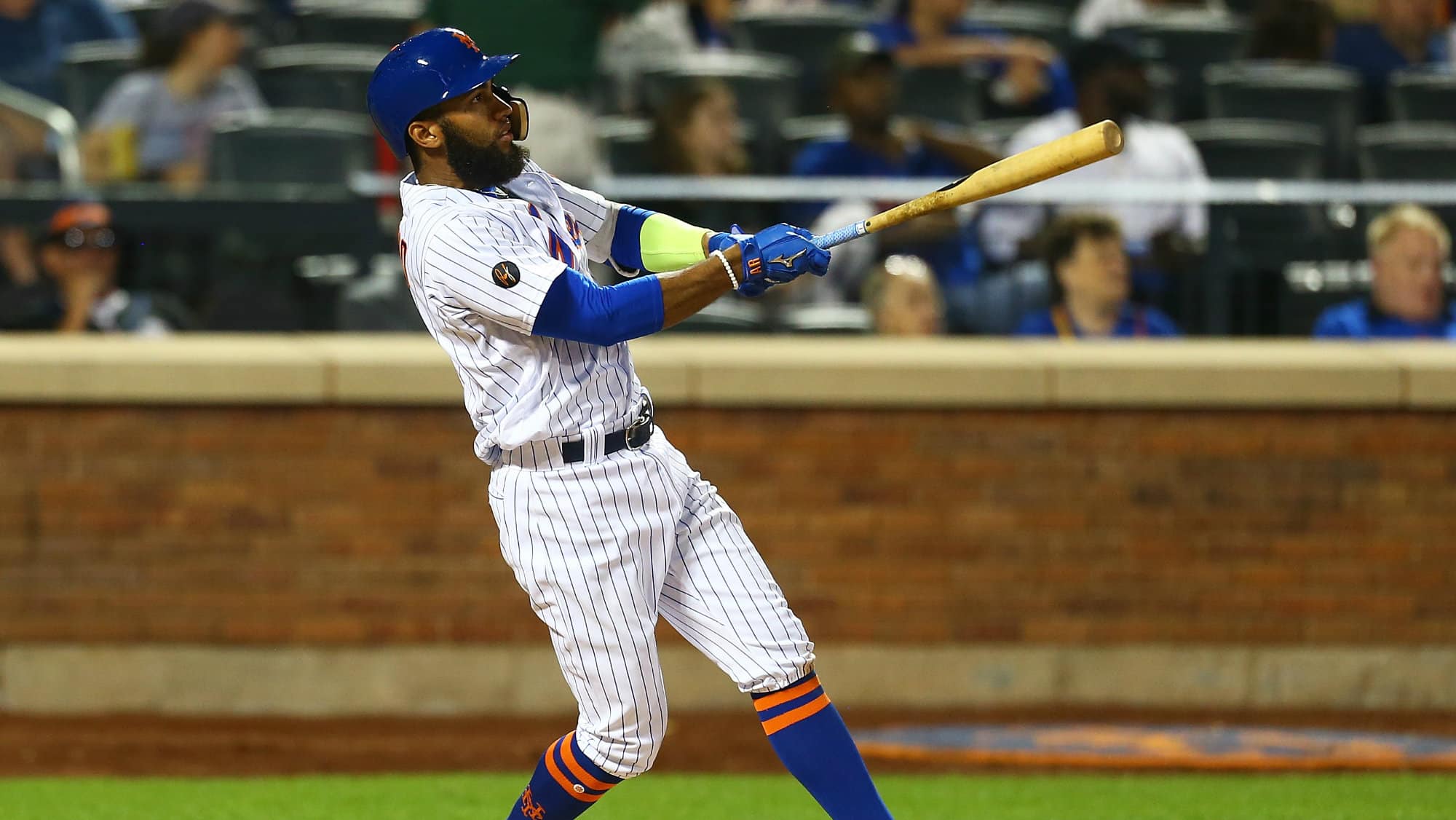 He's obviously going to need a day off here or there — he's only 22 years old, but he's still human, you know. The problem here is what manager Mickey Callaway did Thursday when the Mets faced Max Scherzer and the Washington Nationals.
Rosario wasn't in the lineup, and this was the reason why, via Matt Ehalt of NorthJersey.com.
"Rosario is in a really good spot and not that Rosario couldn't hit Max Scherzer, but Max Scherzer is one of the toughest guys in the big leagues against righties…Rather than make it a little harder on him, we figure we could get some good work in before the game and keep on focusing on the things he needs to do to continue to get better."
Callaway also said this:
"(Rosario is) making some significant adjustments at the plate…To do those and to maintain those against Max Scherzer is going to be super challenging."
Is he correct? Absolutely — Scherzer is one of the game's best pitchers. However, the logic here is ridiculous. Facing a hurler as good as Scherzer is a great test for Rosario to stay within his approach.
While this came off as trying to continue building the young shortstop up, it didn't look that way with regard to the perception. Who he faces shouldn't matter — the challenge will be a little more difficult depending on the pitcher, but that shouldn't change what he does at the plate.
Players can break good habits and stop bad habits against both good and bad pitchers. That's because it's all about their own decision-making process, not what the pitcher is doing. Will they generally experience less success against someone like Scherzer? Probably, but if the process is sound, the confidence should still be high.
Plus, he's a competitor — why not run him out there against Scherzer while he's feeling good about the progress being made?
With these adjustments in tow, the next two-and-a-half months will be critical toward Rosario's development. He needs to play as much as possible — and against all kinds of pitchers — in order to lay the proper foundation for the eventual outcomes in his performance.