Like the New York Yankees of 2017, the Atlanta Braves are looking to use the same formula that credited the Bombers with similar success just a season ago.
It was a Monday in September during a New York Yankees-Kansas City Royals make-up game when something magical took center stage. Aaron Judge stepped up to the plate and with one swing …
… cracked his 50th home-run.
It was the final touches on a season filled with young guns and flair — and it was lead by a former top prospect named: Aaron Judge. It was a loud and exciting awakening by a young star, equivalently to another team full of promising talent taking the field every day this season.
Now a year later, Aaron Judge and Gary Sanchez (still on the disabled list), along with the likes of Gleyber Torres and Miguel Andujar, have taken the spotlight of young talent headlining this Yankees team. But, starting on Monday night, another team on the brink of premature success entered the Bronx and showed the Yankees that same grit and grind they have been notorious to hand out to opposing teams.
Meet the Baby Braves, otherwise known as the Atlanta Braves.
Eighty-two games into the season, just about the halfway point, the Braves sit at 48-34 leading all of the N.L. East and the entire National League. At this time last season, the Yankees through 82 games were just 44-38, four games off the pace that Atlanta has set this year:
The Braves are 3.5 games ahead of the Phillies and seven games in front of the Nationals, who are a NL-worst 5-15 since entering June 10 with a half-game lead over Atlanta.

— Mark Bowman (@mlbbowman) July 3, 2018
Yes. It has become that much of an Atlanta Braves show this season. Who would have thought that during July 2nd-5th the headline of a Yankees/Braves series would be the "best teams from each league faceoff against one another"?
"Going into this season, I don't think we expected to be sitting here on July 2 in the first place," said Atlanta manager Brian Snitker, via Zach Braziller of the New York Post.
The Braves though, aren't stopping for the critics. They are using a formula and roster that gave the Yankees their success in 2017. It is being handled in a sense of the Yankees, basically, handing down the baton to their old mid-90s rivals.
Take Ronald Acuna Jr. and Ozzie Albies for example. Compare them to Aaron Judge and Gary Sanchez of last season. While we don't want to get too far ahead of ourselves, Judge's numbers were and seem to be much ahead of the pace set by Ozzie Albies this season. Aaron Judge hit 52 homers and drove in 114 runs last year to go along with his 128 runs scored. Albies is definitely on the pace to match his "run" total as he leads the National League with 65.
Judge had 79 total extra base-hits last season, while Albies seems to be on a very-very close pace with 46 extra base-hits. Put it this way, Albies's 17 home runs may not amount to the 52 stacked up by Aaron Judge last season, but he is on a torrid pace for a rookie the same way Judge was.
Ronald Acuna Jr. came on the scene this year like he was shot out of a cannon. After dealing with a scary ACL sprain just last month, Acuna Jr. has recently started to get hot again. His slash line sits at an impressive .274/.331/.496 to go along with his 7 homers and 18 RBI on the season. These numbers are far and away from what Sanchez did a year ago but that's not the point.
Young studs such as Acuna Jr. and Albies, not to mention Dansby Swanson and the always reliable Freddie Freeman, have taken the Braves team from 40-42 through 82 games last season to 14 games above .500 at this point this year. Not to mention they had a brutal stretch of three losing seasons in a row coming into this year.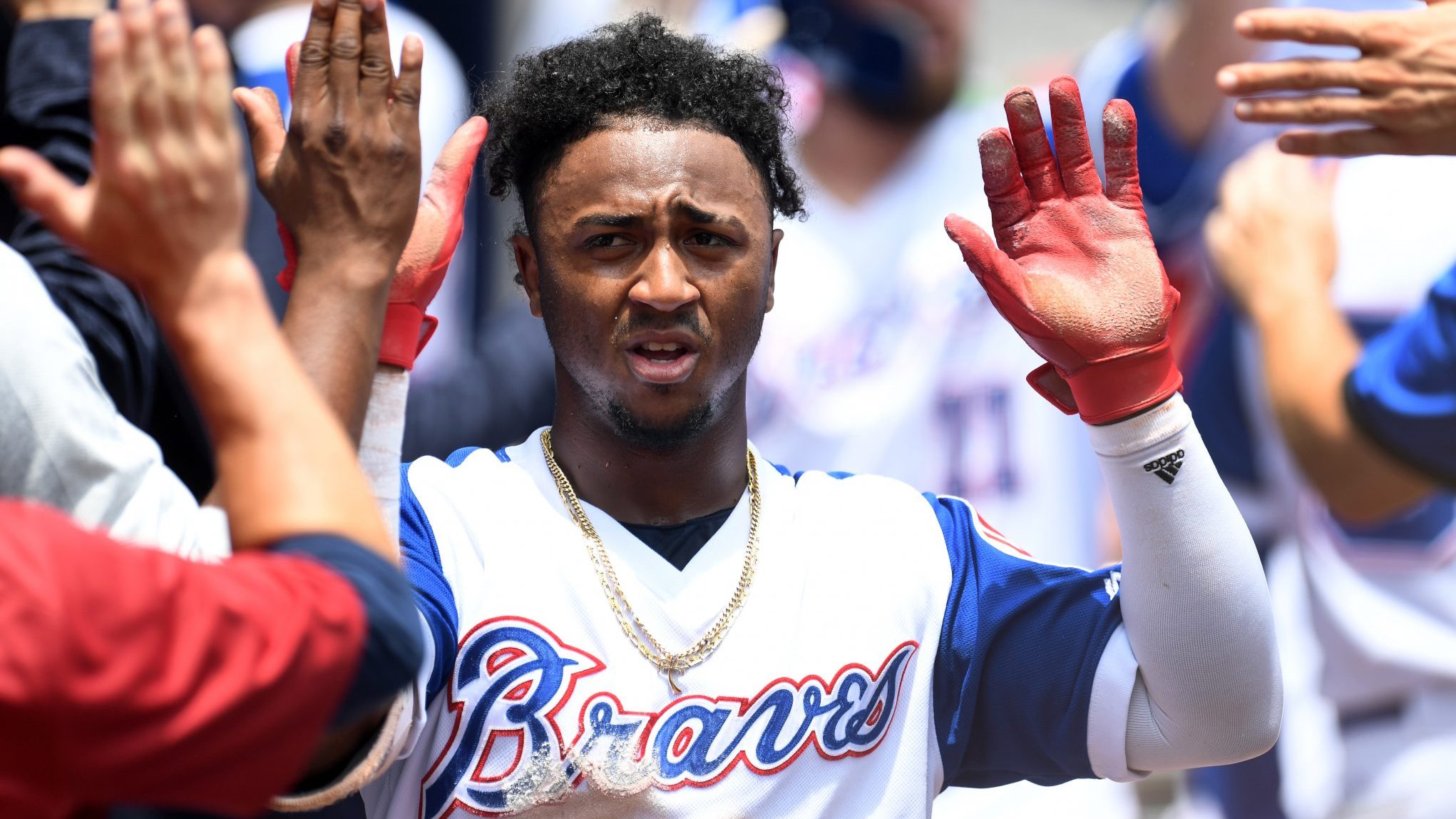 We are virtually looking at a mirror image 2017 season for the Yankees.
The Braves are trying to achieve what Brian Cashman intended for the New York Yankees to do by staying ahead of schedule. No one in the Braves organization saw this team as the National League's best on July 3 of this season — and if they did then they were lying. The Atlanta Braves have taken two of their very young stars and have stuck him directly in the mix to right the ship. Even Braves' pitcher Mike Foltynewicz shared the same tune:
"They had Aaron Judge coming up and Gary Sanchez, the young dudes that make the fans and city get pumped up. We have lot of them guys, too. The similarities are definitely there."
They are doing it in grand style. Arriving early on the scene, the Braves don't entertain the critics who say they are still in rebuilding mode. Take a peek at the rotation:
The #Braves starting rotation has now posted the best ERA in the National League (3.34) through 81 games, bumping the Cardinals starting staff to second place (3.46)

— 680 The Fan & 93.7FM (@680TheFan) July 1, 2018
The Yankees have paved the way for teams such as the Atlanta Braves to accomplish feats that they aren't expected to reach. It's as if New York has laid the blueprint on how to let your rookies take over a team with fresh legs and young star power. The talent has given teams a breath of fresh air which was visible on the 2017 roster of the Yankees and much accredited to the overall success the team had.
It comes down to the notion of "why" and "how" did the Braves get here so fast? It was the same question being weighed last season for the Yankees. Why are they ahead of schedule? Shouldn't they be rebuilding?
I myself, will ask you this: Does winning ahead of schedule matter or would you rather have a losing culture just to preserve the rebuilding process?
Let's just say there is a right answer to that question.