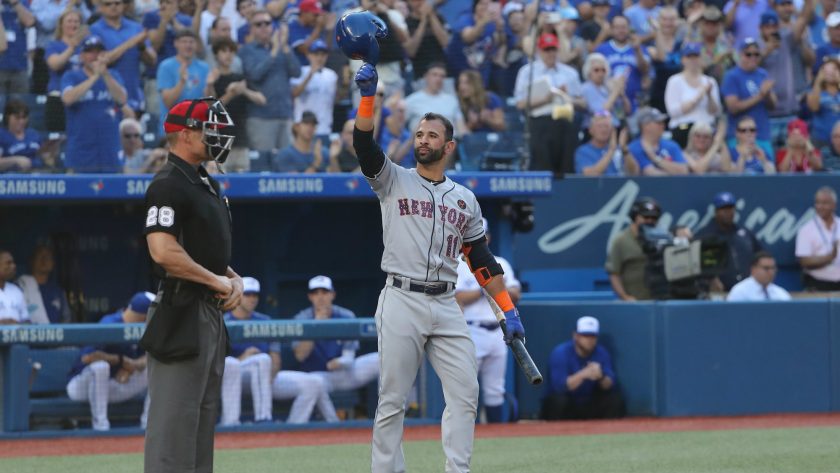 Jose Bautista appeared in Toronto, not as a Blue Jay, but as part of the New York Mets, Tuesday night, and the fans met him with an ovation.
The prodigal son returns.
Veteran outfielder Jose Bautista stepped up to the plate at the Rogers Centre Tuesday night, which is nothing new. He's actually done it thousands of times since 2008.
This time, though, he did it as a member of the New York Mets instead of the Toronto Blue Jays.
He was probably already in a glass case of emotion based off this pretty sick tribute video Toronto played prior to the first pitch being thrown, too.
Welcome back, @JoeyBats19. ? pic.twitter.com/ifZPGKSCd9

— Toronto Blue Jays (@BlueJays) July 3, 2018
After bouncing around from organization to organization and the majors to the minors for a number of years, Joey Bats finally broke out with the Jays in 2010 when he hit a league-leading 54 home runs. He followed that up with another 43 bombs in 2011, which also led the league.
His tenure with the club included six consecutive All-Star selections, three Silver Slugger awards, and four top-10 finishes in American League MVP voting before Father Time began catching up with him.
Needless to say, Bautista's time with the Blue Jays will always have a special place in his heart. And judging from the reception he received in the top of the first inning, he'll have a special place in the hearts of all Blue Jay fans for a long time.
Welcome back.

Blue Jays fans with a standing ovation as José Bautista returns to Toronto.

(via @Cut4) pic.twitter.com/t3NYJFEt14

— FOX Sports: MLB (@MLBONFOX) July 3, 2018
He finished the night with a single, a run scored, and three walks in five plate appearances. However, he also contributed to New York's 8-6 loss with an error out in right field.
The outcome of the game wasn't what Bautista was hoping for, but he's likely really happy to be back in his old stomping grounds. After all, he didn't even sign with the Atlanta Braves until after the 2018 season started and was released shortly thereafter before catching on with New York.
There wasn't any guarantee he'd even earn a chance to return home one last time, so let's hope he's savoring every last drop.