The New York Mets are primed to be sellers at the trade deadline. Anything appears to be on the table, and Wilmer Flores is making his case to get noticed. 
The month of July will be a crucial one for the New York Mets, and it has nothing to do with their on-field play. They've already proven over the past two months that any chances of contention are a mere figment of everyone's imagination.
What's so important about July? Well, now that Sandy Alderson is stepping away from his general manager duties, the incumbent trio of front-office executives are reportedly willing to listen to all possibilities prior to the non-waiver trade deadline.
Most of the attention from long-time Mets executive John Ricco's recent statements centered around Jacob deGrom and Noah Syndergaard. However, New York has a number of other intriguing trade chips other teams may potentially be interested in.
While they're open to exploring all possibilities, there are certain players more likely to stick around than others. That group includes Brandon Nimmo, Michael Conforto, Seth Lugo, and probably Robert Gsellman.
One player that hasn't been included in that group is 26-year-old infielder, Wilmer Flores. He wouldn't bring back a king's ransom in any hypothetical deal. However, his bat is warming up at the right time in order to see his name likely thrown into the trade rumor mill.
A Slow Start, But Signs of Good Things Coming
The month of April didn't go all that well for Flores on the surface. He slashed just .196/.281/.353 through his first 57 plate appearances, which led to a 78 wRC+. When diving a little deeper, though, his process at the plate provided hope that better days were on the horizon.
Flores' plate discipline was terrific, as he produced a walk rate (10.5 percent) that was higher than his strikeout rate (8.8 percent). And although one could've assumed his .182 BABIP (.270 in 2017) would regress toward the mean, that feeling was affirmed upon seeing a 39.1 percent hard-hit rate and 23.9 percent line-drive rate.
Both of those numbers would've been new career highs if the season concluded on April 30.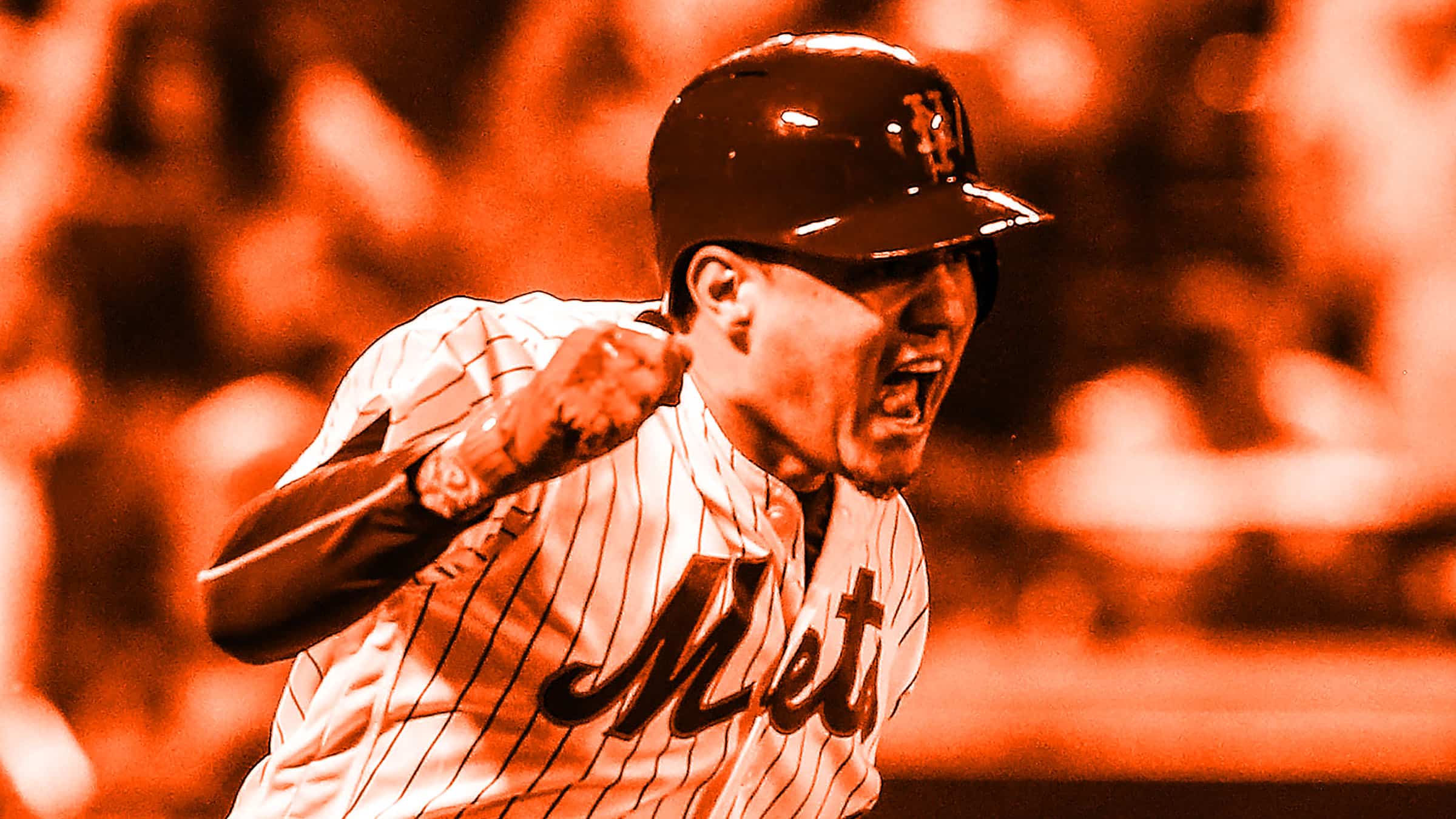 The Recovery ... And Then Some
Flores' peripherals made it seem as though experiencing a hot streak was just a matter of time, and that was certainly the case. He mixed in a stint on the disabled list due to back issues, but the infielder hasn't missed a beat since returning to the active roster.
Through 126 plate appearances since May 1 (not including Sunday's 1-4 performance), Flores is slashing .288/.341/.486 with four home runs and 21 RBI. Those numbers have helped produce a .350 wOBA and 124 wRC+.
He's been on a rather steady upward trend if this performance is viewed on a monthly basis, too. His wRC+ has improved from the 78 in April to 117 in May and now 134 in June as the calendar is flips to July.
What's Changed?
This uptick in overall offensive production must come with some changes in Flores' peripheral stats, right? That is indeed true, but only in certain cases.
His plate-discipline numbers have mostly stayed the same. After posting a 46.8 percent swing rate through the end of April, that number has only gone up slightly to 47.6 percent.
The thing that's changed the most, though, is his batted-ball profile.
Here's a quick look at how Flores' line-drive rate (LD%), ground-ball rate (GB%), fly-ball rate (FB%), soft-hit rate (Soft%), and hard-hit rate (Hard%) changed after May 1.
| 2018 | LD% | GB% | FB% | Soft% | Hard% |
| --- | --- | --- | --- | --- | --- |
| Though 4/30 | 23.9% | 39.1% | 37.0% | 26.1% | 39.1% |
| Since 5/1 | 11.9% | 31.7% | 56.4% | 21.8% | 33.7% |
Well, this is a new development…kinda. Flores having a batted-ball profile that's more extreme toward fly balls has been progressing in this manner for a number of years.
After a career-low 37.1 percent fly-ball rate in 2015, it rose to 45.0 percent in 2016 and 45.8 percent in 2017. However, it's interesting to see this all happen despite a decreasing hard-hit rate.
One statistic not included in the above table is the change in Flores' infield fly rate. After posting a 10.6 percent rate last season, that number was all the way up to 17.6 percent through one month of the season. Since May 1, that number has come down to 12.3 percent, much closer his career norms.
He Should Get Some Interest on the Trade Market
The Mets just finished the month of May with a 5-21 record, which is their third-worst month in franchise history. There really wasn't any doubt that the 33-48 club would be sellers, but everyone can officially wrap their minds around it now with the front-office changes taking effect.
It's hard to find a reason why contending teams wouldn't at least be interested in Flores. His bat is heating up at the perfect time following that slow start, and while he's far from a top-tier defender, he's logged innings at first, second, and third base so far in 2018.
There's also the added bonus of being affordable and under team control. Flores is earning $3.4 million this season and will enter his final year of arbitration in 2019 prior to becoming a free agent next winter.
The 26-year-old has proven to be a valuable and somewhat versatile bat off the bench throughout his career. And when consistent playing time comes his way — which has happened plenty with all the injuries in Queens — he's taken advantage.
Everything is on the table for the Mets from the perspective of trades. With Flores' reputation and recent play, it'd be shocking if no contending teams called to find out what they'd need to surrender in order to acquire him for the stretch run.