BIG3 continues its community outreach tour, visiting the Boys & Girls Club of Chicago with a youth clinic led by Jerome Williams.
"What do we want to play?"
"Defense!"
Those words echoed loudly just three blocks west of the United Center at the Boys & Girls Club of Chicago on West Monroe Street. On Thursday, roughly 50 children ranging from ages 7 to 14 piled into the gym to participate in Young3's Youth Clinic led by Jerome "Junkyard Dog" Williams and sponsored by Adidas.
Williams, a nine-year NBA veteran, transitioned to the role of president of BIG3's youth outreach program after playing for Power last season. The clinic marked the second of its kind in 2018. The league held a similar event prior to opening the season last week in Houston. Young3 represents BIG3's commitment to being involved in various different communities and giving back to the very fans that support this new venture.
"You know, it's so vital that BIG3 reaches out to the community," Williams told Elite Sports NY. "We are the retired players of the NBA and professional sports that fans have grown to love. And for us to come back again and say, 'hey here we are, we're not done yet' – we don't want them to think that this is just something that benefits players. We have to make sure they understand we're coming back to say thank you to our fans, thank you to the people who have supported us throughout our careers."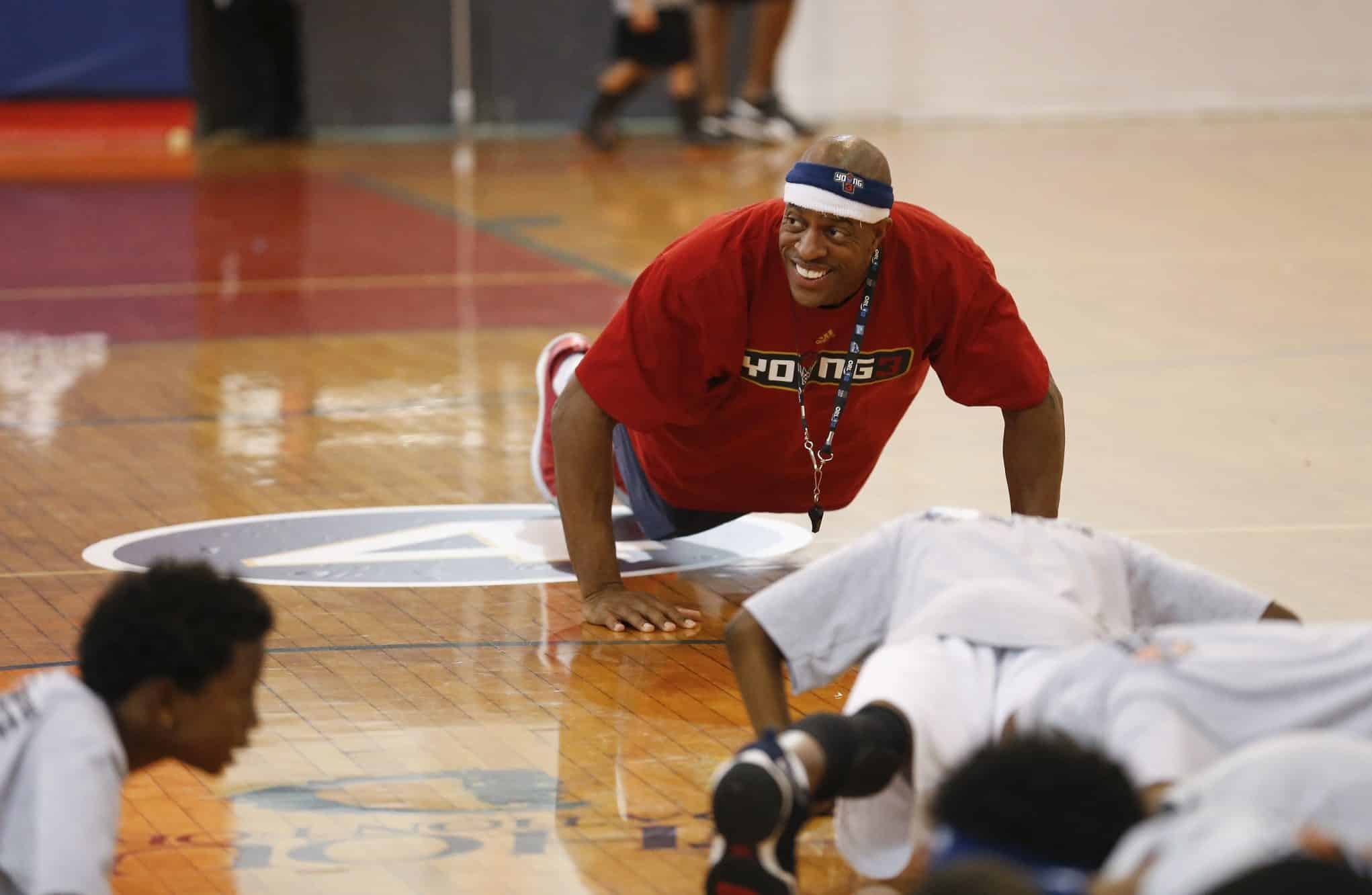 Williams and his team of coaches led the kids through a series of stretches, followed by drills to emphasize basic fundamentals. Passing, rebounding, shooting, shot fakes, and jab steps were all on the agenda today and any mistakes led to Williams dropping down to do push-ups with the kids.
Among those coaches is another name you might remember, Erin Thorn, who spent six seasons in New York playing for the Liberty. With her playing days behind her, Thorn has settled into several different youth outreach roles, most notably being an integral part of Young3.
"That's what the BIG3 is about," Thorn said to Elite Sports NY. "Giving back to these communities that gave these guys so much when they were playing in the NBA and now they just want to continue to play, but at the same time give back to the community that like I said gave them so much."
It wasn't long before Commissioner Clyde "The Glide" Drexler showed up], echoing just how vital community outreach is to the vision of BIG3.
"Well community outreach is huge," Drexler explained to Elite Sports NY. "Our co-founders Jeff Kwatinetz, Ice Cube really believe in giving back and every community we go into we want to make a difference. We want to have fun with the kids there. We want to tell them about what basketball has been able to do for many of our players in the BIG3 and we just want to share and give back. And through our partner Adidas, we are able to do that in a big way. Jerome Williams, our director of Young3, is incredible. He's got programs all over the world basically and it's a beautiful thing to watch.
And some would say Chicago is the perfect place to invest in youth basketball. Time and time again it has proven as a hotbed for top talent. Stars like Anthony Davis, Dwayne Wade, and Derrick Rose all hail from the Windy City, not to mention NBA veteran and current BIG3 player Quentin Richardson. With time spent in Chicago as a member of the Bulls, Williams was able to elaborate on just how important Chicago is to the world of basketball.
"Well as a former Chicago Bull, you know, I played in this city," Williams said. "I enjoyed playing in this city. I enjoyed the fans in this city. Every game I played here was a sellout. So, I really don't know anything other than Chicago love. And I think it's very important that we spend time in a city like this and give back in a city like this because of the fans here that have been so endearing to the Bulls and the NBA as an overall organization. So we feel great that were able to return to this city for BIG3 because last year was a sellout and we want to do it again this year."
In her ten years spent in the WNBA, Thorn also spent time in Chi-Town. After departing from the New York Liberty as a free agent, the former BYU star chose to sign with the Chicago Sky and spoke to just how important the city of Chicago was to her career.
"I actually played in Chicago during my WNBA career for three years, so this is fun for me to come back and give back, again, to a community that was part of my basketball career," Thorn said. "But also, just the history behind the Chicago Bulls and the Jordans and the Pippens and even the older ones, you know. We're just here trying to give back."
With Adidas backing them, Young3 has had the opportunity to do a lot of good in the community. Recently, BIG3 refurbished an outdoor court on the West Side of Chicago, putting down BIG3 logos and four-point shot circles to create the feeling of playing on an actual BIG3 court. Also, the support of Adidas has allowed them to adopt new technologies that will only further improve the way professional athletes and coaches give back to their young fans.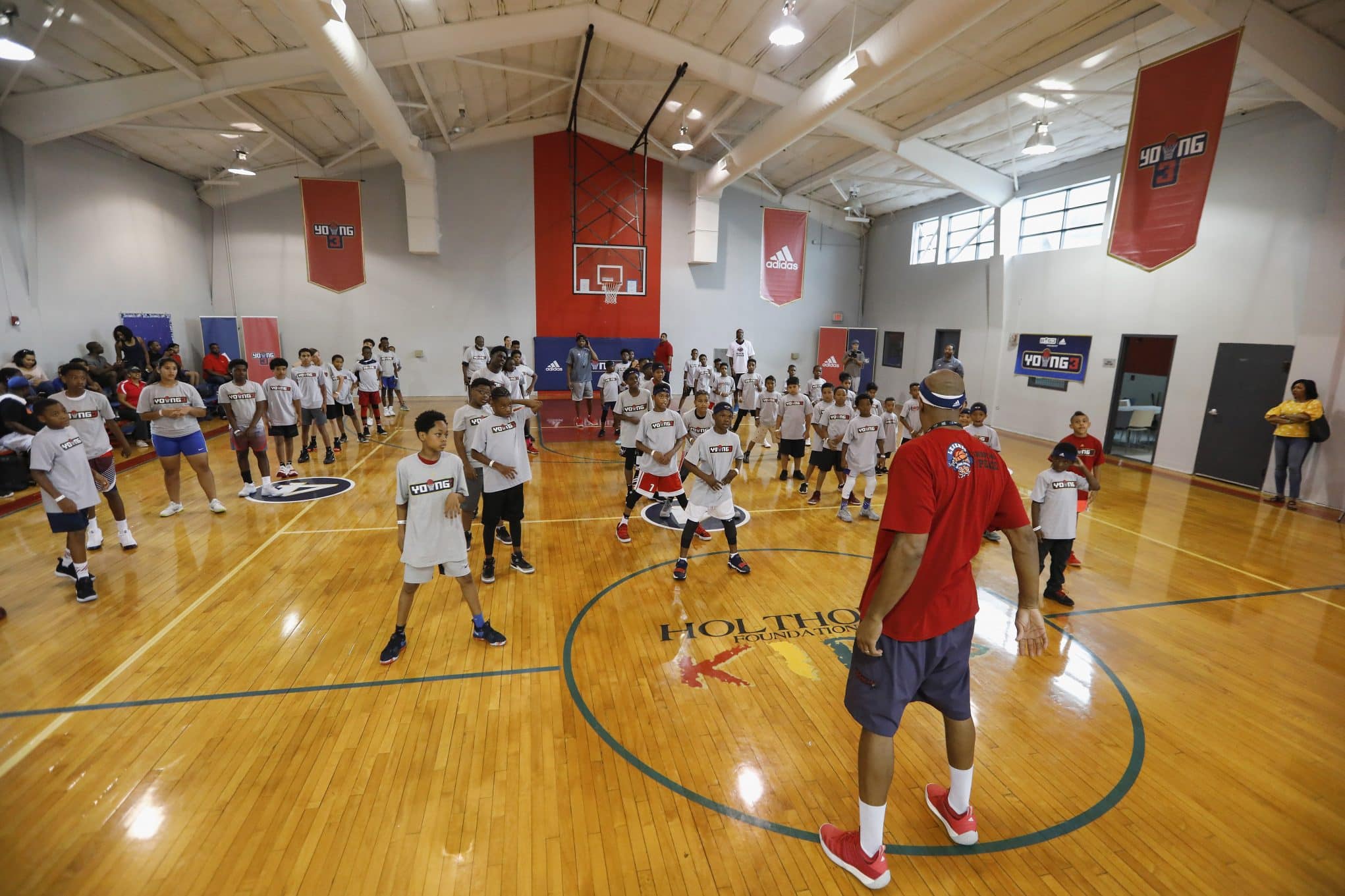 "Real-time coaching and real-wear technology is something that's just is groundbreaking," Williams told ESNY. "Because when we leave here today, every kid here will have five free one-on-one coaching sessions with one of these coaches that have the technology to give them a pointer, to reach back to them on video, a personal video, a personal message from them via text or video. And that comes from real-time coaching and the real-ware head unit which allows coaches to actually see, like they can be able to see a coaching session going on right now through their headset in another state, in another place, at another time. So that's going to revolutionize the game in terms of, you know, professional athletes being able to reach more kids, talk to more kids, coach more kids, mentor more kids, and help them to reach their goals. You know, we can't be in every gym in every city, but when we touch them like this and then we can actually touch them again and it doesn't cost them anything, that's where you see Young3 and BIG3 making it smart. And if they want to continue there's just a small fee to get the continued coaching."
Young3 will continue to host clinics in every city they travel to over the next eight weeks. As they continue to grow in popularity, BIG3 and their youth outreach program are slowly cementing themselves as a vital presence in many different communities. As Clyde Drexler stated during his closing remarks, "We just want all kids to play three-on-three basketball." If all goes well, BIG3 will have a bright and prominent future not just as a form of entertainment and stepping stone to the NBA, but a difference maker in the lives of thousands of children across the country.