Three-on-three basketball is here to stay, which is why you need to tune into BIG3 this Friday. Plus, what to expect from week two matchups.
Clyde "The Glide" Drexler is one of the greatest players to ever set foot on a basketball court. This is not an opinion. It is a fact evidenced by his enshrinement in the Naismith Basketball Hall of Fame.
The 10-time NBA All-Star has found success at every level he has ever competed on. A prominent career at Ross Sterling High School in Houston, Texas led him to join what would become "Phi Slamma Jamma" at the University of Houston. His time as a Cougar would result in the Portland Trailblazers selecting him 14th overall.
Flash forward 35 years later and you will still find Drexler deeply rooted in the game of basketball.
The Glide currently sits at the helm of BIG3, a relatively new venture that is expanding the horizons of professional basketball in its second season. Drexler was promoted to commissioner of the league after his predecessor, Roger Mason Jr., was relieved of his duties as a result of corruption allegations. He is set to serve in this role for the next three seasons.
Three-on-three basketball is by no means a new idea. After all, any pickup basketball veterans have played their fair share of it. But what BIG3 represents is not just a new form of entertainment. The brainchild of Ice Cube and Jeff Kwatinetz offers a second chance to those seeking basketball redemption. It is a vehicle that will hopefully lead many of its participants back to the ranks of the NBA.
"The BIG3 is the most competitive three-on-three professional basketball in the world," Drexler told Elite Sports NY during Tuesday's BIG3 media conference call. "These guys who come here, they have to be in great shape. This is not old man basketball. These are guys who can still play at an NBA level."
And for some, this might just be their last chance to regain NBA glory. Former NBA journeyman Nate Robinson has openly sought a return to The Association and has bided his time with stints in Israel, Venezuela, and the G League. Robinson, along with Carlos Boozer, Drew Gooden, and Baron Davis were among a handful of names dropped by Drexler of examples of players who he believes could positively contribute to an NBA bench right now.
"We're hoping a bunch of these guys will be relaunched into the NBA," Drexler elaborated. Because if you look at spots eight through 13 on an NBA bench, a lot of those players are young. They need to be filled with veterans who can help these young kids and veterans who can still play."
BIG3 co-founder Ice Cube echoed a similar sentiment when posed the same question.
"I do think without a doubt, you know, we have players that could definitely make an NBA roster," Ice Cube told Elite Sports NY.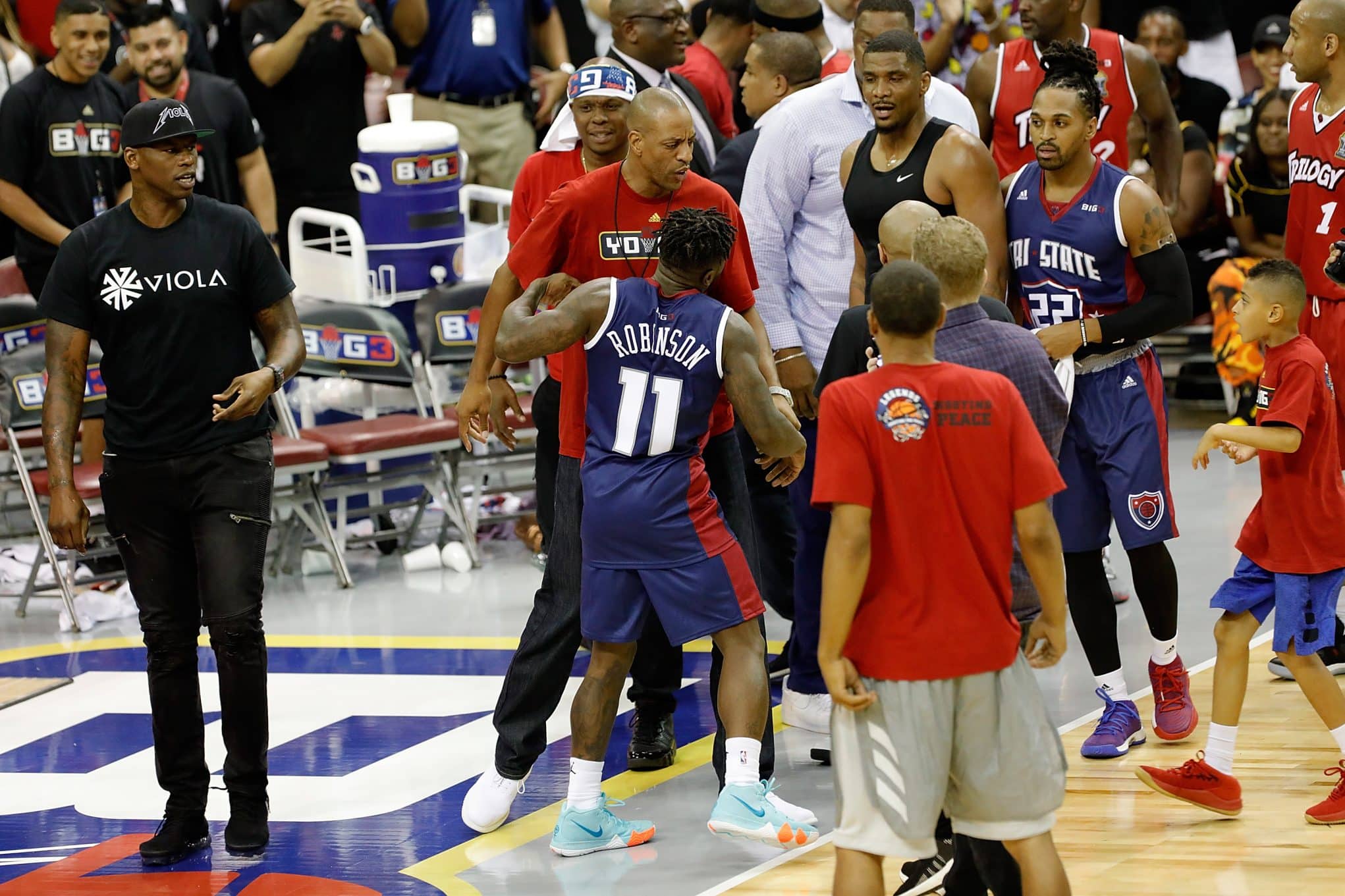 And to be fair, they're not wrong. The BIG3 roster is jam-packed with exciting players that captivated us at the NBA level once upon a time. Between Rashard Lewis, Kenyon Martin, DeShawn Stevenson, and Cuttino Mobley (the "original Uncle Drew" as Drexler put it), there is no shortage of star power. The league is also filled with an inordinate number of players with ties to the New York Knicks organization. Amar'e Stoudemire, Nate Robinson, Mike Bibby, James White, Baron Davis, Metta World Peace, Al Harrington, and Quentin Richardson all have called Madison Square Garden home at some point in time. And of course, we cannot forget Charles Oakley, coach of the Killer 3's and infamous enforcer of the 90s Knicks.
It's impossible to say what BIG3 will be long term. Whether it gravitates towards being pure entertainment or rather a legitimate stepping stone to the NBA remains to be seen. For now, it remains an exciting alternative for any basketball fan looking for an outlet to fill the void left behind by the NBA offseason. The NBA is now viewed as a year-round sport by some and existence of BIG3 only serves to strengthen that. With Clyde Drexler steering the ship as commissioner, the future is bright for this league and should only see its popularity, pool of talent, and competitiveness grow.
"I'm hoping that the NBA is watching the performance of these legends on the three-on-three court and its been fun to watch."
BIG3 basketball returns this Friday at the United Center in Chicago. Check out the primer below for a preview of this week's matchups.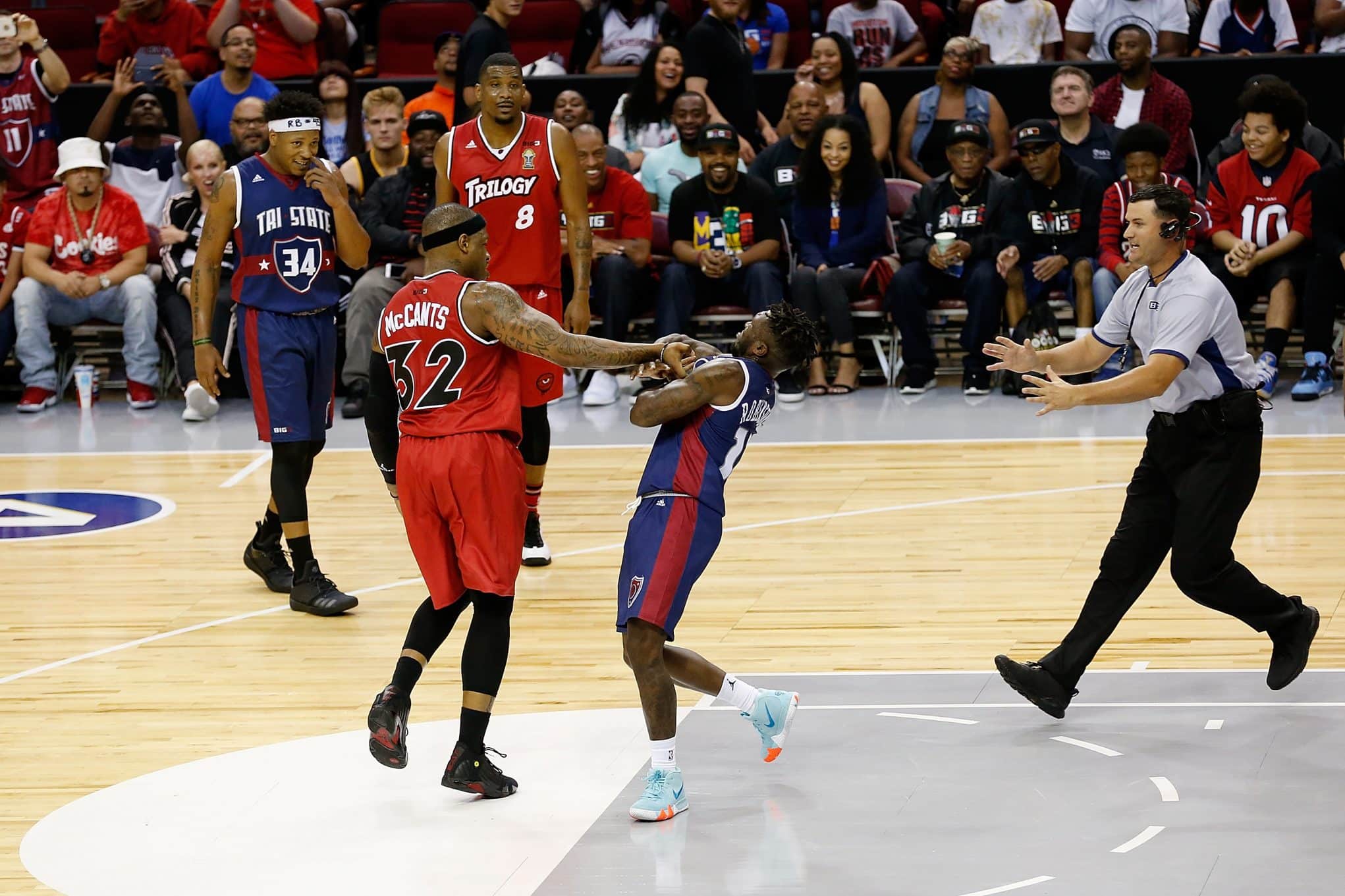 Week Two
Killer 3's (0-1, Coach: Charles Oakley) vs Ghost Ballers (0-1, Coach: George "The Iceman" Gervin) – Both of these teams suffered losses in the opening week of the season. With only eight games on the schedule, a 0-2 start could be devastating. Killer 3s' captain Chauncey Billups will not suit up again this week. He is still recovering from offseason surgery. The Ghost Ballers are an interesting squad to watch as Commissioner Drexler referred to them as the "most complete team in the league."
Ball Hogs (0-1, Coach: Rick Barry) vs Tri-State (1-0, Coach: Julius "Dr. J" Erving) – Tri-State is still riding high after delivering the defending champs (Trilogy) not only their first loss of the season but their first loss in BIG3 history. This is a unit with tremendous talent that includes Nate Robinson, Amar'e Stoudemire, Jermaine O'Neal, David Hawkins, Robert Hite, and Bonzi Wells. The Ball Hogs, led by Brian Scalabrine, Josh Childress, and DeShawn Stevenson, have talent, but could not find a way to put it together in week one.
3's Company (1-0, Coach: Michael Cooper) vs Power (1-0, Coach: Nancy Lieberman) – While speaking to Elite Sports NY, Commissioner Drexler predicted that this could very well be the game of the week and possibly a preview of the BIG3 championship. Both sides feature new coaches in Michael Cooper and Nancy Lieberman. These teams are both talented and well coached which should make for an exciting matchup. A quick note – Last week Michael Cooper became the first coach to win a game in the NBA, WNBA, G League, and BIG3.
Trilogy (0-1, Coach: Rick Mahorn) vs 3 Headed Monsters (1-0, Coach: Gary Payton) – Week two features a rematch of last season's BIG3 championship game. Al Harrington is set to return to action for Trilogy after sitting out last week as a precaution. Trilogy is coming off their first loss in BIG3 and dealt with a speck of controversy after a skirmish nearly broke out due in part to the pre-game antics of Rashad McCants and post-game celebrations of Nate Robinson.
"What we like to do is not control the guys' emotions, but the one thing we can't do in the BIG3 is have any kind of fights or unsportsmanlike conduct," Drexler said regarding the incident. "So everything has been reviewed. We saw no reason – it's still being reviewed as a matter of fact and we didn't see any punches thrown. We saw a guy trying to get a mask. Other guys from the other team grabbed him and said, 'hey, put that back.' It was a lot of drama, but nothing really happened. I think the excitement of the moment got to Nate Robinson, who I've talked to. You can tell they really are competing to be the best team and that's exactly what we want in the BIG3."
On the other side of this matchup, the 3 Headed Monsters feature the reigning MVP of BIG3 in Rashard Lewis. Co-Captain Reggie Evans garnered player of the week honors in the first game of the season with 17 points and 14 rebounds.
BIG3 kicks off this Friday at 7:00 p.m. ET. Game one will be streamed on the Fox Facebook page while the rest of the matchups will be broadcast live on FOX.