Seth Lugo's rise to the big leagues was improbable, but now he's one of the most dependable pitchers on the New York Mets.
He was the 1032nd overall pick out of his hometown college. Players like that usually don't become difference makers, but Seth Lugo has been just that for the New York Mets in 2018, doing what he always does, defying the odds.
Something of a shining beacon among dark times in what is quickly becoming a lost season, he has been among the few names upon which embattled rookie manager Mickey Callaway can rely upon. Whether as a setup man, utility pitcher or steady starter, Seth Lugo has established himself as an indispensable member of the staff.
Lugo has made more use of one of the best individual pitches in baseball has made him that much more of a weapon. Simply put, he has the nastiest curveball in the National League — with the highest spin rate, according to Statcast.
Lugo turned heads in the bullpen and sports one of baseball's best individual pitches with its other-worldly spin rate. Moreover, Lugo is throwing it more than ever, almost one-third (29.5 percent) of the time compared to the 17 percent he was throwing it during his first two years, according to Fangraphs.
The spin rate of his curveball ranks third in all of baseball. Only he and Garrett Richards have topped 3400 RPMs in 2018. Lugo and Richards have thrown each curveball with the 25 fastest spin rates, and he has the eight-best spin rates in the National League.
On top of that, he has added two miles per hour to his fastball and is displaying a biting sinker to go along with his vaunted curve. While his fastball has averaged a brisk 93.5 mph in 2018, Lugo has made a living off his curveball.
Mickey Callaway told Matt Ehalt of North Jersey:
"Great spin on it. He can use it in various ways and bury it and throw it for a strike. A lot of guys that have a big curveball like that just throw it and might not have as good command as Lugo does with it. That's a big weapon for him."
After impressive early season work out of the bullpen with a 2.25 ERA and .95 WHIP, Lugo has now provided a boost to the rotation, posting a 3.52 ERA and 10.6 K rate in five starts, including a 2-0 shutout over the Yankees in the Subway Series.
The fact that Seth Lugo was even in camp and healthy in 2018 is emblematic of his penchant for overcoming adversity.
Lugo, 28, is bucking convention by just pitching. Like ex-teammate Matt Harvey in 2013, Lugo was diagnosed with a partially-torn ulnar collateral ligament (UCL) in April of 2017.
"Traditionally this injury would lead to Tommy John surgery," as noted by Billy Collins of Baseball Essential. Harvey went that route and was never quite the same. "Instead, Lugo was injected with platelet-rich plasma (PRP)," to promote healing.
Lugo was back on the mound by June and made 19 appearances and 18 starts and actually finished fourth on the team in innings pitched, though he struggled at times during his sophomore year, after bursting onto the scene in 2016. Lugo pitched to a 4.71 ERA, though he did have a 3.95 FIP but was a lot more hittable giving up over ten hits per nine-innings, three more than his rookie mark. He did, however, still have the fourth highest spin rate according to Statcast on Baseball Savant.
The fact that he is even here is a mark of courage and perseverance.
Lugo spent three months of his first full professional season bedridden, unsure if he would ever pitch in another professional game, as Adam Rubin then of ESPN detailed. After performing well in a short stint in rookie league ball, Lugo began feeling back pain. What he thought was a back spasm was much worse.
"I was losing the mobility of my right leg. It was numb, tingly, painful.  I was losing a bunch of muscle mass in it, too. That sciatic nerve was just too much. It wasn't a whole lot of back pain. It all radiated through my leg,"
It was Spondylolisthesis, detailed Mike Vorkonuv of NJ Advance Media. The vertebrae in his spine were displaced which required a 10-hour surgery. There was a risk he would never pick up a baseball again.
As he told Rubin:
"We saw it as if I wanted to pitch again, I needed to have that surgery. They didn't tell me I could never pitch again until the doctor told me that the day of the surgery. A couple of hours before, I'm starting to second-guess it. But the nurse came in and reassured me, He says that to everyone. Don't worry about it."
He then spent three months recovering and missed the entirety of the 2012 season.
"I got one of my buddies to move my mattress in front of the living-room TV. And that was my little area for three months. I could walk around and stuff, but I couldn't bend over, twist. I couldn't do any activities or anything, so I just watched TV and played video games."
Lugo made it back to the mound. As a 34th round pick, who the Mets drafted despite his 5.57 ERA as a senior at Division III Centenary, Lugo had to leapfrog prospects in whom the Mets had more invested. He did just that by way of merit, a hard fastball and a curveball that eventually made scouts take notice. By 2015, he was a step away from the show.
It looked like Lugo might have hit his ceiling in 2016. Pitchers with a 6.50 ERA and 1.67 WHIP who yield over 12 hits per nine innings — in Triple-A don't usually get called up to the show. Yet again, Lugo defied the odds.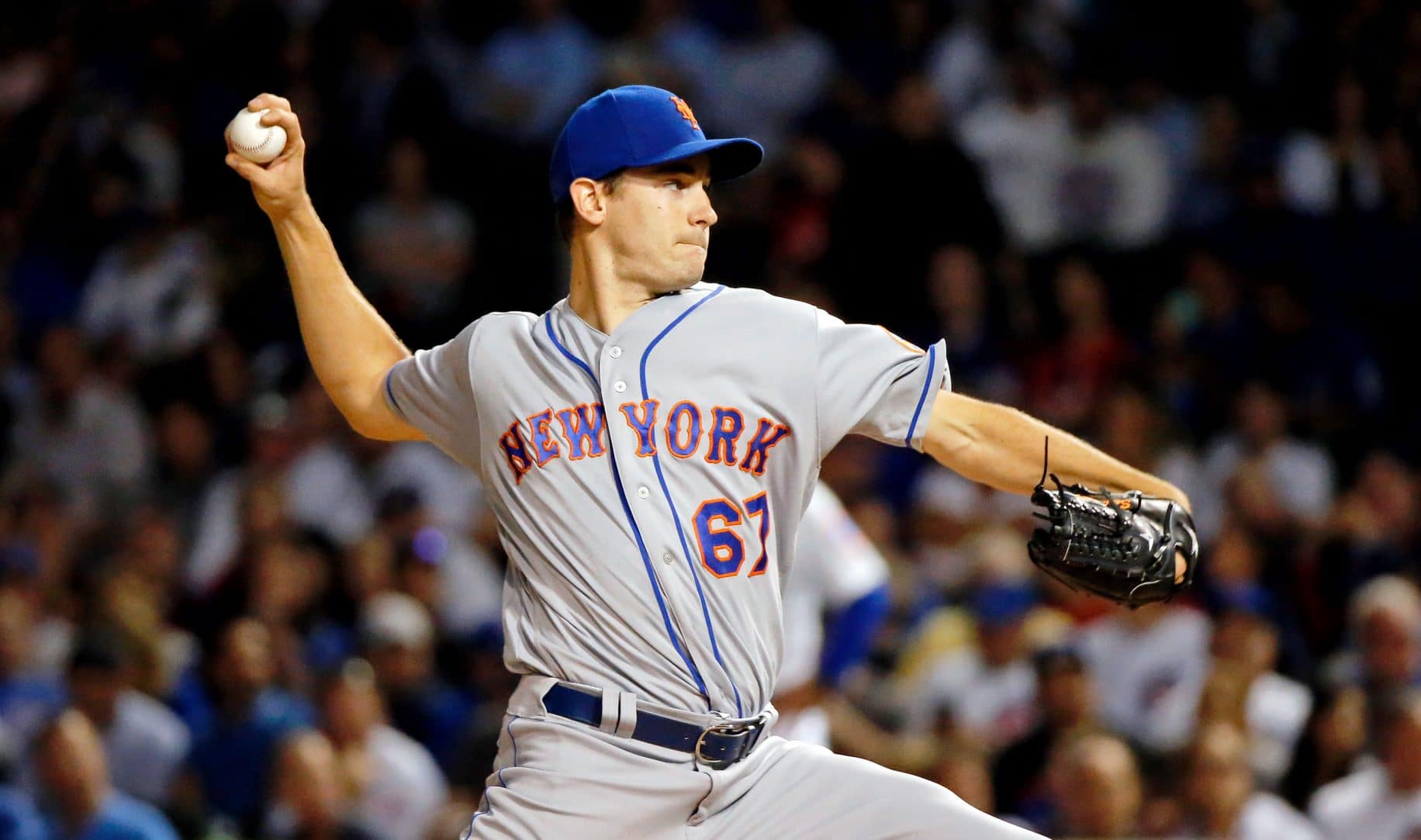 The Mets needed an arm. They dipped into their ever-shrinking throng of pitching depth and Lugo got the call on July 1, 2016. He made his debut the same day.
What Lugo proceeded to do was unparalleled. His curveball completely turned heads. Mike Petriello of MLB.com was wowed:
"When Lugo made his debut in the eighth inning of a rain-delayed July 1 game that the Mets would go on to win 10-2, few really took notice. Few, that is, until he struck out Anthony Rizzo on a 3,485 rpm curveball so wicked that it actually hit the NL MVP Award candidate in the back foot after he swung through it. It was the 16th Major League pitch of Lugo's career, and it immediately made waves as the second-highest individual spin curve of the Statcast era."
He was sent back to the minors two days later, after two scoreless innings but was recalled again when the Mets needed an arm. His curveball and increased velocity out of the bullpen kept him there. James Wagner of the New York Times noted that he hit 97 mph in his debut.
Lugo impressed out of the pen with a 2.65 ERA, mostly in mop-up innings and long relief.
Added Petriello in late August:
"Not only does he have the highest-spin curve, he's got seven of the top 10, and 18 of the top 25, and 32 of the top 50 despite the fact that Lugo has thrown only 34 2/3 Major League innings so far."
Then on August 20, the Mets needed an emergency starter for Steven Matz in San Francisco. He hadn't thrown more than three innings since early July. Terry Collins was hoping for five-and-fly then to "piece it together after that." Lugo threw 69 pitches over 6 2/3 innings, "He got to the seventh inning and did a great job," said Collins, as reported by KTBS.
He made seven more starts and was instrumental in the Mets run to the postseason. In eight starts he posted a 5-1 record with a 2.68 ERA. Overall, he was 5-2 with a 2.67 ERA as a rookie and finished the year with the league's most vaunted curveball, leading the league in average spin rate by far with a spin rate of 3318 RPMs.
After a so-so 2017, Lugo was dominant from the start in 2018. Asked to throw his curveball more, Lugo was tabbed as the fifth starter in place of the injured Jason Vargas during camp.
Said Lugo to Ehalt of North Jersey:
"They encouraged me to throw my curveball and that's one thing I had in the back of my mind," Lugo said. "Some coaches don't want you to throw too many breaking balls, just attack with the fastball. They told me use that curveball, don't be afraid to use it. Been throwing it a lot more and throwing it when I want to."
Only Richards and Ryan Pressly have better average RPMs on their respective curveballs in 2018, but Lugo has thrown more than the two combined.
Early 2018 Lugo thrived in the bullpen. That's where Callaway realized he had a gem. Throwing his curveball more, he dominated hitters and was used in high-leverage situations. Through May 25 he had a 1.72 ERA over 31 innings as a reliever, which included a 10-game 17-inning scoreless streak in May.
When Noah Syndergaard went down with a sore shoulder and the Mets needed a starter, Mickey Callaway had to pluck his best reliever from the bullpen and put Lugo back into the rotation. He didn't miss a beat. Not knowing one's role seems minor given what Seth Lugo has had to overcome. Giving the Mets solid work in the rotation and dominating in the bullpen Seth Lugo continues to turn heads and defy the odds.