Emmanuel Mudiay has struggled to meet the standards he held in the 2015 NBA Draft. Could coach David Fizdale turn things around for the young guard?
The New York Knicks coaching carousel in recent year has seen the likes of Isiah Thomas, Kurt Rambis, Derek Fisher and more recently Jeff Hornacek. This season, the team introduced David Fizdale, an incredible asset to player development and a coach known for locker room credibility.
When introduced to the team in May, four Knicks players attended: Trey Burke, Frank Ntilikina, Kyle O'Quinn and Emmanuel Mudiay. The press conference featured all the normal and uplifting guarantees a new coach makes.
But one promise stood out among the rest:
"Mudiay? "We're going to get to work kid, we're going to get to work. We're going to get you right and you're going to be tough to defend and you're going to be a heck of a defender. We're going to pick that up."
At his introductory press conference, new #Knicks head coach David Fizdale thanks Emmanuel Mudiay, Kyle O'Quinn, Lance Thomas and Trey Burke for attending.

He tells Mudiay, "We're going to get you right."

(via @clippittv) pic.twitter.com/btZoYfkexE

— Def Pen Hoops (@DefPenHoops) May 8, 2018
So, faced with the heavy task of facilitating a team amidst a rebuild, Fizdale has made sure to prioritize developing the guard.
A look at just what's not right with Emmanuel Mudiay and what his success could mean for a young coach like David Fizdale.
---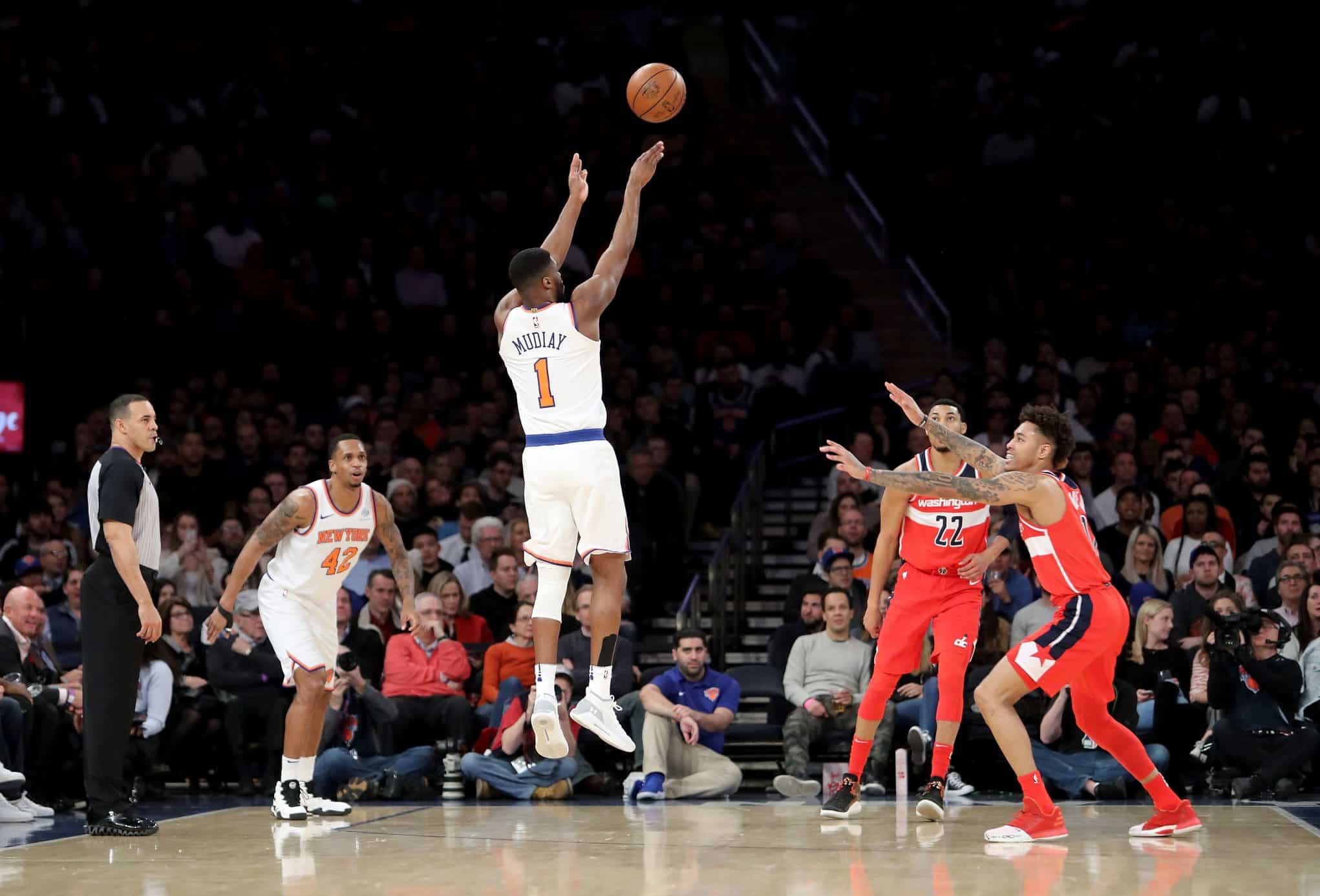 ---
He was compared to John Wall and Derrick Rose. He played overseas with professionals like Will Bynum who raved about his potential. He was a sure-fire lottery pick.
It's not as dramatic as Markelle Fultz forgetting how to shoot a basketball, but Emmanuel Mudiay is not the basketball player Denver drafted at seventh overall in 2015.
Check this scouting report via nbadraft.net :
"Rare combination of size, speed, agility and athleticism to go with the vision and mentality of a point guard … Really difficult cover in transition, great at pushing the ball on the break with explosive ability to finish while also being an adept passer on the run…Very good at creating for himself, getting to spots where he can get good looks at the basket."
Watching the film, all of this is true. Mudiay was nearly everything you wanted in a point guard, though similar to 2011 MVP Derrick Rose, he had next to no three-point shot. He still doesn't, but every other facet of his game has lead to a full devolution.
Mudiay's greatest strength prior to the NBA was finishing at the rim. In the NBA? He's a career-30 percent shooter from zero to three feet of the basket. This isn't a kid who's got a dunk mixtape kids are watching around the lunch table.
Elsewhere offensively, Mudiay puts up turnover numbers like Stephen Curry puts up three-pointers. In just 22 appearances for the Knicks last season, he had 41 total.
That's nearly two a game for a guy getting 22 minutes a game, and none of them being in crunch-time. This isn't an issue of unfamiliarity with the Knicks system, but just further proof that shooting is a must in today's game.
His scoring wasn't prominent from the jump but has declined from his 12.8 per game average in 2015, to just 8.8 with New York last year.
Mudiay's defensive upside in 2015 has turned into an open unawareness for the game in 2018. He doesn't change direction quickly and is easily lost in opponent pick-and-rolls.
Despite all this (and it's a lot) there's still almost too much time to stage a comeback. The kid is only 22, and if he's determined, he'll get there. I'm just glad I'm not the guy getting paid to fix him.
Cue David Fizdale.
Most recently, he coached the Memphis Grizzlies, who host two-star talents in Marc Gasol and Mike Conley. The former being relevant to Mudiay's development.
Conley is a 6-foot-1, 175-pound offensive one-man arsenal. Fizdale wasn't coaching him as he developed in the late 2000s, but he's likely seen some things that will be offered as pointers to Mudiay.
A shorter guard who navigates through the paint with ease is a 37 percent career shooter from deep. Two things Mudiay needs to desperately work on if he hopes to maintain a career in the league.
The good news? He may be working harder than we realize. Per KnickFilmSchool on Twitter:
It is worth noting that the perception around Emmanuel Mudiay has generally been that he doesn't work as hard as the other young Knicks. I have seen several recent reports to indicate he is in the gym every day, too. He just doesn't post on IG as much, where it gets noticed

— Knicks Film School (@KnickFilmSchool) June 25, 2018
For David Fizdale, this process will be the first of (likely) many stepping stones he'll face in New York on the road of rebuilding.
Developing the highest of Ntilikina's potential as a defender, maintaining a good relationship with Porzingis, and making the most of Kevin Knox period come to mind as others.
But getting Emmanuel Mudiay back to the player who ruled the CBA and was considered a steal in the 2015 NBA Draft may be a win that solidifies his job with the Knicks.
On a national platform, Fizdale made a commitment to a player he had yet to coach. Acting on his word could start a great relationship with his new locker room.
If Emmanuel Mudiay doesn't have the juice anymore (and he may have never), you can't blame Fizdale for that.
But if the New York Knicks' newest head coach does everything in his power to fulfill a promise; well, that would be something new, wouldn't it?