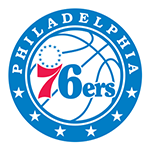 LeBron's less likely fourth choice is heading to Philadelphia.
But maybe he should reconsider. Philly has built a very impressive roster through its years of tanking and rebuilding. They also have many of the necessary tools required to sign or trade for star players. It wouldn't be impossible for Philly to end the summer with both LeBron James and Kawhi Leonard on the team while keeping Joel Embiid and Ben Simmons.
Just as with Houston, this could come at the price of roster depth, but it would be worth it. The lineup combinations are endless with those four players, and they became a very formidable foe for Golden State even in year one of the experiment.
Ben Simmons is also a member of LeBron James' sports agency Klutch Sports, and they have a close relationship already. LeBron could enter a new stage of his career as a mentor for a future MVP-level talent. With their similar play style, the on-court issues would need smoothing out, but there is no better player to learn from than James.
At the same time, competing for a title would be just as viable as with Houston, but for even further into the future. With a new superteam of Simmons, Embiid, and a star free-agent-to-be, there wouldn't be a two-year window for success. The window could be as wide as five or more years.
Philly doesn't offer the same history as the Lakers, so signing there wouldn't become a potential asterisk on his legacy. They offer a larger time frame to match up with and outlast the Warriors. They have financial flexibility and asset control that Cleveland couldn't even dream of.
Maybe Philly should be a bit higher on LeBron's list of destinations.