New York Knicks' big man Kyle O'Quinn has declined his 2018-2019 player option to enter free agency. A dive into potential suitors.
The NBA's 2018 free agency market is running slim on big men. Recently bought-out Dwight Howard, DeMarcus Cousins and even Enes Kanter may be available in a very limited market.
Yet the New York Knicks most valuable bench player, Kyle O'Quinn, declined his $4.2 million option for the 2018-2019 season to enter free agency. Adrian Wojnarowski of ESPN was first with the report:
New York Knicks center Kyle O'Quinn has declined his $4.2M option for the 2018-19 season to become an unrestricted free agent this summer, league sources told ESPN.

— Adrian Wojnarowski (@wojespn) June 21, 2018
A six-season veteran, he averaged 7.1 points, 6.1 rebounds and 1.3 blocks per game for New York last season, all while playing an average of 18 minutes per game.
While the market is thin, teams with a strong need for rebounding will line up for interviews and a shot to sign O'Quinn.
Could he be helpful to a contender? Here's a quick dive into one of the more underrated question marks of free agency and his likely suitors:
---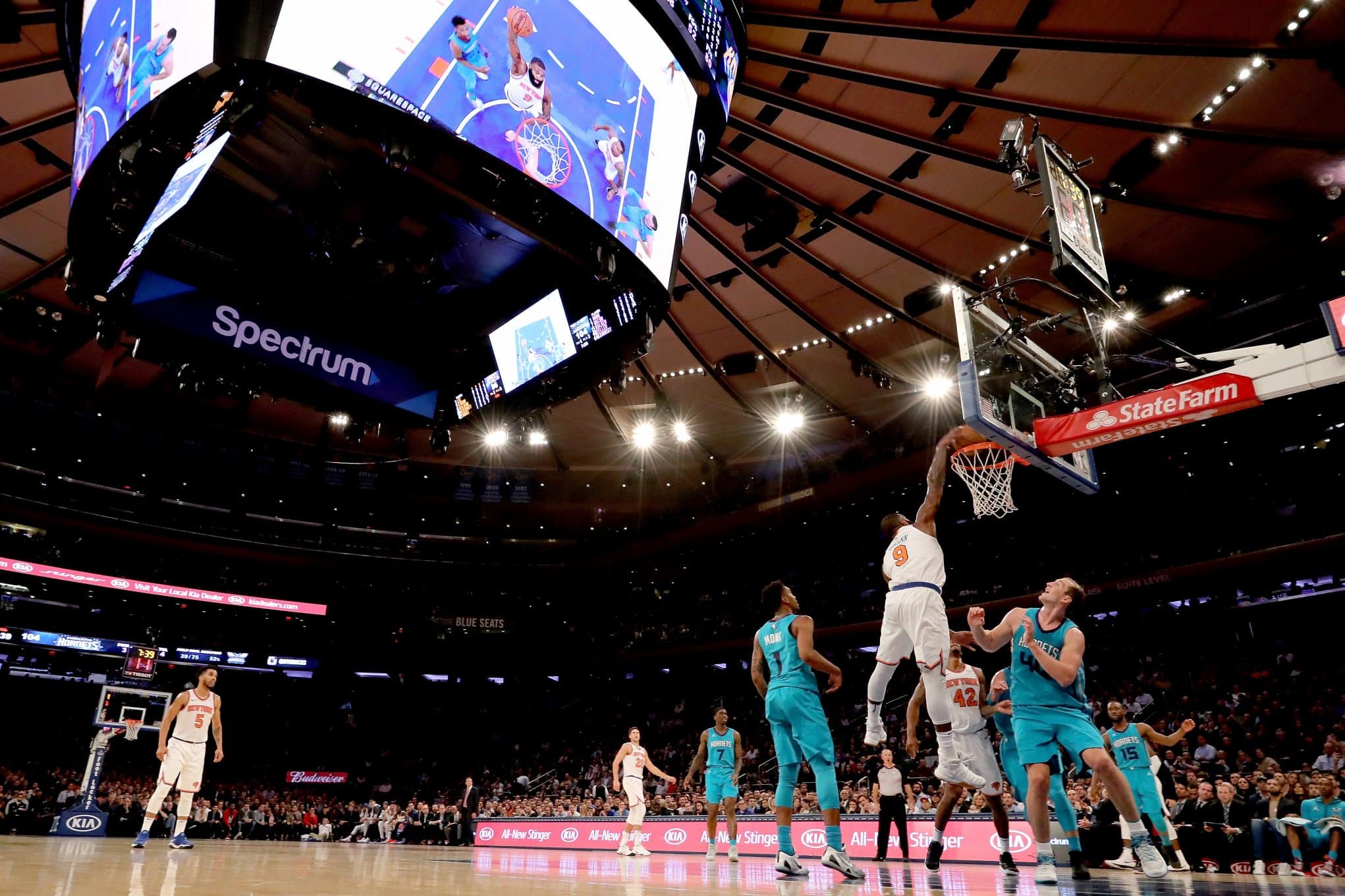 ---
Only six-years into the league, Kyle O'Quinn has firmly recognized his value; which he has deemed more than four million a year.
A second-round pick in the 2012 NBA Draft, he started his career with the Orlando Magic. He wasn't deemed an immediate-impact prospect and started just 41 of 177 games played with the team through three seasons.
O'Quinn agreed to a sign-and-trade to New York during the summer of 2015 in exchange for cash considerations and a swap of second-round picks in 2019.
Since arriving in New York, the big man has been one of the best reserve prospects to play for the Knicks in recent year. He's averaged 6 points, 5.2 rebounds and 1.1 blocks through three seasons in New York.
Now a free agent, multiple teams could benefit from his presence on the glass; including the likes of the Boston Celtics, New Orleans Pelicans and, of course, those Knickerbockers.
Here's that case for each team and why O'Quinn compliments their immediate need for a big man:
The Boston Celtics
It was an impressive season for the Boston Celtics, who finished their year losing to the Cleveland Cavaliers in the Eastern Conference Finals. After signing forward Gordon Hayward and trading for point guard Kyrie Irving, they were favorites to take the East.
The injury bug had other plans for the club, as both stars were unavailable for the postseason. Still, the young core remained resilient behind the leadership of five-time NBA All-Star Al Horford and defied the odds.
Rebounding and big man rotation was a key flaw in the Celtics' series loss to Cleveland. The Cavaliers' Tristan Thompson averaged 7.4 points and eight rebounds in seven games.
While Horford is considered one of the best big men in the game, most of that lies within his team-friendly play. O'Quinn wouldn't be considered an upgrade, but a certainly more active and athletic presence in the paint.
The current free agent is just 28 while Horford is nearing the 'back nine' of his career at 32. Boston was also rumored as a potential suitor for Dwight Howard, and his free agency will greatly influence their pursuit of O'Quinn.
The New Orleans Pelicans
Man, did the New Orleans Pelicans come close to contending for a title last season. Jrue Holiday and Anthony Davis, along with the occasional help of Nikola Mirotic and Rajon Rondo, pushed the team to an appearance in the Western Conference SemiFinals.
They lost to the Golden State Warriors (eventual 2018 NBA champions) in five games.
The loss of big man DeMarcus Cousins certainly played a part in the matchup and eventual playoff exit. He tore his Achilles in a January win over the Houston Rockets.
Similar to O'Quinn, Cousins is facing an intriguing summer in terms of free agency. Coming off such a substantial and career-threatening injury, the four-time NBA All-Star will have a choice: take the highest paying deal or re-sign with New Orleans, who, no doubt, hopes to retain him.
Should he opt for the latter, the Pelicans will look quickly for a replacement. O'Quinn doesn't have the size to play the five next to 6-foot-10 Anthony Davis, but could certainly compliment him at the power forward position.
---
---
The Houston Rockets
Chris Paul and James Harden teamed up last summer with one goal in mind. Bring down the Golden State Warriors.
In their defense, they got closer than anyone. This Rockets team pushed the Warriors to a Game 6 in the Western Conference Finals, but eventually fell without Paul.
The last player to their arguable Big Three, Clint Capela, is entering restricted free agency. He'll be the most desired big man on the market and is already being rumored as a target by the Dallas Mavericks. Should Houston lose out on Capela in restricted free agency, they'll look for bargain help. Cue Kyle O'Quinn.
He's not as big as the current Rockets' five, and he won't be catching lobs, but he's one of the best values on the market and could open up space for Houston to make a run at LeBron James—pending free agent.
The New York Knicks
They're not a contending team, but the Knicks are in play for O'Quinn. Despite his opting out of the current deal, no one is ruling out a potential return to New York on a higher-paying contract. This is especially the case when the potential free agency of Enes Kanter, who's been rumored to maybe opting out of his $18-million player option for 2018-2019, is taken into account
His deadline to decline the option is June 29 and that decision will undoubtedly affect his backup's free agency plans.
With that salary in hand, New York could certainly pay O'Quinn his desired pay on a one-year deal. Ian Begley of ESPN New York reported that the front office is likely looking to avoid long-term deals this summer:
Several agents are under the impression that NYK is strongly opposed to signing free agents to long-term contracts this summer. The goal appears to be to preserve cap space for 2019. So if NYK wants to re-sign Kyle O'Quinn, maybe the club offers him a raise on a 1-year deal? https://t.co/2G6oth1oEj

— Ian Begley (@IanBegley) June 21, 2018
So should O'Quinn be in it just for the paycheck, the Knicks could kill two birds with one stone.
They'd suddenly obtain Enes Kanter's replacement while keeping cap space open for the loaded free agent class of 2019.
---
He's not a top-five center in today's NBA. But—and you can quote me on this—he is a top-five center on the big man market.
Teams looking to contend for an NBA title in 2019 could benefit from O'Quinn's rebounding and scoring skill, though limited.
Boston, Houston, New Orleans and even New York will be in play. So sit back, enjoy a cold beverage and calmly wait for his impending decision. This is NBA free agency and Kyle O'Quinn is just one of many pieces to this crazed fanbase's puzzled summer.