Sandy Alderson and the New York Mets doubled-down on the wrong position during an MLB era that's devalued it to an incredible degree.
Matt Harvey, Jacob deGrom, Noah Syndergaard, Steven Matz and Zach Wheeler. In that exact order is the formula creating the Phenom Five, an ESNY-cultivated term from 2015 that ultimately led to nothing.
Two years and one World Series failure later the New York Mets window is shut—pinned and locked as quickly as it began. Only a surprising triumph over the Los Angeles Dodgers and Chicago Cubs during one exciting October account as the era's accomplishments.
Gone is Matt Harvey. Jacob deGrom remains and has never pitched so well. Noah Syndergaard represents one of the best in the game, but can't stay healthy. The same (to the 100th degree) can be said for Steven Matz and Zack Wheeler.
It's just like the Mets to double-down and build up the wrong position during a specific MLB era that rewards the exact opposite.
Starting Pitching Is Incredibly Devalued
Never has the starting pitcher been more devalued. Receiving five innings from the inked starter is now considered a major haul. Five innings is barely over 50 percent (55 percent) of one ballgame. Considering the starter pitches just one of every five games, the percentage of a five-inning start reflects upon exactly 11 percent of the total team's pie.
When breaking it down in terms of the best pitcher on the planet, the percentage is still shocking.
Jacob deGrom has thrown 95.1 innings thus far in 15 starts, equaling an average of 6.34 innings per outing. Instead of taking it purely from a nine-inning perspective (as, obviously, some games are only eight), we'll take the Mets total pitching output of 632 innings in 2018.
deGrom's pitching percentage for the Mets this season is a whopping 15 percent, a little over the previous outline of 11. This means the New York Mets best player only has the opportunity to impact 11 percent of the game. Actually, in understanding his at-bats aren't worth much, that 11 percent could be ripped apart in half.
The percentage becomes that much more alarming when pitching injuries are thrown into the mix.
The young everyday player and bullpen dominate this era of Major League Baseball. Look at the past few champions.
Recent Championship History
The Kansas City Royals, the very same team who knocked off those Metsies in 2015, didn't come to the party with a legit rotation. There was no true ace, only the nastiest bullpen in the land to go along with everyday gems around the diamond.
Look at the Chicago Cubs. Theo Epstein signs veteran Jon Lester while lucking out with Jake Arrieta. Though fleeced in the deal (Gleyber Torres), he shored up a terrific bullpen with Aroldis Chapman and still, it was almost not enough to get over the hump against another team in the Cleveland Indians who employed a terrific pen to go along with everyday gems like Francisco Lindor.
The Houston Astros are the sole anomaly here. Their bullpen in 2017 en route to the World Series title was, by far, the worst in recent memory. But what did they do? They moved starters to the pen in order to beef it up.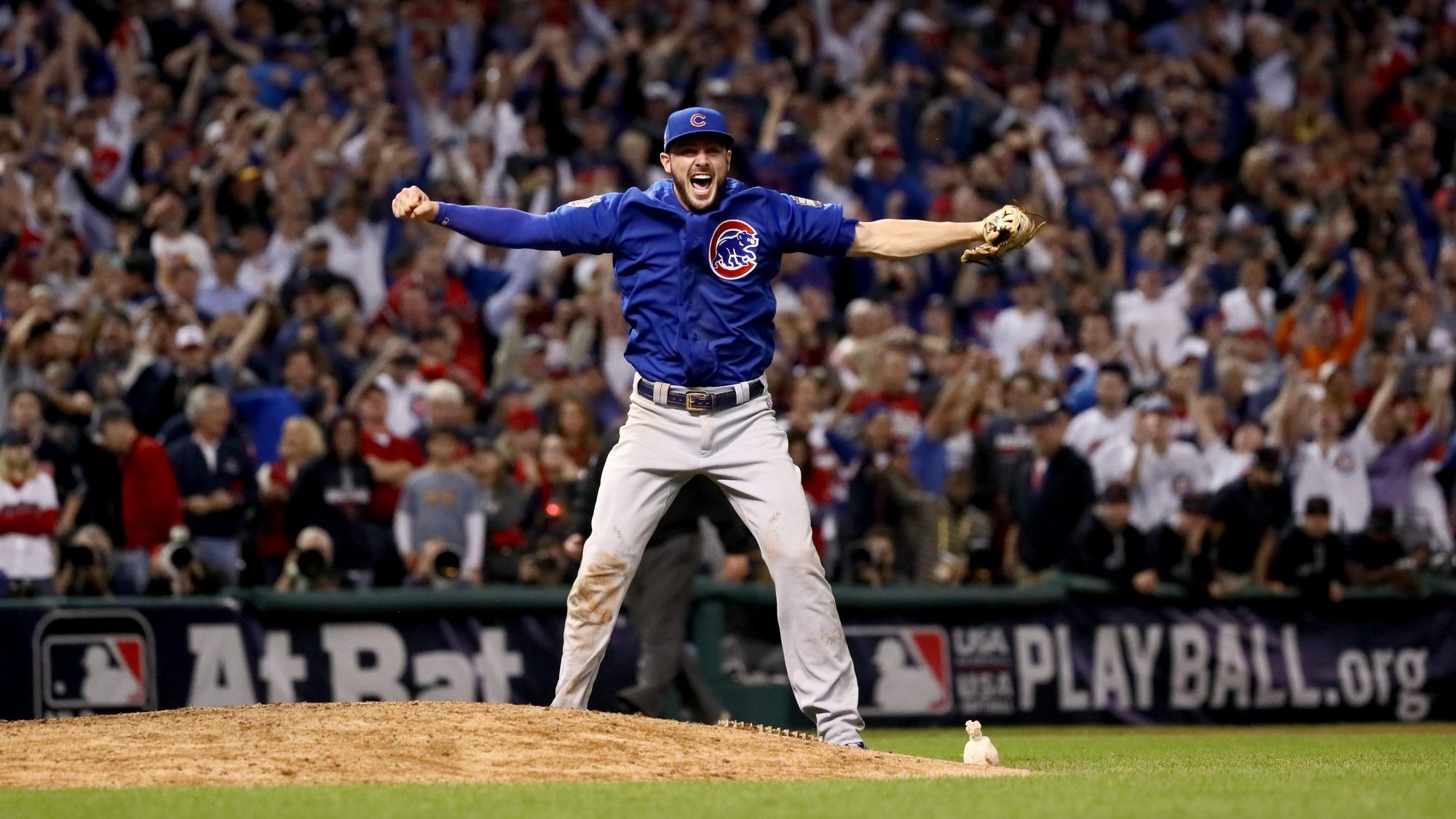 More importantly, the Astros young everyday players mirrored the Cubs and Royals of recent championship past while acting as the main reason Sports Illustrated hit it so right several years ago.
Don't get caught up in the "tanking" hype. Though both Houston and Chicago visibly tanked their way to greater MLB Draft slots, execution and development turned out to represent the difference.
Alex Gordon, Mike Moustakas, Eric Hosmer, George Springer, Carlos Correa, Alex Bregman, Javy Baez, Kris Bryant and Kyle Schwarber represent the first-round position players selected since 2005 by the last three champs. Make no mistake about it, other options for the Mets remained.
In 2010, Matt Harvey was selected in the seven hole. Christian Yelich was available and went several picks later. In 2011, Brandon Nimmo was selected in the first round. Guess what? He's turning into a stud. In 2012, Gavin Cecchini was the Mets man. Corey Seager was available. In 2013, Dominic Smith was chosen in the first round. Aaron Judge was available.
It's not that the Mets have ignored the positional player. It's turned out that they've either been the wrong choice or haven't developed and it's such a blow considering the positional player is usually the safer choice.
Usually, it's the starting pitcher who doesn't pan out. In 2014, the Astros went with a pitcher in Mark Appel with the first overall pick. We all know how this kid never panned out. A year later, Michael Conforto was snagged by Alderson.
Nobody can ever get on the deal that sent R.A. Dickey to Toronto for Syndergaard and Travis d'Arnaud, but, man, wouldn't it feel better if the positional player actually panned out?
Amed Rosario, Brandon Nimmo and Michael Conforto represent that young core. It's simply not enough and devalued positions (starting pitchers) must be capitalized on at the right time to add to it.
Now Is The Time To Strike
It literally makes no sense in today's game. Glance at the success of younger teams against the more veteran-ladened teams. Look at the big brothers across the five boroughs.
As soon as ownership actually allowed Brian Cashman to do his thing, the Yankees moved from old and stale to young and energetic in a heartbeat. Sure, Luis Severino is a stud starter and Masahiro Tanaka cost serious dough, but they wouldn't part with Gleyber Torres or Miguel Andujar under any circumstances (unless something so outrageous hit the table that was too good to be true). Cashman understands just how valuable these young, everyday studs are.
Sandy Alderson, on the other hand, is still living in the past. His motto of "a bloop and a blast" eyes in on the on-base guy and the home run (in a stadium that rewards speed at the plate). He's also allowed his club to enter each season under his reign without a legitimate bullpen.
Without Daniel Murphy's heroics, a solid case can be made the Mets don't get out of the first round of the playoffs. His insane performance covered up a ton of the team's balanced ills (bullpen and lineup).
The time to strike is now.
deGrom, as great as he is, is pitching over his head (based purely on the numbers).
His value has never been higher and the haul that could be raked in from a deGrom trade is too good to pass up. Placing emotions aside, there's no other alternative. At 29-years of age, it makes little sense to keep a starting pitcher who impacts just 15 percent of the team's innings around with a rebuilding young team focused on building the diamond and outfield with young gems.
Length of game, injuries and an overwhelming reason to believe the younger everyday gem has completely devalued baseball's starting pitcher has put the New York Mets on a rotation-filled path to such a short championship-window—one that's already closed.
Recent history has taught us much. New York Mets fans simply need to hope it's also taught Sandy Alderson.