Who doesn't love a great giveaway? With the New York Yankees and their promotions team coming up with some gems, we decided to make a few of our own.
Who actually goes to a baseball game to watch baseball? Well, everyone should but not everyone does. This season, the New York Yankees are showing that they are the hottest ticket in town.
But isn't it nice to enter a ballpark to be greeted by Yankee Stadium workers who hand you a prize just for sauntering through the gates? Isn't it nice to get something for free before dropping $50 on dinner at the concession stands?
This season, they've already handed out Didi Gregorius replica bats, a David Wells bobblehead and Yankees freezer mugs. Their minor league affiliates are doing some awesome things too with the latest being the Single-A Charleston RiverDogs who gave out Aaron Judge tape measures on June 13.
That giveaway opens up Pandora's box to a whole slew of creative, hilarious and absolutely ridiculous ideas for future giveaways the Yankees could do. And, naturally, we decided to take a stab at some suggestions.
Yankees promotional team, look no further than this piece right here because we are ready to fill out your promotional schedule for next year.
1. Ronald Torreyes height charts
Hey, kids! Has anyone ever told you that you don't have the height to be a major league baseball player? Don't bother listening … instead, come down to the Stadium and pick yourself up a Ronald Torreyes height chart to measure up!
Much like the tape measure idea, this giveaway highlights our favorite little guy and is a useful item for these growing kids watching the Bombers. Maybe they can't relate to Aaron Judge but they can probably relate more to Torreyes, the little guy who is proving that size doesn't always matter.
They can only do this, however, if it is on a Ronald Torreyes night and everyone gets an adorable mole for their faces.
2. Joe Kelly Punching Bag
The Red Sox want to ban anyone named Tyler or Austin from their games? That's cool. We'll just do a giveaway supporting the legend that is Stone Cold Tyler Austin.
Does this need any explanation? It shouldn't but we'll simply say that the Tyler Austin-Joe Kelly fight on April 11 was a huge turning point for the Yankees. While fighting shouldn't be celebrated, this brawl gave the Yankees new life in the division.
So a mini Joe Kelly would be the perfect giveaway to troll the Red Sox and bow down to Tyler Austin, the true rally starter for the 2018 New York Yankees.
3. Emoji night
This one is in honor of our good friend Didi Gregorius. Otherwise known as "The Emoji Guy," the Yankees could use those fun postgame tweets for fun. There is a plethora of emojis that Didi uses and they could each be given out on one night.
You know, a stuffed clown emoji to represent Brett Gardner. A judge emoji for…well, you know who. A broccoli emoji for the one and only Chad Green. Oh, and we must not forget a rocket emoji for Aroldis Chapman.
The possibilities are endless. In fact, there are so many emojis that could be offered to fans and, honestly, I would be happy with any of them.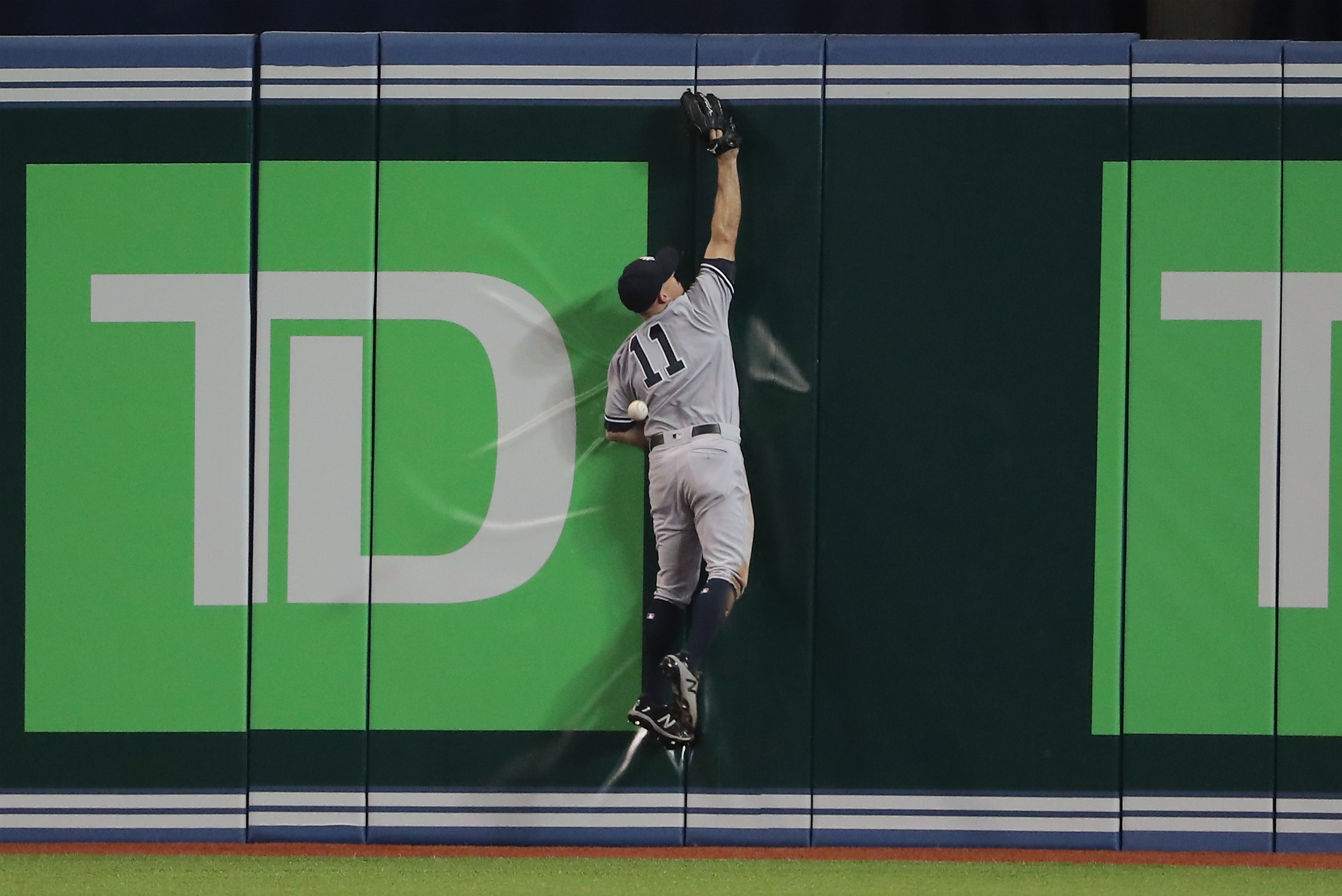 4. A clutch … with Brett Gardner's face
All right…picture this. You know the little coin purses with little animal faces on them? Now picture one of those but with Brett Gardner staring back at you. Now THAT is a clutch.
For those who don't know, clutch is another term for a purse, one that is handheld and easily accessible. So why not have a clutch for the most clutch member of the Yankees?
The longest-tenured Yankee deserves at least some recognition and his performance in the clutch these past few years simply can't be ignored. It's just a reminder that the face of clutch is right here … it's Brett Gardner.
5. Replica bone spur
Imagine this. You walk through the gates and you get graced by Stadium workers who hand you…a rock? No, it's just an exact replica of the bone spur that all of these Yankees seem to inherit at one point or another.
Greg Bird had one in his ankle during the offseason. Chance Adams went into surgery to remove one. And it seems like that term is becoming more and more common for these Yankees. So why not get your own replica bone spur, just like the ones that have played a role in this 2018 season?
6. Glass figurine of Jacoby Ellsbury
Do I even need to explain this one?
Well, we can say that Jacoby Ellsbury Day at the ballpark would have one major theme to it … don't touch anything. I'm sure fans would be arriving in bubble wrap and extra pads to prevent themselves from having the same fate as Ellsbury.
Let's face it … the man is made of glass. I'm sure at this point in his career, he is being brainwashed by the Yankees' trainers into admitting that he's hurt when he truly isn't. I feel for the guy but he gets injured way too much.
Get that glass figurine but be careful … it'll likely break with one simple touch.
So, would you go to the Stadium to get these giveaways? I mean, they are free after all. If it makes you laugh, it's all worth it.
Hopefully, the New York Yankees are paying close attention because we've got a gold mine right here of giveaways that will be far more memorable than t-shirts and plastic cups.