Jose Bautista has impressed during his time with the New York Mets. A slumping Jay Bruce awards him an opportunity in right field.
What a difference a year can make.
While track record matters, baseball is a game of what have you done for me lately. Jay Bruce and Jose Bautista found themselves at very different points in their respective careers to start 2018. Both have long track records as middle-of-the-order hitters who can hit the ball out of the ballpark in bunches. Bruce was entrenched as the New York Mets' right fielder and Bautista was on his couch.
Jose Bautista is coming off the worst year of his career, slashing .203/.308/.366 in Toronto. His bat flips were once upon a time a sight to behold. North of the border, his majestic home runs would go flying into the outfield seats and he would fling his baton with pure grace and round the bases like the exalted superstar he once was. As of late, his flips have come with less regularity. Hopefully, the man they call Joey Bats has a few more flips left in his 37-year-old body to bring the Citi Field faithful to their feet.
Jay Bruce brought Mets fans out of their seats for much of last season with an .841 OPS then helped the Indians make a playoff push after being traded at the deadline, hitting 35 home runs and knocking in 107 runs. This year, the thunder has disappeared from his bat through the first third of the season.
With the middle of the order in desperate need of a jolt, it's time to see if a Bautista can be, at minimum, a right-handed complement to Bruce. Bruce's struggles have been more pronounced against lefties. Bruce has slashed just .184/.231/.265. against southpaws in 2018.
Jay Bruce's OPS is .647 in 2018. Jose Bautista's was .674 in 2017. Bruce is on pace for 9 HR and 47 RBI with a .351 slugging and an on base percentage under .300. Though counting stats is no longer en vogue, in what was considered a nightmare 2017, Bautista managed 50 extra base hits and 23 home runs while scoring 92 runs. He also managed to walk 84 times.
While Bruce has the security of a three-year, $39 million-dollar deal, Bautista has been released once in 2018 and finds himself playing for the league minimum. Bruce was wonderful as a Met in 2017, hitting 29 home runs with an .841 OPS before being dealt to Cleveland. Yet, if Bruce had performed in 2017 as he has for the first third of 2018, Jay Bruce might have had trouble finding a job this offseason as did many a plodding slugger on the wrong side of 30, Bautista being a prime example.
The Mets took a shot on Bautista to fill a need for right-handed hitting and, so far, the results have been better than the Mets could've hoped for. He smacked a two-run double in Tuesday's heartbreaking loss and has been pulling line drives with regularity. Right now he seems a better middle-of-the-order option than Bruce, at least with a left-handed pitcher on the mound.
Bothered by plantar fasciitis since March, Bruce's numbers in May are lackluster, slashing just .205/.267/.289 in 90 plate appearances with one long ball. He is one of the main contributors to the Mets having the worst numbers out of the cleanup spot in baseball.
Since coming to the Mets from Atlanta, Bautista has shown he can still hit the ball hard in his brief audition, going 6-15 with two doubles in 20 plate appearances. For the season, Bautista is actually outhitting Bruce, slashing .220/.350/.400 with five extra-base hits in 50 at-bats. While a small sample size, it seems Bruce and Bautista are trending in opposite directions.
While Michael Conforto has often sat against southpaws, slashing just .158/.267/.263, his numbers have been better overall at .241/.358/.400 and since May 6 he has a .915 OPS after a slow start.
With all the pitching issues and injuries that have befallen the Mets, Bruce's struggles have largely fallen under the radar but he is clearly not playing at 100 percent.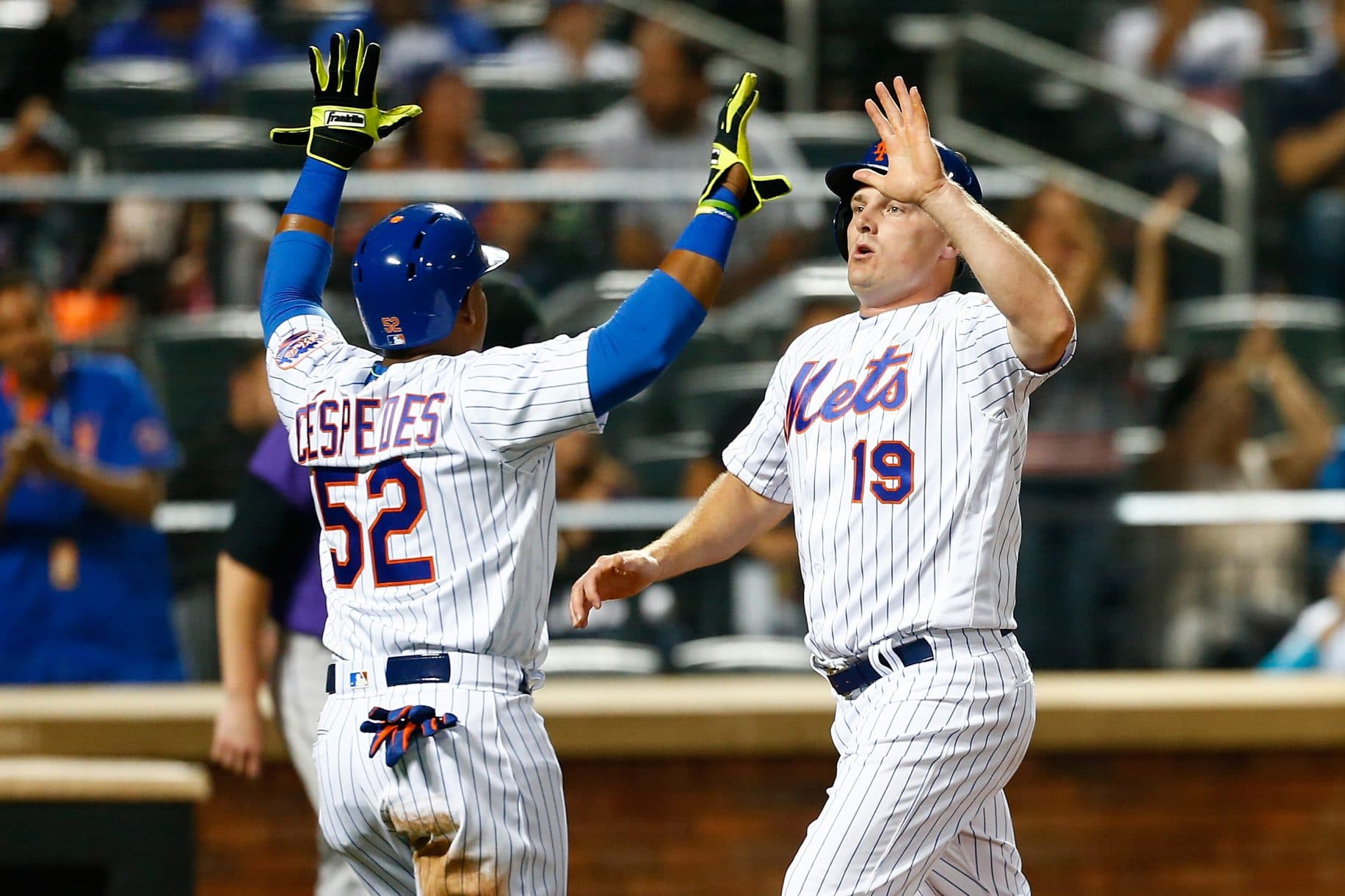 Nobody is suggesting that Bruce is finished nor is it likely that a player earning $13 million will ride the pine, but rest and putting him in optimal situations may both get Bruce right and give Bautista an opportunity to show what he can bring to the table. If Bautista can be even the player he was two years ago he would give a big lift for the Mets in the middle-of-the-order, especially without Cespedes from the right side of the plate.
With Bruce playing on a compromised foot, even at this point, his career Bautista gives the Mets marginally better defense. While not the cannon it once was Bautista has a good throwing arm and still moves well.
Granted, there were many who thought Jose Bautista had no more baseball left in him. A free agent, Bautista sat home all winter waiting for the phone to ring and didn't get a call – – 32 teams passed on him. The Braves finally came knocking in mid-April and gave him an audition to play third base. During his 12-game cup of coffee in Atlanta, Bautista was just 5-for-35 (.143) though three were extra-base hits (2 HR and 1 2B). He did walk five times in 40 plate appearances. The Bravos were obviously not impressed.
Since coming to the Mets, however, Bautista has done nothing but hit line drives. Even with his Atlanta stint, Bautista's hard-hit rate for the season is 39 percent, in line with his prime years, as is his pull rate, which is over 55 percent. While a small sampling, it is encouraging and at least warrants the Mets exploring what Bautista has left. His defense has been impressive, and his bat has looked quick. Moreover, he is just two years removed from finishing eighth in the MVP voting, and in 2016 he had a .817 OPS.
This is a can't-lose move for the Mets. They signed Bautista for the pro-rated version of the $545,000 contract like that which Adrian Gonzalez is collecting. Bautista has a long track record of success, though so does Bruce. Bautista, however, warrants playing time, and this seems the most logical place, though he is also capable of playing first and third base. With Wilmer Flores on the DL, Bautista could also see time as Gonzalez' platoon partner.
Sitting Bruce, at minimum against lefties, gives him the room to find himself in optimal matchups and the chance to rest his ailing foot. Plantar fasciitis only heals with rest. Moreover, at least in the short term, Bautista may be more of an offensive threat, at least against southpaws. Right now with Bruce not performing, it might be Bautista who gives the Mets the best chance to win
When Yoenis Cespedes comes back, it all may be for moot. The way Brandon Nimmo is playing at this point, it would be impossible to take him out of the lineup. That might leave Bruce in a fight with the left-handed Nimmo for playing time, with Bautista playing against righties if he hits.
Jay Bruce has too long of a track record to conclude that he won't right the proverbial ship over the last two-thirds of the year, but right now he just doesn't look like the same ballplayer. The Mets need to see if Bautista is a semblance of the same one he once was. It's early, but thus far the results have been promising. Joey Bats may have a few flips left in him after all.