The New York Yankees sending stud youngster Gleyber Torres to the Mets for pitchers Jacob deGrom and Steven Matz represents the perfect baseball trade that'll never go down.
On the morning of May 18, 2018, fans of the New York Mets franchise were unpleasantly put through the ringer. Whether it came at home, at work or in transit (perhaps on one of the city's spectacular trains), the New York Daily News was opened up to a photo that sticks in Big Apple minds across all five boroughs.
Get ready Mets fans. Here's the @NYDNSports back page for Friday. @BackPageGuyNYDN @MLBNetwork @espn https://t.co/Y7txD1qtti pic.twitter.com/75GAU0bq68

— MikeMatvey (@MikeMatvey) May 18, 2018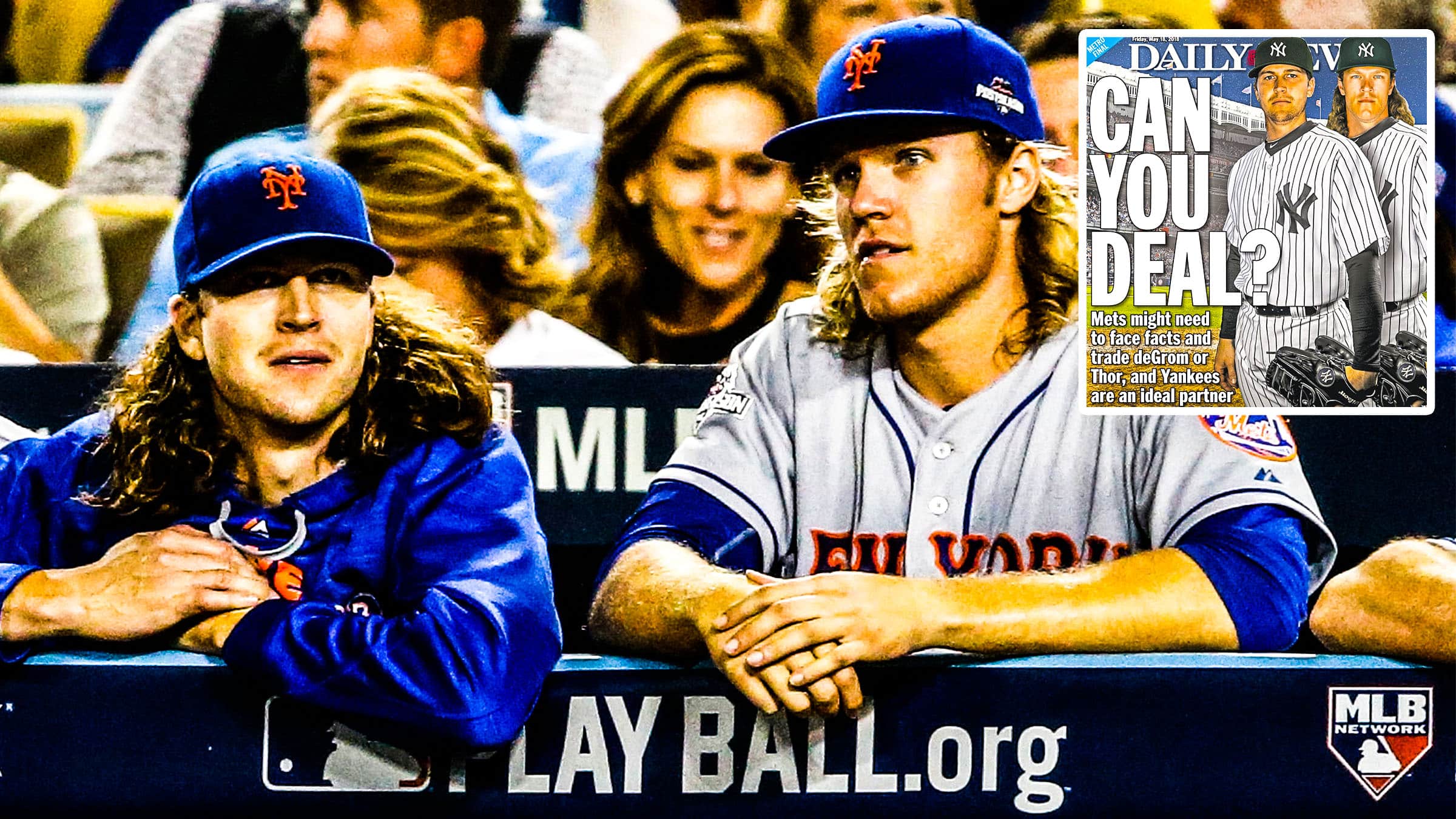 Jacob deGrom and Noah Syndergaard in Yankee pinstripes. A more devious scene couldn't be conjured up by 10 evil minds.
John Harper penned the NYDN column that suggested the Mets—heading nowhere in 2018—would be crazy not to think about trading one or both of the prized starting pitchers in question. Other than the splendid back-page created by somebody not named John Harper, the only other mention of what could possibly come in return for such an ace came in the form of incredible positional-player depth possessed by the New York Yankees.
Estevan Florial, Clint Frazier and Justus Sheffield were the only three names mentioned in total. The overtone of the column purely dealt with the Mets wisely looking to offer one of not both aces up.
Forget that nonsense. Specifics are what's needed here and as it pertains to these two organizations, specifics actually work as long as one name is tossed into the equation.
Gleyber Torres for Jacob deGrom and Steven Matz is the perfect baseball trade that'll never go down. It'll never happen. Ever. But it doesn't mean it's a wacky thought.
Yankees Perspective
Torres, 21, is a complete stud. He's a once in a decade kid who only needed 20-30 games to prove his eventual superstardom status. Smacking nine home runs and 26 runs batted in to go along with a cool .319 clip at the plate is only improved when realizing just how surprisingly solid he's been at second base. Of course, the kid isn't slump-proof, but you get the idea … he's the real deal.
In fact, he's one more real deal added on to a bunch of real deals (Aaron Judge, Gary Sanchez, Didi Gregorius to go along with veteran Giancarlo Stanton).
Never would any of the 30 organizations trade such a gem. Not unless a World Series in sight.
Torres is the exact price the Chicago Cubs paid to capture the 2016 Series—the first in a "couple" of years. The great summer raid pulled off by Brian Cashman featured fleecing the Cubs organization due to the narrative that, yes, just like the Yankees right now, are loaded with young gems around the diamond and in the outfield (Kris Bryant, Anthony Rizzo, Addison Russell, Javy Baez, Kyle Schwarber, etc.)
Losing Torres wouldn't affect the lineup to any championship-degree this summer while acquiring deGrom and Matz would, obviously, create a super rotation impossible to deal with during the fall.
Luis Severino, RHP
Jacob deGrom, RHP
Steven Matz, LHP
Masahiro Tanaka, RHP
CC Sabathia, LHP
Domingo German can go away while Sonny Gray can be that sixth guy while pitching in long relief. The same could be said for Jordan Montgomery (who's currently on his way back from the shelf). In any event, the Matz-Montgomery combo makes for a surefire lefty in the rotation. Both are frequently injured.
The rotation above (especially considering deGrom's metal and toughness in October) would blend with a ridiculous offense in forming the best team in baseball. And yes, the Yankees can absolutely handle deGrom's money.
Mets Perspective
Things are a bit simpler from a Mets point of view. As much as the organization continues to profess its love for Matz, he's a plague, a walking-injury plague who needs a fresh start. deGrom is a beloved Mets player and will remain with that label regardless of what happens moving forward, but he'd be the price for an everyday gem—the asset absolutely needed to rebuild in today's game.
It's clear: Sandy Alderson and the Mets took a pitchers approach to rebuilding this decade. It's also clear that it hasn't exactly worked out.
Too many variables exist when building heavily around the pitcher. Injuries, innings pitched and worries make matters extremely confusing and eventually, heartbreaking.
The franchise acquired veteran batters such as Yoenis Cespedes and Jay Bruce in the hopes that it'd be enough to get it done. For the Mets organization, it hasn't been nearly enough to accomplish October targets.
Amed Rosario and Michael Conforto need help. Gleyber Torres at second base would not only create the best one-two up-the-middle combos this side of Atlanta (Ozzie Albies and Dansby Swanson), it would provide the Mets that third gem in order to truly rebuild with an appropriate "everyday player" approach.
With Torres, the Mets would have to rely on the veteran batter no more. Asdrubal Cabrera has been the team's best hitter this year. It's not reality. It's also a sad state of affairs for any lineup when this is the case. He can play third. He can play in other spots. In any event, he's not a priority in attempting to chase a title.
Acquiring Torres isn't about this year for the Mets. It's about shifting the focus the correct way—the young everyday player fashion.
The Mets went with pitching. The Houston Astros and Chicago Cubs steered more heavily towards each's position players.
Who's come out on top in recent years?
As valuable as the starting pitcher is in today's game, team-builders also realize that particular value is spiked due to the idea the position as a whole has declined. Starters pitch far fewer innings and miss more starts than ever. Heavily building a club with four or five big-money starting pitchers just doesn't work in today's game.
By trading deGrom and Matz for Gleyber Torres, the Mets would suddenly field a trio of everyday gems and still have Noah Syndergaard anchoring a very below average rotation. From there, the pen can be worried about along with filling in the other holes pertaining to potential veteran exits.
Gleyber Torres for Jacob deGrom and Steven Matz is as perfect as it gets. The New York Yankees can go snag that 28th World Series title while the Mets can reset in proper modern-day MLB fashion.
There's just one little problem. It'll never happen. The Mets worrying about deGrom winning a title in the Bronx while the Yankees cursing the day Torres represents that Mets cap in Cooperstown are the petty reasons it won't happen.
Sure, trades between these two teams have occurred prior (15 times since 1966 to be exact). But this is the year 2018 and things have drastically changed.
Brian Cashman will look to offer up Clint Frazier and/or Esteban Florial for pitching depth while Alderson will lean on Mickey Callaway to repair baseball's potentially brightest rotation. Unfortunately for both sides, there's a much easier, more rewarding route that's impossible to happen.
Just trade Gleyber for Jake and Steven.