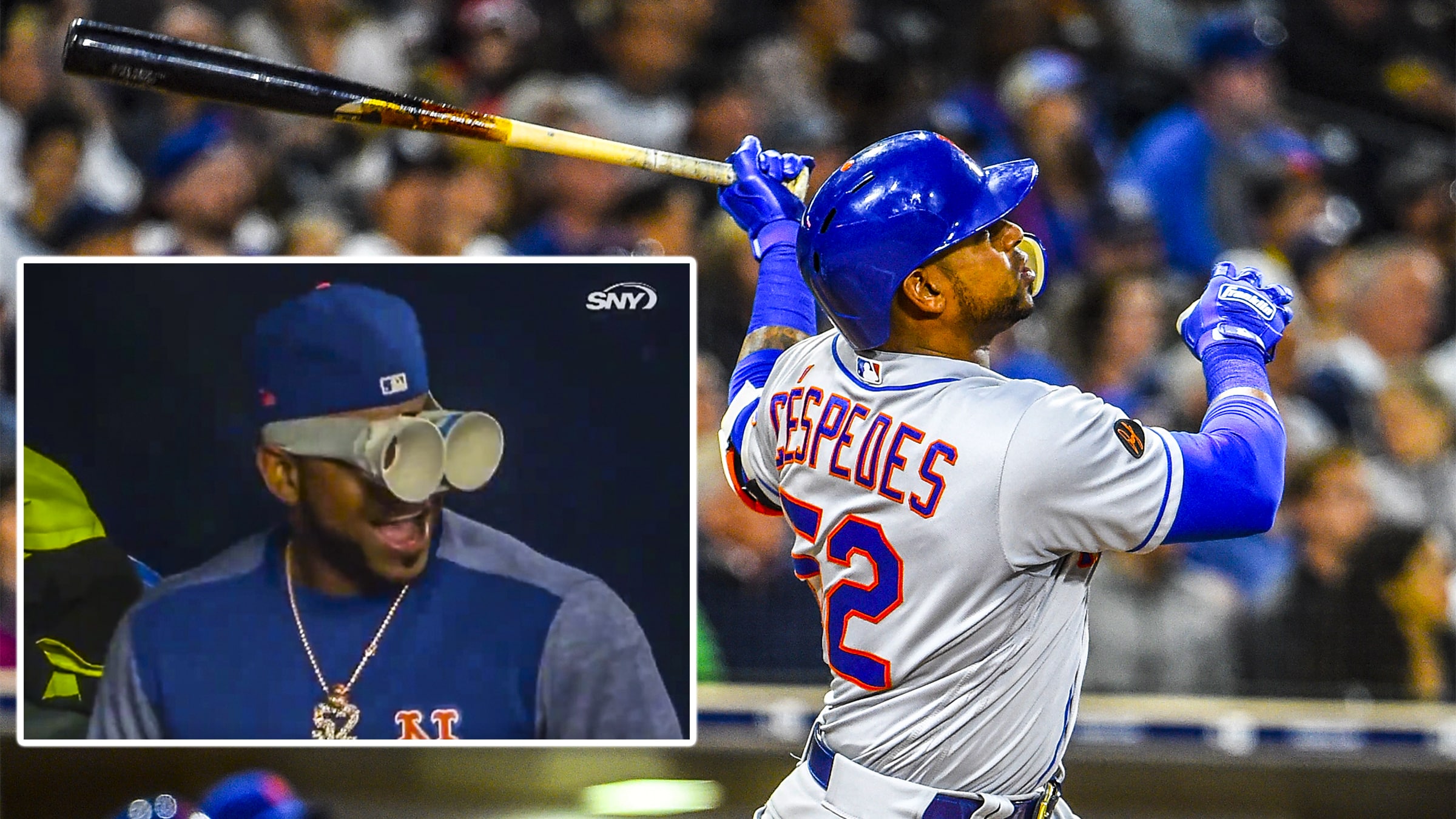 The New York Mets are patiently waiting for outfielder Yoenis Cespedes to return from the disabled list. During this latest stint on the shelf, he's finding some creative ways to stay occupied during games. 
When big-league players are used to being in the lineup on a daily basis, it can sometimes be incredibly difficult for them to sit through nine innings on the bench. Whether they're bothering fellow teammates or pulling off some elaborate scheme, finding ways to stay occupied is important and sometimes, impossible.
In a perfect world, outfielder Yoenis Cespedes would've been playing on Tuesday night for the New York Mets against the Atlanta Braves. A hip injury has unfortunately prevented him from doing so since May 13.
He is nearing a return, though — Mike Puma of the New York Post reported over the weekend that Cespedes began a running program and could start a rehab assignment by the end of the week.
But until then, this is what the Mets' most crucial offensive weapon is reduced to, via SNY:
?? @ynscspds pic.twitter.com/PcTacBbj1D

— SportsNet New York (@SNYtv) May 30, 2018
It looks like he's running out of ideas on how to keep himself busy, but at least he's having a good time.
While Cespedes had gotten off to a slow start in the batter's box, he's still managed to make the most of his opportunities. He's currently slashing .255/.316/.474 with eight home runs and 28 RBI, both of which are second on the team to only Asdrubal Cabrera.
One startling change so far this season has been a rise in strikeouts. Since debuting in 2012 with the Oakland Athletics, Cespedes has never finished a year with a strikeout rate higher than 23.9 percent, which happened in 2013. Through 152 plate appearances in 2018, that number is all the way up at 32.9 percent.
So, maybe he should hold onto those glasses for when he gets back. It can hurt to try, right?
Special eyewear or not, manager Mickey Callaway will welcome his slugger back with open arms. And at the rate he's seeing Mets players go down with injuries, he may hold on to Cespedes and never let go.