Injuries have created an opportunity for the young and energetic Brandon Nimmo. Now he has to prove himself an everyday New York Mets player.
Sometimes adversity is the harbinger of opportunity.
It's the bottom of the ninth inning at Citi Field. The New York Mets and Arizona Diamondbacks are locked in a 4-4 tie. The Mets had gotten a big eighth inning two-run home run by Devin Mesoraco to tie the game and are looking for their first back-to-back wins since mid-April.
Brandon Nimmo is leading off against Arizona Diamondbacks left-handed reliever Andrew Chafin, who sports a 1.76 ERA. He fouls back the first pitch then promptly takes a fastball for strike two. Down in the count, Nimmo takes a hanging slider and drives it to the right-center field fence for a double, missing a game-winning home run by inches. Minutes later he would cross the plate, capping a walk-off victory.
Nimmo picked a good time to get his first hit against a southpaw in 2018. It was his second hit of the night and third time on base.
Brandon Nimmo has been patiently itching for a chance and now that time is going to come. The Mets, who were once flush with outfielders are now down to three that are healthy. Yoenis Cespedes is out with a strained hip and Juan Lagares' season is over after undergoing toe surgery.
Cespedes' trip to the disabled list created a gaping hole in the Mets lineup. The Mets, who were supposed to be reliant on the home run ball rank third from the bottom of the league in home runs and are now missing their biggest source of power in Cespedes whose eight dingers have accounted for more than a fifth of their 39 long balls.
In other words, Cespedes leaves the Mets with big shoes to fill.
Nimmo, 25, will now have an opportunity for coveted at-bats against both lefties and righties. Initially slated to platoon with Lagares in Cespedes' stead it looks like he will now have to play out there on a daily basis, at least for the short term.
In a lineup that was supposed to be reliant on the home run, Brandon Nimmo gives the Mets a gap hitter that can create runs without the ball going over the fence, something of which the Mets are in short supply.
Brandon Nimmo just has the knack for getting on base. He provides the Mets with an element they don't have, a prototypical leadoff hitter. Also hitting with enough power to warrant a spot near the top of the order, he has been displaying gap power and the occasional knack for hitting the ball over the fence, while finding ways to put himself in scoring position.
Late last year he gave the Mets a taste of what he can bring to an everyday lineup, but with the reacquisition of Jay Bruce and accelerated recovery of Michael Conforto, he was relegated to a supplementary player.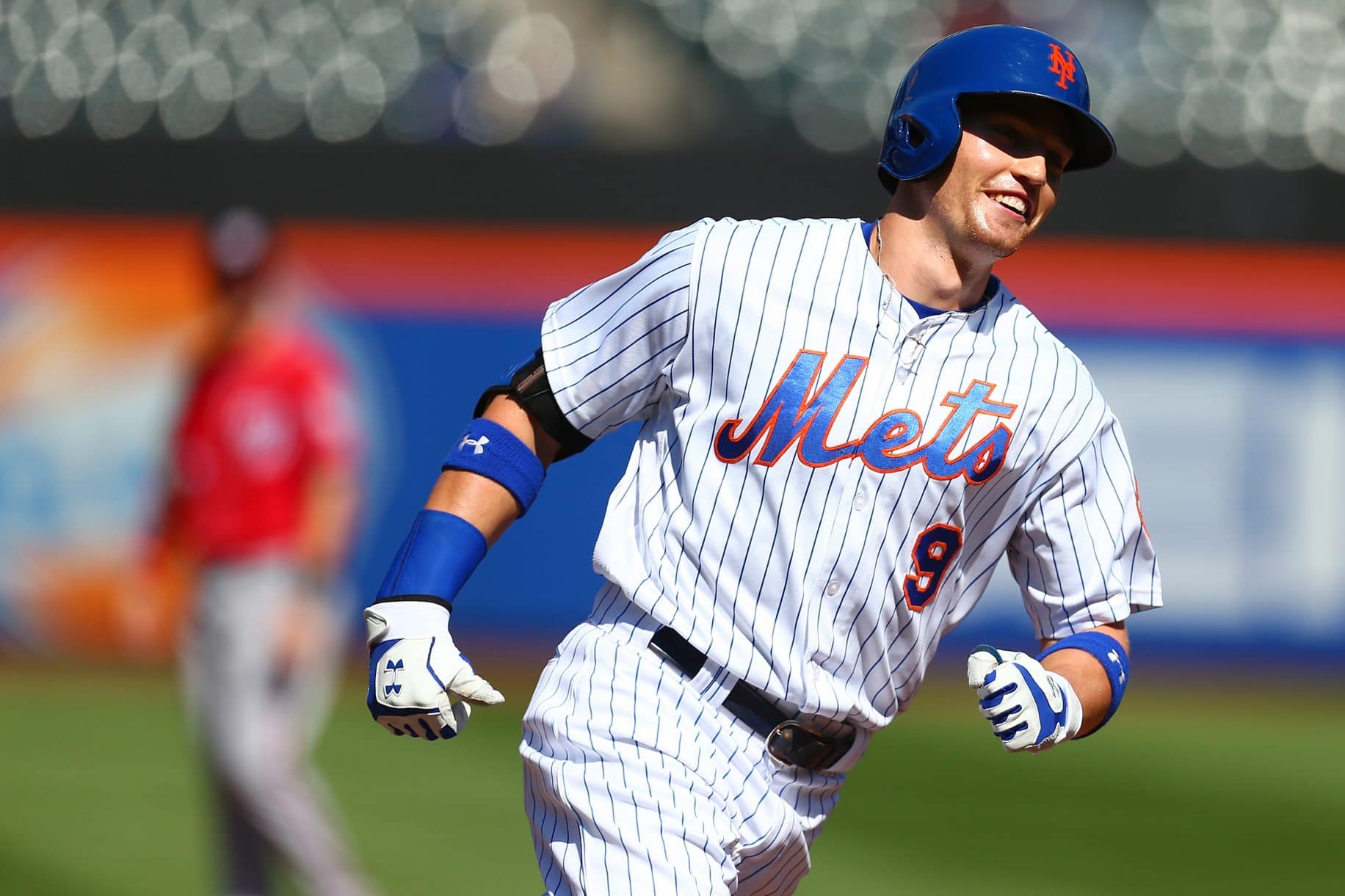 His offensive game seems to finally have hit its stride. When facing right-handed pitching all he does is hit line drives. His patient and disciplined approach at the plate makes pitchers work, and he now seems to have the ability not only to draw walks but to pick his pitch and hit it hard somewhere. In the past, he would be selective to the point of passivity. He now seems to have found the balance between patience and knowing when to attack his pitch.
If Nimmo had enough at-bats to qualify, his .443 on-base-percentage would rank among Major League leaders. He is also hitting the ball with authority again, slugging .478. His OPS+ is 157 and he has drawn 16 walks in just 88 plate appearances.
Nimmo's average is .269 but he was 0-12 as a pinch hitter. As a starter, he is slashing .279/.446/.488. Now he will have the opportunity for consistent at-bats instead of playing sporadically, which is often a difficult assignment for a young player.
Against righties, Nimmo's career OPS is up to .860. His numbers this year against righties are .314/.478./.569 with a dominant weighted run created plus (wRC+) number of 193, which means he creates runs at almost twice the league average against righties. His OPS+ is 188 against righties with his OPS over the vaunted 1.000 mark at 1.043.
One thing Nimmo has not displayed is the ability to hit left-handers. That is where Juan Lagares entered the picture. Lagares provided the perfect complement to Nimmo and shielded him from tough at-bats against left-handers. While he is still selective against southpaws, they have proven a bugaboo for him and he will now, at least until Cespedes returns, see his share of left-handed pitching.
He has just a .177 average with a .527 OPS and 38 percent strikeout rate average in 74 career plate appearances against southpaws. He was hitless in sixteen plate appearances before his timely ninth-inning double against Chafin.
Nimmo has been looked upon something of an enigma since being the first player from Wyoming taken in the first-round, 13th overall in the 2011 MLB Draft. Never blessed with much power, Nimmo was often overlooked despite his first-round pedigree, never really considered a potential star. Scouts were never impressed. Fangraphs doesn't see much on a 20-80 scale.
| | | | | | | |
| --- | --- | --- | --- | --- | --- | --- |
| Hit | GamePower | RawPower | Speed | Field | Throws | Future Value |
| 45 / 50 | 40 / 45 | 50 / 50 | 55 / 55 | 40 / 45 | 50 / 50 | 45 |
Nimmo is one of those players who wouldn't be colloquially called a five-tool player. He is, however, one of those players who doesn't have a glaring aspect to his game that jumps out at you but does a little of everything. Players of that ilk are often overlooked. The only thing that is elite about Nimmo is his eye at the plate, but every aspect of his game is solid and is known for having an exceptional makeup.
In 2016 he was almost dealt to the Reds for Jay Bruce at the trade deadline, but at the last minute the deal was restructured, and 2B Dilson Herrera was sent to Cincinnati. However, when teams inquired about his availability this offseason, Mets General Manager Sandy Alderson was quick to say thanks but no thanks. It was rumored that Pittsburgh wanted Nimmo as part of a deal for Andrew McCutchen and the Mets declined.
After struggling during a cup-of-coffee in 2016 and during his first taste of regular action in 2017 Nimmo began to show his penchant for getting on base.
Though considered by many as a fourth outfielder at best, Nimmo was given regular playing time after Jay Bruce and Curtis Granderson were dealt away in 2017 and experienced growing pains. In 71 August plate appearances, Nimmo seemed like an overmatched ping hitter and seldom hit the ball hard. He hit just .233, but he did manage to get on base at .343 clip thanks to his eye, something he also displayed throughout his minor league career.
In September he hit his stride, hitting four home runs and driving in 15 in 119 plate appearances while slashing .260/.387/.479. He began to hit the ball with authority, ending the season with a 30.8 percent hard-hit ball rate, and it was better than that against righties at 38.5 percent.
Nimmo also showed himself to be a better than advertised defensive outfielder with four defensive runs saved in limited action at all three outfield spots in 2017. While not blessed with a strong arm he gets good jumps on balls and is fundamentally sound. He also covers more ground than one would expect, even proving to be a competent center fielder.
This spring he picked up right where he left off. Slated to be the primary CF with Michael Conforto potentially out until May, he slashed .306/.371/.613 with three long balls and six doubles, for a .984 OPS.
With Conforto returning to action faster than expected, his playing time has been sporadic, and he has slowed down a bit after a hot start, though he has still shown a facility for finding himself on first base.
Though his May average dipped to .229 after a .313 April, his May OPS is still .800, and is still getting on base at a .400 clip. Even when slumping Nimmo always seems to make pitchers work, give a tough at-bat and find ways to get on base.
Without Cespedes, the Mets are stuck with three left-handed hitting outfielders, though Wilmer Flores has been mentioned as a potential option in a pinch. Now Nimmo will have a chance to prove he can hit enough against left-handers to be an everyday caliber outfielder and live up to his first-round pedigree.
His passed his first test with flying colors and it won the Mets a big game.
Now the only question, whether he can keep it up.