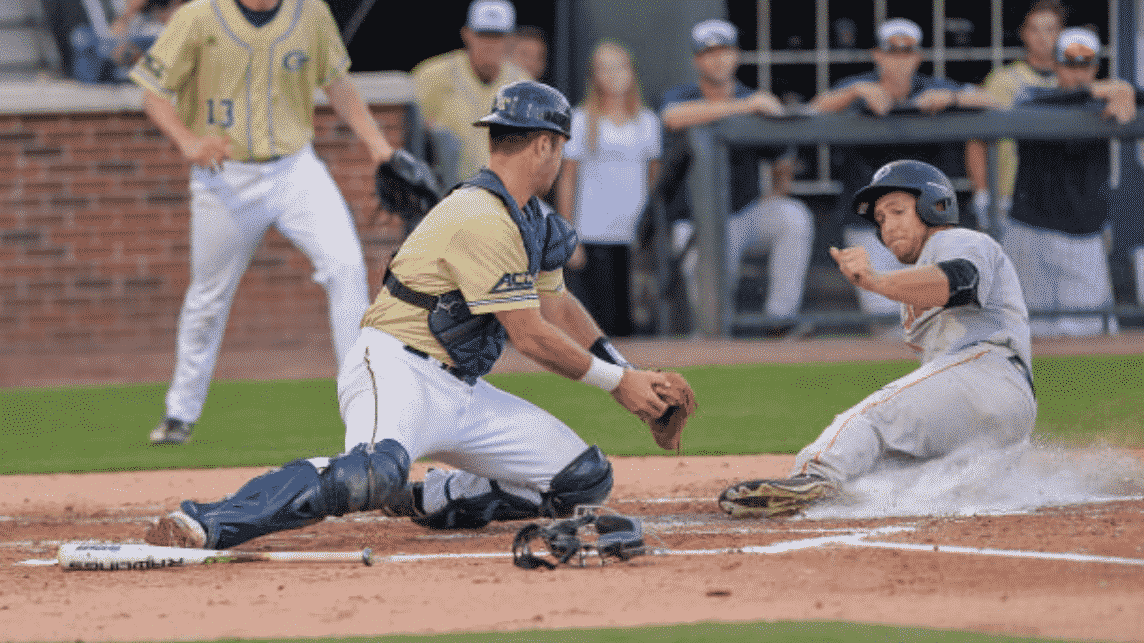 With the 2018 MLB Draft less than three weeks away, the New York Mets should hope Georgia Tech catcher Joey Bart drops to them with the sixth pick.
On June 4, the New York Mets will be on the clock with the sixth pick in the MLB First-Year Player Draft. This will be the fifth time that the Mets pick in the top ten since 2004. Those picks include right-handers Phillip Humber (2004), Mike Pelfrey (2005), and Matt Harvey (2007) as well as outfielder Michael Conforto (2010).
One of the best parts about this draft is that it is wide open after the first pick since most feel the Detroit Tigers will take Auburn right-hander Casey Mize. After that pick, the draft can go in any direction, so the Mets should have their pick of any good player. One name that might be there is Georgia Tech catcher Joey Bart.
In his junior season with the Yellow Jackets, Bart has a slash line of .364/.473/.621 with 13 home runs and 33 RBIs. He is top two in the ACC in batting average, on-base percentage, slugging percentage, and hits (71).
As for his defense, the six-foot-three, 225-pound catcher does a good job of throwing out runners and preventing passed balls. This season, he has caught 41 percent of runners trying to steal and he has only allowed two passed balls (nine for his three-year career).
Normally, you do not see teams draft for immediate need in the MLB Draft because it takes a while for some of these players to reach the big leagues. With that being said, catcher is a long-term need for the New York Mets and Bart is a college bat that could rise up the system if he succeeds right away.
Bart would be an interesting option for the Mets if he's available with the sixth pick because the organization doesn't usually pick a catcher in the first round. They have selected two catchers in the first round since 1989. Those two players were Kevin Plawecki (2012) and Alan Zinter (1989).
Back in February, Wayne Cavadi of Minor League Ball got the chance to see Bart in person down in Atlanta and had this scouting report on his game:
"Bart swung at the first pitch in the four at bats I saw. He took the first pitch he was offered on the day over the right center wall, so clearly his power is to all fields. Later in the game he roped a ground ball that hugged the third base line and went into left field. He legged out a double, and can really move for someone his size (he was a perfect 4-for-4 in stolen bases last season). Even when he struck out in his final at bat, he worked for it."
While stats aren't the sole indicator of any top draft prospect, it is hard to not mention Bart without talking about the last Georgia Tech catcher to be taken in the first round. That catcher was Matt Wieters (top pick by the Orioles in 2007). Wieters hit 15 home runs in his sophomore season (2006) en route to the Yellow Jackets advancing the College World Series and he hit 35 home runs in three seasons.
If you want to look at how Bart did with wooden bats, he had a good season at the Cape Cod League back in 2016 playing for the Wareham Gatemen. He hit .309 with two home runs and 21 RBIs. Plus, he had a .389 on-base percentage and he was able to draw 12 walks.
While Tomas Nido has a chance to be the catcher of the future, there isn't much top depth behind him in the organization. If you look at MLB Pipeline's list of the Top 30 prospects in the Mets system, there is only one catcher (Patrick Mazeika – 25th – currently at Double-A Binghamton).
Now, there is a chance that Bart might not make it to the Mets on June 4. However, if he does, Sandy Alderson should be happy because Bart brings instant offense at a position that not many teams get top production from.