What's more fun than starting 11-1? How about dropping six of your last seven series? Okay, maybe that's not so fun, but the New York Mets are spiraling out of control for more reasons than one.
It's tough for me to admit, but I was on the hype train. When the New York Mets exploded to their best start in franchise history, I truly believed I was witnessing the emergence of a National League contender. From strong pitching to an effective bullpen to contributions from all across their lineup, it really did seem like this team lacked a significant weakness. But anyone trapped in the desert long enough will start seeing mirages and I am guilty of such a fallacy.
Today is May 10 and the Mets are no longer revered as a top team in baseball. After starting 11-1, the Amazins' find themselves in fourth place at 18-17. Nothing hurts more than losing two of three to the Cincinnati Reds, the worst team in baseball.
So where did it all go wrong? The MLB season is a roller coaster ride filled with ups and downs, but a swing of this magnitude is anything but comforting.
Starting Pitching Ineffectiveness
Not many teams are fortunate enough to have two of the best pitchers in baseball at the top of their rotation. If Jacob deGrom and Noah Syndergaard were physically capable of pitching every day, we would be looking at a very dangerous team. But that's not how baseball works. In the modern baseball climate, you trot out five starters every five games and the Mets are currently being impaled by the back end of their rotation.
Our first mistake was believing that Matt Harvey could be any semblance of his former self. Injuries depleted the natural talent of The Dark Knight and all we were left with was a shell of the pitcher he once was. Kudos to Mickey Callaway and Dave Eiland for believing they could inject new life back into Harvey, but if Mike McDermott has taught us anything, you can't lose what you don't put in the middle and therefore the 'move' was folding. The Mets tried Harvey as a starter and as a reliever, but ultimately, a 7.00 ERA mixed with a plethora of off-the-field issues made it the right time to cut him loose.
If you thought Matt Harvey was bad, Jason Vargas has been equally, if not more, awful. The Amazins' brought in Vargas on a two-year, $16 million pact to shore up the middle of their rotation. Three starts later, every time I write that sentence I cringe. We had to wait a month for Vargas to take the field after he sustained an injury to his non-throwing hand. In his three starts of 2018, I've done nothing but want to throw up. Consider this — in three starts, Vargas has combined for 12.1 innings pitched, failing to escape the fifth inning thus far in 2018. In that small sample size, he has surrendered 26 hits, 19 runs, seven walks with only nine strikeouts. The bright side is that Vargas' 13.86 ERA is bound to come down as the season progresses, but the left-hander has already cost the Mets three games in 2018 and I'm honestly scared wondering how many more games he'll hand over.
Last on this list of starting pitching offenders is none other than Steven Matz. Matz has the good fortune of being nowhere as prolifically bad as Harvey or Vargas but has struggled in his own right. The key issue for Matz is that he is struggling to get deep into games. In three of his six starts in 2018, Matz has failed to record an out in the fifth inning. The good news is that in his last start against the Colorado Rockies, Matz was able to complete the sixth while only giving up one run. However, Matz has fooled us before and it is absolutely imperative for him to complete this turnaround if the Mets are going to return to form.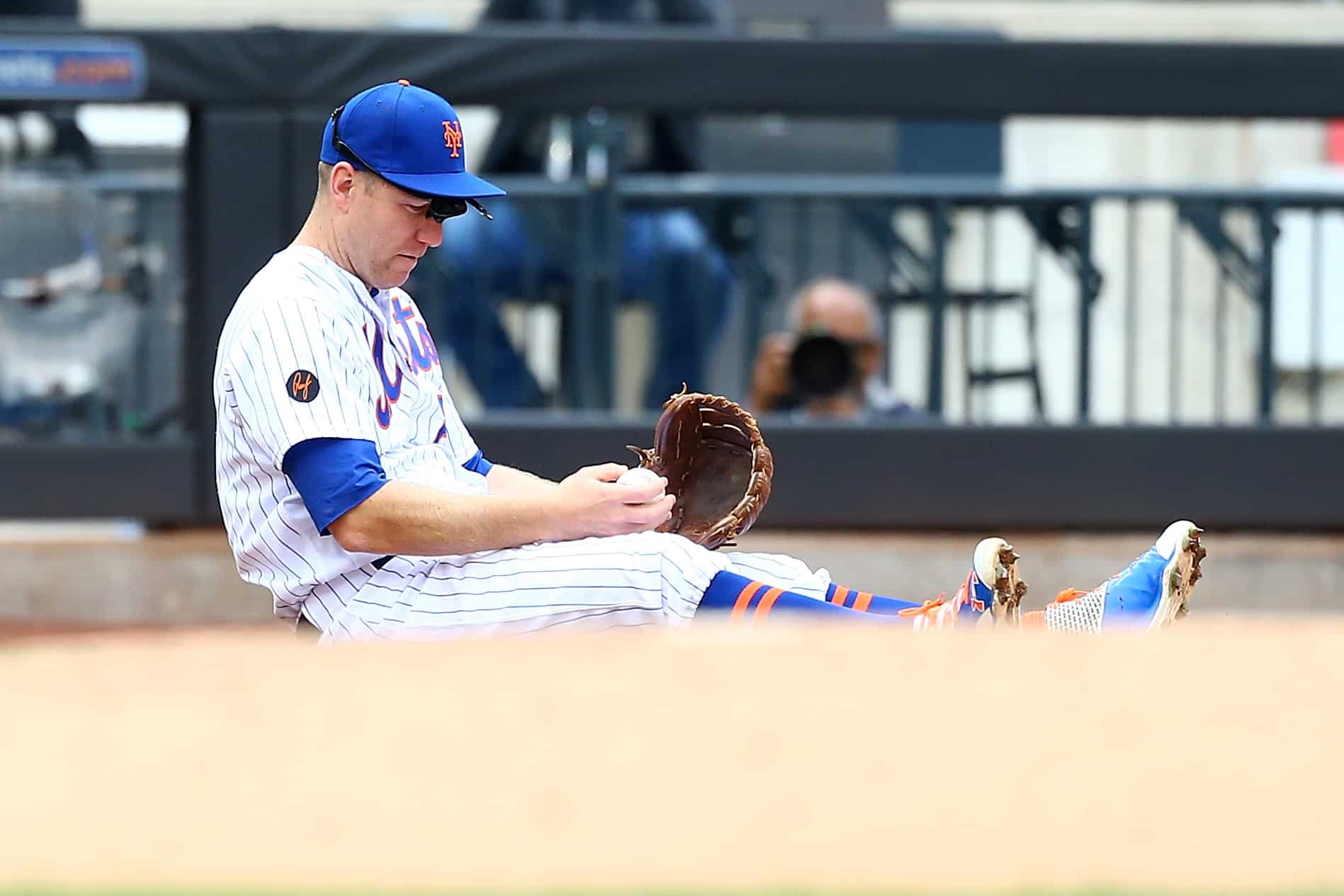 Bullpen Woes
When your starting pitchers are ineffective and cannot get deep into games, there is a trickle-down effect on the bullpen. Shorter outings lead to increased bullpen usage and the more the bullpen is utilized, the more worn out they become. Overused pitchers don't pitch as well. This is not a new sentiment; it's common sense.
Right off the bat, this unit is diminished in the absence of Anthony Swarzak. Swarzak was a marquee addition to the bullpen this offseason on a two-year, $14 million deal. An oblique injury seemed like a cruel joke on April Fools Day, but the subsequent complications that have come with this injury leave Swarzak without a timetable to return. Today, he was moved to the 60-day disabled list. Not a good sign.
Jerry Blevins and AJ Ramos are two integral pieces of the Mets' relief staff. Over the last 30 days, they have ERAs of 7.50 and 6.75 respectively. In Wednesday's matchup against the Cincinnati Reds, Ramos surrendered a walk-off home run to Adam Duvall, who has a sub-.200 batting average might I add. Hansel Robles and his 5.23 ERA continue to do no one any justice and Paul Sewald has found some struggles of late. The only rays of light in this bullpen have been Robert Gsellman and Seth Lugo, but with the way things are going, they might find themselves starting games sooner rather than later.
Catching Massacre
Sometimes, I find it really hard to believe that Travis d'Arnaud was once an elite hitting prospect worth trading R.A. Dickey for. Thank the lord that Sandy Alderson got Toronto to throw in some guy named Noah Syndergaard in that deal. d'Arnaud has been a colossal failure for the Mets, but you already knew this. The guy cannot play defense or stay healthy. When he went down with a torn UCL, some could say it was a silver lining because the organization would be able to temporarily move on from him. Then Kevin Plawecki broke his hand.
For the last few weeks, the Amazins' were forced to toe the line with two catchers that barely belong on a major league roster. Not that d'Arnaud's .200 batting average or Plawecki's .150 clip were anything to write home about, but Jose Lobaton and Tomas Nido have combined for 12 hits in 80 at-bats. The Mets have received little to no production from their catchers and what makes matters worse is that no one in this group of guys can play defense, let alone compensate for the slow-to-the-plate pitching staff. Acquiring Devin Mesoraco may put a band-aid on this situation temporarily, but we're talking about another guy ravaged by injuries. At best, Mesoraco is a lottery ticket with a slim chance of returning to his 2014 form where he blasted 25 home runs, drove in 80 RBI, and made the 2014 All-Star team.
We Need You Conforto
I really hate to single one player out when many are struggling, but the Mets' starts and ends with Michael Conforto. He is the heart and soul of this lineup and provides a tremendous amount of versatility. With the ability occupy the leadoff spot or the middle of the order, Conforto can set up RBI opportunities for Jay Bruce, Asdrubal Cabrera, and Yoenis Cespedes, as well as driving in runs himself. Over the last 30 days, Conforto is batting a meager .182 with only one home run, five RBI, and 27 strikeouts. On the season he's batting .191/330/.303, a significant departure from the .279/.384/.555 clip he posted a year ago.
Honestly, we all thought we were playing with house money because Conforto was first expected to return around May 1. But right now, Conforto's presence in the lineup is doing more harm than good. This doesn't look to be an issue with his shoulder which is good, just a good old-fashioned slump that he needs to find his way out of.
Exploding to 11-1 was entertaining to watch, but no team plays at that rate forever. A regression was due and unfortunately, it was a lot more significant than many of us anticipated. We are only 35 games into the season and there is plenty of baseball left to be played, but now is the time for the Mets to rectify these issues if they have any hope of turning things around.