Why limit myself to one topic when I can talk about five? The New York Mets are off to better start than expected. Let's explore a few of their open issues in the inaugural Birnbaum mailbag.
Mailbags are fun. They're a calling card of one of my favorite writers, Bill Simmons. I've always wanted to write one, but they're tricky to execute. With the New York Mets atop the standings, there is a breadth of topics to write about, so why limit me to one? Over the past couple days, I polled several close friends that I consider knowledgeable about New York baseball. They helped me settle on these five questions for my inaugural mailbag. To protect the identities of these individuals, the names listed below are fictitious.
Luke from Harlem wants to know, "Is Anthony Swarzak returning anytime soon? Or has he been swallowed by a black hole never to be seen again?"
Well, Anthony Swarzak has missed roughly 94% of the young season to date, so he might as well have been swallowed by that black hole. It's a shame that arguably the Mets biggest offseason acquisition has yet to make the impact we all expected, but obliques are tricky. It's a nagging issue and rushing him back won't do anyone justice.
Turns out, the injury to his oblique is causing an issue to one of his ribs as well. As MLB.com's Anthony DiComo reported on April 18, Swarzak had to shut down his rehabilitation due to lingering discomfort. There's no timetable to when our $14 million man will rejoin the big club, so, for now, we will have to place our faith in a bullpen that has somehow managed to rank eighth in ERA, fourth in saves, and ninth in strikeouts per nine innings without Swarzak.
Matt from Hell's Kitchen asks, "Can the Matt Harvey situation possibly get any worse?"
Short of a failed drug test, I think we've officially hit rock bottom here. Matt Harvey had enough to worry about between his inability to get anyone out and being relegated to the bullpen. Now, It's tough to think he'll ever be able to get the target off his back after his night out partying in Los Angeles.
At this point in his career, the Dark Knight should be doing everything he can to get himself out of this tailspin, not adding fuel to the fire. Is the whole partying a fiasco a big deal? Probably not. But when compounded with his struggles on the mound, it is a really disconcerting sign.
All New York Mets fans want to see is Harvey taking ownership of his problems and narrowing his focus to resolve them. We just want him to show that baseball is number one thing on his mind and that he's committed. Unfortunately, he's not doing himself any favors by alienating the press.
With free agency looming, I'm hard-pressed to find a reason why the Mets would be willing to resign Harvey beyond this season. Starting in 2019, he will be somebody else's problem. We may very well be looking at Ray Searage's next reclamation project.
Steve from Red Hook inquires, "How much longer do we really expect the Adrian Gonzalez experiment to last?"
Honestly, I think we've already gotten more production out of A-Gon than any of us would have anticipated. Three home runs and 17 RBI through the first month of the season is actually quite impressive for a throwaway player. Adrian Gonzalez has also been no slouch on defense. He's demonstrated glimpses of how he rode his way to four Gold Glove Awards.
It's been great to see a former All-Star find some measure of success after all of the injury troubles he's dealt with, but ultimately, the clock is ticking on Gonzalez. If he has any hope of remaining an everyday player, then he has to find a way to get on-base at a better clip.
At some point, Jay Bruce will start receiving time at first base, as well as Wilmer Flores, who may graduate beyond starting exclusively against lefties. You also have to factor the pressure coming from the hot starts of Brandon Nimmo and Juan Lagares. Moving Bruce to first allows one of those two to see regular playing time. It's hard to imagine Adrian Gonzalez sticking in the lineup past June.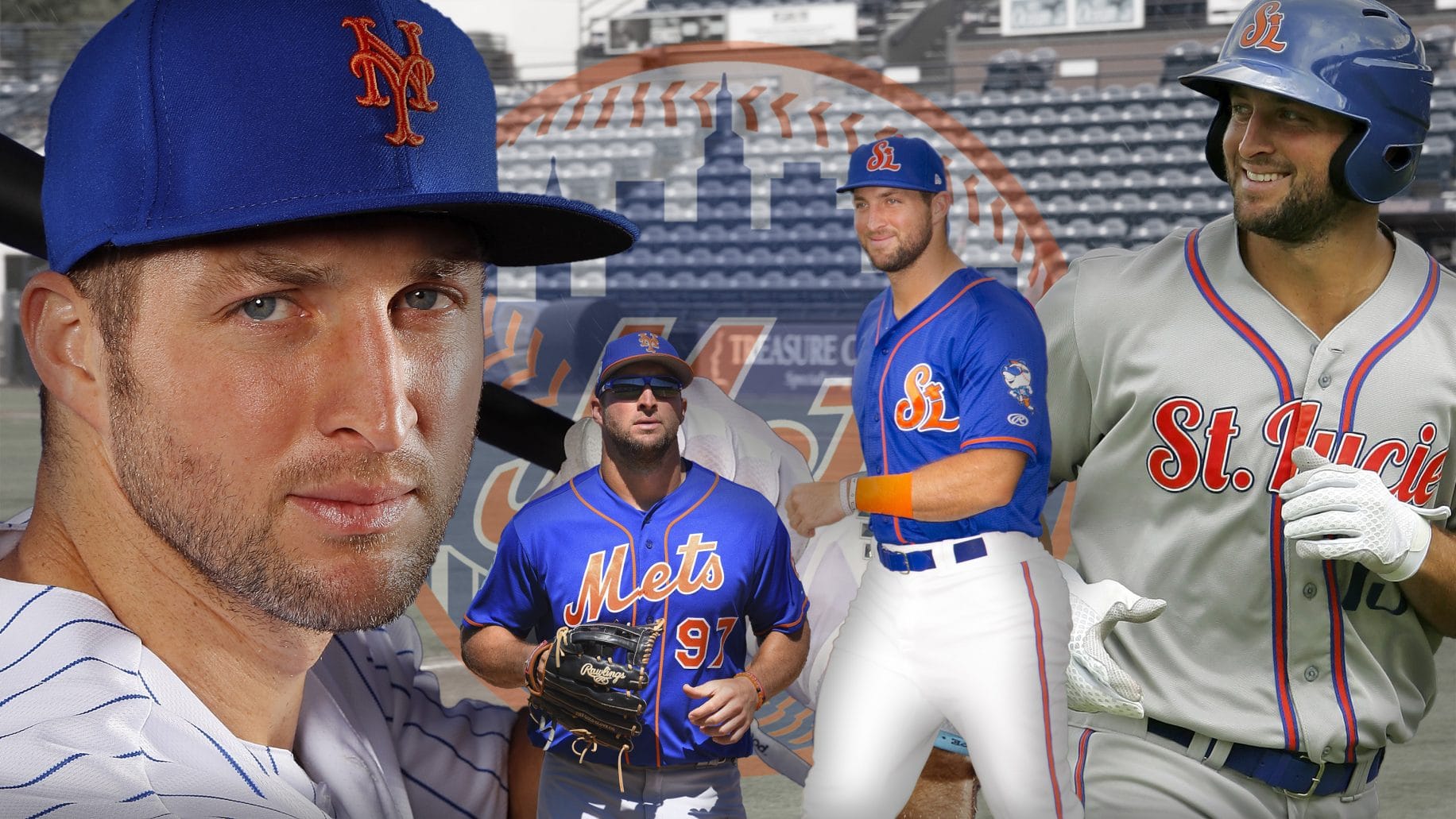 Peter from Forest Hills is curious to know, "Which Eastern League player will we see in the major leagues first — Tim Tebow or Vlad Guerrero Jr.?"
Forget his age. Forget service time. Forget everything else. Only two months past his 19th birthday, Vlad Guerrero Jr. is ready to begin carving his big league legacy. In 79 Double-A at-bats, Guerrero is slashing white-hot .380/.442/.582. His strikeout and walk totals both sit at 10. The Blue Jays currently sit at 16-12, good enough for third place in the American League East. Overcoming both the Yankees and Red Sox for a playoff spot is a daunting task, but if they want to have a shot, then they need to field their best nine batters in their starting lineup. Even at 19, Vlad Guerrero Jr. is one of the nine best batters in this organization.
Yes, Tim Tebow dropped all of our jaws when he blasted the first pitch he saw in Double-A, but he's calmed down significantly since then. In 66 at-bats, Tebow is slashing .242/.324/.394 and has not homered since his first game. I continually find myself flip-flopping on whether I want to see Tebow climb the mountain. On one hand, I still think he got a raw deal in the NFL and would like to see him find success to compensate. On the other, he just doesn't look or feel like a big leaguer and is basically wasting all of our time trying to prove otherwise.
For Tebow to crack the major leagues in 2018, it would take an implosion of biblical proportions from what looks like a pretty solid Mets team. Only if all hope was lost would the front office have any motivation to bring that kind of a distraction into the clubhouse. Maybe he'll take the leap in 2019, but odds are we'll see Guerrero much sooner than Tebow.
Stephen in Greenwich Village optimistically wonders, "How does David Wright rejuvenate his career?"
The short answer is that he cannot and will not. But that never stops Mets fans from being creative. One buddy of mine suggested we gather all of the Dragon Balls and wish David Wright back to life.
Like many others, I had the privilege of watching David Wright start for the Amazins' during my formative baseball years. I regret watching him put up with the collapses in 2007 and 2008, as well as moving him into cavernous Citi Field right when he was coming into his own as a home run hitter. At this point, I would only want Wright to return to lock the Mets franchise lead in home runs and to possibly chip away at his Hall of Fame case. The reality is that Wright's return is highly unlikely. All we can hope for is that he gets well enough to participate in a few games, so we as fans can give him the proper goodbye he deserves.
As long as the good times keep rolling, then there should be plenty more where this came from. But until I'm ready for part two of this mailbag, we'll all have to find another way to swallow tonight's tough loss to the Atlanta Braves.